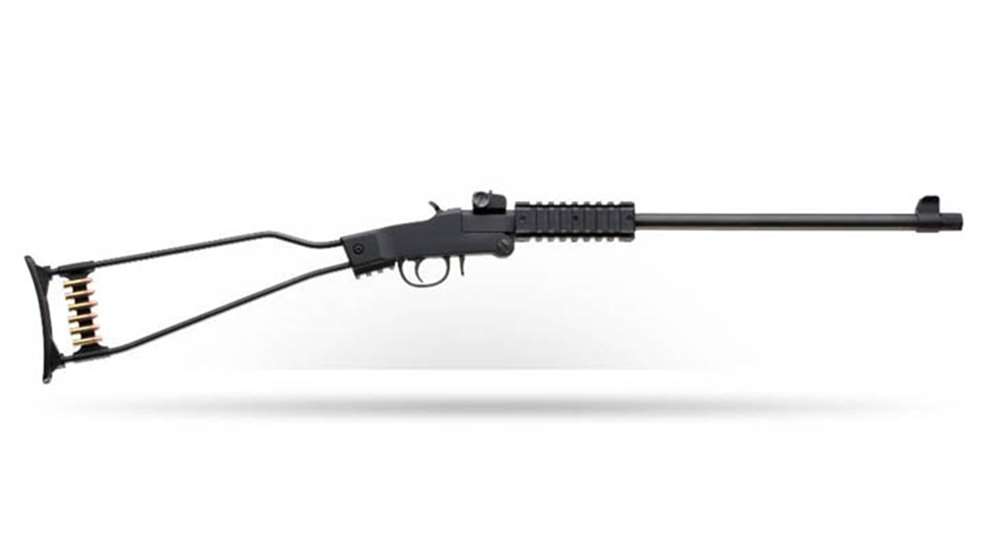 Single-shot rifles usually team with tradition and carry the warmth of wood furniture, but the Chiappa Firearms Little Badger has successfully bucked that trend. The Italian-made, break-action survival gun has a folding wire stock made from steel, integral cartridge holder in back—capable of holding 12 rounds—and short fore-end with quad Picatinny rails.

The rimfire rifle is available in four different models. You can select from .22 LR, .22 WMR or .17 HMR.

All have a 16.5" barrel that's threaded on the end for muzzle devices and total length is 31". Folded for storage or transportation overall measurement is 17". The rifles tip the scales at 2.9 lbs., unloaded.

Three models (one in each chambering) have M1 carbine-style sights up front and at the rear. There is no safety, other than an external hammer that can be half-cocked. A small section of Picatinny rail is behind the trigger at the bottom of the receiver for enthusiasts who want to add a pistol grip, sling attachment point or other device. This trio is available only in a deeply blued steel color across the entire gun. MSRP for the .22 LR and .22 WMR is $216. Price goes up to $229 if you want a .17 HMR Little Badger.

The fourth model is chambered in .22 LR, but instead of shipping from the factory with M1-style sights, it wears a riflescope. A hammer extension is installed to ensure operation with the optic. Its color is green and black, unlike the other versions. The rest of its specifications are identical however, including the $216 MSRP.

The gun ranked fifth in GunBroker.com's 2019 top-10 list of most popular single-shot rifles. It's a move up for the firearm from 2018.

The company also offers a wood-stocked Little Badger Deluxe that chambers 9 mm Flobert shotshells, technically relegating it to the single-shot shotgun list. The folding gun didn't make the rankings last year, although with an MSRP of $258 don't be surprised if it claws its way in.