Support NRA American Rifleman
DONATE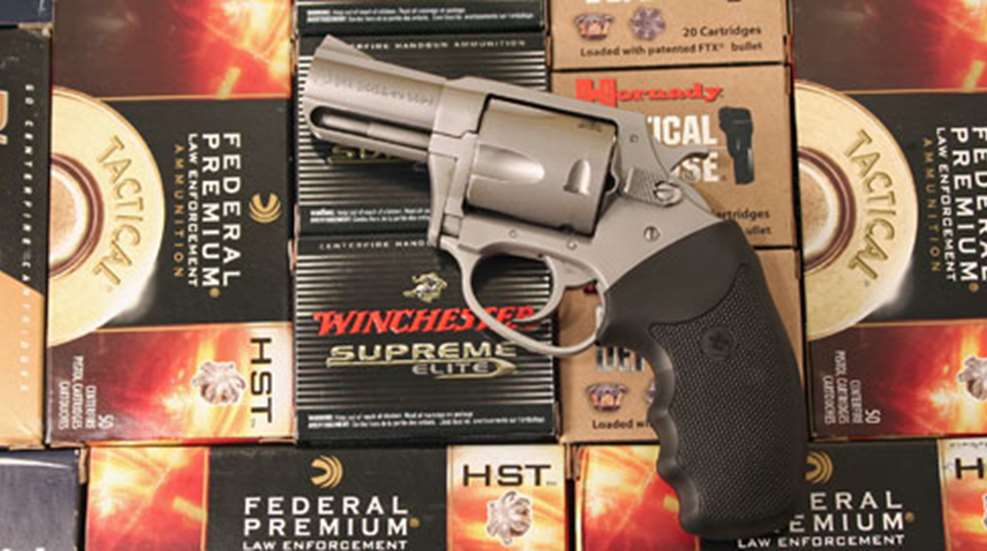 Since 1964, Charter Arms has been in the business of producing rugged, affordable, all-American made revolvers for personal protection. Consumers can find over 70 variations in the Charter line up, with a diverse selection of calibers, barrel lengths and frame finishes. Back in 2009, Charter Arms announced its plan to expand the line even further with a new niche-filling revolver design. The company's goal was to launch a wheel gun that shoots rimless semi-auto cartridges without the use of moon clips. This year, 2011, they succeeded with the introduction of the Pitbull double-action revolver.
With the self-defense, semi-auto market dominated by three popular calibers, 9 mm, .40 S&W and .45 ACP, Charter chose to launch the Pitbull line with a model chambered for .40 S&W. Nick Ecker, president of Charter Arms said, "The Pitbull is the ideal revolver for law enforcement officers to use as their back up, because they can now carry a revolver that utilizes the same ammo as their sidearm." And where law enforcement goes, the civilian shooting market is sure to follow. The Pitbull is the first revolver to chamber the popular .40 S&W without the use of moon clips, making it an affordable option for shooters who want to expand their shooting set without the extra expense of adding another caliber of ammunition to the shopping list.
A Bit of Revolver History
Revolvers capable of firing semi-auto cartridges have been around for quite some time, but not as a prominent offering in the handgun market. For example, back in World War I, revolvers chambered in .45 ACP, such as the M1917, were issued to members of the armed forces to promote ammunition compatibility with the 1911 semi-auto. But these double-action wheel guns presented an engineering problem. The .45 Auto doesn't have a rim that the double-action revolver's ejector star can grab on to. Designers needed to find a way to quickly eject spent cases without having to, if you will forgive the pun, reinvent the wheel.
The solution was a set of small, stamped, sheet-metal clips. Two of these inexpensive half-moon clips, holding three rounds each, could be inserted into the cylinder in two quick gestures to fully load the revolver. They also gave the ejector something to press against to kick out the spent cartridges. Since that time, moon clips have been available in two-round, three-round, and the more common six-round configurations for a variety of calibers.
So why not shoot modern revolvers fitted for moon clips? Plenty of folks do just that, for both competition and self-defense. But the moon clip system lacks mass appeal for several reasons. Buying the clips is an added expense, especially for a handgun designed to facilitate no-accessories-needed loading. Unlike semi-auto magazines, which unload themselves in the course of shooting, spent cases have to be removed from moon clips so they can be reused. De-mooning spent rounds is slow, sometimes painful, and the clips are easy to bend and ruin in the process. I say all this as a shooter who chooses to own and run revolvers that use moon clips. Therefore, a successful revolver design capable of firing rimless cartridges, without the inconvenience of moon clips, provides a best-of-both-worlds option.
The Charter Arms Solution
Built on Charter's .44 Spl. frames, the Pitbull is a stainless-steel, double-action revolver with fixed sights and a rubber grip. This is all standard fair for defensive revolvers until you take a look at the clever modifications for rimless rounds. The cartridges are head spaced at the cartridge mouth. This means that even without the ejector mechanism in place, the cartridges will not drop down into the cylinder.
The ejector star contains five spring-loaded plungers, one for each chamber. Each plunger slides back into the star as a round is loaded, then pops back out to catch the groove at the base of each case to hold the cartridge in place. It's a simple and effective design. By the way, when it comes to gun design, the term "simple" is meant as a complement. Some other attempts at no-moon clip revolvers have proven to be unreliable or overly expensive to build. It takes real ingenuity, as demonstrated in the Pitbull ejector, to develop a device that is both cost-effective to build and reliable in the field.
At the Range
At just 20 ounces, the Pitbull proved to be a light and handy revolver. Charter made a good choice in fitting this gun at the factory with its hand-filling three-finger rubber grip. This revolver is also compatible with a variety of other grips available from Charter, such as its compact rubber combat grips and the Barami Hip Grip. For an affordably priced revolver, Charter manages to give its little guns nice triggers. The double action trigger pull is smooth, and the single action trigger is a crisp 3 pounds, 8 ounces.
I was surprised by the moderate level of recoil produced by the 165- through 180-grain .40 S&W ammunition. You may have heard that shooting a Charter Bulldog in .44 Spl. is like catching a fast ball without a baseball mitt. I thought this description was an exaggeration until I shot a 3-inch barreled Bulldog and found out for myself. Since the Pitbull is built on a .44 Spl. frame, and .40 S&W is a potent semi-auto round, I was ready for a palm pounding. However, the Pitbull proved to be much more comfortable to shoot than expected.
Loading .40 S&W rounds into the cylinder is easy. They require just a little pressure to overcome the plungers, but not so much as to be inconvenient. High on the cool factor of this design is that once the cartridges are fully inserted into the cylinder, they don't drop out until the ejector is pressed. I turned the opened cylinder upside down and gave it a vicious shaking. With a .38 Spl. revolver, the rounds would instantly be on the ground. With the Pitbull, the cartridges didn't budge. By the way, I found double-stack pistol magazines make great speed loaders for this gun. With the Pitbull in the role of a backup, or as a second- or third-caliber-compatible gun, being able to reload from a magazine you already have on hand is pretty slick.
For accuracy testing, five-shot groups were fired from the bench into targets set at 25 yards. To be fair, snubbie revolvers are not famous for tight groups at this range. The best groups were provided by Federal's 180-grain HST jacketed hollow points with an average group of 3.75 inches. Hornady's Critical Defense 165-grain FXT yielded 4-inch groups, followed by Winchester's 165-grain PDX1 bonded hollow points with an average group of 4.25 inches. Shot groups in this range are acceptable for defensive applications. But to get a better feel for the Pitbull's potential performance, I shot an extended set of targets at 7 yards, both on and off of the bench. Groups dropped down into the 2-inch range with repeated regularity, showing the new Pitbull is ready for close-range defensive applications. Best of all, the test ammunition fired, functioned and ejected just like it should.
Final Thoughts
The Pitbull is the successful execution of an idea that could become a standard in the revolver market. Shooting it left me wondering why the attempts at marketing no-moon-clips-needed revolvers have been so few and far between. This .40 S&W revolver is a solid gun built by a team with years of experience. The only real problem I had with the Pitbull is that it left me wanting more. Charter Arms said 9 mm and .45 ACP versions are not far behind, and I am looking forward to shooting them as well.
Manufacturer: Charter Arms; Charterfirearms.com
Model: Pitbull
Action: Double-Action Revolver
Caliber: .40 S&W
Finish: Stainless Steel
Sights: Fixed
Barrel Length: 2.30-Inches
Overall Length: 6.50-Inches
Height: 5.00-Inches
Width: 1.44-Inches
Weight: 20 Ounces
Capacity: 5 Rounds
Twist: 1:16" LH
Rifle Grooves: 6
Suggested Retail Price: $465.00