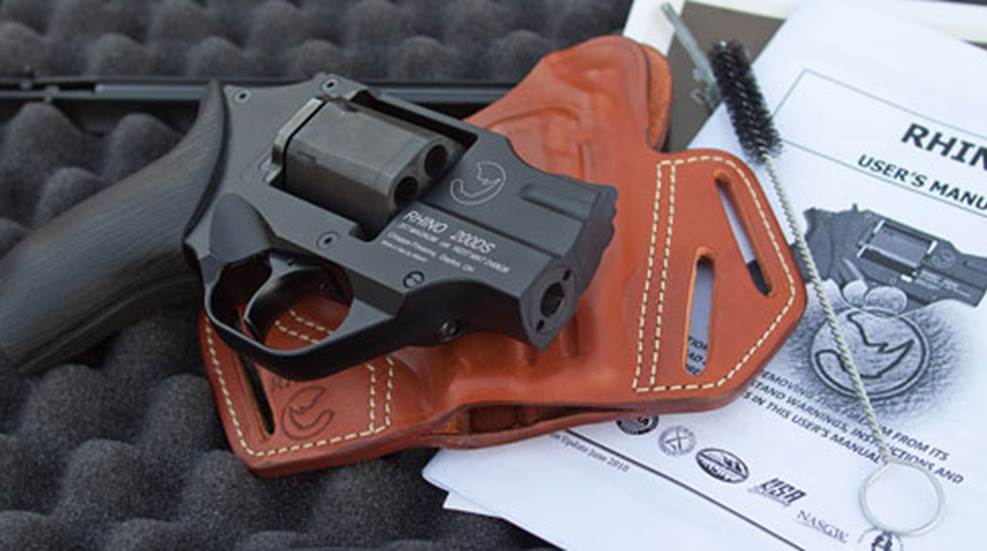 At first glance, the Chiappa Rhino resembles something out of Sci-Fi/Action Thrillers such as "Serenity" or "Gamer." This initial reaction would be correct as its heavily modified predecessor, the Mateba auto-revolver, was featured in films of this genre.
The lowered-barrel, flat-cylinder and unique-profiled handgun was designed by Italian Mateba founder Emilio Ghisoni and became popular among prop managers because it was so distinct from other firearms commonly seen on screen or in public.
The futuristic designs of Mateba's MTR8 and 2006M were grounded more in physics and innovation than in aesthetics, but the concept of a semi-automatic revolver that cocked the hammer and rotated the cylinder using inertia was a little too far fetched for the U.S. gun market in the 1980s. Ghisoni sold the Mateba company and its designs around 2000, but wanted to continue designing firearms.
Ghisoni knew that his design of lowering the barrel of a revolver to the bottom chamber instead of the customary alignment with the top chamber was a sound design that had a benefit in taming sharp recoiling magnums commonly used for defense and hunting. By lowering the barrel in the hand, the fulcrum effect that produces muzzle flip is reduced, allowing the shooter to maintain sight alignment, thereby speeding up subsequent shots.
Eager to get back into the gun game, he approached Italian competitive shooter and founder of the FAR cartridge system, Antonio Caduzzo, to finance his project. Out of the collaboration of Ghisoni's imagination and Caduzzo's experience came the Rhino. The new design highlights Ghisoni's signature low barrel and flat-profiled cylinder with a grip slightly forward of the hammer (Caduzzo's idea).
Unfortunately, Ghisoni didn't live to see his brainchild come to life. He became ill and died in 2008, while the firearm was still in development. After Ghisoni's death, Caduzzo found a partner in Rino Chiappa, ower of Chiappa Group and Chiappa Firearms, both of which are well-known for their high-end replica arms popular among traditional firearms enthusiasts, hunters and competitive shooters. Chiappa then approached Ron Norton in his North American subsidiary to see if the firearm was marketable there. Norton's initial reaction was that the Rhino was the "ugliest firearm" he'd ever seen.
While the U.S. market has never shied away from "ugly" guns as long as they're reliable, accurate and easy to shoot—just look at the success of Glock—Norton questioned whether the North American market would embrace such an "unorthodox" design, even though it was innovative. With his heart on the pulse of the American market, Norton suggested a few profile changes, including a snub-nose variant, and prototypes were turned around almost immediately.
First introduced at the IWA Firearms Expo in Nuremberg, Germany, the Rhino was a crowd drawer with its funky design catching the eye of firearms enthusiasts from across Europe. The Rhino drew a similar response when it was unveiled to the U.S. firearms industry at the 2010 SHOT Show in Las Vegas in 2-, 3-, 4-, 5- and 6-inch variants ranging from personal protection to hunting models, all in .357 Mag.
As a shooter who teethed on revolvers at the early age of 9, I had to get my hands on one to see if it lived up to its promises of reduced muzzle flip and faster reacquisition of the target with magnum loads—unfathomable in an aluminum-framed, 2-inch snubby without a muzzle break.
Upon opening the case, my first reaction was, "Man this gun is ugly, but kind of in a cool way."
Milled from Ergal, a lightweight aluminum alloy, the Rhino has an oddly artistic appearance with lines reminiscent of a Bond Arms derringer. The overall length is right at 6 ½ inches with a standard neoprene stock and a profile at just under 1 3/8 inches. At slightly over 25 ounces empty, this lightweight revolver is a definite concealed-carry powerhouse.
On the range, I chose to test the Rhino at 7 yards, a reasonable distance for a 2-inch revolver.
I started out with Federal Premium Gold Medal 148-grain wadcutters in .38 Spl. to get a feel for the trigger pull and grip angle. The first shot was a pleasant surprise. Expecting at least some muzzle flip, I witnessed the complete retention of my sight picture and was able to fire off five more rounds quickly and accurately with a single-action group of just under 2½ inches. Switching to Winchester white box 138-grain rounds, six shots in double-action grouped less than 3½ inches.
Moving up to Fiocchi's .357 Mag. FMJs in 142 grain, the experience got interesting. As expected, the report was much louder and felt recoil increased, but it was surprisingly easy to track the sights and reacquire the target. A six-shot double-action group measured 4 inches, which is respectable for any snub-nosed revolver.
A unique quality of the Rhino is that the exposed hammer is actually false and used to cock and decock the internal hammer. A benefit of this design is that this false hammer stays put in double-action mode and makes a good platform for the generously notched rear sight while keeping it low on the frame and less likely to snag during the draw. Because the hammer returns to the forward position after cocking the internal hammer into single-action mode, a cocking indicator on the top of the frame informs the shooter when the internal hammer is cocked.
The double-action trigger pull is smooth and weighs in at a robust 12 pounds. The trigger is flat, broad and a little awkward for my taste, but nothing to which I couldn't grow accustomed. Knowing I tend to push a little to the left in double action, I've learned to accommodate that habit by putting a little less finger on the trigger. The shape of the Rhino's trigger made that a little more difficult to accomplish. Its single-action trigger pulled at just 5 pounds and was crisp with insignificant creep.
By any measure, I believe this odd-looking yet innovative revolver has what it takes to be a full-powered defensive firearm suitable for everyday carry. North America has an affinity for innovation and the Chiappa Rhino definitely fits that bill.
Manufacturer: Armi Chiappa; 39-030-974-9065; www.armisport.com
Importer: Chiappa; (937) 835-5000; www.chiappafirearms.com
Caliber: .357 Mag.
Action: Single-Action/Double-Action Revolver
Sights: Fixed on Defensive Models/Adjustable on Target Models
Rifling: 6 Grooves, 1:18.75" RH Twist
Barrel Length: 2-inch (tested) also available in 4-inch, 5-inch and 6-inch
Overall Length: 6½-inches (tested)
Capacity: 6 Rounds
Weight: 25.28 ounces
Suggested Retail Price: $775