Lumberton Ford, located just off I-95 in southern North Carolina, started the special sale in early August, and Sales Manager Jim Drost said, "I'm looking to double my F-150 sales this month." The response has been good, and sales have picked up since the local paper and NRA News covered the special promotion.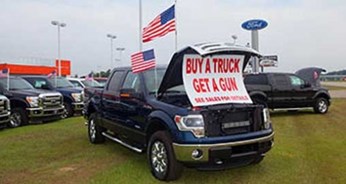 Drost said all of the purchasers so far have been local, but that as news spread, calls started coming in from as far away as Kentucky and Massachusetts. Nearly all have been complimentary.
When I visited the dealership on Saturday, Drost explained, it was not long ago in Robeson County that just about every pickup had a gun rack. "A lot of truck guys like guns," he said. "We like guns. Why not?"
It was a long drive, but I am glad I made the trip. Everyone I met was friendly. "We're a small community," Drost said. "We still say 'Yes mam,' 'Yes sir' and open the door for ladies."
What struck me most on my visit was the number of American flags on the lot. There was one on each vehicle, and the tallest is visible for miles on I-95. The place drips red, white and blue and real American values.
Vouchers must be redeemed at Rhudy's Pawn Shop in Fayetteville, NC, where purchasers undergo the standard volley of background checks and federal paperwork. Drost said they might extend the promotion or run it again if things go well.
Lumberton Ford is not the first car dealership to launch a promotion like this. I interviewed one of the first in 2009. In his case, he was offering an AK47, and once CNN covered the special deal, response skyrocketed.