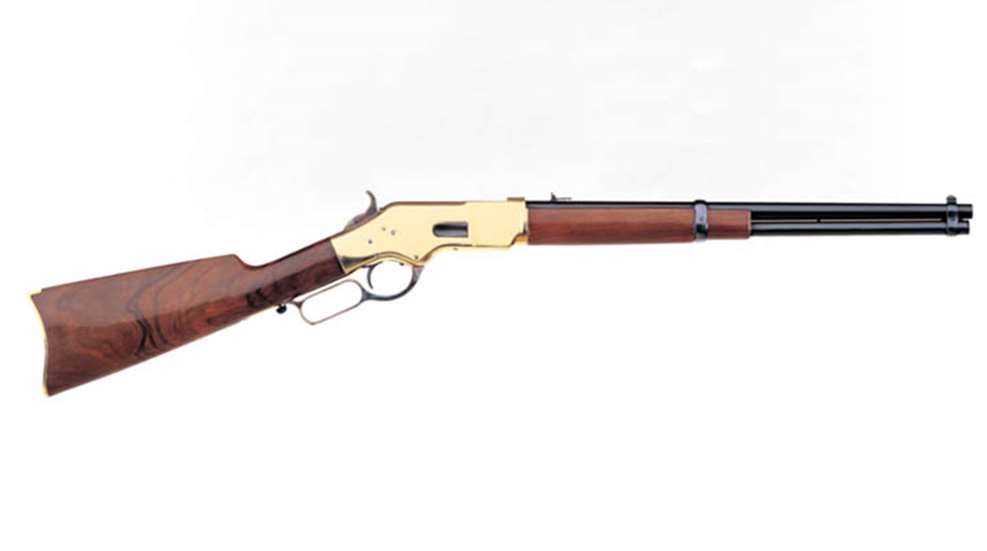 Bill Williams was recently forced to shoot and kill a 250-pound black bear with his Uberti 1866 Yellowboy carbine—chambered in .45 Long Colt—that invaded his Colorado cabin at 3 a.m.

"It sounded like an explosion when he slammed the window open," said Williams. "I grabbed the Yellowboy and walked to the opening from the bedroom to the living room. We don't have a door to separate the rooms. With the front porch light coming through the windows, I could see the bear on the couch, just 42 inches from me. I cranked off the first round and hit him. He jumped down from the couch and stood up in front of me about three feet away. I shot him twice more and he fell back to the other side of the room."
Williams could see the bear was still moving and was forced to shoot several more times. After reloading, his wife Stephanie handed Williams a flashlight, and he put a final round into the bear, ending the threat.
Williams lives in Conroe, TX, but he and his wife, Stephanie, summer in the small, 400-square-foot cabin in Colorado. "Ninety six percent of this county is national forest land," he said. "In the 23 years we have had this cabin, we have never had any problems with animals. Although, we have seen signs of them passing through our property."
The bear lingered around the structure the night before, which prompted the cowboy action competitor to load and hang his gun just in case it came back in an aggressive mood. It proved a lifesaving move for the couple.
"That rifle saved our lives," said Stephanie. "I blow it a kiss goodnight every night before bed. It was one of the scariest things I have been through, but we are slowly getting back to normal."
American Rifleman featured the Yellowboy as its NRA Gun of the Week in mid-July 2016. Law enforcement and wildlife officials have ruled the shooting self-defense.