by
Mark A. Keefe, IV, Editorial Director
posted on July 18, 2014
Support NRA American Rifleman
DONATE
The ARES Defense Sport Configurable Rifle made quite splash as it is a semi-automatic rifle that employs many of the virtues of the AR-15 platform and takes AR-pattern magazines but does not have any of the "features" that are frequently singled out by anti-gunners.
What does that mean? Well, the SCR is legal in all 50 states. ARES President Geoff Herring, an accomplished and brilliant gun designer, came up with the basics of the SCR years ago. He took the front half of the AR bolt and mated it with a tail, as is commonly used in self-loading shotgun designs. Instead of an AR buffer tube, the tail on the back of the firing pin matches up with a recoil-spring and cup assembly that would be familiar to any semi-auto shotgun owner. Also, the lower receiver has been reconfigured to match up with the standard rifle stock. The fore-end is a slim and svelte Magpul. And the upper reliever has a standard Picatinny rail.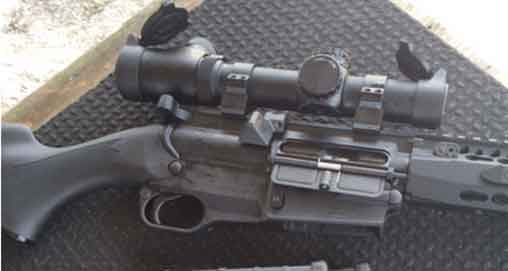 The buttstock is a traditional open semi-pistol grip that looks like it belongs on a Remington shotgun. As a matter of fact, I'm pretty sure it was intended to go on one before ARES hijacked it. I had previously handled the gun but was finally able to shoot it. My suspicions were confirmed. There are reasons why the traditional American style buttstock evolved and is successful. It is handy and ergonomically excellent. It is also quick to the target.
Perceived recoil was also changed from a standard AR. The downward angle of the recoil spring changes how the gun feels under recoil. It may not be better, but it seems to help with muzzle rise. The platform allows most AR accessories to be employed, such as rails and fore-ends, as well as optics. The SCR has a lot to offer-especially for those who live in states with oppressive gun laws. I don't live in one of them, but I want an SCR.
Watch NRA's Tony Morrison fire the SCR in the video below.