by
Mark A. Keefe, IV, Editorial Director
posted on August 12, 2014
Support NRA American Rifleman
DONATE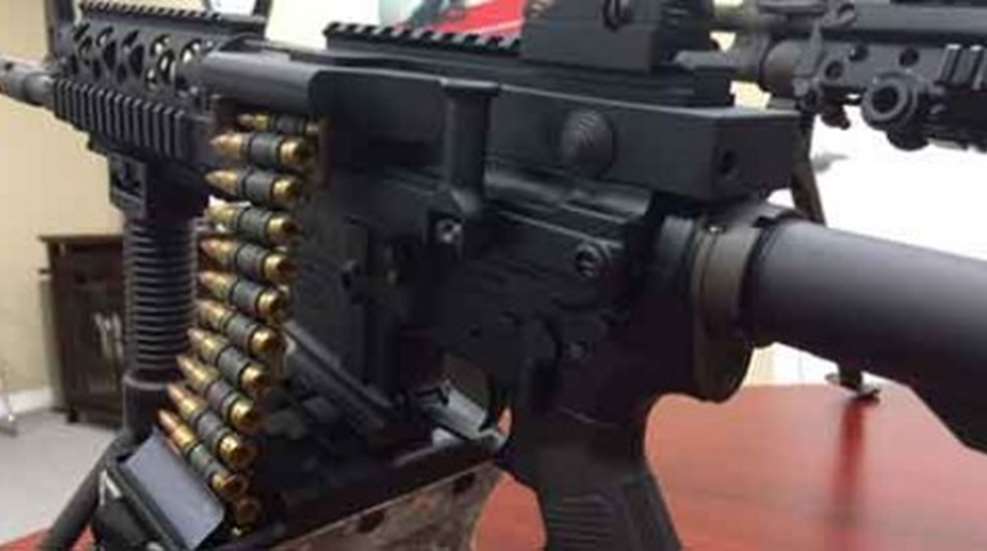 The ARES Defense Mission Configurable Rifle (MCR) can either be a standard infantry rifle, a carbine or a light machine gun. During a recent trip to Florida, I was fortunate to be able stop by the offices of ARES Defense. And that stop did not just include coat-and-tie meetings, but rather a trip to the range. One of the most interesting guns of 2014 is the ARES Defense SCR for Sport Configurable Rifle, which we covered previously and will review in an upcoming issue of American Rifleman.
But that is not how ARES Defense and its founder Geoff Herring got their start or their reputations. The company is best known for the SHRIKE, a belt-fed conversion for the AR-15/M16 platform. That design has since turned into the MCR, which has a top cover that can accept disintegrating links as employed currently with the U.S. M249 Squad Automatic Weapon. The trick, though, is that the MCR offers the firepower of a SAW in a much more compact—and lightweight—platform. Aside from the top cover, at a glance, it is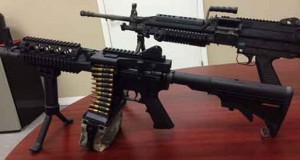 difficult to distinguish an MCR from a standard U.S. M4 or M16. This is important as during the Global War on Terror, our nation's enemies would sometimes target the SAW gunners in a rifle squad. A man armed with a SAW is indeed a threat to the enemy. Equipped with an MCR, a gun that offers the firepower of a belt-fed with the profile of a standard infantry rifle, gunners would not be as frequently targeted by IEDs and other tools of terrorist. Also, after watching video of SAW gunners going up and down the stairs in urban operations in Iraq, pointing their guns up the stairs, I could not help but think there has to be a way to give them firepower but still allow more portability.
The MCR can be either a standard infantry rifle fed from a detachable-box magazine or it can be a belt-fed that employs the same fee devices as the U.S. M249. I had a chance to head to the range with the ARES Defense guys and was able to shoot the MCR. You can see the video below. With the MCR you can fire on semi-automatic or fully automatic, depending on what the lower receiver is on your gun. As you can see in the drill that I perform, I started with a belt of 5.56x45 mm NATO ammunition and then transitioned to a 30-round magazine. Where the U.S. military will go in future when it comes to guns like the MCR, I don't know. But when the military makes up its mind no doubt ARES Defense will be there.
The ARES MCR has a very clever method of barrel attachment. It has a simple stud that retains the barrel allowing it to be rapidly switched out in case of being overheated in the light machine gun role or switched out by the operator for a different mission. The gun attains much of the flexibility of the original Stoner Model 63 series. It can be a carbine, an infantry rifle or a belt-fed light machine gun. The upper receiver can either include a top cover that opens to allow feeding for me to send a grading link belt or it can just be a standard A.R./M-16 type upper. ARES Defenses uppers can be put on any existing lower, meaning that it could be used with a standard semi-automatic AR or, of course, with the U.S. military M4 or or M16.
In firing the ARES MCR there were a couple of lessons, the first of which was to use the Grip Pod. The gun I fired was, of course, fitted with a standard M4-style buttstock. You know, the one that you compress to collapse. Well, when you hold an MCR like you would a regular belt-fed machine gun, and tuck the left-hand up under the buttplate, you collapse the stock. This can result in kissing the optic on the top cover. This is a case when you definitely want to reach forward and take hold of the Grip Pod. I think my glasses are still bent.
While the gun I fired was a fully automatic machine gun, ARES Defense offers its gas-piston-operated ARES-15 MCR to commercially built on its own semi-automatic-only lower receivers.