by
posted on October 11, 2016
Support NRA American Rifleman
DONATE
AR-15 enthusiasts are well aware that the market is flooded with accessories and upgrades for their favorite modular shooting platform. How exactly does one go about sorting through all of the options? Over the last few years, I've had the opportunity to work with a variety of products from several companies both great and small. But all too often their unique and useful offerings are overshadowed by the new guns they're attached to.
So, instead of focusing solely on individual components per se, this gallery is dedicated to showcasing several of my favorite manufacturers by introducing a few of the products they offer. Some of the companies are small mom-and-pop operations with a handful of unique offerings to tantalize home rifle builders while others are big operations with expansive catalogs. One way or another, they manage to stand out from the crowd:

1. Adcor Defense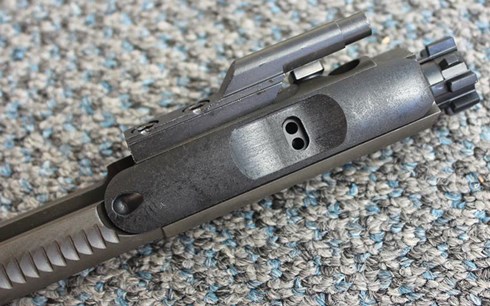 Adcor Defense specializes in high-performance gas-piston rifles including the B.E.A.R. But tucked away in their parts catalog is an item home builders should keep in mind.         
In order to cut cost, some companies are producing AR-15 uppers without dust covers. To literally fill the gap left by those missing dust covers, Adcor offers a standard AR-15 bolt carrier fitted with a spring loaded polymer dust shield. This shield moves into the ejection port opening to flush with the inside geometry of the upper receiver. This prevents dust, sand or debris from entering the action. The highly durable, self-lubricating polymer shield withstands extreme temperature. MSRP: $179.99 (Carrier Only)

2. Bootleg Inc.



Bootleg Inc., a sister company of Primary Weapons Systems (PWS), was formed a couple of years ago to provide direct impingement rifle accessories and AR builder education. The company's products have been featured in the new Primary Weapons Systems "MOD2" and Agency Arms "Project Classified" rifles.
Among the individual components available for purchase these days is the Bootleg Lightweight Adjustable Carrier for rifles fitted with sound suppressors. Machined from S7 tool steel, this carrier features a four-setting vent system to relieve excess gas pressure when a suppressor is used. This creates longer dwell time and less blowback for the shooter. Because the gas adjustment is located on the portion of the carrier facing the gas port, it can be adjusted without removing the carrier from the rifle. Other features include a lightweight design, a staked mil-spec gas key and a durable lithium isonite coating. MSRP: $249.95 (Carrier Only) 

3. Brownells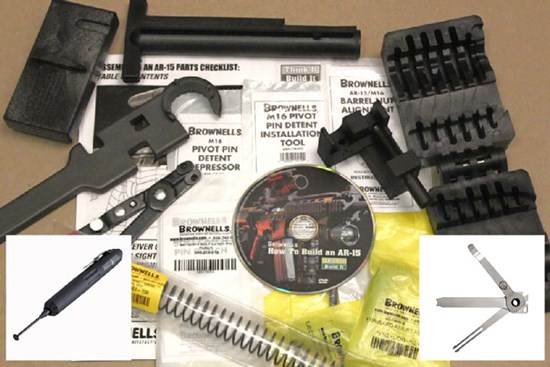 It's just not possible to talk about AR-15 components and services without a tip of the hat to Brownells, one of the largest and most respected part suppliers in the country. You can find literally every single item needed to build an AR at Brownells including free instructional videos and the company's excellent in-house aluminum magazines. I often find myself perusing their catalog to find useful tools including the pen-shaped Multi-Tasker multi tool ($49.99), the American Grip 5.56 mm Dagger pocket tool ($21.99), the Brownells Front Sight Block ($39.99), and many more.

4. CMMG Inc.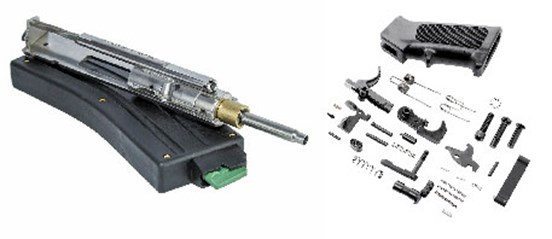 CMMG Inc. has been shaking things up in the AR world with the release of the gas-impingement operated 7.62x39 mm Mk47 Mutant last year and the .458 SOCOM MkW Anvil XBE rifle this year. However, if you are looking for a more sedate and affordably priced shooting experience, CMMG offers some of the best .22 Long Rifle caliber conversions for .223/5.56 rifles on the market. Simply swap out the rifle's bolt assembly and magazine for the CMMG components and you're ready to shoot. For the AR builders, take a look at the company's lower parts kits. The #55CA6C5 kit is affordable with quality parts that meet or exceed mil-spec requirements at an affordable price. MSRP: 22BA6E1 .22LR AR Conversion Kit (Bravo) $229.95; 55CA6C5 AR-15 Lower Parts Kit $64.95

5. Ergo Grips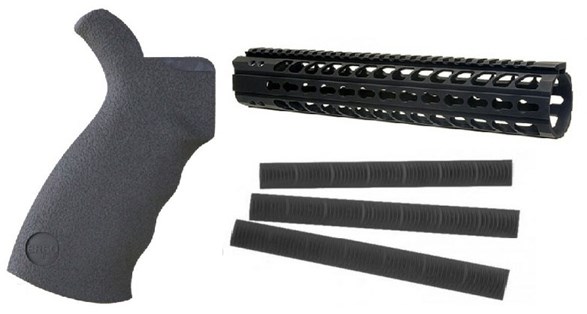 Based in Moriarty, New Mexico, ERGO Grips develops and manufactures high performance small arms accessories to support civilian, law enforcement and military users. As the company name implies, the company makes top notch polymer grips, like the comfortable and aggressively textured Original ERGO Grip. However, the ERGO catalog is stuffed with a wide variety of useful and affordably priced rifle furniture including railed handguards, rail covers, shoulder stocks and more. The components I've worked with not only look great, they've also been reliable, durable and comfortable to hold. There's just too much product to talk about here, so head over to their website to learn more. MSRP: Original ERGO Grip (#4009 ) $28.50; ERGO Modular KeyMod Free Float Rail System $206.50–$227; 7-Slot KeyMod WedgeLok Slot Cover 4 pack (4330-4PK) $21.75

6. Hiperfire Triggers



Hiperfire Triggers, produced by High Performance Firearms LLC in Minnesota, offers a variety of AR-15 and AR-10 trigger upgrades that are ideally suited to combat, law enforcement, competition and personal-protection applications. The Hipertouch EDT, which stands for Enhanced Duty Trigger, drop-in single-stage trigger upgrade provides the rugged reliability and familiarity of a mil-spec trigger but with key enhancements. It arrives with two sets of springs that can be used to provide either a 5.5-lb or 4.5-lb trigger pull. Once installed, using small pins (0.154" diameter), this properly polished trigger group consistently provides just a hint of creep, a slightly shorter travel distance and a clean, crisp break for a fast reset.
The Hipertouch 24E is the company's elite version of a high precision fire-control drop-in for AR platforms. This model features the unique Hiperfire toggle spring functionality that reduces trigger pull weight while increasing hammer fall energy by over 35 percent when compared to MIL-spec triggers and other trigger upgrade options on the market. This allows shooters to ignite hard MIL type and imported primers reliably. I currently have this trigger installed in a lower assembly configured for target shooting. Its short, crisp single-action pull is set to just 2 lbs 11 oz. and it's exceptionally smooth. Hiperfire triggers are made entirely in the United States. MSRP: Hipertouch EDT $89; Hipertouch 24E $215

7. Luth-AR Shoulder Stocks



I first saw Luth-AR's shoulder stocks at the SHOT Show in Las Vegas earlier this year. They pulled me right out of my path of travel causing me to swerve over to the booth for a long conversation with the staff. The name of the Luth-AR game is utility and flexibility at affordable prices thanks to the company's modular stock designs. And if the Luth name sounds familiar, it's because Randy Luth was the founder of D.P.M.S./Panther Arms, which became one of the largest AR manufacturers in the world. He created seven patents, and pioneered and promoted hunting with AR-style rifles.
The company offers two rugged, lightweight polymer stocks; an M4-style 6-Position option and a fixed A2-type model. In their stripped down, basic configuration these stocks can be purchased for as little as $49.95. Once you have these stocks in hand, they can be upgraded piece by piece with adjustable cheek risers, sling mounts, extension plates and adjustable-length butt plates. Buy only what you need, or, get the same stocks fully tricked out at the factory. I really like the slimmed down, no-frills, no-fat MBA-2 "SKULLATON" stock for personal protection and trunk guns while the fully adjustable 6-position MBA-3 carbine stock is ideal for target shooting and competition without having to spend a fortune for the features. Luth-AR stocks are available with complete buffer assemblies for at-home rifle builds. MSRP: MBA-1 $139.95; MBA-2 "SKULLATON" $49.95

8. Mission First Tactical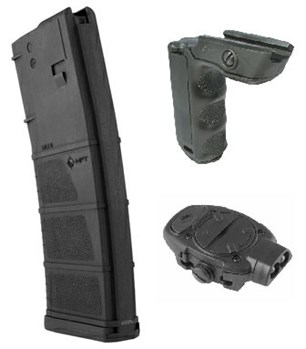 Mission First Tactical (MFT) is one of the very first AR accessory companies that I worked with when I got started as a gun writer several years ago. I've had positive results with their products and I think they deserve more coverage than they sometimes get. One of the reasons you may not have heard of this company is because they develop AR accessories specifically for military and law enforcement applications, hence those are the groups to whom they market. However, features and price points of their products make them top notch options for civilian use as well.
The MFT catalog is extensive, encompassing shoulder stocks, handguards, sights, slings, gas blocks, grips and more. I've found the SCPM556 30-round polymer magazines for .223/5.56 rifles to be utterly reliable in a variety of AR platforms. Features include a stainless steel spring, flared floor plate, stipple texturing and no-tools disassembly.
For those of us who like to choke up with the support hand by grasping the magazine well, the React Magwell Grip (RMG) places the support hand forward of the magazine well to prevent injury in case a faulty round detonation blows the magazine out of the rifle while providing a firm gripping surface even when hands are wet or gloved.
One product I keep using time and again is the TORCH Backup Light (TBLW). This tiny dual LED light weighs in at ¾ oz. and it fits just about anywhere. It has an integral Picatinny rail mount, IPX7 waterproof rating and a simple on/off switch. It provides 20 lumens of illumination for 12 hours using one replaceable CR2016 battery. It's ideal as a back-up for larger lights or as a primary light when space and weight are at a premium. MTF products are made in the USA and sold with a lifetime warranty. MSRP: SCPM556 30-Round Magazines $14.99; React Magwell Grip (RMG) $29.99; TORCH Backup Light (TBLW) $49.95

9. Seekins Precision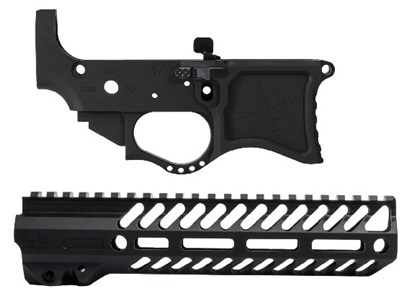 Seekins Precision of Idaho takes the "precision" part of the company name seriously. Founded by Glen Seekins in 2004 to develop a better set of scope rings (after his rings broke during a hunt), the company catalog has grown to include complete rifles and key pieces of in-house hardware such as barrels, muzzle devices, handguards and milled lower receivers.
Engineered to trim off as much material as possible, the machined 6061-T6 aluminum free-float NOXs handguards offer an extremely thin profile, lightweight construction and they're easy to install with basic hand tools. Other features include a Type III Class 2 hard coat anodized matte black finish and integral anti-rotation QD sling mounts. The NOXs is available in 9", 12" and 15" lengths.
CNC-machined billet lower receivers are prized for their strength, custom appearance and precise internal dimensions. But Seekins takes the billet lower to the next level with the SP223 Gen2. This lower is fitted with a trigger set screw, an upper-to-lower tension screw (to ensure the upper assembly fits tightly in place) and a set screw to secure the takedown pin detent and spring (no need to wrestle with it when installing the buffer assembly). Other features include an enhanced bolt catch, an ambidextrous bolt stop assembly and an oversized trigger guard. Seekins Precision offers an unlimited lifetime warranty for their products. MSRP: NOXs Handguard $159; SP223 Gen2 Billet Lower Receiver $259

10. Thordson Customs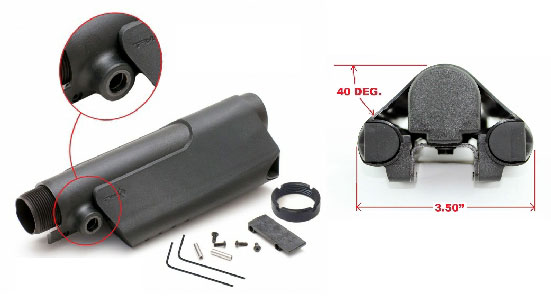 Folks who are striving to assemble ARs in states with silly cosmetic restrictions (no pistol grips, no adjustable shoulder stocks) are probably familiar with Thordson Custom's FSR-15 sporting shoulder stock kits. But I was introduced to the company this year in the course of researching components for building AR pistols at home.
The Thordson AR/AK Enhanced Pistol Cheek Rest Kit with MFT Saddle (shown in black) incorporates the company's Enhanced Buffer Tube Cover kits with the Mission First Tactical EVOLV Battle Stock Attachment. These components are mounted directly to a buffer tube at the factory using a specially designed steel bracket and adapter kit. The result is a pistol buffer tube that provides a proper cheek weld for added stability and a proper sight line for optics and iron sights. Left and right side compartments can be used to store batteries for lasers, lights and reflex sight systems. Because this rest does not have a vertical extension that can be shouldered, like a typical AR-15 rifle stock or a wrist brace, it is not considered a stock and will not change the legal status of your pistol. MSRP: AR/AK Enhanced Pistol Cheek Rest Kit $84.99 

11. Tyrant Designs CNC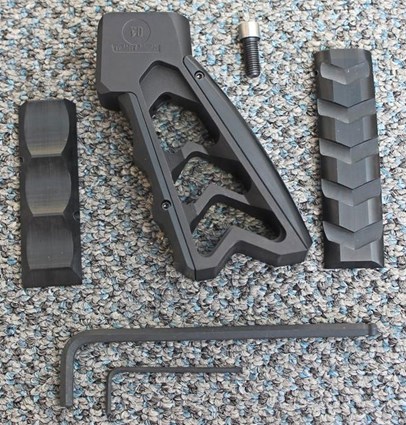 Tyrant Designs CNC brings 30 years of machining experience to its unique milled aluminum AR-15 grips and accessories which are designed and manufactured in the United States. Shown here is the unique lightweight (4 oz.) MOD grip, which is just one of the options this company has to offer. This grip's interchangeable front and back straps are constructed of a durable polymer composite and are available in different sizes and designs for a custom look and feel. The skeletonized aluminum frame is hard anodized in black, grey (shown), blue and red finishes. The MOD arrives with all of the hardware and tools needed for installation. MSRP: MOD Grip $115 - $120