Many of the typical tweaks and changes we see to ARs tends to happen out around the edges of the platform. Each year, we can count on a variety of freshly minted muzzle devices, pistol grips, handguards and shoulder stocks making their way to the marketplace. But once in a while, a company will tackle the challenge of offering a new variety of lower receiver that provides some form of update to the classic mil-spec configuration. Here are three unique AR-15 lower receivers and a couple of accessories that I believe deserve a closer look:
KE Arms Monolithic Polymer KP-15 Lower Receiver
The use of reinforced polymers to manufacture pistol frames is now a standard practice in the firearms industry. But the switch to polymer AR-15 lower receivers has been relatively slow by comparison. One of the biggest challenges that designers run into is combatting structural integrity at high-stress areas and critical locations, such as the various modular connection points where components are screwed or pinned into place.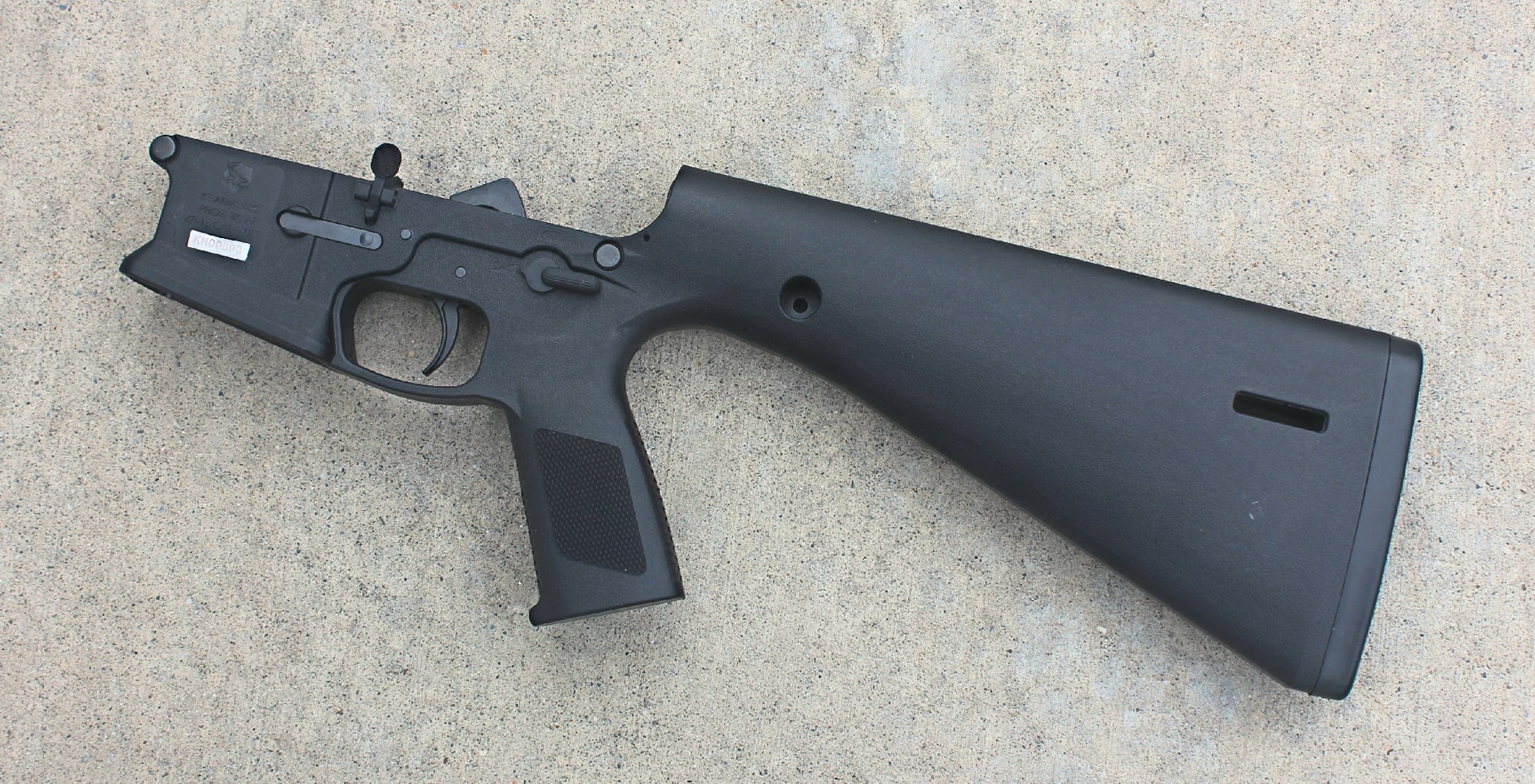 KE Arms has solved the connection point issues by simply eliminating them all together. The company's KP-15 model is a polymer lower with a monolithic design, which incorporates the trigger guard, grip and stock as a single unit. Only the textured buttplate is a removable piece supported by a pair of screws. This receiver arrives with modified pivot and takedown pins, which don't use typical mil-spec detents.
The polymer KP-15 features a flared magazine well, left and right ports for push-button QD swivel studs and a rear sling slot. The receiver will accept either mil-spec or drop-in trigger groups. It's available from various retailers with black or tan finishes in a variety of configurations from stripped to tricked-out with top-grade lower parts. The lower shown below, which was provided by Brownells, shipped with a mil-spec component set, including the trigger group and buffer assembly.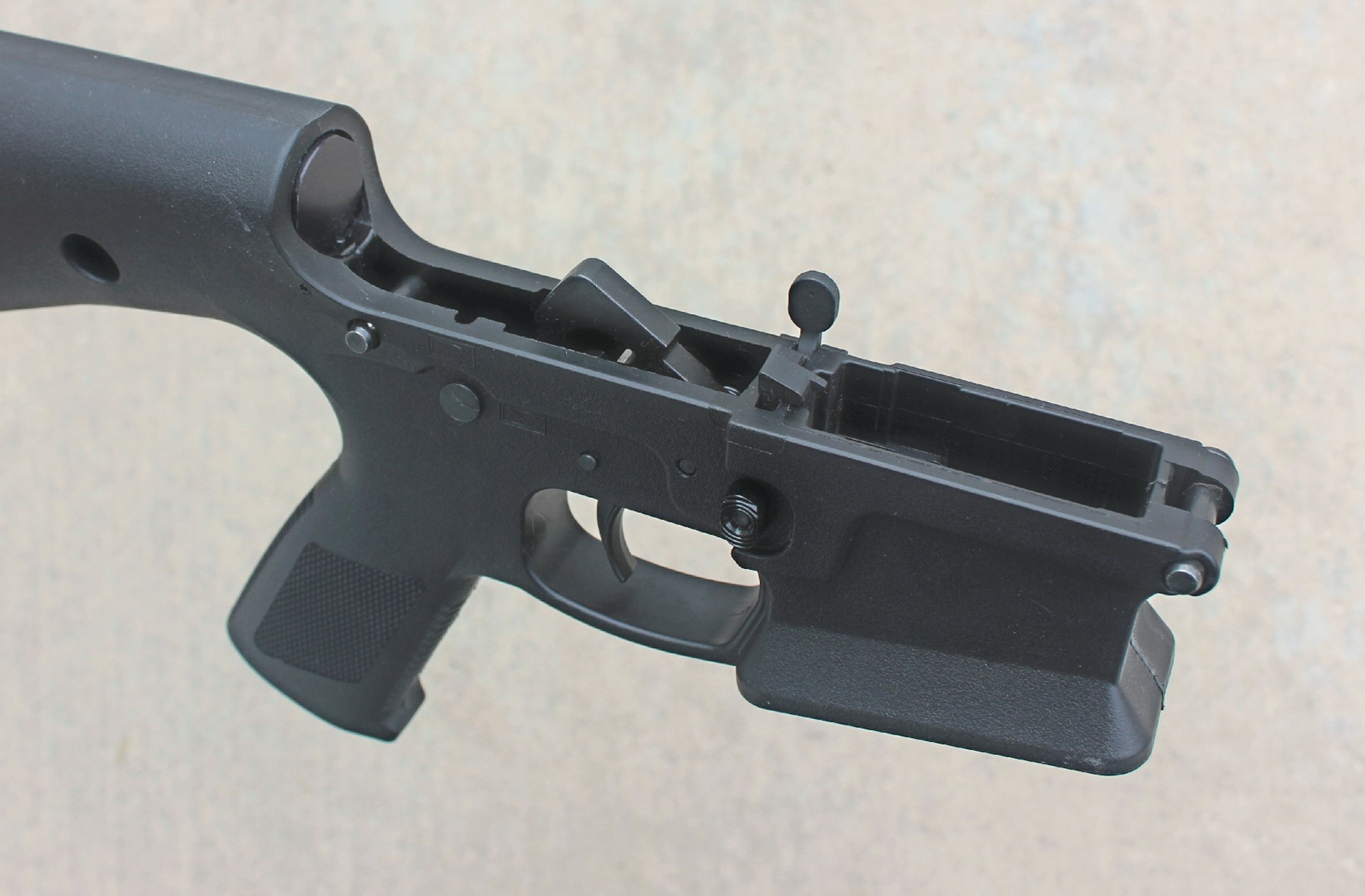 This example is outfitted with mil-spec components.
This polymer lower is an attractive option for those in the market for a simple, affordable, decision-free lower assembly that can just be purchased and put to work. It's lightweight, the grip is comfortable, and it has a useful 13" length of pull. The KP-15 can comfortably handle standard AR-15 chamberings, such as .223 Rem./5.56 NATO to 6.8 mm SPC. However, it is not rated for .458 SOCOM, .50 Beowulf or .50 BMG. The suggested retail price for the KP-15 starts at $149. For more information, visit kearms.com.
Brownells BRN-180 Series Lowers
Brownells re-invented the AR-180 platform a few years ago with the release of its in-house manufactured BRN-180 series of mil-spec-compatible upper assemblies. These uppers employ an internalized piston-driven action and recoil system, which eliminates the need for a buffer tube. When they started shipping, customers were quick to request a platform-specific lower receiver. The company soon launched two lower options: the BRN-180 and the BRN-180M.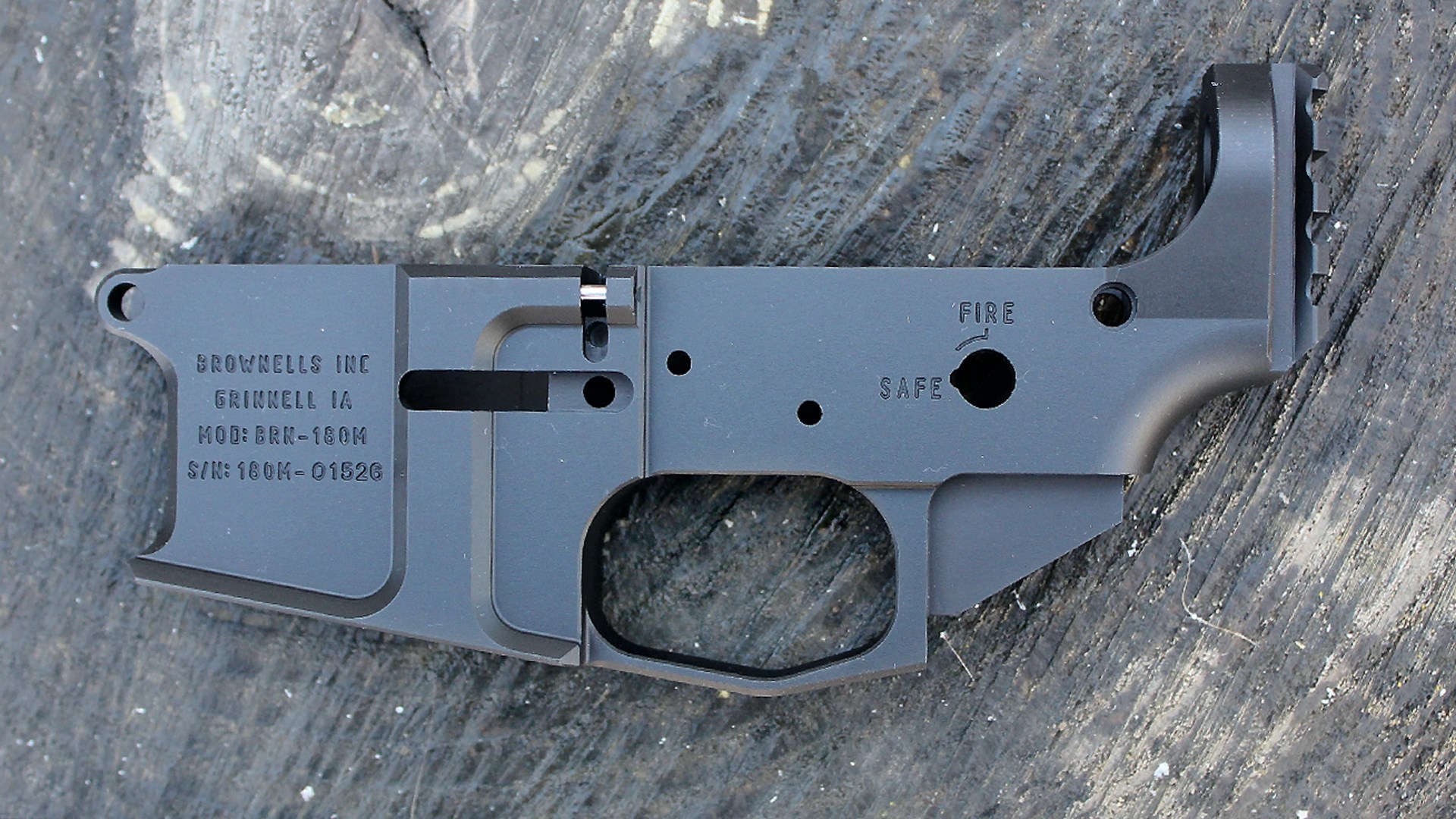 This version of the BRN-180 lower is milled from billet aluminum.
The defining modification to the BRN lowers, compared to the AR-15 design, is a fully integrated 2"-long, 4-slot Picatinny rail in place of the threaded receiver extension where the buffer tube attaches. Lending to its utility, this rail can be left unused for more compact pistol builds or fitted with folding stock assemblies for carbines and rifles. The BRN-180 receiver is a forged unit, from 7075 aluminum, sports a retro appearance and is compatible with other brands of piston-powered uppers.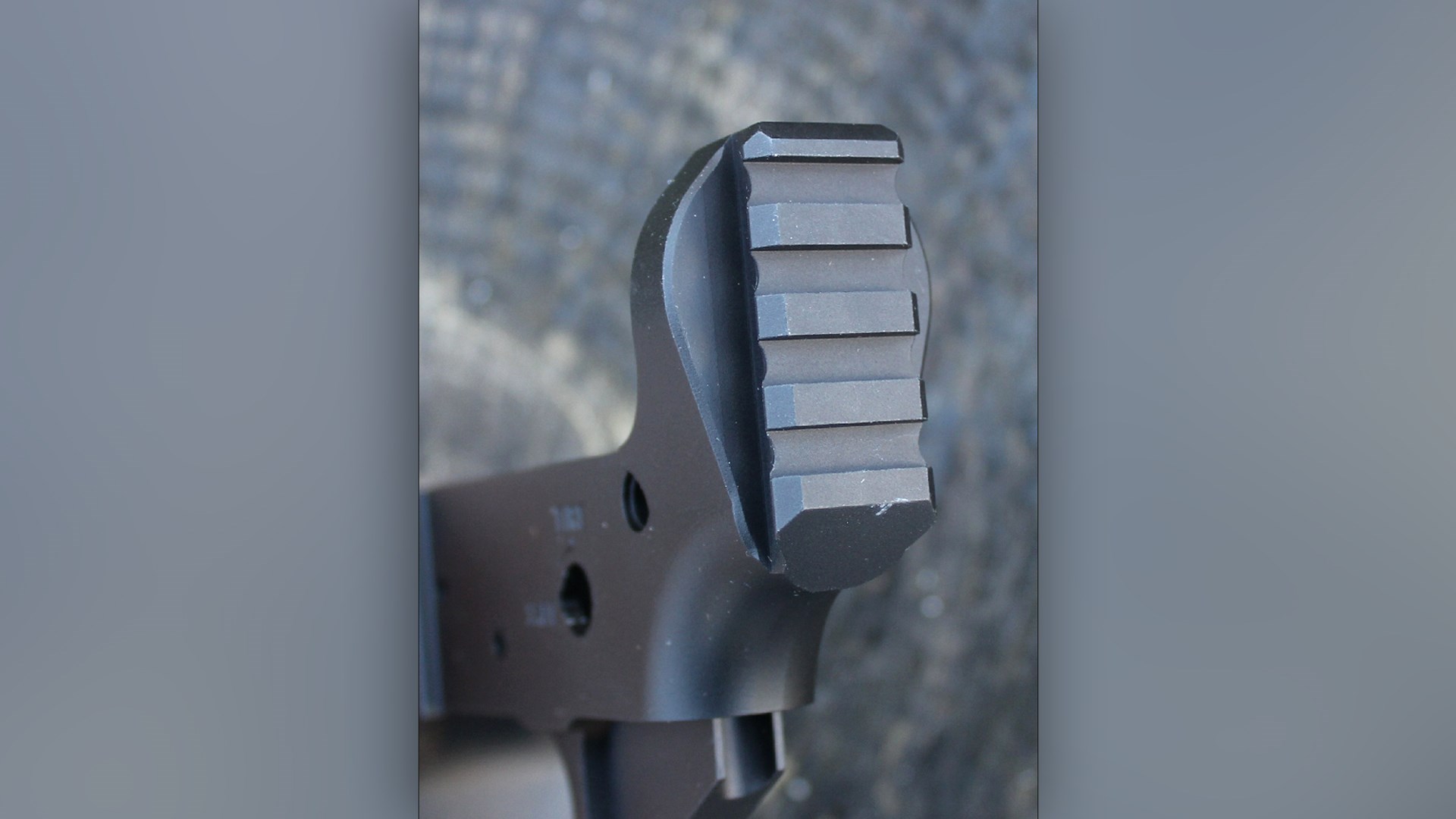 The rear rail is not a separate component but an integral part of this lower receiver.
The BRN-180M version, shown above, is made specifically for use with BRN uppers. Its modern profile is milled from a single billet of 7075 T-6 aluminum and treated with a hard-anodized finish. The integral trigger guard is oversized and Brownells pairs its BRN-180M with a flared magazine well. Other features include a captive takedown-pin detent and spring and a threaded bolt-catch pin. You can read a review of the BRN-180 system by clicking here. Suggested retail pricing starts at $169.99. For more information, visit brownells.com.
 51Fifty R.A.C. System
51Fifty is a U.S.-based manufacturer of AR-pattern Evolve rifles and pistol-caliber carbines built for precision with premium-grade accessories. The company's emphasis is on creating fully outfitted rifles, SBRs and pistols with all-American made components throughout the gun so that no further modifications or component swaps are required.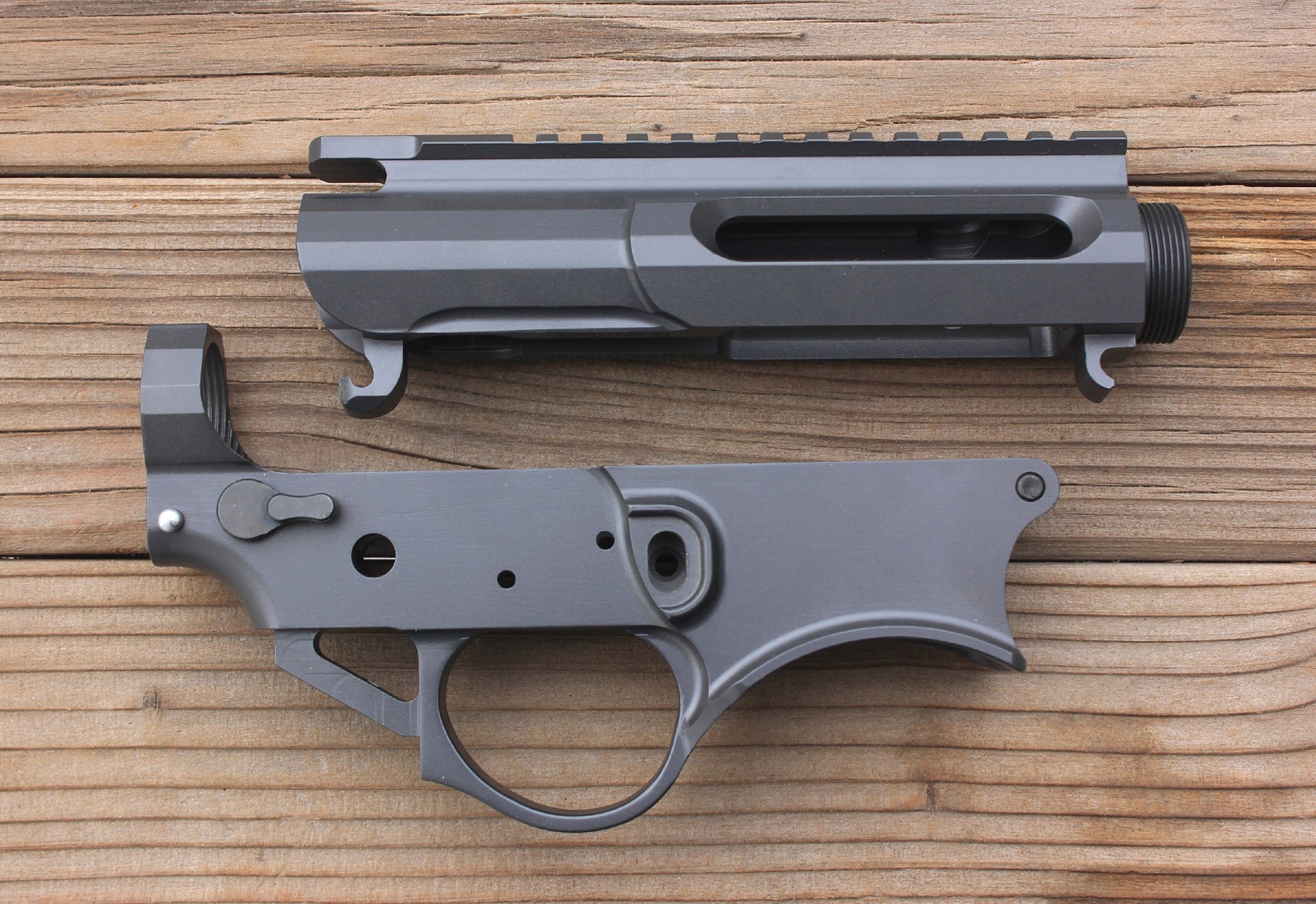 Note how the upper's pin extensions are hook shaped.
One of the challenges in building precision ARs can be the upper-to-lower receiver fit. The pivot and takedown pins allow the receivers to separate for easy cleaning or caliber swaps, but this pinned receiver arrangement can also create subtle slippage between the receivers, which has been found to make an effect on downrange accuracy. 51Fifty has addressed this issue by developing the Rapid Action Cam (R.A.C.) system.
The company's Evolve receiver set comes machined from 7075 billet aluminum and treated with a gray KG Industries protective coating. The lower has a striking layout that includes an integral oversized trigger guard, a magazine well with a deeply curved profile and a threaded bolt catch pin. The lower's forward pivot pin is a fixed steel pin that is set firmly into the receiver. The rearward takedown pin has been traded out for a rotating cam fitted with an ambidextrous release lever. The flat-top upper receiver's pin extensions are hook-shaped. When the cam is engaged, it exerts a forward pressure that locks the upper receiver firmly in place.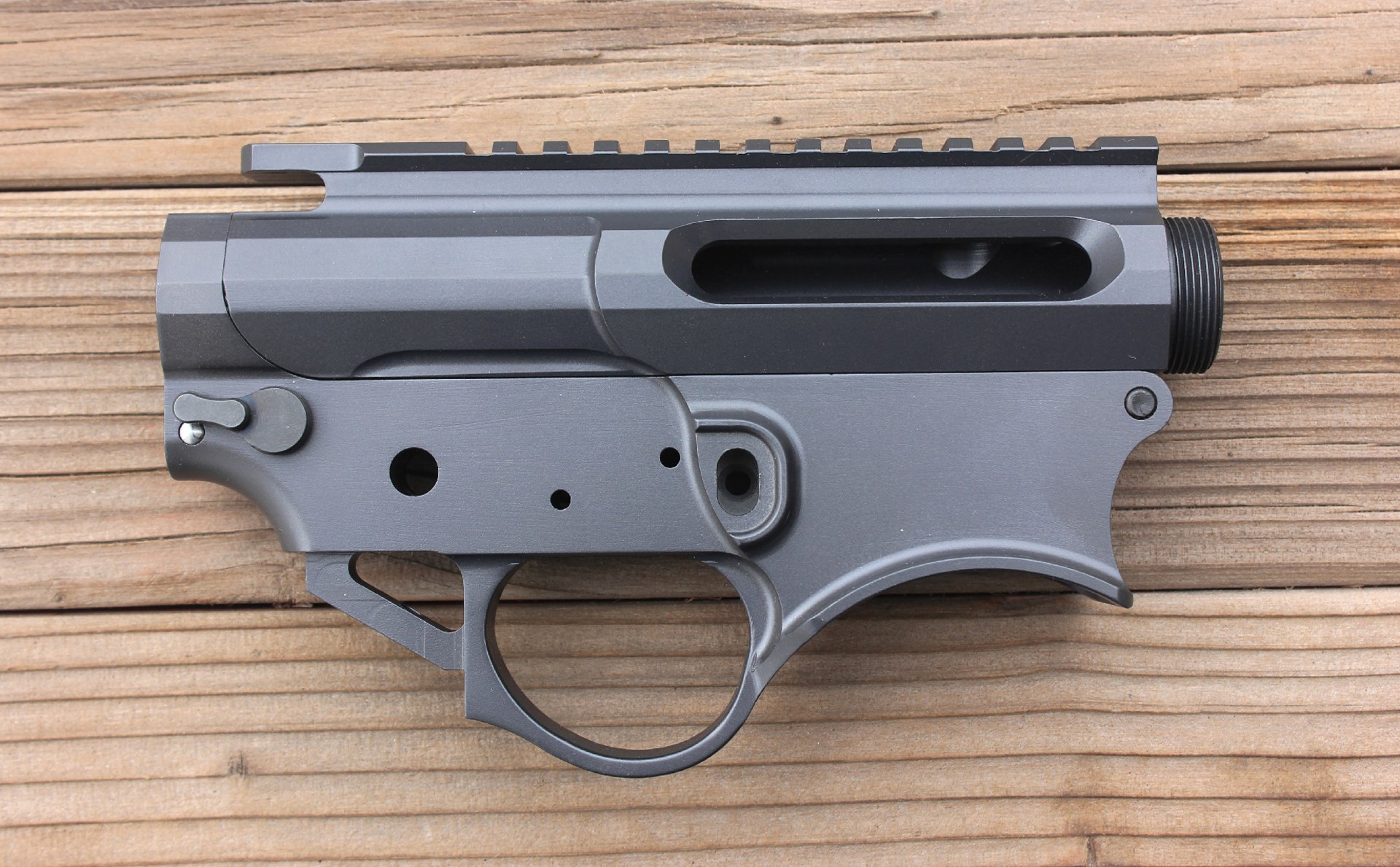 The rear-mounted cam locks the upper firmly in place.
The R.A.C. system makes swapping out uppers in the field faster and easier. Simply swing the cam's release lever forward and then tip the upper assembly up and off of the gun. It's a smartly designed system that I found is simple, rugged and easy to use. Suggested retail pricing for a stripped receiver set starts at $549.
Additional Lower Accessory Options
Like what you read above and already have a standard configuration lower and would like to either crop off the buffer tube to reduce weight or to install a folding stock without having to replace entire lower? In both of these cases, some top-notch accessories are already available.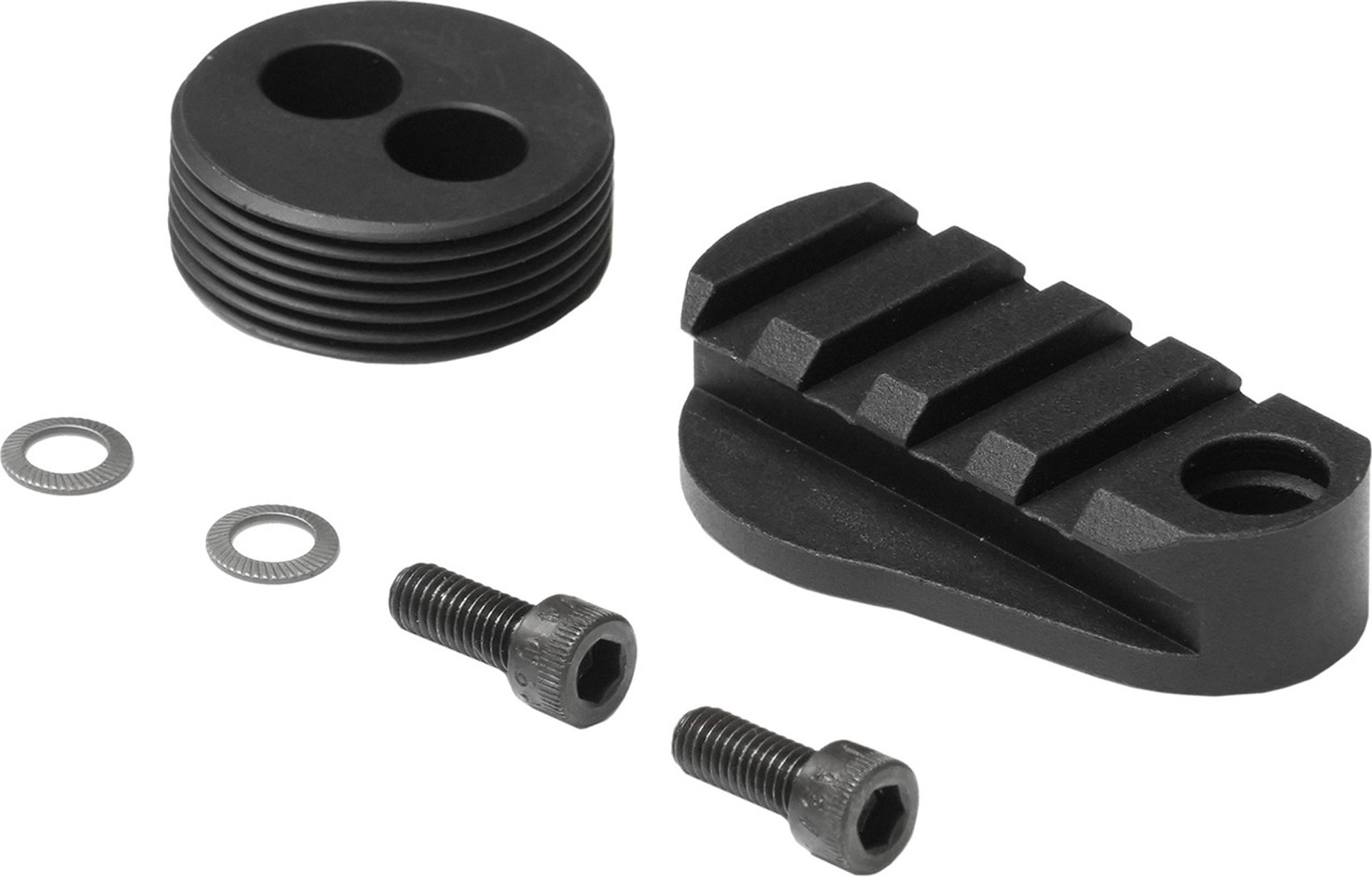 This railed plug kit can support folding stocks and other accessories.
CMMG offers a Picatinny end cap rail kit as part of the company's Zeroed component series. The four-slot aluminum rail is secured to a threaded end cap via a pair of hex head screws in order to allow for precise alignment to the receiver. The bottom of the rail sports a QD socket for sling mounting. The company also offers a simple one-piece aluminum cap that also seals the receiver's buffer tube port and serves as a sling attachment point. This version of the end cap is included in this review.
The end-cap kit prices range from $29.95 to $44.95. For more information, visit cmmg.com.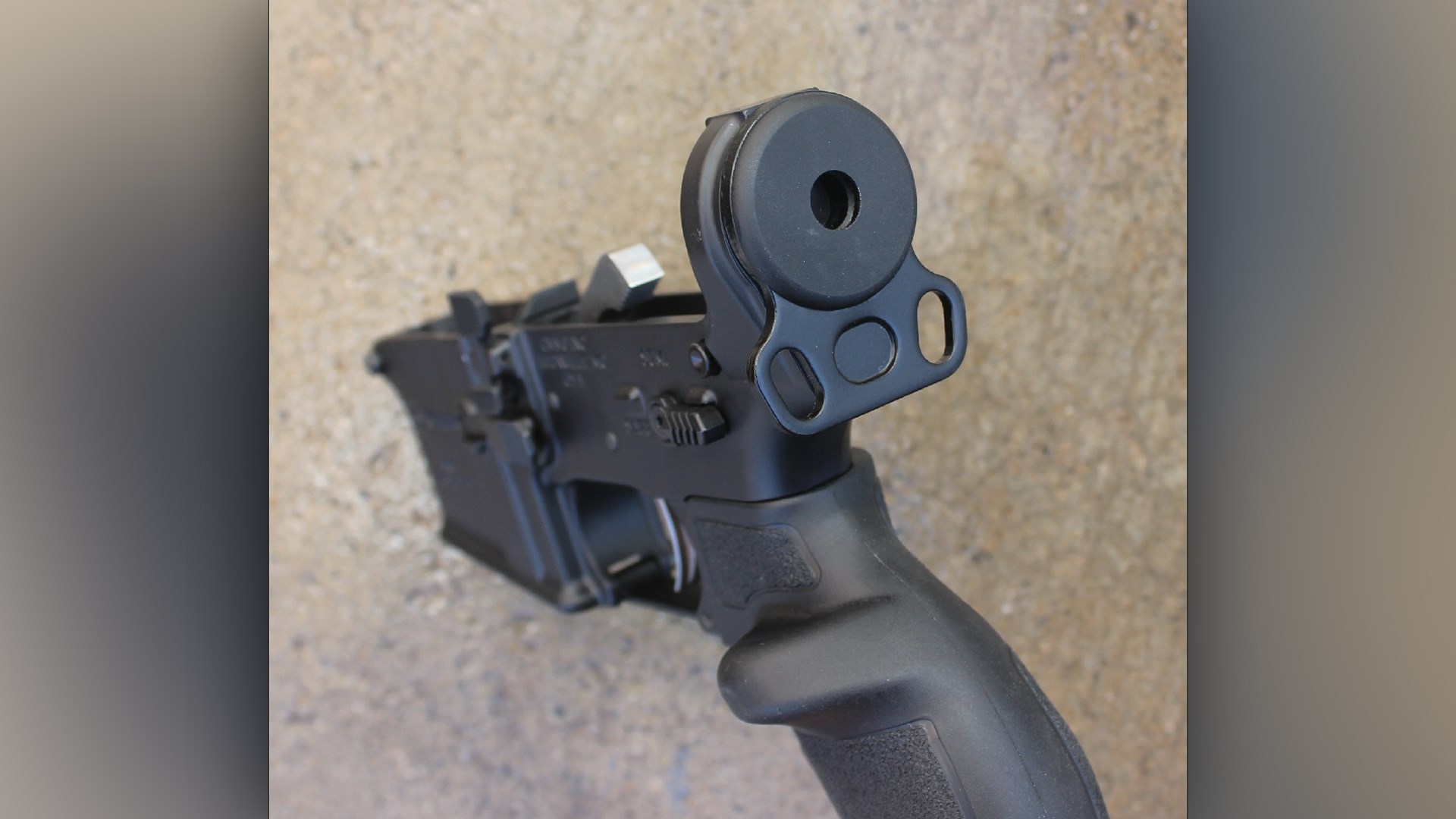 The QD receiver plug was developed for CMMG's Banshee .22 LR pistols to fill in for the unneeded buffer tube assembly.
Law Tactical offers what may well be the sturdiest folding stock adapter system available. Designed for military and law enforcement application, it's manufactured here in the United states from hardened 4140 steel, which is then treated with a DLC coating. This threaded adapter serves as a hinge fitted between the lower receiver and the buffer tube. A bolt carrier group extension is provided with this adapter. Other features include one-button operation and adjustable hinge tension. The Gen 3-M version of this adapter was evaluated as part of this pistol evaluation. Suggested retail price is $249.99. For more information, visit lawtactical.com.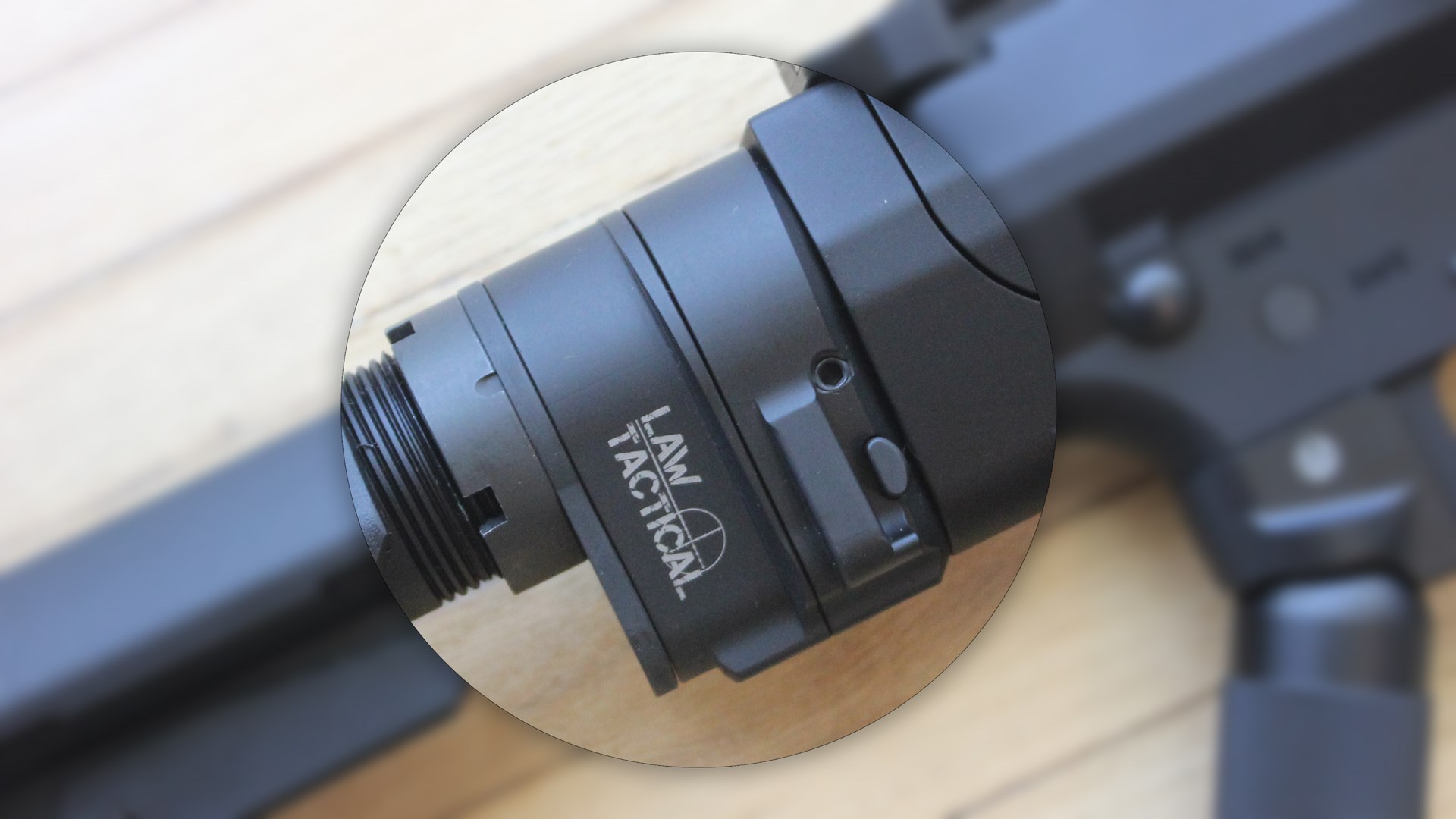 This durable hinged adapter is designed for serious use.