Support NRA American Rifleman
DONATE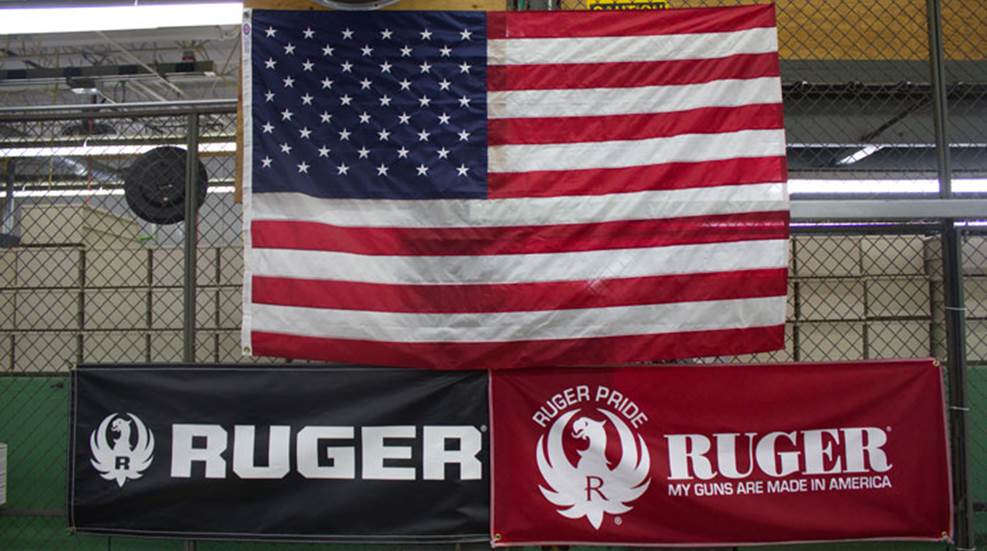 Oreos. Add the ubiquitous cream-filled cookie to the list of American originals that will now be out-sourced to Mexico due to cheaper material and labor costs, at the expense of 600 Chicago-area jobs. In this case, sugar is to blame—or rather U.S. trade barriers that currently mandate that the U.S. pay twice the average world prices for sugar. With 7.5 billion of the world's most popular cookie sold annually, that's a lot of Dominos.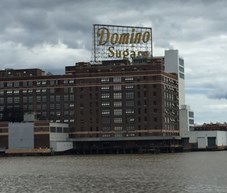 This disconcerting piece of information is not unique. Tens of thousands of U.S. factories and millions of manufacturing jobs have disappeared in the past decade. It's been said that any great nation throughout history has been great at making things. But what if we don't make anything anymore? As a nation we consume massive quantities of, well, everything (including Oreos), and produce less and less. As a result, it is equally disturbing to consider that some of America's most iconic products are now produced outside our borders—Rawlings baseballs; Levi jeans; Converse (Chuck Taylor) tennis shoes; Mattel toys and even millions of U.S. flags are imported annually.
The deindustrialization of America has had an impact on nearly every market. Some categories of industry, however, are actually evening out the import/export ratio. Remember when Toyota, Volkswagen and Datsun were once inexpensive alternatives to pricey imports? Ironically, the Toyota Camry has recently been deemed the "most U.S. made" vehicle on the market.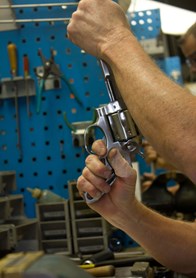 There's no question it's expensive to manufacture here. And so we wonder about the most iconic item of American manufacturing, which pre-dates automobiles and has been produced here since before our colonies united—guns. Although the firearm industry has by no means been immune to the lure of off-shore production costs, the great news is that not only has gun manufacturing in the U.S. remained, it is thriving. In fact, many foreign gunmakers have followed the automobile industry's model of expanding manufacturing to U.S. soil, employing a sizable domestic workforce as it contributes to the production of a healthy annual supply—8.5 million of them according to recent numbers—of new and innovative firearms for the military, law enforcement and civilian markets.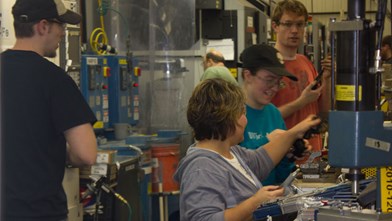 The microscope recently has been on the many U.S. gunmakers that are heading south to escape increasingly politically hostile environments, particularly in what was once known as "Gun Valley." This area comprises states in New England—Connecticut, Massachusetts, New Hampshire, to name a few. So while it's true there has been a commanding exodus to states with less strict gun laws—by and large the southern states—the reassuring news is that some form of gunmaking still exists in all 13 of America's original colonies, including three with European roots—much like America's earliest citizens. It would make the authors of our Bill of Rights proud. Read about some of them here. (And if you are jumping up and down wondering why your state did not make the "Final 13" … hold tight; we'll get to you with the westward expansion. If you are still jumping up and down, you might want to consider a remedial social studies class.)
Virginia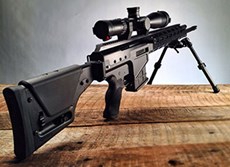 Alexander Arms
With manufacturing facilities located on the Radford Arsenal in southwest Virginia, Bill Alexander's classic story is that of chasing the American Dream with an idea that would not be possible to achieve in his homeland. Alexander was once the UK's top armourer, having designed dozens of new firearms, small arms cartridges and battle-proven vehicle armor. Arriving in the U.S. in 2001 with little more than his imagination, he developed the innovative, powerful .50 cal. Beowulf and later the 6.5 Grendel cartridges. These were followed by variations of the AR that would function flawlessly with his new cartridges, and thus Alexander Arms was born. This British ex-pat now makes American rifles designed for hunting, competition as well as assisting in the war on terrorism.
Massachusetts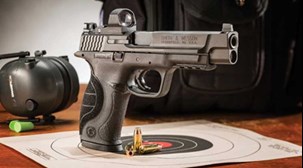 Smith & Wesson
The .357 Mag. revolver. The first American-made double-action autoloading pistol. The .38 Military & Police, or the Model 10 as it is known by today and has been used at some point by virtually every police and military force worldwide. And the Model 29 chambered in .44 Mag., made famous in the "Dirty Harry" series of movies. While Smith & Wesson in recent years has begun to pay attention to the AR market, the 163-year-old company's core competency remains revolvers and the M&P line of pistols. Like other gunmakers that comprise this list, S&W's contributions to handgun and cartridge development can't even scratch the surface here, having etched its famous initials on some of the most innovative handguns of our time and influencing countless copycat firearms. While the company weathered turbulent times in the early 2000s after making some politically unpopular decisions tied to an agreement with the Clinton Administration, it is under new management and has regained its position as a firearm market leader. The Smith & Wesson brand is now composed of M&P and Thompson/Center Arms, with facilities located in Springfield, Mass., and Maine. Last December it announced it was acquiring Battenfeld Technologies for $130 million.
Savage Arms
Younger generations of Savage Arms fans will instantly associate the gunmaker with its popular Model 110 bolt-action rifle, after all, it was the bread and butter of the company's production for years as it climbed out of troubled financial times in the late 1980s. But older generations will recall that before Ron Coburn took over in 1995—effectively saving the company and rebuilding its success—Savage had nearly a 100-year successful record of producing rifles, handguns and ammunition for the civilians and the military, and was most famous for its lever-action Model 99 rifle. Savage even participated in the early U.S. Army trials for a .45-cal. semi-automatic pistol—becoming one of two finalists. As we know, Colt won the contract for its M1911 pistol, and the rest is sidearm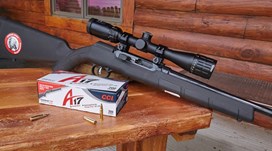 history. Today, at its Westfield, Mass., headquarters, Savage Arms, now owned by Vista Outdoor, produces what are still some of the most popular and affordable long guns on the market. Its engineers are credited with some of the most innovative firearm patents In the industry, including the AccuTrigger and AccuStock. At SHOT Show 2015, it unveiled its latest bolt-action rifle, the Model A17 chambered in .17 HMR. The rifle will be featured in the October 2015 issue of American Rifleman.

New York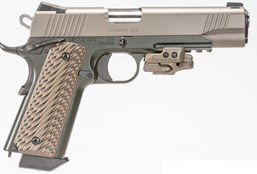 Kimber
The dots connect from Oregon, where Kimber originated, to Yonkers, N.Y., simply by a series of business decisions made by founders and investors. The important fact remains that the company is known for building precision, highly customizable M1911 handguns, which are recognized as some of the finest in the world. The company also makes hunting and precision rifles that have an equally high reputation for quality and accuracy. Organizations like the USA Shooting Team, LAPD SWAT and United States Marines assigned to Central Command have all chosen Kimber firearms.

Remington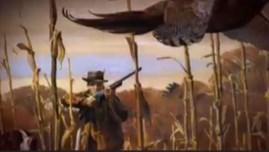 The story of our county's oldest gunmaker, Remington, est. 1816 in Ilion, N.Y., is analogous to that of many American families that form deep roots in a small town and over time witness the joys of family growth and the heartache of the fractured family unit. There is some manufacturing that remains at the historic Ilion site—which at one point employed approximately 1,300—some custom firearms, as well as those made by Harrington & Richardson, which was purchased, along with Marlin Firearms, by Remington in 2007. All three companies are now under the Freedom Group umbrella of companies. Corporate offices are curently in Madison, N.C., and if that isn't confusing enough, Remington is set to open a new Alabama manufacturing plant in the near future, where it will resume manufacturer of most of its firearms. To say that "Big Green's" contributions to the world of rifle and shotgunning are extensive is an understatement in every sense of the word, but include the ubiquitous 870 shotgun and Model 700 bolt-action rifle, among countless others.
Maryland 
LWRCI
Despite having succumbed to the most stringent anti-gun laws in the state's history on Oct. 1, 2013, one of Maryland's monikers is still "The Free State." The ironies are obvious, but suffice it to say, it was those very laws, enacted by the then-vociferously anti-gun governor and now presidential candidate Martin O'Malley, that forced Beretta USA, which called Accokeek, Md., home for decades, to move all of its manufacturing to Gallatin, Tenn. Beretta's administrative headquarters remains in Maryland, but the decision to relocate gunmaking operations—and many good manufacturing jobs—was one similarly made by a host of gunmakers in several states that fell victim to the passage of bad gun laws.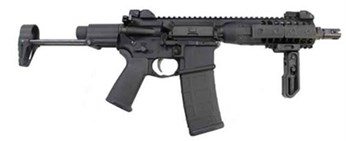 And while a few firearm importers remain in Maryland, only one major gunmaker still stands. Tactical rifle maker LWRCI is located on Maryland's historic Eastern Shore in the town of Cambridge. While business is booming for the family owned LWRCI, its Personal Defense Weapons (PDW) are a considerable departure from what one might expect from a state with a rich waterfowl and hunting heritage. The most popular of the LWRCI's inventory is the Individual Carbine PDW, the gunmaker's most compact rifle, and also one of the smallest piston-operated rifles on the market. Its most unique feature lies in the buttstock, which contains a quick-deploy, two-position telescoping stock that collapses flush to the buffer tube. For more, check out the LWRCI factory tour in this photo gallery, or watch this video.
Rhode Island 
ESS Solutions
While we couldn't pin down an existing firearm manufacturer in the state, Providence-based ESS Solutions has combined German engineering with American manufacturing to boast the ability to produce, in high volume, barrels for numerous firearms: the AR-15, AK-47, AK-74 and many pistols, revolvers and long guns. In addition to barrels, ESS manufactures grips, magazines, handguards and more.
Connecticut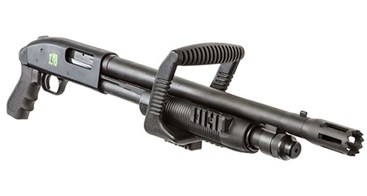 O.F. Mossberg & Sons, Inc.
Although the company recently expanded its Eagle Pass, Texas, plant by 116,000 square-feet, O.F. Mossberg & Sons, Inc., headquarters and significant manufacturing remains firmly planted in North Haven, Conn., where it has been since its 1919 founding. It is the oldest American family-owned and operated firearms manufacturer in the United States, and despite the politically hostile environment for the firearm industry in the state—the company reportedly received many dozens of enticing invitations to relocate and set up shop in more gun-friendly territory—job preservation and loyalty to the dedicated and skilled workers it has employed for decades is a primary reason the gunmaker has chosen to remain in Gun Valley. It is the maker of the most prolific pump-action shotgun in the world—the Mossberg 500, which rolled out in 1962. The shotgun has become synonymous with home-defense, and was the first pump-action shotgun to reach the 10 million mark in production. These days, you'll find numerous variations of the 500, along with dozens of other SKUs in its shotgun and rifle lineup.
Colt's Mfg. Inc.
Whether you count yourself among the cynics who say Colt cannot climb out of its current financial woes, or are an optimist who believes it is embarking on a miraculous comeback, it would be remiss to leave the storied company off a list of American gunmakers still in operation in a U.S. original colony. While investors and legal teams are busy tending to the terms of the company's voluntary Chapter 11 bankruptcy agreement, Colt has "reassured its employees and local community of its commitment to continued operations in West Hartford through a long-term extension on the lease for its manufacturing facilities and campus in West Hartford." That is, it's business as usual for the gunmaker, which promises to meet all of its obligations to customers. To consider that the gun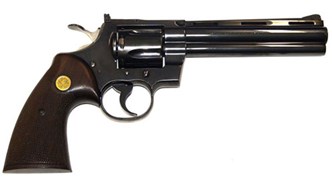 manufacturer credited with helping to win the West—and a couple of world wars—might soon be extinct due to a series of arguably poor management decisions might be justifiable by Wall Street's standards, but would be a tragic ending to a very American story that spawned the slogan, "God created man, but Sam Colt made them equal." Meantime, Gunbroker.com still lists the Colt Python as its best-selling used revolver, and American Rifleman presented a full feature story on the Colt "snake guns" in its September 2015 issue.
Stag Arms 


Founded in May 2003, Stag Arms' goal was to manufacture reliable, 100-percent American-made competitively priced mil-spec ARs. With that in mind, its headquarters and plenty of gunmaking still takes place in the town of New Britain. The company was the pioneer in building left-hand versions of the AR-15 and is what they are most known for, but there is a right-hand version available for every model the company manufacturers. You can learn more in this American Rifleman TV segment, filmed at factory headquarters.

Charter Arms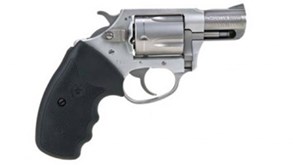 American-owned Charter Arms was founded in 1964, and manufactures a full line of revolvers using skilled American craftsmen, 100-percent American-made parts, with 95 percent of its vendors sourced from within the state. It is notable for pioneering many unique engineering feats, including manufacturing the smallest, lightest one-piece frame firearm, as well inventing as the hammer-block transfer bar safety system now used by nearly every revolver maker. If you are one of the 15 percent of left-handed shooters, you can thank Charter Arms for being the first to acknowledge you with its Southpaw revolver, as well as being the first to design a rimless revolver in .40 S&W, 9 mm and .45 ACP. And whichever side of the ongoing colored-gun debate you fall, it really doesn't matter, because even though we can credit the company with the first pink-framed revolver, it deserves our utmost respect for getting other manufacturers at least thinking about other-than-black options for women.  


Delaware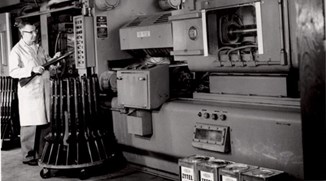 DuPont
"Plastics… There's a great future in plastics…." It is one of the most iconic movie lines (no. 43 on the American Film Institute's list of 100 most famous movie quotes of all time) that sprung from the 1967 film, "The Graduate." And while Dustin Hoffman's character was likely pondering anything but plastics when he received that unsolicited advice from Mr. McGuire, the Delaware-based DuPont chemical company was already decades deep into developing materials that we know today commonly as nylon and plastic. In the 1950s, Remington Arms, which was owned by DuPont at the time, wanted to reduce its sporting arms production costs by using plastic stocks and receivers. DuPont delivered with a chemical called Zytel Nylon 101, ultimately used on the Remington Nylon 66 shotgun, the first firearm to contain the man-made material. More than 60 years later, we are hard-pressed to find a new firearm that doesn't contain at least one injection-molded item, the benefits of which are many.

So while "The First State" to ratify the U.S. Constitution might not boast a physical firearm manufacturing plant, it indirectly makes this list by being home to the company that revolutionized one aspect of gunmaking by inventing the polymers—or plastics—widely used today throughout the firearm industry.
New Hampshire 
SIG Sauer
As one of three gunmakers of European origin to make this list, few brands generate as much excitement as a new-product announcement by SIG Sauer. See our coverage on the SIG MPX and the SIG P320 for proof. With a combination of Swiss and German lineage, the manufacturer landed on U.S. shores in the mid-'80s, setting up shop in northern Virginia as SIGARMS, importing the SIG P220 and the P230. Two years later it introduced the P225 in 9 mm followed by the P226 and P228 in 9 mm. Interested in increasing its market share, SIGARMS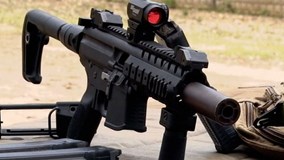 relocated to its present location in Exeter, N.H., in 1990, where it began production of the P229 in .40 S&W. After much expansion, which included shotguns and rifles—and several changes to its official company name—SIG Sauer, as it has been known by since 2007—now also boasts one of the industry's most reputable, state-of-the-art training facilities in Epping. Today SIG Sauer products are in high demand worldwide, and the company has more than tripled its work force in the past few years to more than 800 employees, has invested $18 million in state-of-the-art manufacturing facilities and equipment, and significantly expanded its engineering base.
Ruger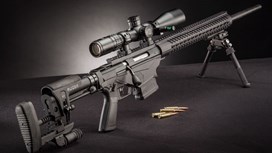 As the No. 1 producer of American firearms, it is humbling to try to condense information about Ruger's contributions to the firearm world and American history. Any company that can issue 1 and 2 Million Gun Challenges to raise funds in defense of the Second Amendment via the NRA's Institute for Legislative Action—and realistically expect gun owners to exceed that challenge—is obviously doing something very right. Starting out in a garage in 1949, Bill Ruger pioneered investment casting as a manufacturing method, which enabled the mass production of quality firearms at a lower cost to customers. The company, whose motto is "Arms Makers for Responsible Citizens," now boasts three manufacturing plants (two of which appear on this list). An entire gallery at the National Firearms Museum rightfully and proudly bears the name William B. Ruger. The company employs more than 1,300 employees at its Newport plant, where it builds rifles and revolvers.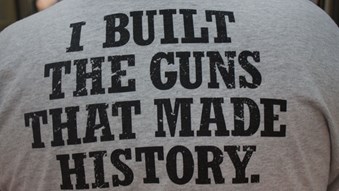 North Carolina  
Ruger
In 2014, CEO Mike Fifer said that in recent years the company has increased production several times over and nearly doubled employees while maxing out capacity at its factories in New Hampshire and Arizona. In order to introduce new products while keeping up with demand for old ones, Ruger explored expansion in present and new locations before deciding to acquire an abandoned textile mill in Mayodan. The newest 220,000 square-foot plant, where the Ruger American Rimfire is manufactured, employs many skilled former textile workers who happen to be shooters and hunters.
South Carolina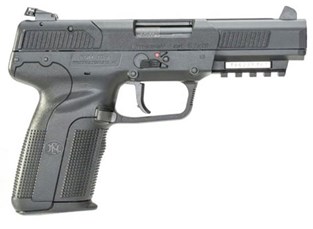 FN America
The company's lineage traces directly from Fabrique Nationale d'Armes de Guerre and the Mauser rifles produced for the Belgian government in 1889. In addition to the incomparable John Moses Browning contributions within this brand's evolution, significant company history occurred between then and 1981. That is the year that FN opened FN Manufacturing (now part of FN America) in Columbia, S.C., to produce the FN MAG(M240) for the U.S. Army. Fast forward another 34 years and the U.S. plant has produced M249s and M16s for American troops, and offers semi-automatic-only rifles for consumers, as well as polymer-framed handguns, including the FNX and FNS pistols. The latter is a polymer striker-fired pistol developed for law enforcement, military and commercial markets.
PTR Industries
PTR Industries announced in June 2014 it was leaving Connecticut for South Carolina. In fact, the company, which builds roller-lock rifles, went as far as offering a commemorative, limited-edition rifle as an expression of gratitude for the company's warm reception granted by the people of South Carolina. The rifle sported an outline of the state, a Palmetto tree with crescent moon, and the words, "Shall Not Be Infringed" on it. PTR employs experts in all areas of gun manufacture, including gunsmiths, engineers, toolmakers and machinists, PTR now has the capability of producing every PTR rifle part right here in the United States.
New Jersey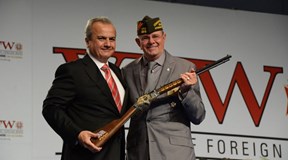 Henry Repeating Arms
While the current Henry Repeating Arms rifles have little to do with the original Henry of 1860, gun aficionados who want to connect with the heritage of the American lever-action find extreme satisfaction in the Henry rifles of today. The company, which proudly boasts the motto, "Made In America or Not Made At All," has manufacturing plants in Bayonne, N.J., as well as Wisconsin and enjoys a loyal following of lever-action enthusiasts. After being passed the torch to carry on the family gun business by Lou Imperato, son Anthony has bolstered the success of the company by maintaining its core offerings as well as continually growing its series of Tribute rifles that pay homage to various organizations such as the Boy Scouts or branches of the military. Imperato has positioned himself as a true philanthropist, founding the "Guns for Great Causes" subsidiary of Henry. In response to his critics' pleas that he abandon the state of New Jersey because of its unfavorable gun laws, Imperato, in this new video, explains why he chooses to remain.
Pennsylvania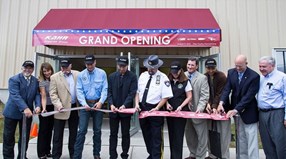 Kahr Firearms Group
After announcing its decision to move in July 2013, Kahr Firearms group stopped short of the Mason-Dixon line in Pike County, announcing completion of a 40,000 square-foot building in summer of 2015. Construction began in May 2014, and is considered Phase I of three planned phases. In addition to offices, the structure houses two underground, 100-yard firing ranges, which are designated for use exclusively by Kahr Firearms Group for testing and development of its extensive product lines. The plan for the new headquarters will also include a factory outlet retail store, likely to open sometime in 2016. There are no plans at this time to close manufacturing plants in either Massachusetts or Minnesota, but starting sometime in 2016 some manufacturing and production will be conducted from the new location. Kahr Firearms Group also includes Magnum Research and Auto-Ordnance.
Georgia 
Glock 
Austrian gunmaker Glock opened its Smyrna, Ga.-based subsidiary in 1985, but unlike the automobile industry where U.S. models sometimes differ in features from country-of-origin models, Glock turns out the same or nearly identical pistols to Austrian models, with the only difference being the slide is marked "USA" instead of "AUSTRIA."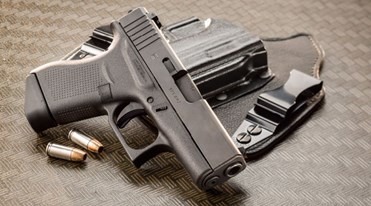 Like all of the gunmakers included here, Glock's history cannot be adequately shared in one paragaph. Suffice it to say Glock produces arguably the U.S.' most recognizable European handguns and is one of the most prolific manufacturers of polymer striker-fired pistols. Glock handguns have been adopted by approximately 65 percent of U.S. law enforcement agencies, due in large part to its durability and ability to function in diverse environmental conditions—very American qualities, indeed.
Daniel Defense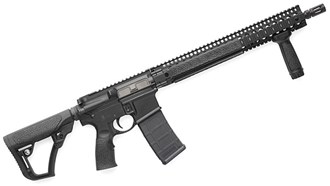 In fewer than 10 years, precision rifle maker Daniel Defense, based in Ellabell, Ga., has gained an international reputation for its high-quality U.S.-made AR-style rifles. What started out as a side business building rails and accessories in small batches for the AR-platform rifle—largely as a means for founder Marty Daniel to support his newfound hobby of recreational shooting—has evolved into two factories (one is in South Carolina) that boast 137,000 square-feet of manufacturing space. The company has been ranked as one of the fastest-growing private companies in the U.S., last year achieving number 1568 by Inc. magazine on its 33rd annual Inc. 500/5000. It was the third consecutive year that the manufacturer had earned its place on the list, which is comprised of America's independent entrepreneurs. See exclusive video of the Daniel Defense barrel-making process here, as well as exclusive interviews with Marty Daniel (part 1 and part 2).
Bergara Custom Rifles 


Bergara Custom Rifles, a division of BPI Outdoors in Deluth, Ga., is now building rifles around the Spanish-made Bergara precision barrels, which have gained respect as some of the finest in the world. The custom rifle shop is run by a 22-year veteran of the U.S. Marine Corps, who served as the Production Chief and Chief Instructor for the U.S. Marine Corps Precision Weapons Section, overseeing the production of the M40A5 sniper rifle; the Enhanced Marksmanship Rifle and the M45 CQBP for the Marine Special Operations Command. The guns that come out of this shop are used by elite military personnel worldwide, but its workforce—composed of former military and Dept. of Defense personnel, warriors who depended on those guns each and every day—guarantee the same level of attention to rifles built for the civilian world of tactical marksmanship or hunting.