posted on February 5, 2016
Support NRA American Rifleman
DONATE
In any of its numerous configurations, the prolific Mossberg Model 500 pump-action shotgun is arguably one of the most identifiable firearms on the planet. Since its 1962 introduction, more than 10 million of them have rolled off the North Haven, Conn., and Eagle Pass, Texas, production lines, and it continues to be a leading choice as a home-defense shotgun.


This circa 1987 shotgun is representative of my household's first Mossberg 500, purchased new that year. It might look just like yours did—or it might not. By then the ubiquitous 12-gauge pump-action shotgun had been introduced in dozens of variations in finishes, actions, gauges and barrel sizes. To say that the 500 series of the late 1980s was not modular is only true if you chose to retain your stock out-of-box model. The rest of us—guys like my husband—however, simply ate up new accessories as they became available, customizing and modifying with great abandon, and creating what we affectionately deemed a "Mossbubba" (see below for more).
And although I am perfectly capable and adequately practiced in the use of that particular 500, like most of the limited quantity in our safe at the time, it was first and foremost a perfect fit for my husband—a gun guy who loves to tinker with his custom creations.
In 2012, Mossberg intrigued Model 500 fans by introducing the 12-gauge FLEX TLS. I wondered: Had Mossberg gotten wind of the Mossbubba? Most likely not. In reality, there are no doubt as many unique versions of Mossbubbas in American homes as there are legitimate Mossberg 500 combinations, but since it is a question that does not (yet) appear on the U.S. Census, we will have to assume there are more than we are able to count.




 The "TLS" represents a Tool-less Locking System, a series of three patent-pending connectors that allow shooters to easily change out stocks, fore-ends and recoil pads for any shotgun application: clay target shooting, hunting or home defense. The system was also introduced on a series of FLEX rifles.



Once again, Mossberg, in touch with its predominantly male market base, delivered a shotgun that featured what men (mostly) had been doing all along: changing out parts for the perfect shotgun in size, shape and form to create custom firearms. The FLEX also turned out to be ideal for the less mechanically inclined shooter who was not quite adept with swapping out a modular sight or adding a spacer to a buttstock at moment's notice at the range—tools required. The concept was fantastic, even for pump-shy shooters. If a female shotgunner was already shooting a 12-gauge, this was one to try.
Still, naggingly in my mind, there was one obvious feature that might make this perfect for the average female shotgun shooter…
When Mossberg added four new 20-gauge models to its 500 FLEX lineup last year, it was the piece de resistance to this series of versatile pump-actions. Now with the, mercifully, reduced recoil, more women—and even men—who previously shied away from pump-actions (especially the 12-gauge variety), would feel more welcome into the Mossberg 500 family.



I tested the Mossberg FLEX 500 extensively at a Gunsite women's event last March on the clays range as well as in series of tactical sessions. Six classmates and I put the FLEX through a three-day torture test in a variety of configurations and applications with hundreds of Federal Premium shells sent downrange. For the tactical exercises, we mounted EOTech holographic sights, which helped exponentially in our goal of getting shot on paper from various distances. While I anticipated this regimen to culminate in obligatory shoulder pain and upper body soreness, the FLEX, weighing in at approximately 6 pounds, was remarkably well-balanced and offered relatively fatigue-free pointing.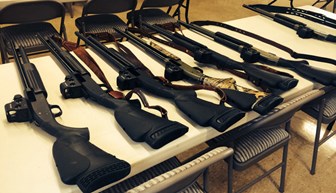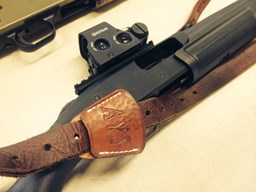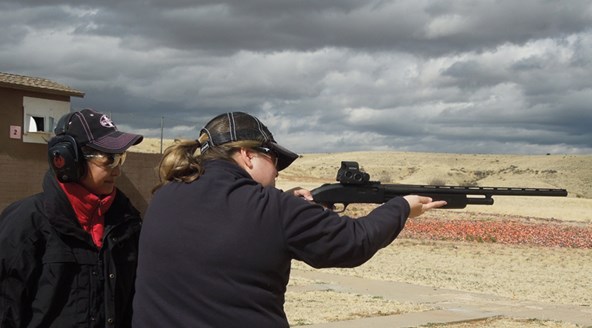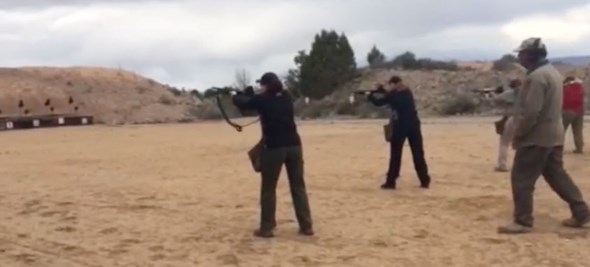 Admittedly, there was some inadvertent short-stroking on my part and a learning curve on tactical reloading, stress-related anomalies that were quickly corrected with practice. Once I synced my mind and hands, the firearm performed flawlessly and reliably. It is this reliability in a Mossberg that has earned the trust and devotion of the shotgun community, and in the case of the FLEX, that trust continues to be well-placed.
Expert Observations
Already sold on the FLEX after the first day of training, I sought the professional opinion of someone who routinely handles and trains with many different brands and models of firearms. Renowned trainer Il Ling New offered her perspective after handling the FLEX 20 gauge, particularly as it pertained to women shooters.  
"The fact that we could use our bare hands to manipulate all the pieces made quick changes in the field not only a possibility, they were a reality." she says, adding that users were actually encouraged—not discouraged, as so often happens with "equipment issues"—to tailor their shotguns to whatever needs they had.
New says she was thrilled at how easily she—and even better, her students—could change the configuration of these shotguns. "Proper gun fit is such a critical requirement in all types shotgunning, often making the difference between hitting and missing," she says.

Most importantly, the FLEX system allowed us to immediately change the key dimensions of the shotgun—not just length-of-pull—to properly fit each shooter, which was especially important since we had a couple of students who shared shotguns. "They were different physical types, but it didn't matter," says New. "We just switched out parts in a few seconds."
Our class, which took place in March in northern Arizona, also incurred weather variables, from summer breezes to downright blustery winter winds that required the addition of heavier outerwear. 
"With the FLEX system, it didn't matter that we were in shirtsleeves one day, and heavy parkas the next," New says, noting that fitting and re-fitting shotguns to these conditions was no issue. "This is a fabulous feature for anyone who hunts," she says, and perhaps even more important is that bringing the hunting gun home and switching it over to a more specific defensive tool is simple. "It's about the only platform I've seen that can be easily changed to accommodate any shooter—and any type of shooting, particularly for women and smaller shooters in the family,"
As such, New says she actually procured FLEX shotguns for a summer camp at which she teaches kids ages 9 to 17, since it has long been a challenge to outfit the various shapes and sizes of the camp participants. "The FLEX system is finally the answer to all our problems," she says.
New raises other good points regarding the tool-less system of the FLEX, including the important fact that there is no extra equipment to bring along—or more likely, to lose in the field.
In the 20-gauge FLEX TLS, Mossberg has delivered a tool-less, modular, lower-recoil Model 500. It has proved it is indeed worthy of taking its place next to the original Mossbubba 500—and dare I say even replace it. All without the need for duct tape…
The Mossbubba
This circa 1987 Model 500 was basic, but imposing and effective. 



A mini-Maglite (introduced in 1984) was the first modification to our shotgun, and was securely affixed to the underside of the barrel via—how else—duct tape ("Alabama Chrome" according to a friend who lives in that state) and a foam spacer to compensate for the light's bezel. Ten years later we would swap the Maglite out for a new SureFire Forend Weaponlight. There would be the addition of a removable bandoleer sling and a buttstock pouch for even more shells. Later someone I worked with convinced us to swap out the stock for a sporter version, a decidedly poor decision for our purposes, so we reinstalled the original pistol grip. For us—even though our gun collection is now composed of many other adequate home-defense firearms—the 500 was, and still is, the quintessential defensive tool.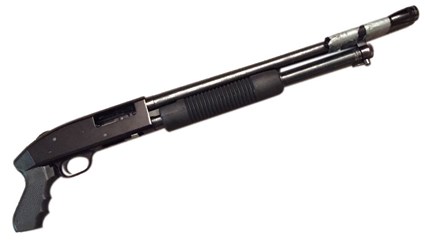 That particular 12-gauge 500 retains its primary purpose—home protection—though thankfully we have not had reason to welcome an uninvited visitor to our home with the spine-tingling greeting of the action being cycled. It will remain idle but accessible should the need present itself.

For more on the Mossberg FLEX 500 models, please visit Mossberg.com.