Support NRA American Rifleman
DONATE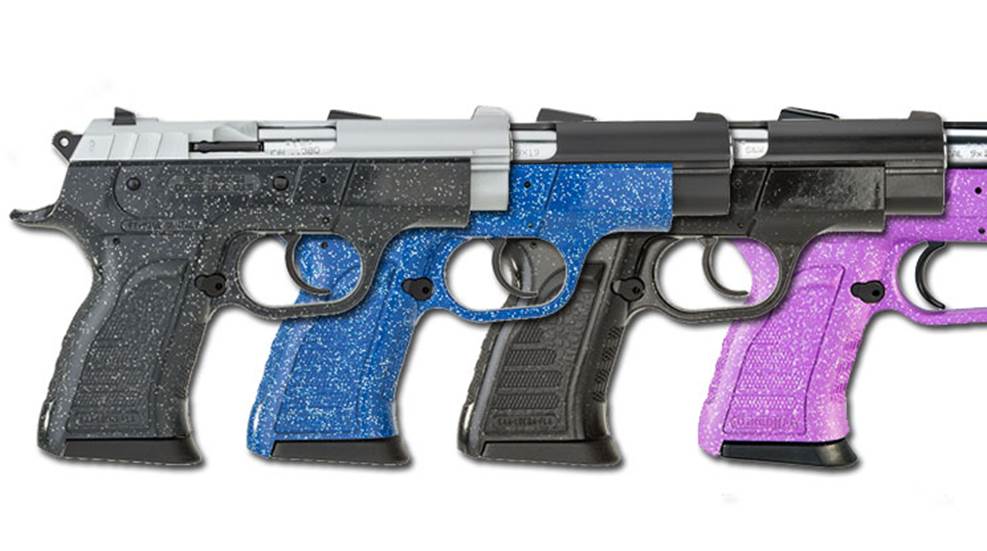 The firearm industry traditionally has exhibited what can only be described as attention-deficit-like tendencies in its attempt to focus on the women's personal-protection handgun market. While simultaneously acknowledging that the Right to Keep and Bear Arms is gender-neutral and that women have been integral to the armed citizenry for as long as the United States has been a country, its efforts to incorporate "female-friendly" features on handguns have often come across as pointless afterthoughts.
Now, in 2015, the industry finds itself facing a dramatic upsurge of women from all age groups and backgrounds who have a real and sustained interest in shooting, whether for sport or defense. This groundswell can be attributed partly to the hundreds, if not thousands, of women-specific alliances, leagues, clubs and networks—in other words, "girl gun groups"—that have sprung up organically through friendships, the Internet and social media, primarily in the last decade.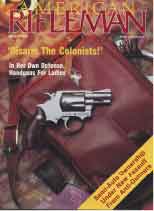 Today's industry challenges may also be attributed to the results of a focus group conducted more than 25 years ago by Smith & Wesson, a company that acknowledged earlier than most that women were taking a "fresh look at gun ownership." In the March 1989 American Rifleman, Technical Editor Robert Hunnicutt, in incorporating the findings of the focus group into an article on the new S&W LadySmith revolvers, wrote, "There simply are too many manufacturers for a shrinking or stagnant market—the industry needs to find new markets to survive and prosper." (Read the entire article at AmericanRifleman.org/LadySmith).
Smith & Wesson was not necessarily breaking ground when it set out to ask women (both gun owners as well as those not familiar with firearms) their thoughts on gun ownership, but it was unique for the time—yes, even in the late 1980s—to poll them about the hardware itself. In other words, what did women want in a personal-protection handgun, or at the very least, what did they think they needed?
In short, the women in the focus group who were unfamiliar with firearms "were perfectly comfortable with the idea that a woman's gun can and perhaps should be a different size, shape or even color than a man's." They also indicated they wanted a gun that was relatively small and lightweight (but not toy-like). And when asked to describe the perfect gun, "one said, 'one that fits in my purse.'" Additionally, in anticipation of being confronted by an attacker, they wanted a firearm that they could grip securely.
It is interesting to note that the women were also given a chance to handle several models and calibers of unloaded revolvers and autoloaders. It was reported that "The women especially had problems with the slidestop of the big 9 mms; most found it impossible to depress the stop with the thumb of the trigger hand without taking a contorted grip and retracting the slide slightly with the free hand."
As it turns out, the responses and observations offered by members of the group may have inadvertently sparked an evolution of hits and misses by many firearm manufacturers over the subsequent quarter century. In my estimation, though, they quite possibly were the genesis of the modern full-court press in the marketing, and now thoughtful manufacture of, guns to and for women.
For as long as firearms have been available, female enthusiasts simply have adapted to using the existing pool of prêt-à-porter products largely intended for male users. In fact, on many occasions I have been known to carry a J-frame Chiefs Special Airweight, which belonged to my husband before we married, and to which I have added CrimsonTrace Lasergrips. And while .38 snubnose revolvers are a perfectly adequate choice for personal defense, they don't have to be the only choice.
And thus the compromises began for other women. The skill set and competencies for a 2" revolver are much more complex—and difficult to master—for a new or recreational shooter (women and men) than that for a semi-automatic with a larger frame—and lend themselves more to the dedicated practitioner. Purpose (concealment, self-defense), compensation for a shorter sight plane and fixed sights; size/weight and associated felt recoil can at best pigeonhole a prospective shooter into the inherent limitations of the firearm or, at worst, frighten the person away through either distaste for the recoil or frustration at the inability to master the art of shooting it quickly. If it's no pleasure to shoot, and it doesn't foster a bond with the operator, it doesn't matter what it looks like—it'll see very little use on the practice range. Besides, why settle for a small revolver just because it fits in a purse? Instead, why not create a purse that fits the handgun. Better yet, why not engineer a product that encourages its use?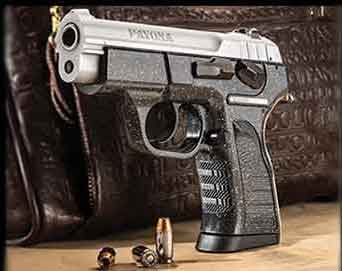 Twenty-five years on, enter the Tanfoglio Witness Pavona, European American Armory's latest Italian import that is not only marketed for women, but has been specifically engineered with their shooting concerns in mind. When NRA Publications Editorial Director John Zent presented the pistol to me just prior to the 2014 NRA Annual Meetings, he said, "We need to check this gun out." And by "we," he meant me. My initial, unabridged reaction was, "Well, at least it's not pink." But it was purple. "Is purple the new pink?" I pondered.
As it turns out, the Pavona is, in fact, a reconceptualization of Tanfoglio's successful semi-automatic Witness platform, which, of course, was based on the globally successful design and engineering of the venerable CZ-75. Sharon Lacy, EAA's sales and marketing manager, helped design the Pavona, and conducted her own focus study of sorts on female gun owners. The design team's use of the CZ-75 as a baseline for the Witness Pavona was no accident. The platform is a proven winner: Internal slide rails, double-action/single-action trigger, external hammer and an ergonomic grip design with an extended rear tang that protects the web of the hand from slide bite. The downside of the design centers on the left-side-mounted, right-hand-only thumb safety, discounting the needs of the left-handed shooter. Perfection, after all, is elusive. Reliability, however, is endemic to the CZ-75 design in general, and was carried over by Tanfoglio in its Witness line—first the all-steel version and then the company's full-size and compact polymer models. The Witness has been available to the U.S. market since 1997 and has enjoyed its share of success thanks to a palatable price point, no fewer than eight available calibers and proven utility. This lineage has been passed on to the Pavona.
The polymer-frame Pavona, available in .380 ACP, 9 mm Luger and .40 S&W, provides a choice of viable and popular calibers along with a 13-round capacity (nine for the .40) and broad palette of sparkling colored polymer frames, adding a little bling to the bang. Five base colors are available: Charcoal, Black, Fandango (a light purple), Imperial (a darker purple) and Sapphire (blue). Additional customization is offered through a choice of either a blued or chromed slide to go with the 3.5" barrel. Of note, the subtle but elegant metal flake is injected into, not onto, the polymer, so there is no loss of finish after repeated use. Gone are the days of the pre-"Wonder Finish" wear points. The frame also sports integral checkering and sculptured, contoured lines. Lamentably absent is an integral Picatinny-style accessory rail, which would have been a further draw for defense-minded shooters. Still, the Pavona, like its namesake bird, is a looker. But the appeal of the Pavona is not just in its feathers. It's also in its function.
Tanfoglio, with an eye toward retaining the spirit of the CZ-75, has kept the traditional external hammer. The Pavona's hammer, recoil and mainsprings have been fine-tuned to allow for smoother function. The lighter mainspring allows the shooter with lesser grip strength (typically the Achilles heel for women handling semi-automatics) to successfully cock the hammer and rack the slide. Like the Witness, the Pavona's slide rides inside the frame. And while that makes for a lower-profile top end, ironically, it comes with the penalty of decreased purchase on the slide while cycling it. EAA has addressed that shortcoming by adding aggressive serrations to the slide.
As with the Witness, the Pavona features a white-dot fixed front sight and windage-adjustable rear sight. During range testing, the three-dot system provided a good sight picture that is instinctive for a novice shooter to align, both in single-shot and rapid-fire cycles. The pistol would be better served with illuminated sights in low light or in defensive situations.
The safety can be activated with the hammer cocked or at rest, as it locks the hammer from any movement when activated. Even though it is a double-action, it can be carried "cocked-and-locked." Both the safety and slide lock/release are blackened steel, enlarged and easily activated.
Disassembly required no tools. Takedown instructions were easy to follow—simply line up the takedown marks on the left rear of the slide and frame, then push out the slide lock pin. However, the slide lock was initially somewhat difficult to extract, and a hard surface (namely my kitchen countertop) was helpful in providing leverage to remove it from the frame. Once disassembled, cleaning was easy, and reassembly required no additional or trick steps.
All three calibers of the Pavona were tested, and all were found to be natural shooters. The grip angle and mass, along with integrated texture, proved comfortable and promoted consistent shooting.
The slide/frame design indeed minimized purchase to grip and manipulate the slide, but not so much as to become a problem, and would not be noticeable for a first-time shooter unfamiliar with other makes/models.
The blowback-operated .380 ACP's frame was overall slightly smaller than the 9 mm Luger and the .40 S&W (both recoil-operated), giving it the edge in terms of ideal size for a smaller-handed shooter. While I am a fan of the 9 mm Luger, the .380 ACP Pavona's capacity, barrel length and shootability, combined with modern-day ammunition, moves this .380 ACP out of the also-ran category and makes it a viable self-defense option. As expected, the .40 S&W had the most felt recoil, but was controllable on follow-up shots.
As with any double-column, single-feed magazines, they were something of a challenge to load to full capacity. This could be a sore point for anyone having lesser hand strength. Investing in a loading tool early in the range experience would be prudent.
The Pavona proved itself to be a more flexible option than the default 2" snubby for use as a range gun and self-defense firearm of choice typically assigned to women. Its form and function, ease of use, reliability, choice of calibers, aesthetic flair and ergonomic grip makes this a gun that truly lends itself to a long-term relationship. Ultimately, the Pavona could indeed become a woman's favorite. This is a good indicator that the firearm industry is finally adapting an engineering approach to the inclusion of women, rather than just painting pink lipstick on a pig. And that bodes well for the future of the firearm industry as a whole.
EAA Witness Pavona Concealed-Carry Purse
Italians would expect no less quality and appeal from their handbags or concealed-carry purses than they do from their clothing, food and firearms. The line of concealed-carry bags created specifically for the Pavona feature a much-improved fashion sense over many previous designs. Like the Witness Pavona itself, the purses neatly meld  function and fashion. Each model contains an integrated and adjustable polymer holster with hook-and-loop attachment. After multiple tests, I found that the holster and pistol remained in place, even after being jostled around. The purse features an ambidextrous firearm compartment, key-lockable firearm storage area and steel-cable-lined shoulder straps. The polymer holster fits a Witness Pavona, but holsters for other popular handguns are also available from EAA on request.
For those who prefer to use their favorite purse, EAA has introduced the "D'Wedge" holster insert, which has a user-adjustable hook-and-loop holster design. Affordably priced and available for immediate purchase (eaacorp.com), D'Wedge is designed to turn your personal handbag into an extraordinary and highly functional concealed-carry system.