by
posted on March 26, 2014
Support NRA American Rifleman
DONATE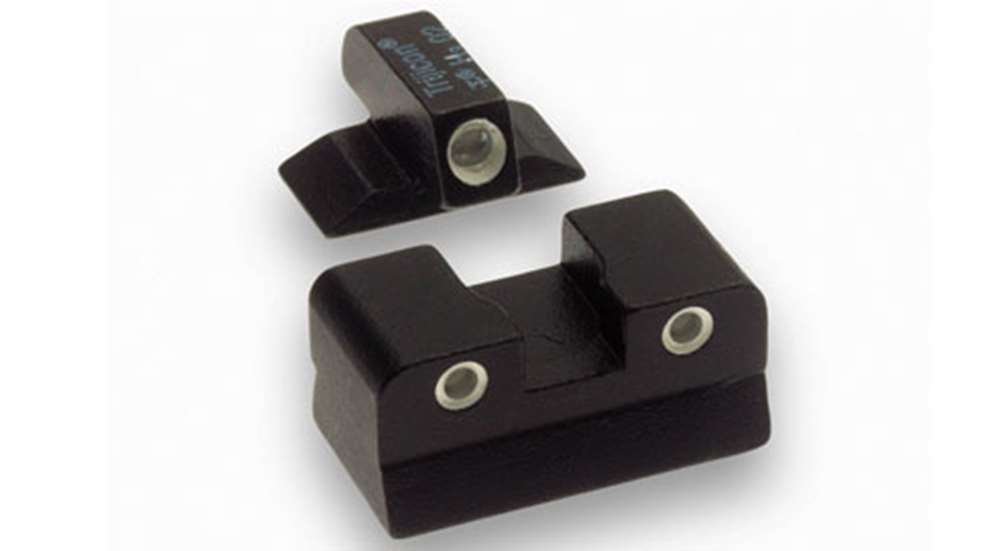 Time slows during a criminal encounter-yet another byproduct of the stress that makes routine tasks nearly impossible-and in my case (I hate to admit it) tunnel vision was instant. Yes, I do the drills every time I'm on the range, even when punching paper. But, things are different when it's a moving perp, swinging something, who refuses to stop. Ask any veteran whose been in combat, and they'll agree it's nothing like training in basic.
Any advantage a lawful citizen can find that doesn't require throwing a switch or fiddling with buttons can be a lifesaver when 100 percent of your focus is on the perp. That's one of the reasons my Springfield XD wears XS Sight Systems 24/7 Express Sights and my Wilson Combat CQB has night sights.
Tritium provides the green glow that makes sight-picture acquisition effortless, even in total darkness. However, the light is a byproduct of the slow decay of that hydrogen isotope, therefore its visible emission dims slowly with time.
Before you overreact to the "radiation" emitted by tritium, the small amount in those sights renders them perfectly safe. In fact, it can't even pass through your skin. You wouldn't want to ingest large quantities, but it would almost be impossible to find enough to get you sick, unless you worked in the factory, a nuclear plant, experimental facility or lived in Chernobyl.
Tritium has a half-life of 12.32 years, and when it reaches that age emissions from the isotope will only be 50 percent of those produced originally. It doesn't vary by manufacturer or quantity/volume, either. Trijicon pioneered the lighted system for consumers, and today it continues to offer some great varieties.
That big glowing dot up front on my 24/7 Express Sights is nearly 10 years old, although I can't tell the difference. It seems just as bright as the day I brought it home. That's one of the tricky things about tritium. It decays instead of dying unexpectedly like a battery.
My sights, however, are plenty functional and in my opinion I don't need to replace them-yet. Sooner or later they won't be as bright, and properly aligning the sights on target in darkness won't be as fast. For that reason, I always eye claims of tritium sights on used guns for sale with caution.
Gunsite Academy proved to me years ago that with practice most shooters are minute of bad guy at 7 yards when they put that glowing front sight on target. With enough muscle memory, the rears align effortlessly. It won't break tunnel vision, but a bright solution like this is a decided advantage for lawful citizens-and during a criminal invasion, any advantages can be a lifesaver.