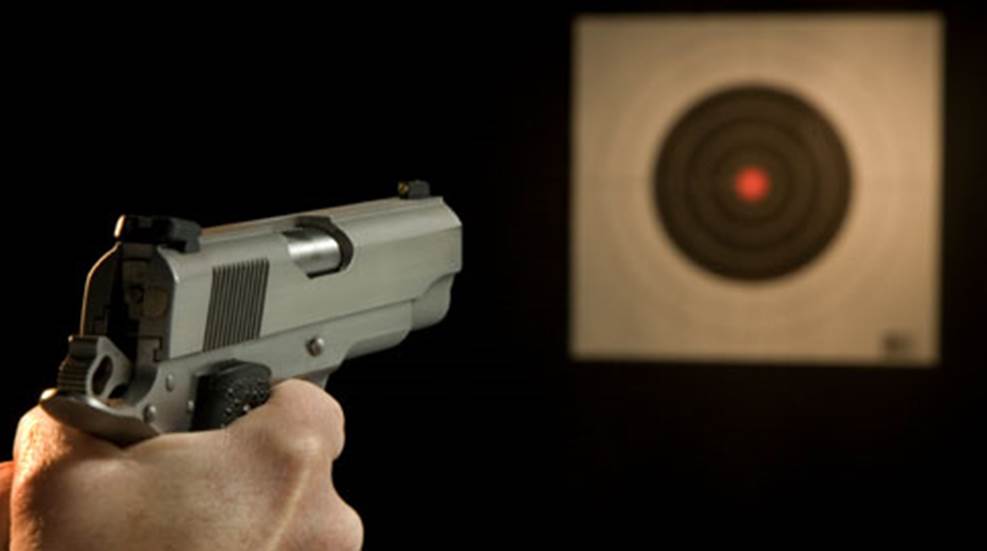 I am fortunate to be a contributing editor to both American Rifleman and Shooting Illustrated magazines.  Additionally, I write a blog for AmericanRifleman.org, as well as an occasional feature. Much of what I do involves evaluating various firearms and reporting the results to the readership. As much as this sounds like a dream job-which it surely is-there is also a certain amount of repetitive work. This includes frequent trips to the range. It also means that I have to maintain a storage unit full of range equipment and ammo. It's come to my attention of late that a typical range day might be of interest to readers, so let's take a look at what happens.
In order to get an early start, I roll out of the sack around 6 a.m. and leave the house as close to 7 a.m. as I can possibly make it. This has two advantages. Being early at the range means getting a preferred spot on the firing line, which is open to the public. If I am there before anyone else, it also means that I can get forward of the firing line to set up targets and the chronograph screens. I don't like to stop other folk's shooting by going forward of the line any more than I have to. Chronographing the various loads and tabulating the results is a part of any NRA publications' gun evaluation that readers have come to rely on. It takes a few minutes to set up, but the actual chronographing session usually goes rather quickly. Since I often do the shooting for more than one story at a time, it might take as much as an hour to set up and clock three or four loads in each of maybe three or four guns.
Then I shoot for accuracy. As a firm believer in and regular user of the Ransom Rest, I always try to do my accuracy evaluation with this remarkable device. That means maintaining a big library of the rubber-faced grip inserts that adapt the Rest to the various butt shapes of popular handguns. It takes more time to get a gun settled in the inserts and aligned with the target, but long experience speeds things up a good bit. In a short time, careful work with the Ransom Rest gives me a set of five-shot groups that are measured and averaged to develop the tabulation you see in American Rifleman. The result reports the accuracy potential of the gun to a strong mechanical certainty. If I can't use the Ransom Rest because of a lack of proper inserts, I have no choice but to do it the hard way. That's shooting by hand off the bench with sandbags under the butt and the front of the receiver braced on a rest.  This kind of shooting is simply not as good as using a machine rest, but it is pretty close. It is vastly more time consuming, but there are no other options of which I am aware. As much as I can, I try to make the accuracy part of the program objective.
But no matter how objectively I look at the gun's accuracy, this still doesn't give you a good picture of the gun's handling, which is the part of a shoot that I personally enjoy the most. This is when I bust dirt clods and roll tin cans, shoot smileys on paper and Mozambiques on cardboard.  In short, the informal plinking and scenario shooting that the pistol or revolver is well-suited for, but seldom sees. With an auto, I try to remember to fire a few shots with a loose grip and a few with a limp wrist. How reliable is the pistol when it is mishandled? I pay attention to the sights, because they have so much to do with how the gun shoots. The pattern of ejection is important as is the location and function of the controls. All of these are subjective matters. All of this stuff is what I have been doing for many years, and I have had a great deal of fun, and learned a lot. When I get one of those eight-pistol survey articles, I have to do it eight times and that means I may have to break it into a pair of days at the range. 
I have also never pulled away from the range without fantasizing about having my own personal and private indoor range. Never.