by
posted on November 30, 2015
Support NRA American Rifleman
DONATE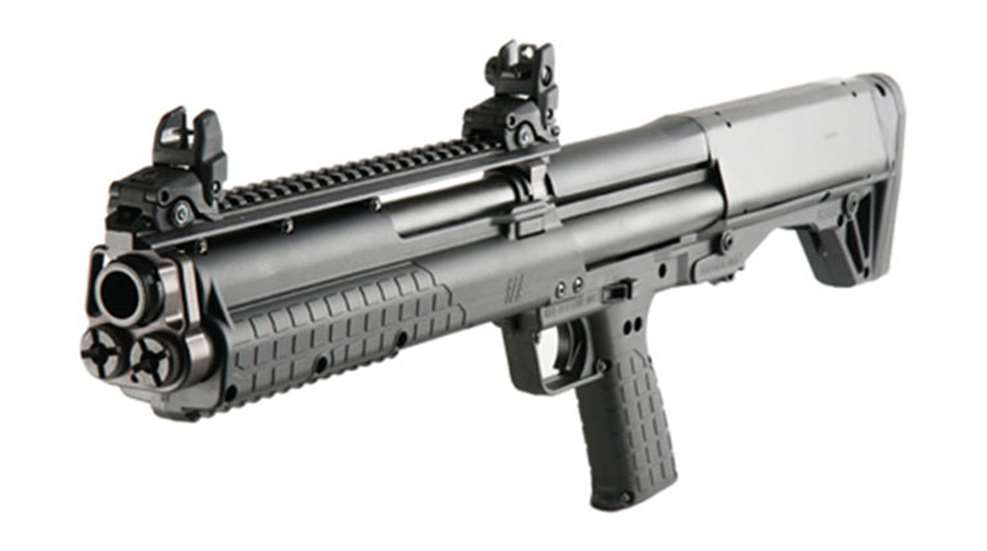 Americans have a longstanding love affair with shotguns in all their glorious shapes and sizes. Be it a single-shot, double barrel, pump or semi-automatic, folks just can't seem to get enough of the flexibility and power these guns have to offer. But the really interesting thing about the shotgun market is the number of commercial models that push the limits of standard design.
Here's another look at some of the curious shotguns we've tested over the last few years. Unlike those rare curiosities that most of us will never even see, let alone fire (like the Burgess folding shotgun and the Pancor Jackhammer), the shotguns shown here are available for purchase in the United States. As is often the case with any product that wanders off the beaten track, these atypical shotguns usually come at a relatively high price but others are more affordable than you might expect. Since some of the gun reviews were posted a few years ago, we've done our best to provide up-to-date retail prices here:
1. Akdal MKA 1919
The Akdal MKA 1919 12-gauge shotgun, produced by MKA Arms, was designed to minimize training for those operators who are already familiar with AR-15 type platforms. Although it has AR-type controls and feeds from a removable box magazine, this 12-gauge shotgun is not an AR-15 variant. Internally, it takes its cues from conventional, self-adjusting gas-operated semi-automatic shotguns. These days real-world prices for the MKA 1919 seem to range anywhere from $389 to $798 depending on the finish and configuration.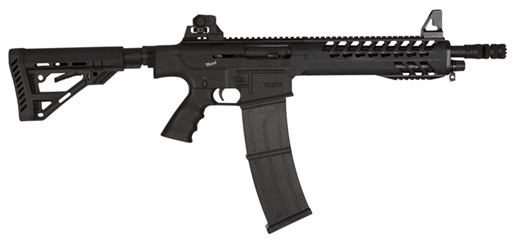 2. Chiappa Firearms Triple Threat
Would you rather have a side-by-side or an over/under shotgun? The Triple Threat from Chiappa Firearms splits the difference between these two break actions with its unusual tri-barrel design. A single trigger fires all three barrels in succession in a right-left-top barrel sequence that is reset to start with the right barrel each time the action is opened. The model featured in the review was the pistol-grip only version. However, customers can now purchase the Triple Threat with a removable shoulder stock. MSRP: $1,800



3. Kel-Tec KSG
Since its release in 2012, Kel-Tec's first shotgun to market, the KSG pump-action, has been one of the most in demand atypical shotguns available. Simply stated, Kel-Tec just can't build them fast enough. It was designed from the ground up with self-defense in mind. The shotgun's dual tubular magazines provide a 14+1 round capacity. Sporting a bullpup profile to complement its ammunition capacity, this platform is an ideal option for law enforcement and 3-Gun shooters where reduced reloading time is important. A three-position magazine selector switch allows the operator to alternate between the magazines. MSRP: $990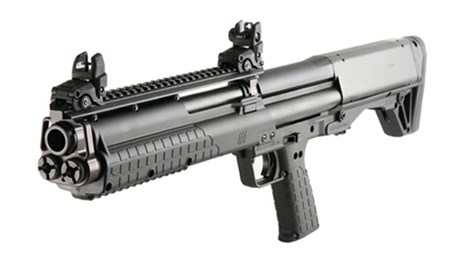 Mossberg 500 Tactical Chainsaw
The Mossberg Model 500 is one of the most popular and prolific pump-actions in the United States. With a reputation for being durable and reliable while remaining affordable, Mossberg has produced the Model 500 in a wide variety of configurations, including the Tactical Chainsaw. Although the Chainsaw is marketed as a door breaching tool for military and law enforcement, it just so happens that it arrived on the market at the height of the Zombie craze that inspired so many outlandish guns and bright green stocks. One can't help but wonder if a little Hollywood was incorporated into its design. MSRP: $559


5. Rossi Circuit Judge
The multi-caliber Circuit Judge, imported by Rossi USA, is unlike anything else you'll find on dealers' shelves. This long gun represents a marriage of the revolver carbines of the late 1800s with the modern double-action .45 Colt/.410 Taurus Judge revolver. The barrel is fitted with interchangeable chokes which can be traded out depending on the ammunition being fired. Available in blued or stainless steel finishes with a choice of wood or synthetic stocks, the Circuit Judge is capable of firing all types of .410 shotgun shells (birdshot, slugs, buckshot) in 2 1/2" and 3" lengths. MSRP: starting at $590



6. Stoeger Double Defense
The idea of using short-barreled side-by-side shotguns for self defense is just about as old as the platform itself. But Stoeger decided it was time to bring the venerable old "coach gun" into the 21st century with the Double Defense, which features a few modern touches the tactically minded will appreciate. Although I took the liberty of dressing this double-barrel up as a zombie gun for the review, it proved to be a solid option for personal protection. The Double Defense is also available in an over/under configuration. MSRP: starting at $479



7. Chiappa T-Model Lever-Action Shotgun
With the recent release of the latest movie in the "Terminator" franchise, it's only natural to look back at the Chiappa 1887 T-Model Lever-Action shotgun, imported by Taylors & Co. Inspired by the short barrel, pistol-grip, lever-action movie prop wielded by Arnold Schwarzenegger during the famous motorcycle chase in "Terminator 2: Judgment Day," the 1887 T-Model is a fully functional 12-gauge with an impressive 5+2 ammunition capacity. MSRP $1,201