Support NRA American Rifleman
DONATE
North American Arms (NAA)
of Provo, Utah, has been very busy the last few years. Like other gun manufacturers they have been slammed with orders that they have been working overtime to fill. All of this hustle and bustle to keep guns flying out of the factory hasn't left much in the way of resources for adding new products. Last year, the
TALO Tucker's Combo
gun and knife set was released but otherwise it was fairly quiet on the North American frontier. This year is a different story. NAA has caught their breath just enough to introduce some exciting new products that are now shipping. Here are a few cool items that may have slipped under your radar while you weren't looking:
1. New 4" Barrel Sidewinder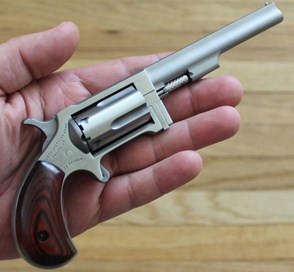 Recently announced on the Sandy's Soapbox page, the new 4" barrel version of the Sidewinder Mini revolver will be shipping soon. The Sidewinder is unique among the NAA Mini revolver offerings because of its swing-out cylinder (most models are fitted with removable cylinders for loading). Like its 2" compatriot, the 4" Sidewinder is chambered in .22 Mag. with additional .22 LR conversion cylinders available upon request. This gun will fit comfortably into the holsters the company already has in stock for the 4" Mini Master. The suggested retail price starts at $396.
We were able to get a hold of one of the first production models for testing, so keep an eye out for a complete review of this new revolver in
American Rifleman
.
2. New Production Guns Shipping with Steel Strong Boxes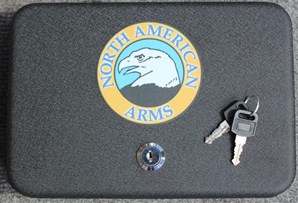 In the past, Mini revolvers shipped in sturdy polymer hard cases. This year, in support of the
National Shooting Sports Foundation (NSSF) Project Child Safe
, factory fresh guns will arrive in portable strong boxes. Shipped with two keys, these steel boxes are foam lined with two holes drilled in the back to allow them to be mounted to a wall or drawer. Inside there is plenty of room for two Mini revolvers and a couple of caliber conversion cylinders.
3. LaserLyte Mighty Mouse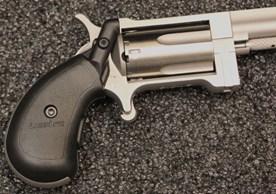 A few years ago,
LaserLyte
produced a little laser sight for the NAA Mini that clamped to the top of the frame and had a rear-mounted toggle switch. It worked, but it was not an ideal configuration. It blocked the iron sights and would not fit into the factory holsters. This year LaserLyte released the new adjustable Mighty Mouse (NAA-VC) laser grip, which is a far more practical option for the Magnum frame Minis.
Compatible with most NAA holsters, the grip is constructed of durable 55 percent glass-filled black nylon with the automatic activation button placed along the front of the grip frame. Grasping the pistol in a shooting grip activates the laser. The 650NM, 5MW red laser can provide up to one hour of constant-on run time using three G3A button cell batteries. A removable cover on the left side of the grip allows the batteries to be swapped out without removing the grip from the frame. Two sets of batteries and an adjustment wrench are provided. Suggested retail price for the Mighty Mouse is $129.95. 
4. Marble Arms Catch .22 Ammunition Carrier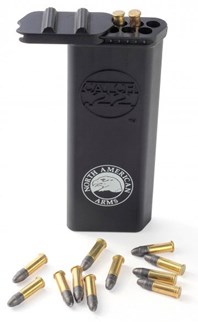 North American Arms mini revolvers are ideal traveling companions for hunting, fishing, hiking or just strolling along in the great outdoors. But carrying spare ammunition for these little wheelguns has its challenges. Dropping a handful of waxy .22 rounds into a pants pocket is a greasy, dirty proposition. Loading from a typical rimfire carton is a slow process because one has to manage the open-top ammo box while removing the cylinder from the revolver's frame. Now available with the NAA logo emblazoned on the front, the Marble Arms Catch .22 provides an ideal way for mini revolver fans to carry and load spare rounds.
This sturdy polymer storage device securely holds and protects up to 50-rounds of .22 Long Rifle ammunition, 70-rounds of .22 Short or 30-rounds of .22 Magnum in 10 separate columns. This makes it an ideal accessory for all three NAA revolver frame sizes. The sliding lid is click adjustable so as to expose just one column at a time. Storing the cartridges with the bullet points facing upwards, and a little practice, allows single rounds to be fed into the cylinder chambers.
The Catch .22's compartmental design also makes it easy to carry a mixed set of ammunition. Fill individual columns with bird shot loads, round-nose lead, hyper-velocity hunting loads, or whatever you happen to need. Drop it into a pocket or use the heavy-duty clip on the back to attach it to a belt or sling. Available for $14.99. 
5. Functional Fancy Grips
Tucked in amongst the many accessories North American Arms offers, including
folding grips
and
belt buckle holsters
, customers can find a wide variety of functional, fashionable grips. The Hogue rubber grips (black and pink) feature a pebbled texture molded over a hard polymer insert for added strength. Synthetic stag horn and pearl grips (black, white, burgundy and pink) add a distinctive look while being strong enough for regular carry and shooting. The extended, flat-base boot grips (engraved rosewood) provide more shooting hand support without a lot of extra bulk. Laminated hardwood grips are available in silver-black and red-black finishes. Prices range from $18 to $40 per set.