by
posted on June 7, 2016
Support NRA American Rifleman
DONATE
Some shooting enthusiasts enjoy owning a diverse set of gear, so they invest in firearms of various makes and models in a variety of calibers. But other gun owners are looking for simplicity in their shooting solutions. They want a small set of firearms that fill a variety of roles and use more affordable ammunition. 
One of the most simple, and practical, two-gun solutions was put into practice right around the same time that firearms were invented. Soldiers, hunters and pioneers would pair up a handgun with a pistol-caliber carbine chambered for the same cartridge. Since both guns can be fed out of the same boxes of ammunition, only one caliber of ammunition has to be tracked down, purchased and kept on hand.
With a bit of time and expense up front, the rifle and handgun can be tested with practice-grade and defense-grade loads to find out which brands and bullet weights run reliably and accurately in both. Once identified, ammunition can then be purchased when it's on sale or in bulk. This saves on costs for practice and casual plinking sessions. If you choose to reload your spent cartridge cases, having only one caliber to work with will also save money on components, dies, powder and primers. 
For home defense, two guns are better than one. One responsible adult can take the rifle while the other makes use of the handgun. Keeping both guns in the fight is made even easier with modern semi-automatic carbines that feed from the same removable magazines made for popular semi-automatic pistols. No time is wasted second guessing if the magazine in hand is the right one since all of the staged magazines fit both guns.
For days out in the field there's nothing like a set of matched-caliber guns. Just fill up the belt loops, pouches or ammo boxes with one flavor of ammunition and you're ready for the day. Pistol-caliber carbines tend to have relatively tame levels of felt recoil which makes them accessible to shooters of different sizes and experience levels. Depending on the calibers and firearms selected, the carbines and handguns can also be put to work as close range hunting tools. 
Here are a few of the handguns and carbines that I've had a chance to work with that make perfect packin' pairs for use in the field, as ammunition and magazine compatible home-defense sets or enjoyable rimfire companions for plinking and small game hunting.

1. Henry Big Boy Steel & Ruger Blackhawk Revolvers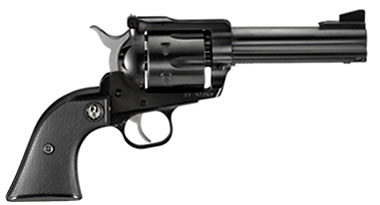 Yes, it's true that the West was won a long time ago. But that doesn't mean you can't enjoy modern interpretations of the lever-action rifle and single-action revolver platforms. Chambered for big-bore revolver calibers, including .357 Mag., .44 Mag. and .45 Colt, the Henry Repeating Arms Big Boy series includes models with brass or steel receivers in rifle and carbine lengths. This year Henry released a steel receiver Big Boy chambered in .41 Rem Mag. , which has not been a caliber option from any lever gun company in quite some time.
Whichever caliber or finish option of Big Boy you choose, there's a Ruger New Model Blackhawk chambered in the same caliber. These blued-steel single-actions are a perfect match for a lever gun. They have strong frames, useful modern adjustable sights and a transfer-bar safety that allows them to be carried with all six chambers loaded. Barrel lengths range from 4.62" to 7.50". 

2. Kel-Tec CMR-30 & PMR-30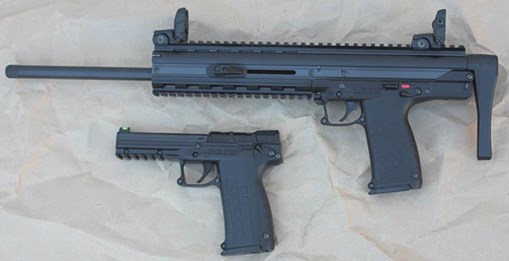 When the innovative Kel-Tec PMR-30 .22 Mag. pistols arrived on the shooting scene in 2011, they were immediately in high demand. With its exceptionally low weight, light trigger, optics-ready slide and proprietary pie wedge 30-round magazines, the PMR-30 is still a popular option for use as a trail gun, small game hunting and as a low-recoil defensive option. Soon after the pistol was out Kel-Tec promised us a rifle version was just around the corner. 
Half a decade later, the Kel-Tec CMR-30 semi-automatic rifle finally arrived, and it was well worth the wait. This rifle is also lightweight, has a great trigger, a collapsible stock and it accepts the same 30-round magazines as the pistol. A long top rail provides plenty of room for AR-type removable sights and an optic. I took the time to run plenty of ammunition through this rifle to check its reliability. It's a handy little rimfire rifle that can fill the same roles as the pistol but with higher bullet velocities and greater long-range accuracy.

3. Hi-Point Carbines & Pistols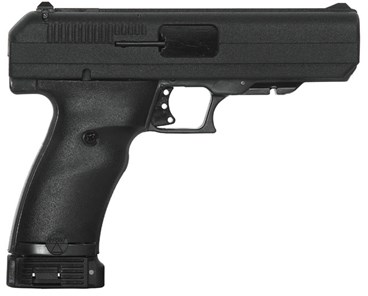 If a budget-friendly price tag is one of your top priorities, the Hi-Point Firearms series of caliber compatible semi-automatic rifles and pistols provides reliable options at a rock bottom price. Both platforms accept single-stack magazines which are, in most cases, interchangeable between the same caliber models. With the recent addition of the 3895TS carbine, the company now offers perfect pairs in .380 ACP, 9 mm, .40 S&W and .45 ACP (shown). Visit the company's website to learn more about new finish options, extended magazines and other affordable accessories. 

4. Henry Small Game Carbine .22 Mag. & The North American Arms Talo Tucker II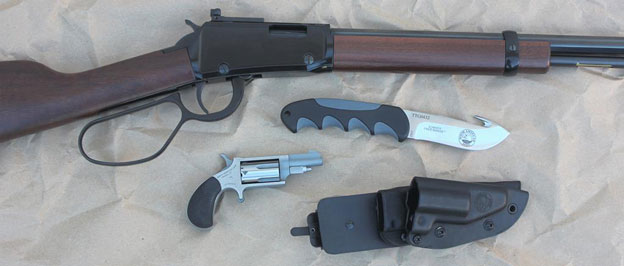 Here is a perfect packing pair that's ideal for leisurely walks in the woods or days of small-game hunting, the Henry Small Game Carbine and the Talo exclusive North American Arms Tucker's Combo.          
Henry's Small Game carbine chambered in .22 Mag. (also available in .22 LR) features classically styled American walnut stocks, an oversized lever loop and a 16.5" octagonal barrel. The adjustable Skinner peep sights are quick and easy to acquire. The balance and weight of the rifle make it a real pleasure to work with.           
The North American Arms Tucker's Combo arrives with a 1.625" barrel 5-shot .22 Mag. Mini revolver marked with a special serial number, a CKRT Free Range hunting knife and a modular leather-wrapped Kydex holster system that comfortably houses both. The revolver and knife feature matching serial numbers. Shown here is the latest version of the exclusive Talo set, the Tucker II. For this edition, the gun finish has been changed from "stone washed" to factory standard and the CRKT clip point blade has been replaced with the drop point/gut hook version. 

5. Tresna 9 mm AR & Glock 9 mm Pistols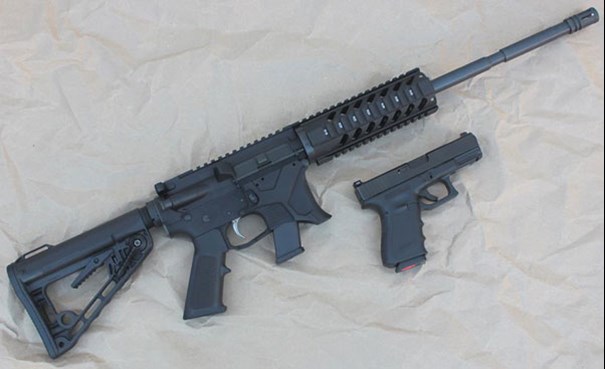 As one of the most popular handguns in the world for military, law enforcement and civilian applications, Glock 9 mm pistols are tough, reliable and easy to operate. Magazines for the sub-compact, compact and standard-size pistols are readily available and affordably priced. Glock and other companies, including SGM Tactical, offer extended magazines that hold up to 33 rounds. The 9 mm center-fire pistol cartridge is ubiquitous, produces a low level of felt recoil and continues to be one of the least expensive handgun rounds to practice with.
To take advantage of the ready availability of 9 mm Glock magazines, the Tresna Defense offers the JAG9G. This 9 mm AR-pattern semi-auto carbine features a proprietary milled billet aluminum receiver purpose built to run reliably with all sizes of Glock magazines from the stubby G26 10-round models all the way up to the 33-round sticks. The JAG9 arrives with other popular AR features including a flash hider, quad-rail hand guard and adjustable 6-position stock. Together, Glock's pistols and Tresna's rifles make an ideal pair for home defense, target practice and competition.
What are some of your favorite caliber-compatible rifles and handguns? Let us know in the comments section below.