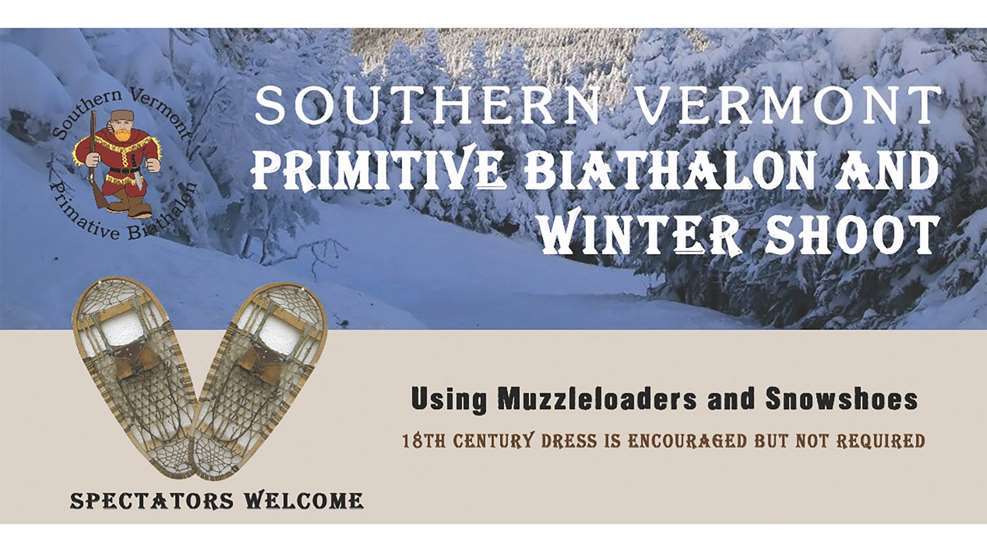 You won't be seeing any exotic bolt-actions chambered in .22 LR winning gold if you attend the Southern Vermont Primitive Biathlon and Winter Shoot, which takes place Feb. 11-12 at Skinner Hollow Farm in Manchester, Vt. The rimfires that dominate the Winter Olympics will stay at home, because competitors will be using muzzleloaders as they tackle a 1.6-mile hike, or jog, through the woods to test their marksmanship skills.
The event takes place regardless of weather and—although the distance may not sound daunting on paper—competitors are required to wear snowshoes. Traversing the course shod with the cumbersome clodhoppers is guaranteed to slow sprinters, raise pulse rates and level the playing field with cardio addicts whose trigger time is short. On the off-chance Mother Nature fails to provide enough powder, boots are allowed, however.
There are four shooting areas, with the final firing line set up for spectators to watch shooters emerge from the woods, stuff blackpowder down the bore and engage targets. There is no fee for friends, family and enthusiasts of attendees, and all are welcome. A variety of other events are taking place concurrently, including side shoots for those unable or unwilling to endure the course's torture. Fees for them, or to compete in the biathlon, are nominal and posted on the event's website.
Targets are steel plates placed at distances running anywhere from 35 to 50 yards. Scoring is simple: It's either a hit or a miss. The time it takes a competitor to run the course is their gross score, but 5 minutes are deducted each time they ring steel. Total number of shots required is nine—two each at the first three firing lines and three at final stage.
Firearms must remain unloaded between stages, and there are separate classes for flintlocks, percussion guns (both rifled and smoothbore) and in-line muzzleloaders. Traditional dress is preferred, but not mandatory. Inline competitors can don any style snowshoes, but the rest of the field is sentenced to the use of traditional, wood-frame models.
It's an unusual event in an age when competition is dominated by the convenient cartridge and cutting-edge firearms. Enthusiasts in the area have an unusual chance to witness old-school firearms perform through Mother Nature's challenges. If that's not enough to get your spouse out to warm up the car, there are some awesome door prizes on the table, too.