Support NRA American Rifleman
DONATE
The High Power Rifle Championships have a new venue, exciting side matches and the opportunity to shoot at a mile.
Preparations for the 2017 NRA National High Power Rifle Championships at Camp Atterbury, near Edinburgh, Ind., are proceeding well. The Indiana National Guard is making improvements to firing lines, housing is open for reservations, and buildings have been selected for administrative needs such as the Statistical Office, Entry Office, etc. NRA and the Indiana National Guard are working hard to make this year at Camp Atterbury a memorable one.
The championships will be conducted July 7 to 25, and they will include Across-the-Course (XTC), Mid-Range and Long-Range matches, as well as classic trophy matches— such as the Leech Cup and the Wimbledon Cup—and, of course, Palma competition.
NRA will honor Indiana Gov. Eric Holcomb and First Lady Janet Holcomb with a special match following the opening ceremony—Governor and Mrs. Holcomb are both NRA Life members. Following this match, there will be a welcome BBQ.
The shooting schedule has been adjusted to give competitors time to travel between events held at different locations. Following the completion of the XTC matches, competitors will have a day to travel to Camp Perry, Ohio, should they wish to attend the Small Arms Firing School and shoot the Civilian Marksmanship Program National Trophy Matches. Similarly, Smallbore Prone competitors in Bristol, Ind., will have a day of travel to arrive at Camp Atterbury to participate in the High Power Mid-Range and Long-Range Prone matches.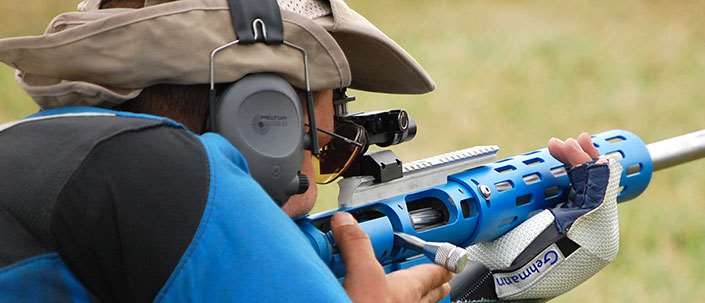 Side Events
ARC, 2-Gun & Shooting A Mile
NRA will host side events this year during the High Power Rifle Championships. One is America's Rifle Challenge (ARC), an action-based course of fire for AR-style rifles. NRA 2-Gun is a new action-based discipline that uses both a rifle and a pistol. Using your AR match rifle will work out fine—but please don't forget to bring your pistol and ammunition, too. There will be some nice prizes for these events. A new club will open up within the NRA, the One Mile Club. At the time of writing, details are being worked out regarding the specific requirements, but this will be an opportunity to shoot a target at the range of one mile. Camp Atterbury's Range 3 has a firing point at 1,760 yds. available.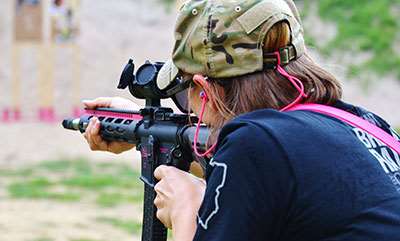 High Power Rifle Rule Changes & New NRA Awards
In other news for NRA High Power Rifle, there is an updated rule for optics on High Power rifles for matches. Most notably, fixed scopes up to 4.5X are now allowed on the M14, M110, M1 and M1A in the Service Rifle category. Optics are legal for match rifles shooting XTC, Unlimited Power.
There is a new Distinguished Rifleman Badge, as well as a new Master Team Coach Medal, both of which were passed by the NRA High Power Committee and NRA Board of Directors in January. Now, not only can competitors strive to earn recognition as Distinguished among their peers, but coaches can look to rise up and be given a chance to receive the accolades they deserve for pushing their teams to the winning level. The first International Distinguished Badge was awarded last year at the F-Class Nationals in Lodi, Wis.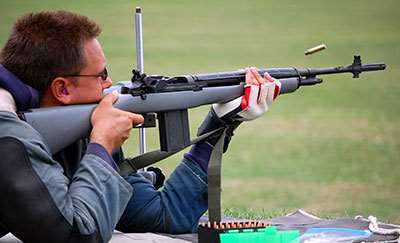 About Camp Atterbury & Signing Up
The Camp Atterbury Joint Maneuver Training Center is administered by the Indiana National Guard, and has just under 35,000 acres of training and maneuver space—plenty of room for NRA to conduct the High Power Rifle Championships. Also, Camp Atterbury is home to several active U.S. Army components, including several from the First Army Division East. Located about one hour south of Indianapolis, Ind., the site provides various training and testing sites for military and civilian responders from around the world.
You can register for the 2017 NRA National High Power Rifle Championships by going to competitions.nra.org/nationalmatches. If you have questions about NRA High Power Rifle programs, you can email [email protected].