by
posted on January 3, 2023
Support NRA American Rifleman
DONATE
Reminiscent of a Colt display at Philadelphia's 1876 Centennial celebration, this "wheel" of engraved First and Second Generation Colt Single Action Army revolvers highlights the myriad barrel length, finish and stock options that individual owners either factory-ordered or commissioned through the years to personalize their Peacemakers.
This year marks the 150th anniversary of the Colt Single Action Army (SAA), or the "New Model Army Metallic Cartridge Revolving Pistol," as it was originally cataloged. However, the factory used an abbreviated "Model P" designation for what would become one of its most recognizable, collectable and popular revolvers. With its ergonomically shaped, plow-handled grip, gracefully sculpted hammer and superbly balanced pointability, the Model P has inspired counterfeits, replicas and even updated variations throughout its existence. And yet, today, the same, basic 1873 Single Action Army is still produced by the original company that introduced it a century and a half ago—despite various corporate organizational changes over the years.


Following a pattern of firearm evolution, the SAA was the culmination of many Colts that had come before it, thanks to the inventive adaptations of Colt engineer Charles B. Richards and factory superintendent William Mason, whose innovative patents combined to create the post-Civil War Colt 1860 Army and 1851 Navy Richards-Mason cartridge conversions. That, in turn, spawned an entirely new cartridge revolver, a short-lived but nonetheless significant .44 rimfire, the New Model Holster Pistol, or as it is better known today, the Colt 1871-72 Open Top. It was Colt's first cartridge revolver specifically manufactured with all-new parts and firing a self-contained metallic cartridge—the .44 Henry Flat—the same cartridge as the 1860 Henry and 1866 Winchester rifles. Consequently, it was highly sought after by frontiersmen of the era. However, when the Open Top was entered into the government field trials of 1872, the Army was not impressed.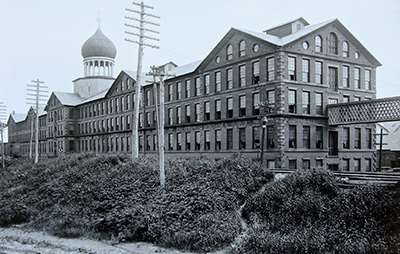 For one thing, it viewed the Open Top's lack of a topstrap as structurally weak. In addition, Colt's newest sixgun still utilized a wedge to secure the barrel to the frame, as had been done with the earlier cap-and-ball models, and without a rammer (obviously unnecessary for a cartridge revolver), the barrel could not easily be leveraged off the frame to remove the cylinder, making field disassembly difficult.
Undaunted, Richards and Mason went back to the factory and added a topstrap (the first time this had been done to a Colt revolver since its 1855 Sidehammer), incorporated an elongated groove for a rear sight and wisely kept the Open Top's comfortable plow-handled grip, which had been derived from the 1851 Navy. They also installed a removable cylinder base pin in the frame and strengthened the ejector-rod housing, among other minor changes. Finally, in optimistic anticipation, they chambered their updated sixgun in .44 S&W American—the chambering of Smith & Wesson's No. 3 revolver, which the Army had adopted in 1870.


Except now the Army decided what it really wanted was a harder-hitting cartridge than the .44 S&W. Undeterred, Colt teamed up with the Union Metallic Cartridge Co., and together, developed the .45 Colt, a centerfire cartridge that packed a charge of 40 grains of blackpowder—the same as the formidable (and much more cumbersome) Colt Dragoons—but pushed a 255-grain bullet out the muzzle at 810 f.p.s.—slightly greater than the .44 S&W. This, then, became the Single Action Army, a gun that would signal the end of the Open Top. Within months, the .45 Colt SAA was readied and re-submitted to the Army for testing. This time, the results were dramatically positive. Quoting from official test board conclusions, Capt. John R. Edie wrote:
"I have no hesitation in declaring the Colt revolver superior in all aspects, and much better adapted to the wants of the Army than the Smith & Wesson."
Consequently, in 1872, the .45-cal. Single Action Army—which was initially referred to rather unromantically as "The Strap Model" because of its topstrap—was enthusiastically chosen as the Army's official sidearm. The first order of 8,000 revolvers was shipped in the summer of 1873. In all, between 1873 and 1891, before the Army replaced the SAA with the Colt Model 1892 Army & Navy double-action revolver, 37,063 SAAs were issued to troops.
But somehow, Single Action Army Serial No. 1 went AWOL and was considered lost. That is, until 1925, when it was discovered, wrapped in oilcloth, on a Nashua, N.H., farm. That historic gun, which can be seen on this month's cover, now resides in a private collection.
The official dress for the Army's new .45-cal. 7½"-barreled SAA was blue, with a handsome bone-charcoal-casehardened frame and hammer. Stocks were one-piece walnut, stamped with the inspector's cartouche, and the frames were stamped "U.S" on the left side after the patent dates. However, like many military guns before it and since, the SAA, priced at $16, was enthusiastically embraced by the civilian population, especially when 18 elaborately engraved nickel-and-gold-plated SAAs were displayed for the first time by Colt at the Philadelphia World's Fair in 1876. Afterward, these guns went on tours around the country and garnered exuberant praise, such as this published statement by B. Kittredge & Co. of Cincinnati, one of Colt's major distributors:
"(The SAA) is confidently recommended to officers of the Army and Navy, guides, hunters, and all who travel among dangerous communities, as the best weapon to carry on the person that has ever been produced."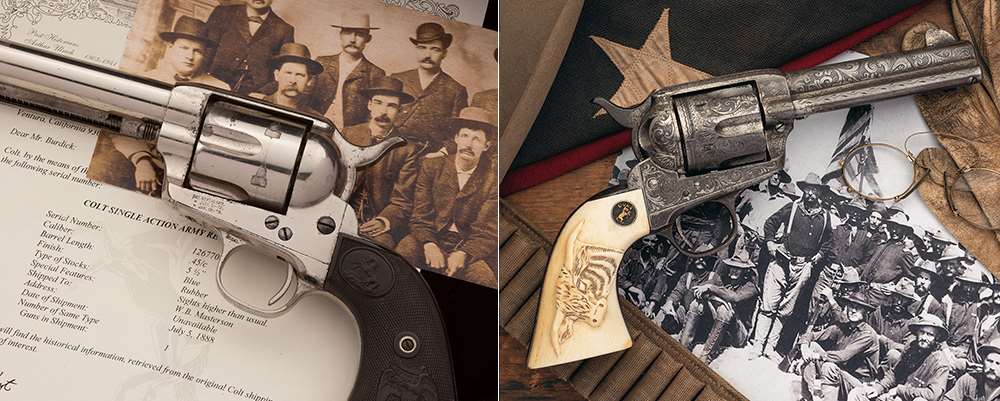 As a result of the SAA's popularity, a nickel finish was soon brought out. In 1874, a 5½"-barreled version was introduced for Colt's London agency; a year later, it was available in the U.S. as well. Collectors have since dubbed it the "Artillery Model," while the original 7½" version became the "Cavalry Model." A 4¾" barrel, called the "Civilian Model" by collectors, came out in 1879. As extra-cost options, pearl or ivory stocks and gold and silver plating were available, as was engraving by some of the most skilled artisans of the day, including Gustave Young, Cuno Helfricht and Louis D. Nimschke.
Colt also offered non-standard barrel lengths, charging a dollar an inch for anything over "Cavalry" length. Single Action Armys with factory barrels as long as 18" and as short as 2½" exist, but all are extremely rare. Many stretch-barreled SAAs were fitted with long-range sights and often came with detachable, skeletonized, nickel-plated-brass shoulder stocks. Barrel lengths less than 4¾" did not have ejector rods, with the most notable variations of these being (again using collector's terms, as the factory never referred to these guns—until recent times—as such) 4" Storekeeper's and 3" Sheriff's Models.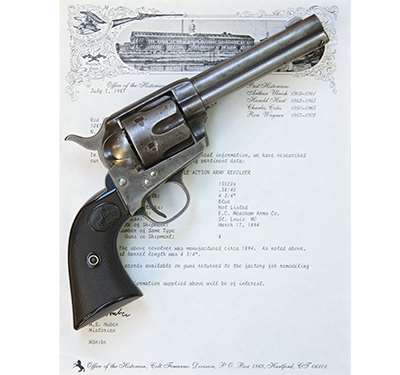 The SAA became so popular that it soon spawned its own set of sobriquets, including Thumbuster, Hogleg (referring to the 7½"-barreled version) and Judge Colt And His Jury of Six—although this sixshooter was, in reality, a five-shooter, for with its fixed firing pin, the hammer had to be kept resting on an empty chamber, lest the gun accidentally discharge, should it be dropped.
One non-factory moniker that has not only lasted but has actually been adopted by Colt itself is that of "Peacemaker"—a nickname attributed to Samuel Colt many years earlier. But it was to be forever associated with the SAA by B. Kittredge & Co., which would eventually add a bit of name-game bling to other Colt models as well.
In 1878, Colt further secured its place in the annals of frontier Americana by chambering its SAA for the .44-40 Win. cartridge, which was achieving immortality of its own in Winchester's 1873 rifle and carbine. Thus, a frontiersman could not only carry the same box of cartridges for both his rifle and pistol, an added benefit was  that the centerfire .44-40 could be reloaded. This chambering became so popular that B. Kittredge, in a consortium with four other major Colt distributors—Schuyler, Hartley & Graham; J.P. Morgan & Sons; H&D Folsom; and Spies & Kissan—convinced Colt to begin labeling all its .44-40 Win.-chambered single-actions as "Frontier Six Shooters," a romanticized moniker that the Colt factory not only adopted, but, beginning in 1878, acid-etched, and later (from 1889 on), roll-stamped onto all of its .44-40 SAA barrels. After 1923, a .44-40 designation was added; it was the only SAA to be specifically named for its chambering.
Next in line for single-action chamberings were the .38-40 Win. and .32-20 Win., both brought out in 1884. Winchester, in turn, acknowledged the single-action's reputation with identical chamberings for its 1873 and, later, its 1892 lever-actions. Those three chamberings, along with the .45 Colt (which became so popular that the gun was often called a "Colt's .45," no matter what cartridge it fired), comprised the most popular SAA offerings, although due to the adaptability and ruggedness of its design, the Peacemaker was eventually chambered for no fewer than 41 different cartridges, ranging from .22 rimfire to .476 Eley.
In 1882, black-checkered gutta percha stocks replaced walnut, and around 1892, the method for retaining the SAA's cylinder base pin was altered from a frame-mounted screw to a spring-loaded pushpin. Many have erroneously assumed this marked the switch from blackpowder to smokeless propellants, but it wasn't until 1900, starting with Serial No. 192,000, that the factory warranted its single-actions for smokeless. 
But, better metallurgy notwithstanding, in 1892, the Army unceremoniously retired the SAA from active service, replacing it with Colt's New Army & Navy double-action revolver chambered in .38 Long Colt—a smokeless-powder cartridge with roughly half the striking energy of the .45 Colt. During the Philippine Insurrection, the Army realized its new sidearm's shortcoming, as its relatively underpowered cartridge proved to be ineffective in stopping hordes of charging, adrenaline-pumped Moro warriors. As a result, a number of retired 7½"-barreled "Cavalry Models" were called back to active duty, refurbished (their parts thrown into a bin and re-assembled, with little thought of matching up original serial numbers) and their barrels cut down to 5½".

In addition, reflecting a growing national interest in target shooting, from 1894 until 1915, Colt produced a Bisley variation of its SAA, named after the shooting range where the British National Rifle Ass'n matches were held. Serial-numbered sequentially with the Peacemaker, a total of 45,326 were made. With their barrels stamped "BISLEY MODEL," these distinctive guns featured a gracefully under-swept grip, enabling the Bisley to hang better in the hand, an enlarged trigger guard, a wider curved trigger for more control and a lowered and widened hammer spur for easier cocking. Less obvious was the Bisley's mainspring, its deeper frame and the screws located underneath the stocks that affixed the backstrap to the frame. Offered in the same barrel lengths as the standard Model P, more Bisleys were probably used on the open range than the shooting range. On the other hand, many of the 976 Flattop Target Single Action Army models, which were catalogued from 1890 until 1898, were sent to England, and, while they kept the same standard SAA configuration (aside from a few Bisley Flattop variations), sported a beefier topstrap with a dovetailed rear sight and an adjustable front sight blade.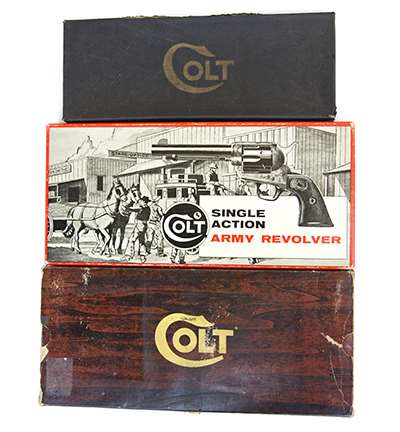 As expected, the individuals who packed SAAs during the late 19th and early 20th centuries were as diverse as the guns themselves and spanned the gamut of hunters, target shooters, adventurers, ranchers and both outlaws and lawmen alike. As a rancher in the Dakota Badlands during 1883-85, Theodore Roosevelt ordered two Nimschke-engraved, silver-and-gold-plated, 7½"-barreled .44-40s, while Bat Masterson purchased eight SAAs between 1879 and 1885, usually specifying nickel plating, hair triggers and special sights that, no doubt, enabled him to famously "walk" tin cans down the streets of Dodge City as a deterrent to would-be law-breakers. A Bisley was also carried by Pancho Villa, as his arthritic hand could cock it much easier than the standard SAA.
In the 20th century, the SAA remained a favorite of southwestern lawmen such as the Texas Rangers and "gun nuts" (as they called themselves back then) that included gun writer Elmer Keith, who altered numerous SAAs in search of the perfect single-action. In addition, the ongoing popularity of Western movies during the 1930s and '40s (see sidebar on p. 47) kept the lure and lore of the Colt single-action from fading out. But that wasn't enough to offset a combination of lagging sales—which had dropped to fewer than 200 guns a year—coupled with the country's demands of gearing up for World War II. Consequently, production of the SAA was halted in 1941, with a total of 357,859 guns having been made. Although a few "Pre-War/Post War" SAAs (mostly in the 356,000 and 357,000 serial range) were assembled from leftover parts for factory VIPs and other select individuals after the war, the shooting public's attention was focused on semi-automatics and double-actions. As a result, in the August 1949 issue of The American Rifleman, Colt announced that its "antiquated" Model P would not be returning.
Unfortunately, Colt executives at that time failed to notice the clouds of dust on the horizon coming from a fast-riding posse of television Westerns led by The Cisco Kid, Hopalong Cassidy and Roy Rogers. More were soon to follow, which thundered forth with the "golden age" of TV Westerns in the 1950s and '60s, dramatically rekindling America's fascination with the Colt single-action. Finally, in 1955, further prompted by the Great Western Arms Co.'s introduction of a full-size replica of the SAA, and coupled with the 1953 release of the popular Single Six and, later, the larger-frame Blackhawk by Ruger—a company founded the same year the SAA was discontinued—Colt revived the Single Action Army. Thus, for $125, you could now own an authentic Colt single-action—not just a lookalike. These resurrected Model Ps, made from 1955 until 1975, have become known as "Second Generation" Peacemakers, while those SAAs originally made from 1873 until 1941 are now called "First Generation" guns.
Produced on much of the original machinery, most Second Generation parts were interchangeable with the First Generation versions. In fact, many leftover pre-war frames and parts were used on some initial Second Generation SAAs. As before, the guns were handsomely blued and casehardened, with hard rubber two-piece stocks; two-piece walnut stocks were added a few years later. Initially, nickeled guns could only be special-ordered, but, by 1958, they became cataloged options. Aside from minor barrel and inspector stampings, the most notable differences in the Second Generation guns were their serial numbers, which now had an "SA" suffix, beginning with 1001SA, and were only stamped on the bottom of the frame in front of the trigger guard and on the inside of the trigger guard strap and backstrap. The rear of the cylinder was now stamped with the Rampant Colt logo, and the cylinder front was stamped with the last digits of the gun's serial number—that's the quickest way to tell an early Second Generation cylinder, as these are sometimes retrofitted on First Generation guns.


Chambered only for .45 Colt and .38 Spl., Second Generation Colts initially were only available with 5½" and 7½" barrels. But, because of the popularity of the television show "The Life And Legend of Wyatt Earp," a 12" Buntline Special was brought out in 1957. A year later, Colt added what has become its most popular barrel length—4¾"—along with a .44 Spl. chambering, which, oddly enough, was only offered in 5½" and 7½" guns. In 1960, the .357 Mag. chambering was introduced (which resulted in the .38 Spl. being discontinued in 1964), thus completing the only four cataloged chamberings for Second Generation Model Ps.
A number of variations were subsequently added, including 503 3" Sheriff's Models, with serial numbers ending in "SM," commissioned by Centennial Arms in 1960, plus an adjustable-sight, flat-top New Frontier (with NF suffix serial numbers) starting in 1961, and more than 60 limited-edition commemoratives produced between 1961 and 1974.
But, by 1975, after producing slightly fewer than 70,000 Second Generation guns, the old machinery was wearing out, causing production to be halted for retooling that year, ending with Serial No. 73319SA. Production resumed in 1976, beginning with a new serial number series starting with 800000SA, thus initiating what has become known as "Third Generation" Single Action Armys.
Gun writers and dealers, however, were quick to notice that some changes had been made. For one thing, the cylinder base pin bushing was no longer a separate slip-in piece, but was permanently press-fit as part of the cylinder, which also required a differently machined "hand" affixed to the hammer (Current Third Generation guns have since gone back to a separate, First Generation-style bushing). In addition, many erroneously complained the barrels were "crush fit" onto the frames, when, in fact, the pitch of threads of the Third Generation's barrels and frames was simply changed from the original 20 threads per inch (TPI) to 24 TPI.
Although Third Generation SAAs still looked, felt, cocked and shot like every Peacemaker that had come before them, demand and prices for existing Second Generation Peacemakers increased. Today, they have assumed a collectability of their own, in many cases with prices rivaling that of some First Generation guns. (For more on collecting Second Generation SAAs, see americanrifleman.org/secondgensaas.) Moreover, adding to some confusion among collectors, between 1976 and 1978, a few leftover Second Generation frames with SA suffixes were used to assemble Third Generation guns. Thus, some early Third Generation Peacemakers have been mistaken for Second Generation Model Ps based solely upon their SA suffix (not to be confused with a small number of Second Generation guns assembled from leftover parts discovered in the Colt Custom Shop around 1994, which were subsequently engraved). However, by 1978, Third Generation guns began using newly machined frames, replacing the old SA suffix with an SA prefix, and have since been made with a variety of features, including Sheriff's and Storekeeper's models, Buntline Specials and other special editions. Currently, Third Generation guns made after Serial No. SA99999 sport serial numbers that begin with an "S" and end with an "A."
Today, after 150 years, the Single Action Army is still being made, with a suggested retail price of $1,799. Offered in barrel lengths of 4¾", 5½" and 7½", blued and casehardened, it is available in .45 Colt only. However, numerous other chamberings and finishes, as well as engraving, can be special-ordered for an additional cost through the Colt Custom Shop (colt.com/page/colt-custom).
In addition, to celebrate the Single Action Army's sesquicentennial this year, the Colt Custom Shop has enlisted the talents of Master Engraver John Pease to create 150 blued, casehardened and engraved SAAs in .45 Colt, with blackpowder frames and specially rollmarked 7½" barrels. They will be serially numbered "001SA150" through "150SA150." The first 10 guns, serial numbered "001SA150" through "010SA150" will feature full hand-engraving by Pease, with a sesquicentennial motif. The next 20 guns, serial numbered "011SA150" through "030SA150," will feature "B"-coverage hand-engraving in a pattern designed by Pease. The remaining 120 commemoratives will feature a combination of hand- and machine-engraving. In addition, all 150 of these Peacemakers will have "1873-2023" gold-filled rollmarks on their backstraps. As of press time, prices for these guns have not been finalized, nor has their release date. However, like every SAA that has come before it, whether first-, second- or third-generation, these Colts will, no doubt, be making history.
The only irony in the 150-year saga of the Peacemaker is that Sam Colt never lived to see the most legendary gun his company ever produced. He died on Jan. 10, 1862, 11 years before the Single Action Army was born.