by
posted on August 5, 2021
Support NRA American Rifleman
DONATE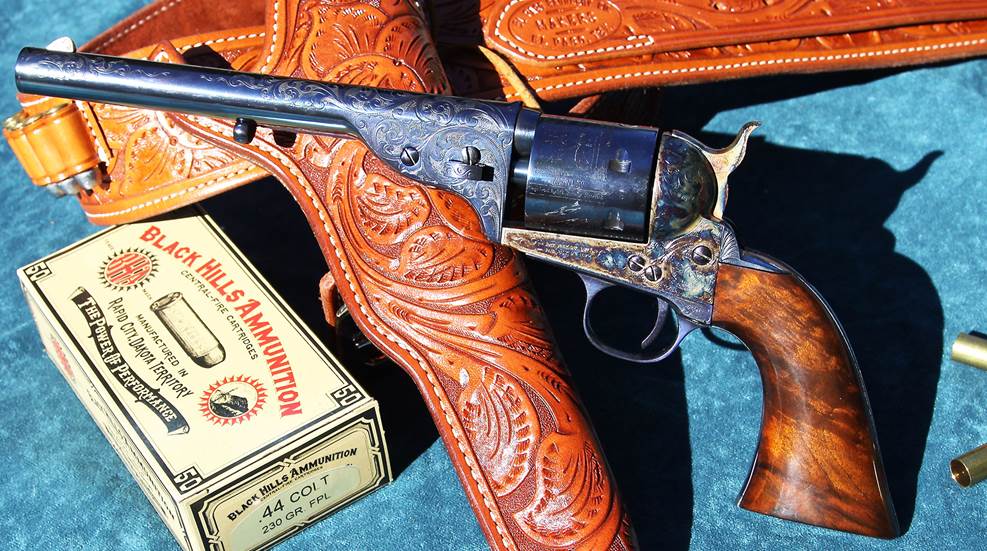 Poor Sam Colt. Although he was one of the richest men in America when he died in 1862, he never got to see his company introduce its first revolver built specifically to take it out of the cap-and-ball era and into the realm of the self-contained metallic cartridge. But it wasn't the well-known Richards or the Richards-Mason conversions, for both incorporated surplus parts from Colt's .36-cal. 1851 Navy and .44-cal. 1860 Army – two of the most prominent handguns used during The War Between The States.
Rather it was a short-lived, but nonetheless highly significant, .44-cal. revolver called the New Model Holster Pistol, or as it is better known today, the Colt 1871-72 Open Top. Both the Richards and Richards-Mason conversions were created thanks to the 1869 expiration of Rollin White's patent for a bored-through cylinder, which he had previously licensed exclusively to Smith & Wesson. But now the field for innovation was wide open, and Colt employees Charles B. Richards and William Mason – each in their own way – were quick to take up the challenge.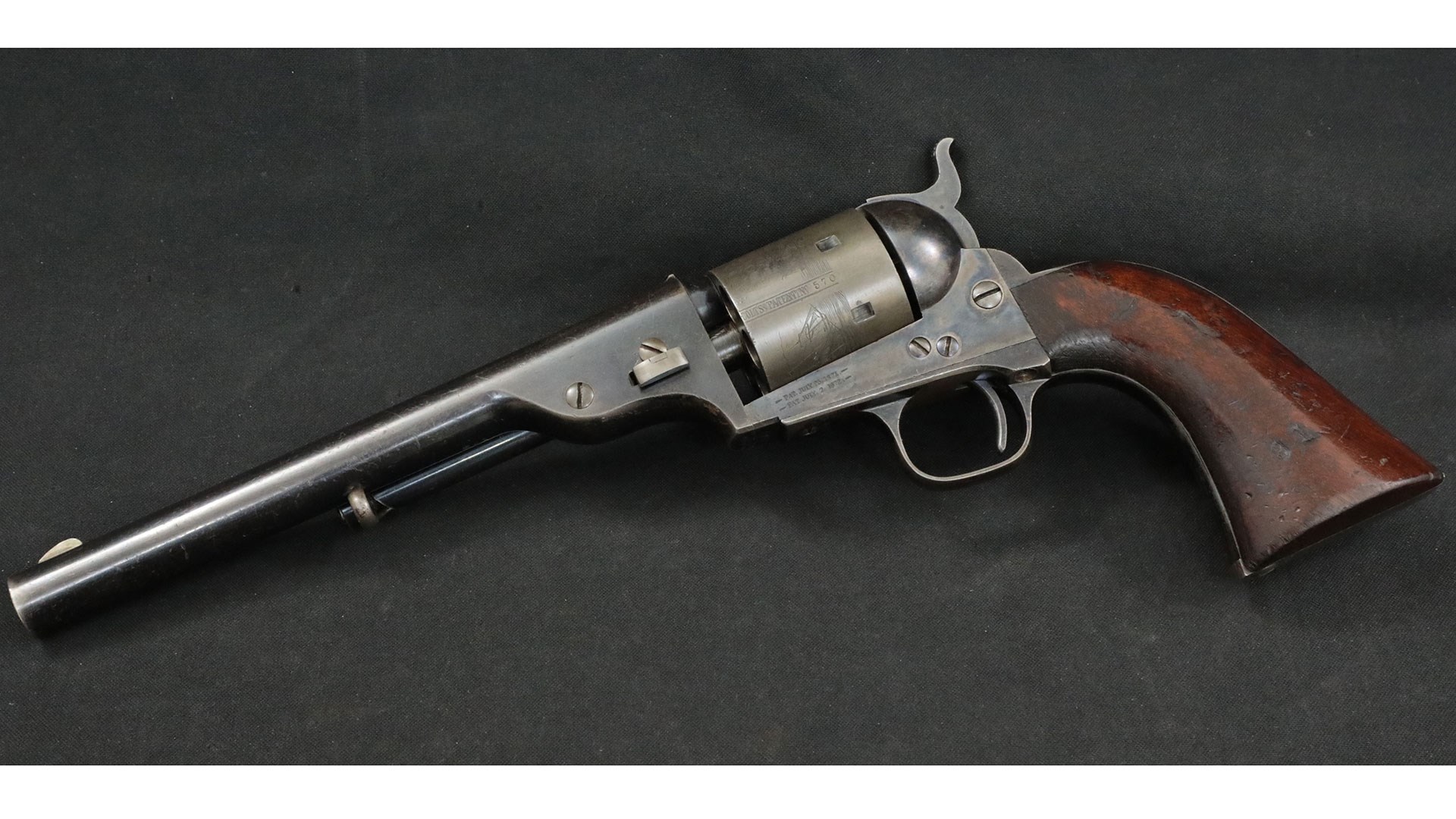 An original Open Top, showing its offset ejector rod and housing, a forerunner of the Colt Single Action's design.
First was Richards, who was awarded a patent in 1871 that altered the cylinder and hammer of the 1860 Army so that a center-fire .44-cal. cartridge could be loaded from the rear of the cylinder, rather than have loose powder and ball rammed in from the front as had been customary. This was achieved by milling off the back portion of the percussion cylinder, then affixing the frame with a conversion ring that incorporated a shallow fixed rear sight and a surprisingly modern-looking, spring-plunger firing pin, which was struck by the filed-off flat surface of the former percussion hammer.
The cap-and-ball's loading rammer was replaced by an angled ejector rod, so that individual cases could be punched out with the gun on half cock. As novel and popular as the Richards Conversion was, it had a major drawback, as black powder fouling often plugged up the spring-loaded mechanism of the firing pin. Plus, Colt's supply of surplus 1860 barrels was starting to run out. Thus, a year later on July 2, 1872, Mason, who was Colt's armory superintendent, devised a way to improve on Richards' patent and solve the issue of the factory's growing barrel shortage.
First, he designed a completely new barrel with a solid contour underneath, doing away with the rammer hole plug necessitated by the Richards Conversion ejector rod attachment. Mason also replaced the spring-loaded firing pin with a modified conversion ring containing a hole to accommodate a fixed firing pin riveted onto an 1860 percussion hammer. He also lengthened the ejector rod tube. Thus, the Richards-Mason conversion was born, chambered for the same .44 center-fire cartridge as its predecessor.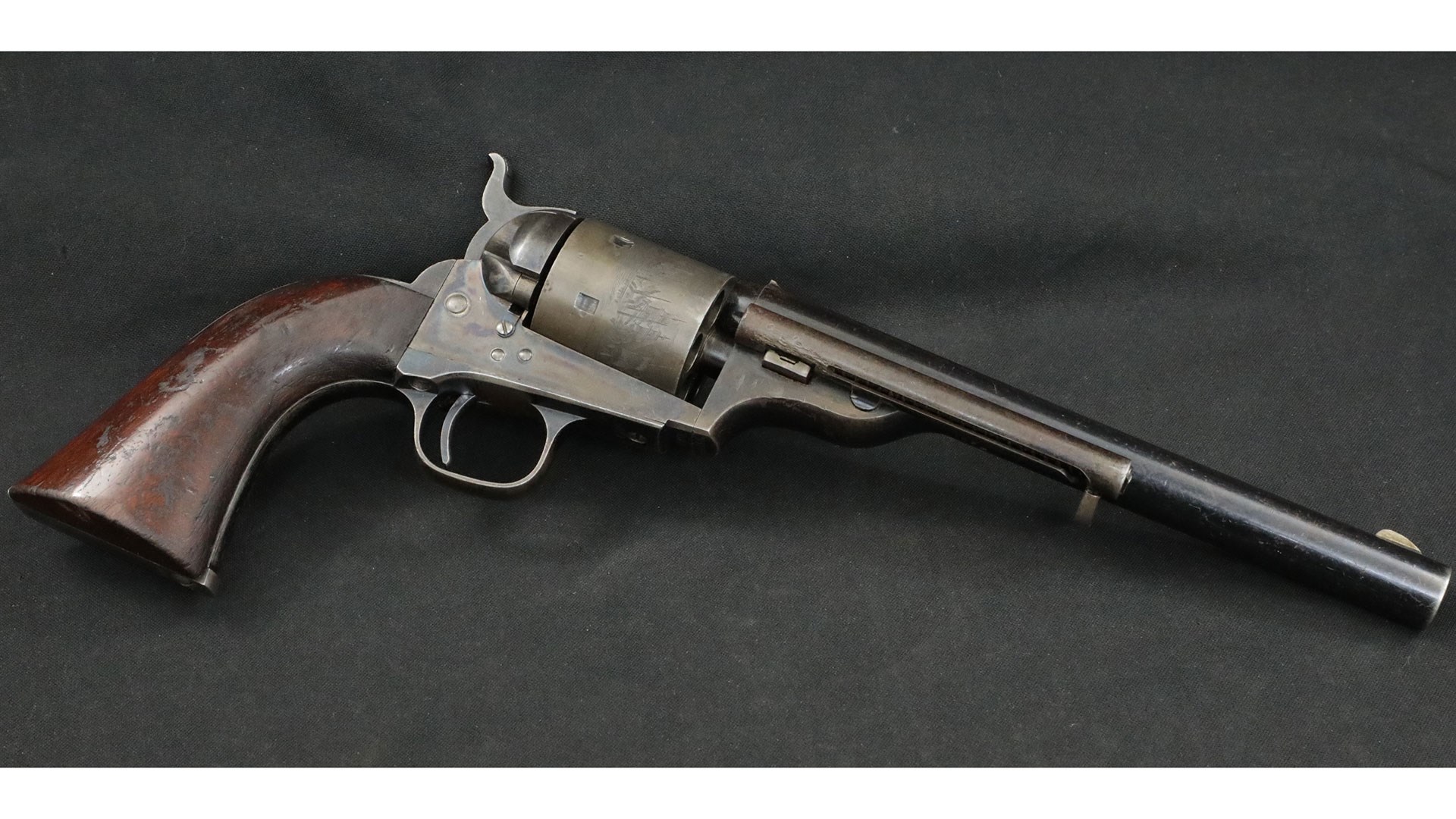 An original Open Top, showing its offset ejector rod and loading gate, which were forerunners of the Single Action Army. Note the elongated 1860-style grips.
But with approximately 9,000 Richards conversions and only 2,100 Richards-Mason conversions made, these guns were intermittent solutions at best. With dwindling supplies of parts, and given added impetus by the upcoming Army trials of 1872 in which a new cartridge revolver was to be adopted, clearly a new age – and a new opportunity - was dawning for Colt. The Richards-Mason conversion – the most "updated" .44-cal. revolver in the Colt Patent Fire Arms stables - formed the basis for an entirely new cartridge revolver that didn't rely on any previous Colt parts.
Thus, the Colt 1871-72 Open Top was born. It was Colt's first revolver specifically manufactured to fire self-contained metallic cartridges. However, Colt's New Model Holster Pistol, as it was initially called, incorporated previously patented features from both Charles Richards and William Mason (hence the 1871 and 1872 dates in the gun's nomenclature). Although at first glance the new Open Top appeared to be a Richards-Mason conversion, there were notable differences. One of the most obvious was that this new revolver did not have a separate "conversion ring."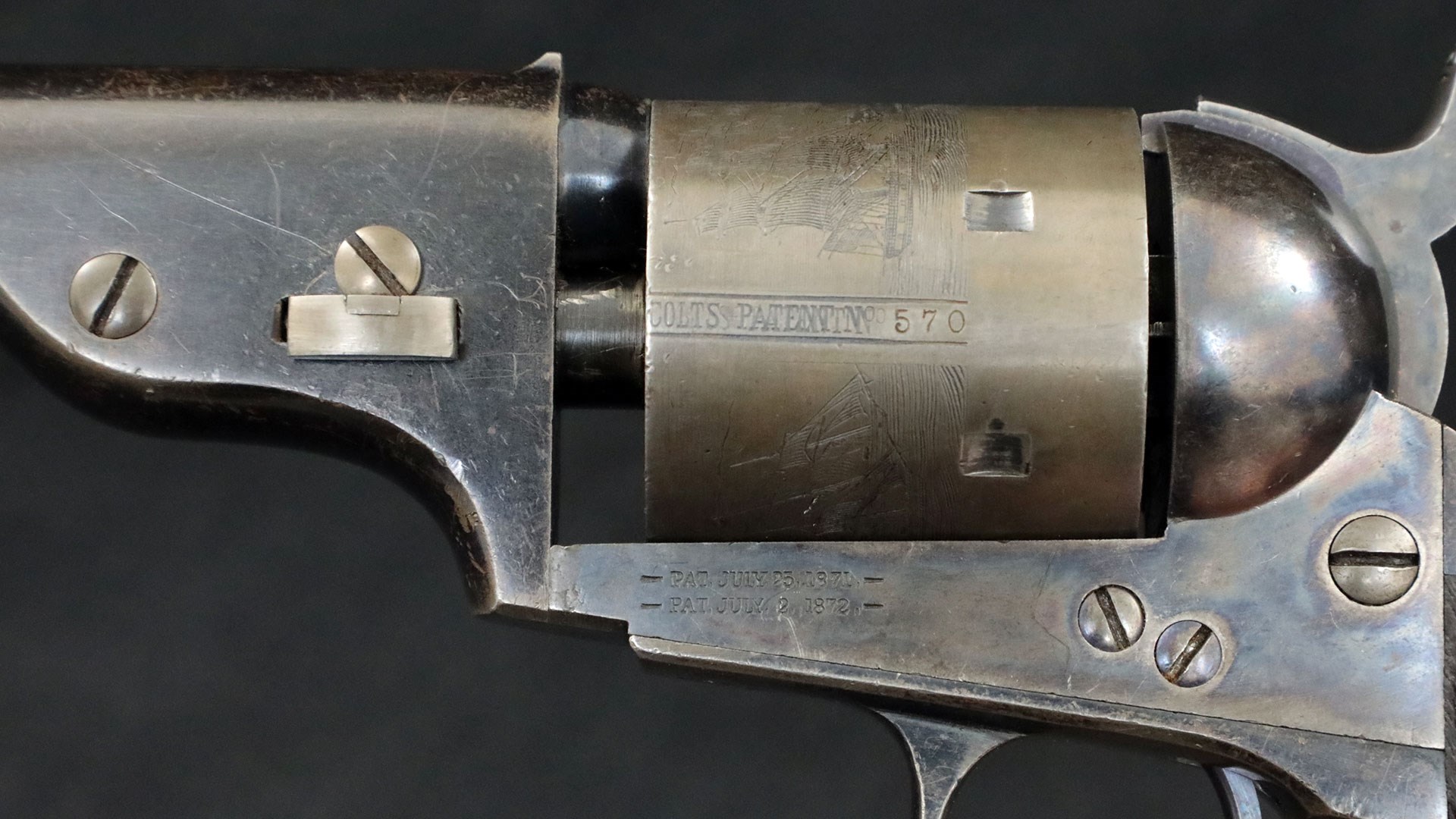 This pristine original Open Top features a W.L. Ormsby 1843 Naval scene roll-stamped cylinder and the twin patent dates that give the 1871-1872 Open Top its name.
Instead, the cylinder was newly manufactured, although it was roll engraved with the same W.L. Ormsby 1843 Naval scene previously used on the 1851 Navy and 1860 Army cylinders (Colt was certainly getting their money's worth out of those dies). In addition, the Open Top's fixed notch rear sight was not on the hammer, but rather, was a shallow notch cut into a small "bump" formed as part of the breech end of the barrel. And finally, the six-shot .44-cal. cylinder was not rebated as on the 1860 Army (which had enabled it to be fitted onto the smaller .36-cal. Navy frame).
Rather, the straight-sided cylinder was matched to the Open Top's larger .44-cal. frame. The first Open Tops were produced with the same plow-handled grip of the 1851 Navy, but with an eye towards the Army trials, the guns were also offered with the distinctive, elongated grip of the 1860 Army. The back strap and trigger guard initially were brass – often nickel plated - with iron used on later models. Grips were made from one piece varnished walnut, although special order ivory was available.
The hammer and frame were case hardened, while the rest of the gun was blued. Nickel plating and engraving were also options. Barrel length was 7 ½", but some rare 8" versions are known to exist. And in what can only be viewed as an extremely clever marketing move, rather than chamber the 1871-72 Open Top for the same .44-cal. center-fire cartridge of Colt's previous conversions, it was chambered for the far more plentiful .44 Henry Flat, the same cartridge that had been developed for the Henry Rifle, but was also chambered in the newer and wildly popular Winchester Model 1866.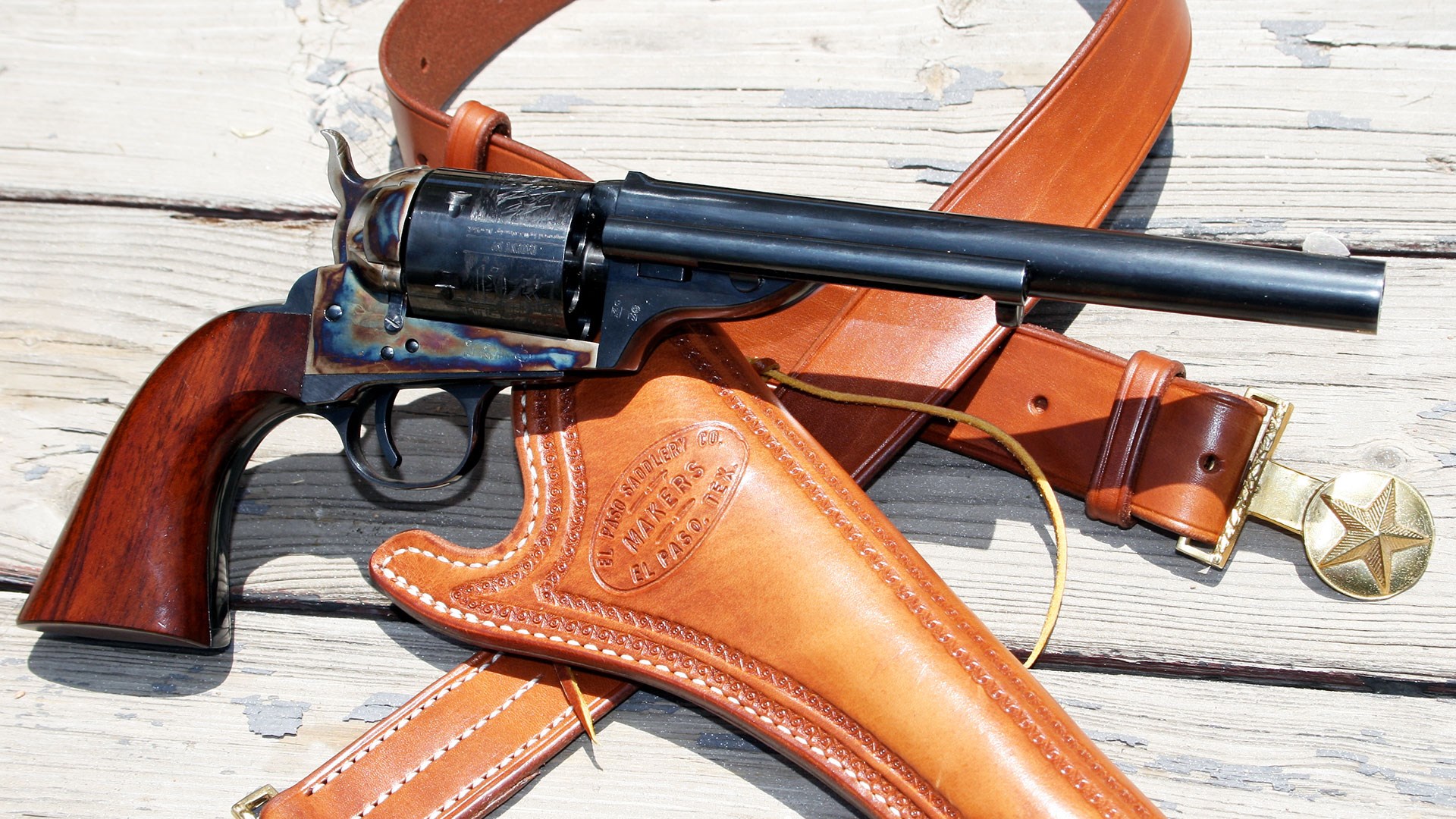 If you can't afford an original, the Cimarron Fire Arms replica is the next best thing, in Hacker's option.
This meant that for the first time, the same cartridge could be used in both a rifle and a revolver, thus predating that claim of convenience usually attributed to the .44-40 in Colt and Winchester firearms, which of course, came after the 1871-72 Open Top. In addition, the .44 Henry Flat had been beefed up for use in the stronger Winchester 1866, and now sported a more elongated 200-gr. bullet and packed 23 grains of black powder, opposed to 13 grains of powder for the Henry's original 1860 load. 
Thus, the Open Top was indeed a formidable sixgun for frontiersmen to be packing during those wild days of the untamed west, but the Army failed to be impressed. Their main objections were the Open Top's lack of a top strap, a cap and ball carryover viewed as being structurally weak. In addition, the Open Top still utilized the old cap and ball system of using a wedge to secure the barrel to the frame, and without a rammer to facilitate leveraging the barrel off of the frame to remove the cylinder, disassembly was a bit awkward, especially in the field.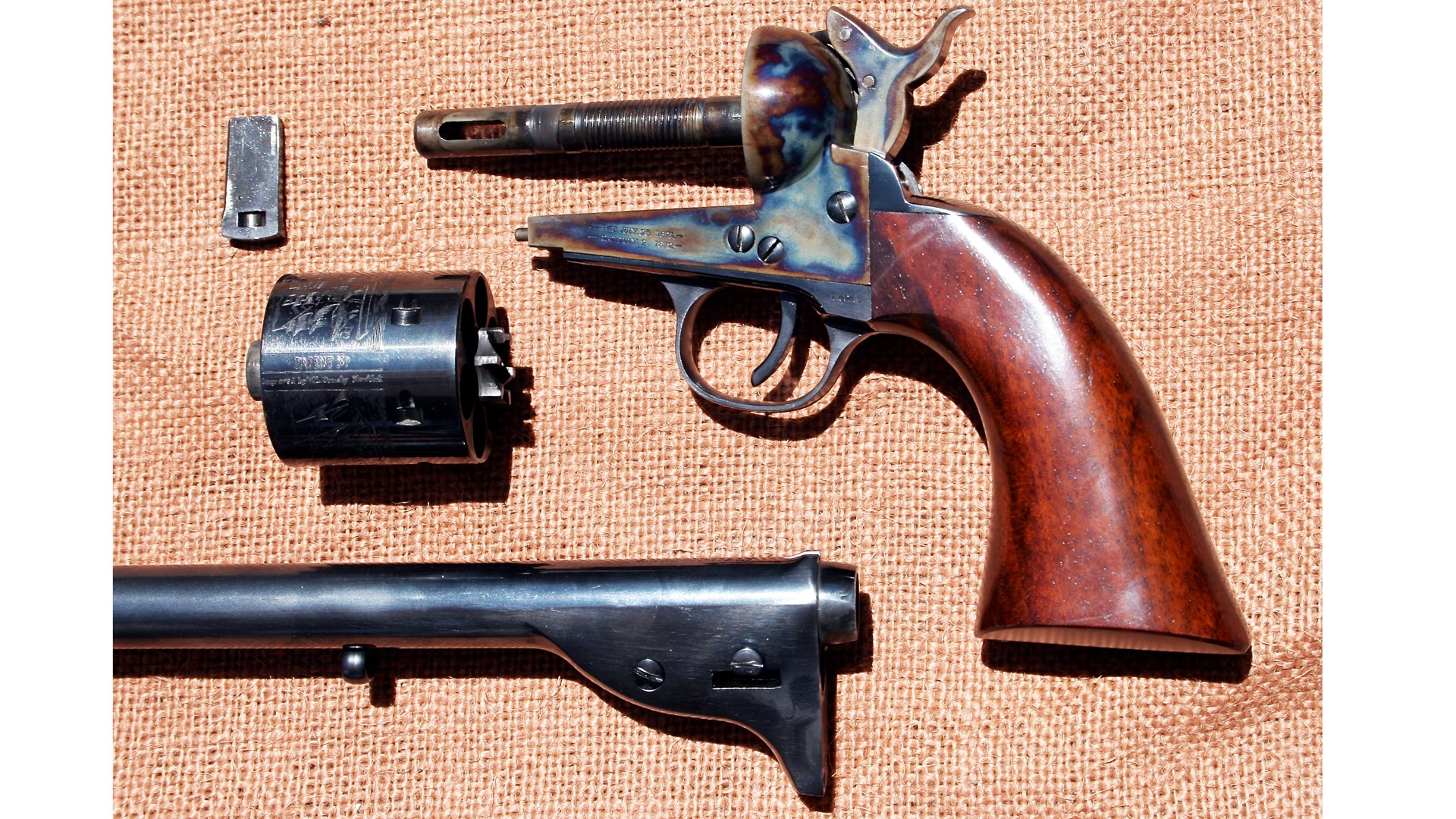 This Cimarron Open Top replica breaks down just like the originals.
And finally, the Army had decided that what it really wanted was a .45-cal. handgun – not a .44 caliber. Undaunted, Colt's designers added a top strap with an elongated groove for a rear sight, utilized the more comfortable 1851 Navy's plow handled grip, strengthened the ejector rod housing and loading gate, and installed a removable centrally-mounted cylinder base pin in the frame. They also rechambered this revamped revolver for a new caliber, .45 Colt.
But instead of calling their upgraded revolver the Improved Open Top, they re-named it the Single Action Army, thus signaling the end of production for the Open Top in 1873, with only 7,000 guns produced. But even during the late 19th Century heyday of the Single Action Army, many Open Tops continued to be used throughout the American West, in addition to a number that were shipped to Mexico and South America. For that reason its no wonder most Open Tops encountered today – besides being extremely rare – show a lot of hard use.
One of the most notable exceptions to this is a pristine example, serial number 3570 and exhibiting all of its original case hardening and blued finish, that was purchased when new by the United States Cartridge Company for its corporate firearms collection, as attested to by the "U.S.C.Co." stamping on the top of the backstrap. This gun was recently auctioned by Lock, Stock & Barrel Auctions and achieved a top bid of $13,726.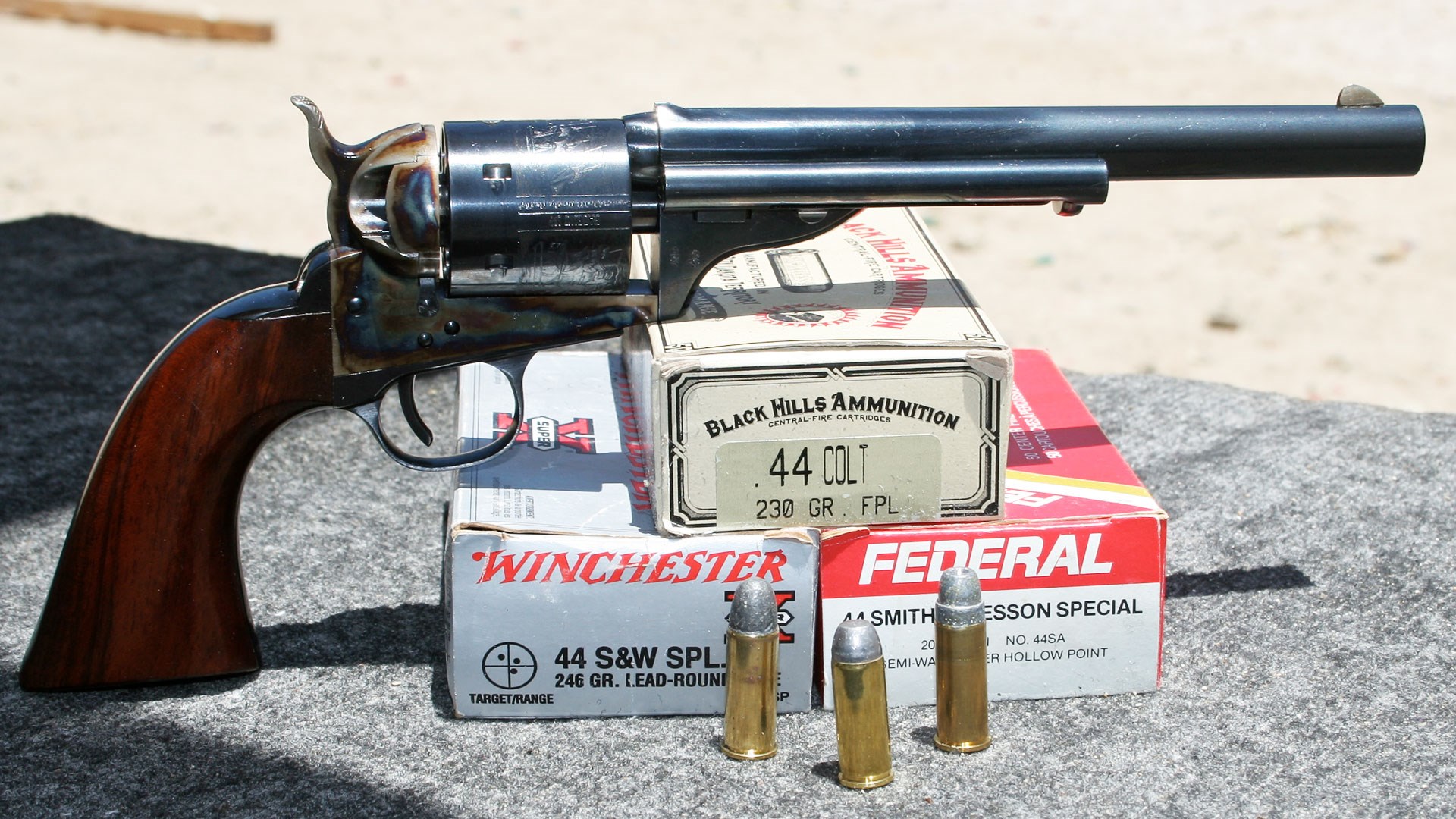 The Cimarron Fire Arms Open Top comes factory chambered for .44 Colt, or can be special ordered to also take .44 Specials, but plus-P ammo should not be used in these open topped revolvers.
Of course, most of us don't have that kind of disposable income to add one of these historic guns to our collection. But Taylor's & Co., Uberti, and Cimarron Fire Arms all offer blued and case hardened, nickeled and antique-finished Open Tops that retail for around $600. Of the three, I have found Cimarron's to be the most versatile, with a more vivid case coloring done in the United States and the options of .44 Colt (as formerly sold by Black Hills Ammunition and which may still be stocked by some dealers) or with longer-bored cylinder chambers to accommodate .44 Spl.
A .38 Colt and .38 Spl. version is also available. In addition, the Cimarron Open Top has a "safety tab" on the hammer that can be turned to keep it from contacting the primer. In testing with Black Hills .44 Colt ammunition, I found that the Cimarron Open Top shoots low, using a six o'clock hold, which means lowering the already-low front sight or using Kentucky windage.
And like all Colt-style single actions, safety tab or not, only five rounds should be carried, with the hammer resting over an empty sixth chamber. To be sure, anyone packing an Open Top replica today is bound to get some curious and envious gawkers, especially when they realize that its design – just like the originals – represents a direct link between the cap-and-ball Colts and the Single Action Army.