by
posted on March 22, 2012
Support NRA American Rifleman
DONATE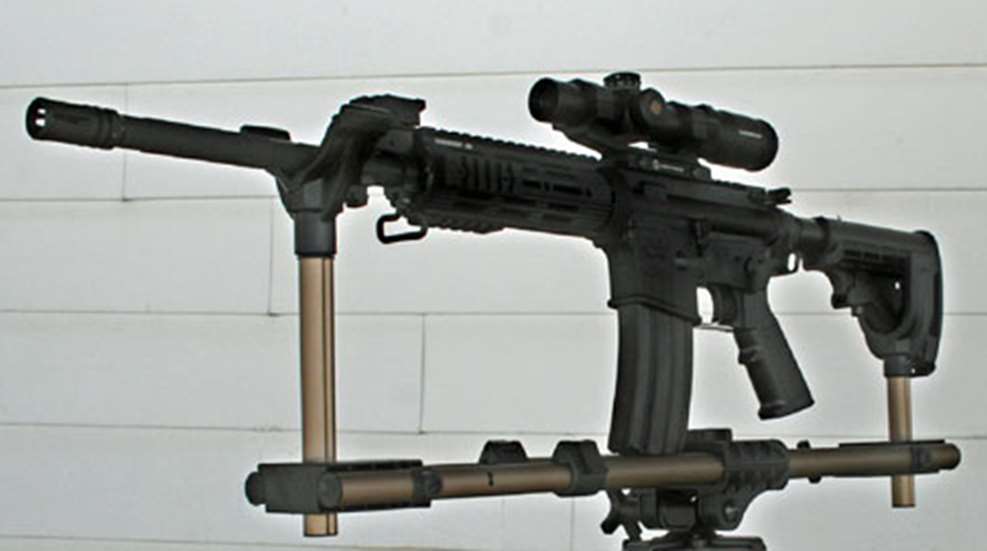 Ever heard of Windham Weaponry? You have, but you just don't know it yet. Although this is technically a new company, it brings years of AR rifle manufacturing experience to the table. Back in 1973, Richard Dyke founded Bushmaster Firearms International, a company that would grow to become one of the top providers of quality, AR-style firearms. In 2006, Cerberus Capital Management purchased Bushmaster, adding it to its portfolio of other well-known gun companies, like Marlin and Remington, as part of the Freedom Group. The production of Bushmaster rifles continued in the original Windham, Maine, location until March of 2011 when the operation was relocated to Ilion, N.Y.
The move resulted in the facility's closure and the seasoned work crew losing their jobs. This would have been the end of the story if Richard Dyke hadn't stepped up to the plate to change the situation. With his five-year non-compete clause expiring and new financial backers on board, Mr. Dyke organized the reopening of the Maine facility and brought back as many of the original employees as he could. Under the banner of Windham Weaponry, this re-energized company is providing a selection of ARs to rival the biggest names in the industry.
First Impressions
Windham Weaponry is starting out with four primary rifle configurations. This review covers the R16M4FTT "SRC" model, featuring an M4A4-type flat top upper receiver and Picatinny rail gas block to allow for the use of a variety of optics and removable sights. The SRC is a semi-automatic rifle that uses a gas-impingement system to cycle the action. The receiver is constructed of forged 7075 T6 aircraft aluminum with a black anodized finish. Although some companies are using polymer trigger guards these days, Windham's are aluminum.
The chrome-lined steel 16-inch barrel has an M4 profile and a removable A4 flash hider. The factory hand guard is of the M4 double heat shield variety and the pistol grip is an A2 black plastic model. The shoulder stock is one of the popular six-position telescoping types with the Windham Weaponry Logo molded into it. The rifle controls, including the charging handle, bolt release and magazine release are located where and operate exactly how you would expect them to on an AR platform. Other operations related to field stripping, lubricating and maintenance hold no surprises for those who are familiar with this type of firearm.
The standard model SRC rifle was dressed up a bit for this review. The polymer hand guard was traded out for a DiamondHead Versa-Rail V-RS system handguard with the optional short base rails attachment for lights and other accessories. An ARMS 71L front and rear polymer folding sight set was mounted to the upper rails and a Doublestar Ambi-Tactical single-point sling adaptor was installed. This set of extras costs about $250 to add to the rifle.
Now to the important question: Is the Windham rifle just a Bushmaster clone? The answer is: Not exactly. The rifle's Bushmaster heritage is plainly represented. But with a chance to start over again, and knowing the market is currently overflowing with a variety of AR platforms, Windham is working to make its guns stand out by using its own specifications at key points while keeping the guns affordable.
The SRC's fit and finish is excellent. The aluminum and steel treatments provide a dark, rich, even finish that stands out from other guns. The entire rifle was closely examined and found to be free of the dings, tool marks and corner-cutting that tend to show up on cheap imports and less-carefully manufactured rifles. All of the controls are smooth and tightly fitted. Windham uses an additional manufacturing process to ensure the trigger is as crisp and smooth as possible.
Trigger Time
If you're familiar with AR-style rifles, then you already know how fun shooting one chambered in 5.56/.223 can be. The SRC exemplifies all of the AR goodness currently driving this kind of rifle's popularity. The rifle is lightweight, with mild recoil and, in the case of the SRC, accuracy is excellent. The trigger proved to be crisp with a clean break that feels like it should be attached to a more expensive rifle.
Since the SRC is intended to be a flexible rifle for competition, hunting and home-defense it seemed like a good idea to run it with an optic designed to fill a variety of shooting roles. Leupold's new VX-R Patrol 1.25-4x20mm with a Fire Dot SPR reticule, mounted with a new Mark 2 IMS 30mm integral ring and base mounting system, was a terrific match. With the magnification cranked down to 1.25, and the red laser dot activated at the center of the fixed black-line reticule, it was easy to quickly engage close-range targets in defensive drills. With the magnification turned up to 4, and the laser dot turned off, the scope's crystal-clear magnification made it easy to produce tight groups on paper targets at moderate distances.
Formal accuracy testing for the SRC was conducted using targets posted at 100 yards with the rifle placed in a Caldwell Lead Sled Solo shooting rest. The Solo is a good fit for bench resting ARs because it leaves enough room between the rests and the base for 30-round magazines. Five consecutive five-shot groups were used to judge the results.
The two best individual groups of 1.25 inches were produced using Federal Premium American Eagle Brand 55-grain full-metal jacket boat tail rounds and Winchester Super X 64-grain Power Point soft points. The best five-group average of 1.45 inches was produced by the Winchester load. HPR 60-grain V-Max ballistic tips produced an average of 1.6 inches, followed by the Federal load at 1.75 inches.
Informal accuracy work and off-hand shooting showed the rifle to be reliable with a variety of loads. High-performance hunting loads, imported steel-case rounds and brass-cased ball ammo, in a variety of bullet weights, all fired and ejected without any jams or failures to fire. Switching out the magazine for a few different brands in standard sizes did not cause any feeding issues either.
Final Thoughts
With the country's recession continuing to drag on, the story of Windham Weaponry's launch is inspiring. It's refreshing to see Americans putting Americans back to work building quality products at a fair price. Having met with Richard Dyke and the Windham staff at a trade show last year, I was impressed by their obvious dedication to their products, their customers and to each other. So it's a real pleasure to report that the company's rifles show all the promise needed for it to become a top contender in the AR market place.
Manufacturer: Windham Weaponry; www.windhamweaponry.com
Model: SRC (R16M4FTT)
Action: Semi-Automatic, Gas Impingement System
Caliber:5.56mm NATO/.223 Rem
Safety: Manual Lever
Receiver: M4A4 Type Flat Top Upper Receiver
Receiver Material: Forged 7075 T6 Aircraft Aluminum
Trigger Guard: Aluminum
Receiver Finish: Hardcoat Black Anodized Finish
Barrel: 16" M4 Profile, Chrome Lined with A2 Flash Suppressor
Barrel Material: 4150 Chrome Moly Vanadium Steel
Shoulder Stock: 6 Position Telescoping Buttstock
Pistol Grip: A2 Black Polymer
Hand Guard: M4 Double Heat Shield
Sights: None
Overall Length: 34.5" (30" with the stock collapsed)
Weight: 6.3 lbs.
Capacity: 30+1 Rounds, One 30-round Magazine Provided
Twist: 1:9" RH
Accessories: Hard Case, Web Sling, Operators Manual
Warranty: Limited Lifetime
Suggested Retail Price: $1040