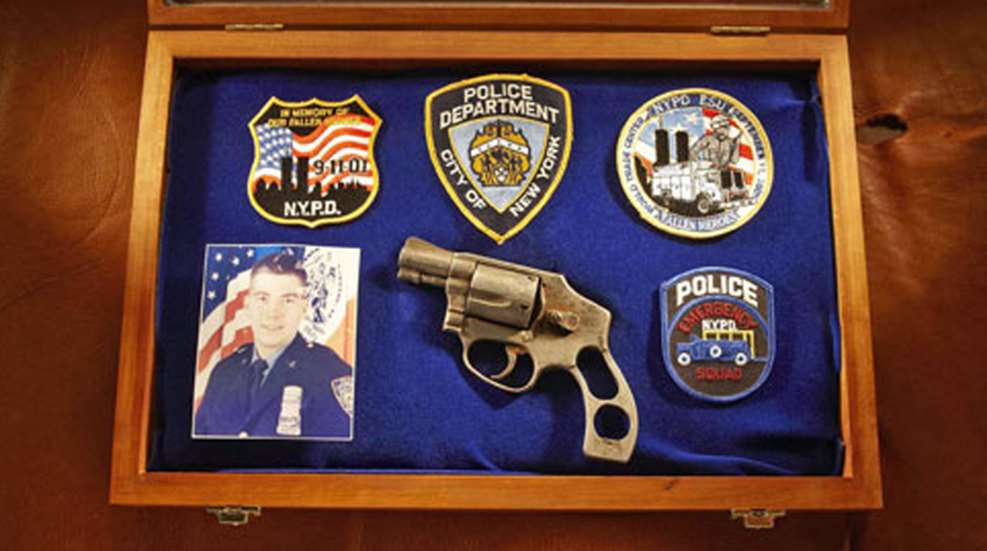 Originally published February 2002 in American Rifleman.
It was a crisp fall afternoon when I found myself 25 miles east of New York City in the Long Island neighborhood of Hicksville, where all 13,000 families seemed personally touched by the atrocities of September 11.
It was as if the rows of homes were themselves in quiet mourning, embraced by stands of trees awash in autumn's changing colors. Against the sea of rusts and browns blazed the brilliant red, white and blue of American flags on almost every porch.
Police cruisers lined the streets in every direction. Fire trucks displayed Old Glory draped from their rescue ladders. Dozens of white doves were released into the blue sky. Sixty bagpipers led the motorcade as helicopters flew over in missing-man formation.
They stood in solemn silence as the bereaved procession passed them—thousands of New York City officers, state troopers, state and county police, fire and rescue workers who had joined family, friends and parishioners of Holy Family Church for Walter Weaver's memorial service.
New York Police Officer Walter Weaver dearly loved his family, his country, his fiancée, Shannon, and his membership in the National Rifle Association—which is why I was invited to be there.
Some details are sketchy, but his brother, Brian Weaver, said Walter was not normally assigned to Manhattan, much less the World Trade Center. But when word came of the attack that morning, Walter jumped aboard Truck No. 3 as his Emergency Services Unit was dispatched to the scene. He called Shannon from his cell phone, then went into the burning building.
It was reported that Walter's first radio report came from the 20th floor of Tower 2, which his team was clearing floor by floor. Despite orders to evacuate, it was slow going because they wanted to be sure nobody was left behind.
Brian also had heard that some time later, Walter's second call came from the sixth floor, where they were trying to pry open an elevator with trapped people screaming inside. That was his last call. The second tower hit was the first to go down. He was only 30.
During the service, Walter was remembered for his kindness and his courage. One priest told the story of how "Wally," an avid bowhunter, tried to persuade him that venison would be better than steak for his heart condition. They told stories and said prayers and sang "Amazing Grace." All six priests cried.
There I stood, witnessing the power of American goodness to defeat the evil that had descended into our midst. My deep sadness slowly yielded to a profound sense of pride. Because in my heart, I know that most NRA members are just like Walter Weaver.
I can't prove it, I just know it. I believe NRA members are among the first to hear and heed the call, whenever it arrives, to come to the aid of others and their country. I've always believed it, but Walter's sacrifice proved it—beyond any doubt.
NRA lost many heroes that day, among both the rescue teams and the people they tried to save. In their honor and in their memory, let us take profound pride in our Association, and in Americans like Walter Weaver whose courage and patriotism define it.
Walter will be sorely missed by his loving parents, William and Joan, by his fiancée, Shannon, by his brothers, Michael and Brian, and by countless friends and hunting buddies.
I thank the Weaver family for letting me share their strength in time of such sorrow. And for who he was and what he taught me, God bless Walter Weaver.