by
posted on November 20, 2012
Support NRA American Rifleman
DONATE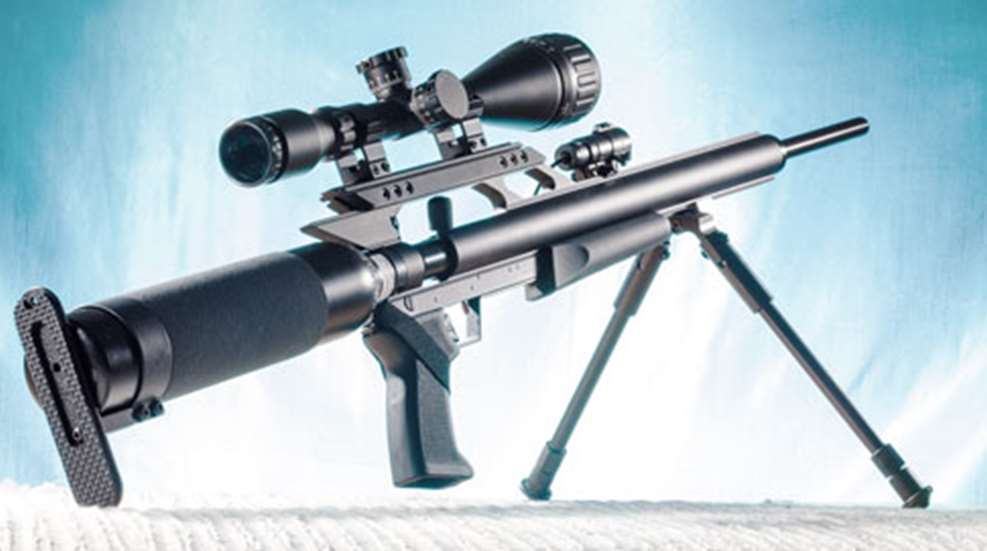 11/20/2012
AirForce airguns have become popular for pest control use by government agencies, commercial users and individuals. Airports, contract agents for U.S. Fish & Wildlife, and various local law enforcement and animal control agencies employ them to dispatch unwanted animals without the noise, liability and potential property damage concerns associated with firearms. Also, U.S. forces are reportedly using AirForce airguns to eliminate rodents in and around bases in Afghanistan. Because these airguns can be regulated for range and target type, they are potentially less prone to ricochet and over penetration than even a rimfire. In addition, many government agencies have protocols that require extensive paperwork and reporting anytime a firearm is discharged in the field, regardless of purpose, and such regulations do not apply to airguns. The same is often true for private citizens who must comply with municipal ordinances regulating the discharge of firearms in urban and suburban areas.
AirForce Airguns President John McCaslin is a lifelong airgun aficionado and tinkerer who set out to build an air rifle that exceeded the performance capabilities of what was available in the U.S. market. Custom-made high-pressure airguns were available in Europe, but only in limited numbers and at high prices. Three years of development and refinement later, AirForce Airguns began production of its products in 1997. We recently tested the Condor, which is the most powerful gun in the company's lineup. Capable of propelling a .25-cal. lead pellet at more than 1,100 fps, the Condor is no toy.
AirForce airguns, which are made in the United States, are futuristic-looking and are available with a variety of accessories and in various configurations. Each model is modular and allows users to change barrels, and even calibers. Our test model Condor came with a 24-inch barrel in .25 cal., though .177-, .20- and .22-cal. models are also available.
The Condor uses accessory grooves on both the top and bottom of the receiver for the mounting of optics and lights. Our fully accessorized Condor featured a bipod, laser sight and 4-16X 50 mm scope with a mil-dot style reticle. The laser may seem like a bit much on an airgun, but the reality is that pests such as rodents often present themselves in low light and the laser is an ideal way to make the shot without spooking the animal with white light. AirForce airguns do not require "spring-rated" optics as do most powerful airguns, so any scope with the appropriate short-range parallax adjustment will suffice and a rimfire scope would be ideal. One of the more unique Condor models is purpose-built for urban and suburban pest control and uses a 12-inch barrel with an expansion chamber to virtually eliminate any audible signature from a shot.
Because the airgun is not a "firearm" according to the Federal Government, no paperwork is required to own this sound-suppressed model. Red and blue models are designed to look less like firearms and prevent scaring the neighbors when dispatching pests in the suburbs.
The Condor uses compressed air from a detachable tank that doubles as a buttstock. The tank is filled either via a hand-pump or from an adapter designed to fit a standard SCUBA tank. A full charge lasts for around 80 shots at the mid-range power setting and roughly 25 shots at maximum power. For a serious owner looking to do some high-volume shooting with the Condor, a SCUBA tank would not be an unwise accessory. The Condor's power is adjusted using a dial on the receiver and the setting range from "1" to "16." The adjustment takes a bit of experimentation depending on the range to the target and the power level desired. For a 70-yard shot on an animal, the dial should be turned to near maximum power while target shooting at shorter distances can be done in the mid to low range. Generally speaking, the Condor is not efficient at either extreme end of the power spectrum. According to McCaslin, every gun has a "sweet spot" of efficiency and accuracy. AirForce recommends using a chronograph to really dial-in the power setting for optimal performance—we conducted our accuracy testing at a setting of "5," which equaled around 850 fps.
Operation of the Condor is fairly straightforward. The charged tank/buttstock assembly is threaded into the rear of the receiver and the rifle is ready to be loaded. The bolt is pushed forward, which both cocks the action and exposes the chamber, allowing a single pellet to be pressed home. The bolt is closed by moving it rearward and to either side, making it totally ambidextrous. The automatic safety lever located in front of the trigger is pushed forward and the airgun is ready to fire. Recoil is essentially nonexistent and noise ranges from that of a traditional airgun on the low end up to around the .22 Short level on the maximum power setting. By removing the air tank, the Condor takes down into a compact overall package.
Thanks to the consistency of compressed air and high-quality Lothar Walther barrels from Germany, the Condor is very accurate at its intended range. At 25 yards, dime-sized groups were simple to achieve with the more-accurate Beeman Kodiak round-nose pellets, and golf balls were fair game out to 50 yards. Airguns can be fickle, though, so it is important that the user experiment with different pellets as well as the power dial to optimize the accuracy of an individual gun.
The AirForce Condor is a serious utility-grade airgun that fits a real-world niche. It is accurate, simple to use, and available in a variety of configurations to suit the individual users' needs.
Manufacturer: Airforce Airguns; (877) 247-4867; www.airforceairguns.com
Caliber: .25/6.3 mm (tested), .177, .20, .22
Action type: single-shot, rotating bolt air rifle
Receiver: aluminum
Barrel: 24" match-grade, chrome-moly Lothar Walther
Rifling: six-groove, 1:17.71" RH Twist
Sights: optional; grooved scope rail included
Trigger: single-stage, 2-lb. pull
Stock: steel air tank with buttplate: length of pull, 14¼"; drop at comb, +1/2"; drop at heel, +1"
Overall Length: 38¼"
Weight: 6 lbs., 8 ozs.
Accessories: owner's manual
Suggested Retail Price: $670 (base model); $1,663 Ultimate Condor Combo (tested)