Support NRA American Rifleman
DONATE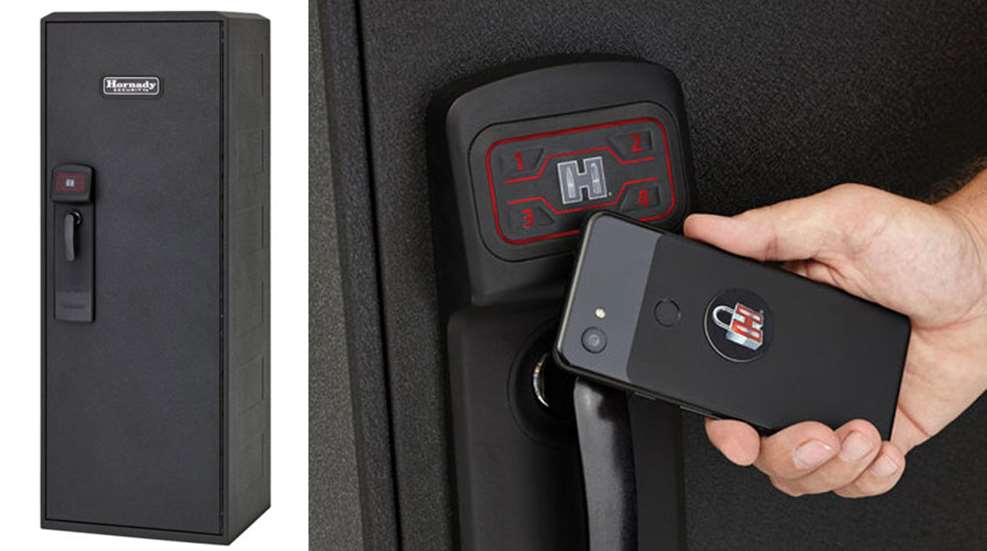 One important aspect of responsible gun ownership is securing your firearms in a manner that minimizes the possibility of unauthorized access. And a steel safe is far more effective in this regard than an old-fashioned wooden gun cabinet. Nonetheless, the ability for authorized personnel to quickly and efficiently gain access to the safe's contents should the need arise is of paramount importance to the armed citizen who just heard a bump in the night.

Added to Hornady Security's catalog in 2020, the RAPiD Safe Ready Vault is a medium-size firearm storage solution that addresses both concerns, as it provides a level of security sufficient to dissuade opportunistic criminals while also offering immediate access to its owner thanks to the integration of touch-free radio-frequency identification (RFID) technology.

The RAPiD Safe Ready Vault measures 52.2" high, 20" wide and 15.1" deep, making it capable of accommodating all but the most uncommonly long of long guns, yet compact enough to fit within many closets. Thanks to its 14-ga. steel door and 16-ga. steel walls, the vault's empty weight comes to 170 lbs., and holes pre-drilled into the bottom also allow for its permanent installation. When engaged, the door is secured by five hardened steel locking lugs.

All interior walls feature metal pegboard surfaces, and the Ready Vault comes with a shelf, one six-slot rifle/pistol rack and two four-slot racks that are compatible with the system's square pegs. This modularity allows the end user to configure the safe's internal space in the way that best suits their needs. The included wire racks optimize capacity by allowing a handgun to be stored between each of the longarms, accommodating up to six rifles or shotguns and 14 handguns in total. Each rack is PVC-coated to help protect the firearms' finishes, and a Hornady Security-branded neoprene floor mat is also included that prevents the guns from slipping and potentially damaging each other.

Entrance into the vault can be accomplished in a number of ways: manually via the digital keypad and a user-programmable key code, with one of two included physical barrel keys or by way of the RAPiD system's three styles of RFID tags. Included with the safe are a rubber wristband, a plastic fob for your keychain and two adhesive decals that can be unobtrusively affixed to any number of innocuous nearby objects or your phone. Once calibrated, holding any of these items within 1/2" of the unit's keypad will automatically cause its locks to disengage and the door to slowly swing open. A small access hole and supplied AC cord allow the safe to powered by any standard household outlet, however, in the event of an electrical outage, four AA batteries can be installed within the door to provide backup.


In our opinion, RFID technology has been a real game-changer within the realm of home gun security. A deft, experienced hand can enter the appropriate code by way of the keypad buttons and access the interior of the cabinet in approximately two seconds; by contrast, an unpracticed user can open the RAPiD Safe Ready Vault via one of its RFID methods in roughly half of a second. During a stressful circumstance such as a home invasion, with the heart pounding and the adrenaline pumping, it's hard to overstate just how beneficial this immediate, fumble-free access to your firearm is.

The Hornady Security RAPiD Safe Ready Vault occupies the middle ground between cheap and inexpensive gun lockers and colossal, bank-grade vaults. It strikes an effective balance by providing a useful amount of security while also being light and portable enough for one or two people to handle. On the one hand, at an MSRP of $850 the Ready Vault is not inexpensive, but on the other, many more expensive safes on the market don't benefit from an immediate-access feature like the RAPiD system.