Support NRA American Rifleman
DONATE
Patriots across our country are under siege—battered by a global pandemic and persecuted by liberal elites and their complicit media giant overlords—but, led by the NRA, we are fighting back. And nowhere will that resolve be more apparent than at the George R. Brown Convention Center in Houston, Texas, Sept. 3-5, during the 150th NRA Annual Meetings and Exhibits. Among the acres of firearms, optics, ammunition and shooting accessories on display there will be those selected by American Rifleman for the 2021 Golden Bullseye Awards.
Now in their 19th year, the awards are presented by the NRA Publications Division in recognition of the firearm industry's finest products and most distinguished contributors. The winners are selected by a seven-member committee consisting of editors, graphic designers and veteran NRA Publications staff, representing more than a century of collective experience in the shooting and hunting industry.
"In the uncertain year of 2020, companies within the firearm industry continued to innovate," said Editor In Chief Mark Keefe. "The selection process was a challenge due to the many excellent products introduced that we evaluated in American Rifleman magazine, for "American Rifleman Television" and at americanrifleman.org for NRA members."
So what does it take to make the cut? The criteria required to qualify for consideration of a Golden Bullseye Award include being: introduced and available to consumers prior to the selection of the Golden Bullseye Awards; used/tested by a staff member or regular contributor to the magazine and/or affiliated media; reliable in the field, meeting or exceeding the evaluator's expectations; innovative in design and function; readily perceived as a value to the purchaser; and styled in a manner befitting the shooting and hunting industry and, perhaps more importantly, its enthusiasts.
Keeping those in mind, we offer the following recap of this year's winners as excerpted from the original coverage in "The World's Oldest And Largest Firearm Authority."
---


Rifle Of The Year: Benelli Lupo
In his cover story about the Benelli Lupo subtitled "A Lone-Wolf Approach To A High-Tech Bolt Gun" (September 2020, p. 50), Editorial Director John Zent wrote of the Italian company's latest offering, "Unlike many newcomers that have focused on heavy-barreled, tactical-stocked, 1,000-yd. tack-drivers, Benelli decided to do more than put its stamp on an established template. Instead, it has gone all-in on a well-balanced 7-lb. sporter that emphasizes handling ergonomics, complemented by fresh, modern styling."
Noting its two-piece receiver, smooth-gliding, three-lug bolt and hammer-forged barrel, Zent went on to recount his field and accuracy testing with the Lupo—the former resulting in the successful harvest of a whitetail buck that fell to a close-in snap shot in a Nebraska cornfield and the latter recording sub-minute-of-angle, five-shot groups with three different .30-'06 Sprg. hunting loads. No doubt that success was aided by the gun's Progressive Comfort recoil pad system and a shim and spacer set that boasts "Perfect Fitting." Such features and capabilities—expressed in unique styling, modular design, excellent ergonomics and fine accuracy—made the Benelli Lupo more than deserving of the title Rifle Of The Year. benelliusa.com
---


Shotgun Of The Year: Rock Island VRBP-100
In a market filled with makers that span the globe—and designs suited to all manner of purposes—the shotgun category can produce some real wild cards. Our pick, reviewed in the "Dope Bag" (August 2020, p. 62) proves the point. The Rock Island VRBP-100, made by Derya Arms in Turkey and imported by Rock Island Armory Imports, is a box-magazine-fed 12 gauge featuring a distinctive bullpup design. With its flip-up iron sights, finger-grooved pistol grip, Picatinny accessory rails and available, curved 19-round magazine, the VRBP-100 projects an unmistakable silhouette. In our testing it handled all sorts of loads—ranging from birdshot to slugs—with aplomb, owing to swappable "light" and "heavy" gas pistons and Beretta/Benelli Mobil-compatible choke tubes, and testers confirmed the maker's claim that the gun could be pressed into service for everything from home defense to hunting to competition. We concluded, "[T]he bullpup layout and box-fed magazine system have combined to form a potent pairing in an affordable and reliable package," thus earning the Rock Island VRBP-100 our recognition as Shotgun Of The Year. armscor.com
---


Handgun Of The Year: Ruger-57
In a feature about the Ruger-57 pistol (March 2020, p. 36), Executive Editor Kelly Young suggested, "With familiar controls and a price tag within reach of the everyman, Ruger's new handgun aims to revive the 5.7x28 mm FN cartridge." Noting that the Ruger entered a market with few competitors, Young laid out the new gun's features. Its 28.4-oz. weight, with a full complement of 20 rounds onboard, was remarkable, and its delayed-blowback operating system safely harnessed the cartridge's power, but made controlling the pistol for fast follow-up shots easy. With a 15-group average extreme spread for three loads coming in at 1.98" at 25 yds., the Ruger certainly performed. And Young suggested that with an optic and a rail-mounted light the pistol would serve admirably for home-defense—especially for the recoil-averse. Finally, he said, "[T]he gun ticks all the right boxes—it's reliable, accurate, full-featured, wisely configured and with a price literally half of its most direct competitor," all of which made it an easy choice for our selection as Handgun Of The Year. ruger.com
---


Optic Of The Year: Pulsar Thermion XG50
A staff report on americanrifleman.org (September 2020) revealed that the Pulsar Thermion XG50 thermal riflescope actually "expands the range at which hunters can detect game and provides increased resolution, giving users more information about what they're seeing downrange." That resolution comes by way of 640x480- microbolometer strength and 12-micron pixel detail, which allows viewing heat signatures at distances of up to 2,400 yds.—no small accomplishment for a device possessing the appearance and layout of a conventional riflescope in a standard 30-mm body tube.
Even more impressive are the XG50's BAE sensor with on-board recording capability, multiple color palette options, an on-board 1024x768 AMOLED enhanced-clarity display, viewing modes for rocks, forest and other terrain identification, and continual digital zoom from 3-24X. Add to that an on-board lithium-ion battery that provides up to seven hours of continuous run time, and it's easy to understand why we named the Pulsar Thermion XG50 Optic Of The Year. pulsar-nv.com
---


Ammunition Product Of The Year: Federal Premium Terminal Ascent
In his feature titled "Federal's Terminal Ascent: One Bullet To Rule Them All?" (September 2020, p. 40), Editor In Chief Mark Keefe wrote, "Federal Premium has taken the lessons learned from developing other projectiles and put them into one hunting bullet." He reported on the projectile's unique construction—a lead core bonded to a solid copper shank with a jacket formed over the core—and design, including AccuChannel grooves on the shank, a small radius on the rear edge and a SlipStream tip made of a polymer that won't deform in flight. Other features, such as small-for-diameter meplats and secant ogives serve to raise ballistic coefficients, while skiving helps promote controlled expansion. But it was real-world testing during an ibex hunt in Spain that convinced Keefe after he anchored a nice Gredos at 346 yds. and, a few days later, when he took a Southeastern at 185 yds. Later, he and three other staffers shot the bullet in top-tier rifles at an outdoor range—all of them learning that Terminal Ascent is accurate enough to imperil even a hanging tennis ball out to 300 yds. Given all its incredible engineering, Federal Premium's Terminal Ascent won us over for Ammunition Product Of The Year. federalpremium.com
---


Tactical Product Of The Year: Springfield Armory Saint Edge EVAC
In the feature "Short But Sweet" (August 2020, p. 38), Young evaluated a pair of new large-format pistols from Springfield, the Saint Edge PDW and the take-down Edge EVAC. Of the latter, he wrote, "Conceptually, I love the idea of this pistol; inconspicuous and convenient to transport, yet relatively swift to assemble and bring to bear on a threat, the EVAC has enormous potential as either a truck gun or a go-bag essential." With its free-floating, M-Lok-compatible handguard, Melonited stainless steel barrel with a proprietary muzzle brake, Law Tactical folding-stock assembly and Pantheon Arms barrel-detachment mechanism, the EVAC was clearly special. Young concluded, "it offers capabilities that no other model in the line—and very few ARs across the entire industry, for that matter—can." Add in the fact that it comes in a nondescript zippered nylon case in which it can be stored or transported, and we were pleased to choose the Springfield Saint Edge EVAC as our Tactical Product Of The Year. springfield-armory.com
---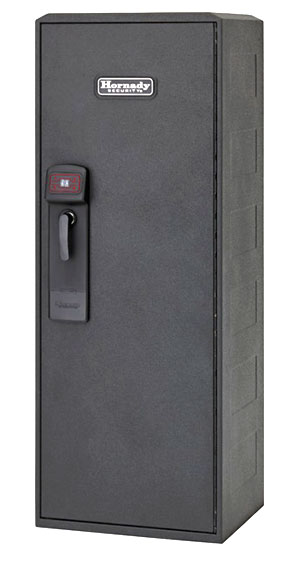 Accessory Of The Year: Hornady RAPiD Safe Ready Vault
A staff report on americanrifleman.org (November 2020) featured the Hornady RAPiD Safe Ready Vault, which provides storage space for up to six long guns and 14 handguns in a compact, secure package. It cited the safe's use of RFID tags to provide nearly instantaneous access and that four tags are included with the safe that can be selectively programmed. Also mentioned was that back-up access is available by way of an included keypad and even a mechanical key—a great mix of high- and low-tech features.
The safe, which measures 52" high, 20" wide and 15.1" deep and weighs 170 lbs., came with or accommodated a host of other useful features, including: metal peg walls, PVC-coated gun racks and options such as LED security lights, magnetic hooks, hygrometers and dehumidifiers. Power options include house current or batteries, the latter of which ensures access even during a power outage. Because of all its thoughtful features, and a more-than-reasonable price, we were pleased to name the Hornady RAPiD Safe Ready Vault Accessory Of The Year. hornady.com 
---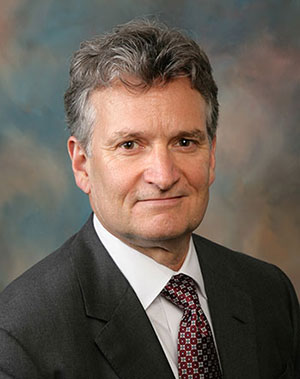 2021 Golden Bullseye Pioneer Award: Dennis Reese
The NRA Publications Division announced last year that Dennis Reese, CEO/owner of Springfield Armory, would be the 2021 Golden Bullseye Awards Pioneer recipient. But in the wake of the cancellation of the NRA Annual Meetings and Exhibits last April, where he would have been formally recognized, it was decided to not select a new Pioneer winner, but instead to accord Reese due recognition in 2021.
Reese has been part of Springfield Armory in Geneseo, Ill., since its founding in 1974. Dennis worked with his father, Robert Reese, in the company's early years and has been an integral part right through to his role as CEO/owner today, 45 years later. He is a steadfast NRA supporter and advocate for American rights and liberties. "I could not be more honored to be given the National Rifle Association's Golden Bullseye Pioneer Award," he said. "From the earliest days of the company to where it stands today, our relationship with the NRA has been extremely important to me, both personally and professionally." springfield-armory.com