by
posted on August 21, 2020
Support NRA American Rifleman
DONATE
This article, "Winchester's First Self-Loading Rifles," appeared originally in the May 2003 issue of American Rifleman. To subscribe to the magazine, visit the NRA membership page here and select American Rifleman as your member magazine.

---
Realizing that American sportsmen would eventually recognize the intrinsic merits of self-loading hunting rifles and shotguns, the Winchester company began work on their development in 1891.

During the following decade, the firm's primary designers, William Mason and Thomas C. Johnson, produced a number of prototypes that used either combustion gases or the forces of recoil to cycle their actions. Though most of those designs never proceeded beyond the production of test samples, two were eventually selected for further refinement.

The first of those was a delayed blowback system conceived by William Mason. In common with designs patented by Hiram Maxim, Hugo Borchardt and Georg Luger, Mason used a two-piece, toggle-jointed breech bolt that was unlocked by the rearward movement of the barrel during recoil.

Between 1899 and 1901 a variety of experimental models, ranging from 12-ga. shotguns to center-fire rifles, were made for testing. Though the two-piece breech bolt and recoiling barrel system was a factor common to all of them, the method used to limit the barrel's travel differed in each test sample.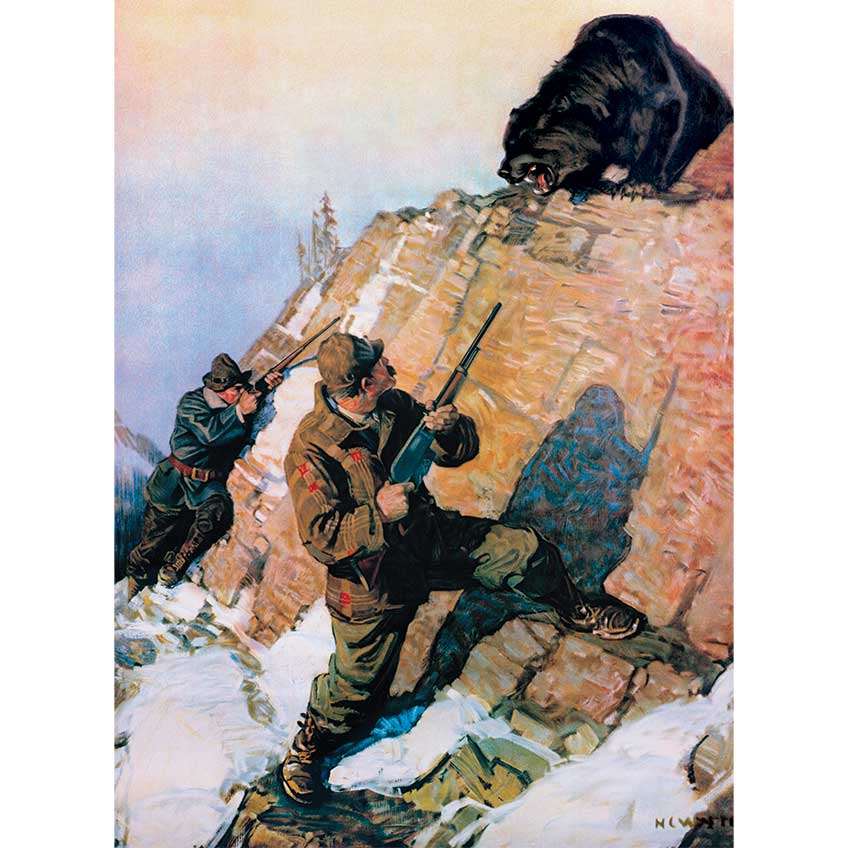 Evidently, none of those methods proved effective as two more variations were built shortly thereafter. The first of those was a 6 mm rifle that was quickly set aside as being "unsafe to fire." Fortunately, the second proved to be more successful.

Jointly developed by Mason and Thomas G. Bennett, who was then president of Winchester, this test sample was a .44-cal. carbine. Compact, relatively light in weight and fed by a detachable box magazine, the Mason-Bennett design seemed to fit all the company's requirements. It did, however, have a rival.

At the same time Mason had been working on his toggle-joint action, Thomas C. Johnson had approached the problem from an entirely different perspective. His solution to controlling the rearward movement of the breech bolt under recoil was to "balance" it. Essentially, this consisted of making the bolt in one piece with a counterweight that could be balanced to the amount of energy created by combustion gases.

While in theory this appeared a relatively easy matter to achieve, in practice it wasn't. When a cartridge was fired, the rearward force of its propellant gas first had to overcome the inertia of the counterweight before the bolt could open. Then the amount of force needed to cycle the action had to be calculated so that the bolt's return spring wasn't made too strong. Finally, some sort of buffer mechanism had to be incorporated in case excessive pressures were encountered. After a good deal of trial and error, Johnson perfected the system in late 1901.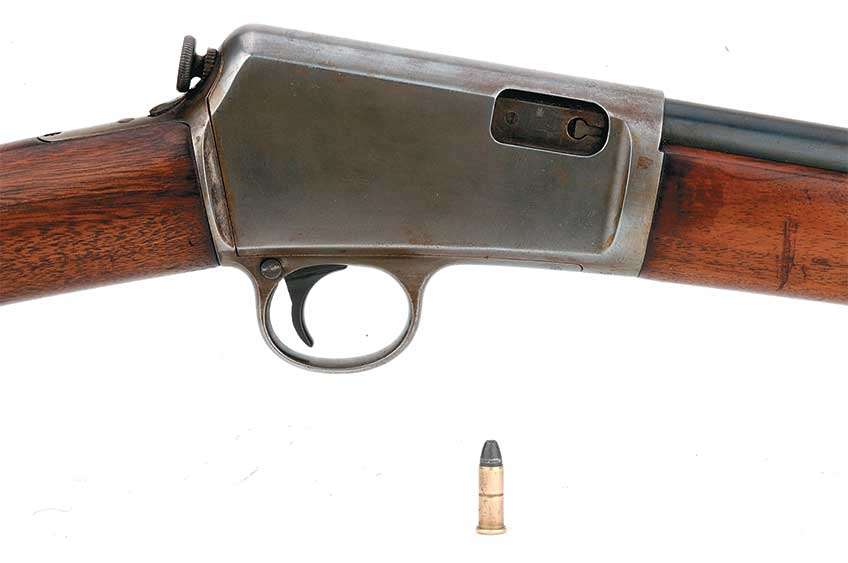 When the Winchester company's management compared the two designs, it was immediately apparent that Johnson's would cost far less to produce than Mason and Bennett's. Consequently in 1902 the firm decided to manufacture Johnson's rifle.

The first version to be made was a .22-cal. sporting rifle introduced in March 1903. Despite a few initial teething problems involving the materials used for the firing pin, the dimensions of the receiver tang and recoil abutment stop, production of the Model 1903 Self-Loading Rifle was relatively uneventful. Indeed, after the above problems were corrected, only one change was made to its design—the installation of a trigger lock in December 1903.

As it was the first .22-cal. semi-automatic rifle to be marketed in the United States, the Model 1903 was met with considerable enthusiasm. During the following 34 years, just over 126,000 were made. Its successor, however, had even greater sales due in large part to its being chambered for standard .22 Long Rifle cartridges, instead of the company's proprietary .22 Winchester Automatic smokeless round. Introduced in March 1933, just under 175,000 Model 63 Rifles were made before it was discontinued in 1958.

Though Johnson had begun work on a center-fire version of his rifle as early as 1902, problems encountered in balancing the bolt to the increased pressures inherent in larger caliber cartridges delayed its introduction until August 1905.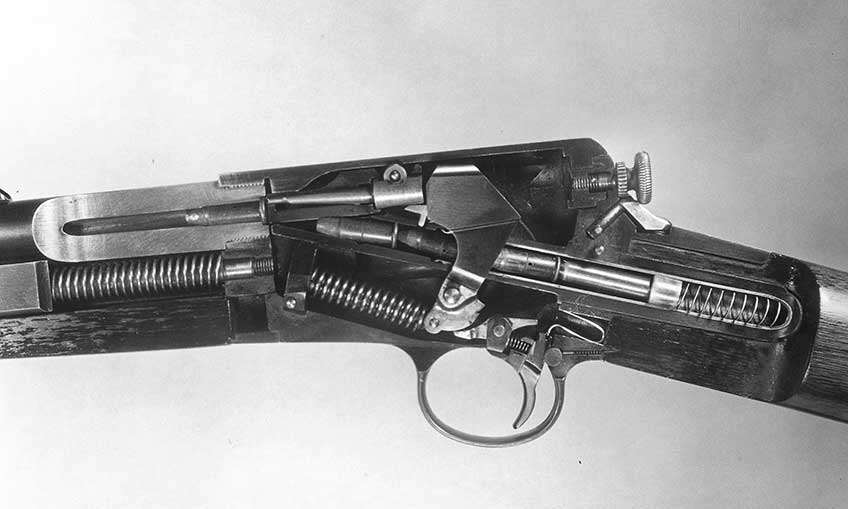 Chambered for two relatively weak .32- and .35-cal. cartridges that did not meet the requirements of sportsmen, the Model 1905 was a commercial failure. Though production of this model essentially ceased well before 1910, it was not formally removed from the Winchester company's product line until 1920. In all, just over 29,000 were made during its production life, of which 28,361 were actually sold.

In large part the Model 1905's dismal sales performance was caused by the introduction in late 1906 of a more powerful Winchester Self-Loading Rifle, the Model 1907. Chambered for a .351-cal. cartridge—the .351 Winchester Self-Loading—that was substantially longer and more powerful than its .35-cal. predecessor, the Model 1907 was an immediate hit. Produced in a variety of configurations, more than 58,000 were eventually made. Significantly, the Model 1907 was to play a minor role in World War I.

Between December 1914 and April 1916, the British Government purchased 120 Model 1907 Rifles with 10-shot magazines, as well as 78,000 rounds of ammunition, for use by the Royal Air Force. As these rifles were to be issued to rear seat observers in biplanes made of fabric, concerns were raised almost immediately about the possibility of hot shell casings causing an airplane's fuselage to catch fire. To prevent that from occurring, T.C. Johnson designed a detachable bag made of treated canvas that could be fitted over the arm's ejection port to collect spent shells.

In October 1915, the French Government followed the British lead with an order for 300 Model 1907 Rifles intended for aerial use. They evidently were well-suited for that purpose as an additional 2,500 were purchased during the following 12 months. While details concerning their actual use have yet to be found, it must have been extensive, since over 1.5 million rounds of ammunition for those rifles were delivered prior to the end of 1916.

To acquaint aircrew in their use, both countries purchased substantial quantities of Model 1903 Self-Loading Rifles. Although exact numbers are unknown, it is estimated that British authorities bought a minimum of 1,000 and the French 1,500. In 1918, 600,000 rounds of ammunition were shipped to England, and 500,000 went to France.

France and Great Britain weren't alone in using the Model 1907 in aircraft. The Imperial Russian Government ordered 500, plus 1.5 million rounds of ammunition, for its small air force in May 1916. During 1917 and 1918, the French Government ordered an additional 2,200 Model 1907s at a cost of $30 apiece for its land forces.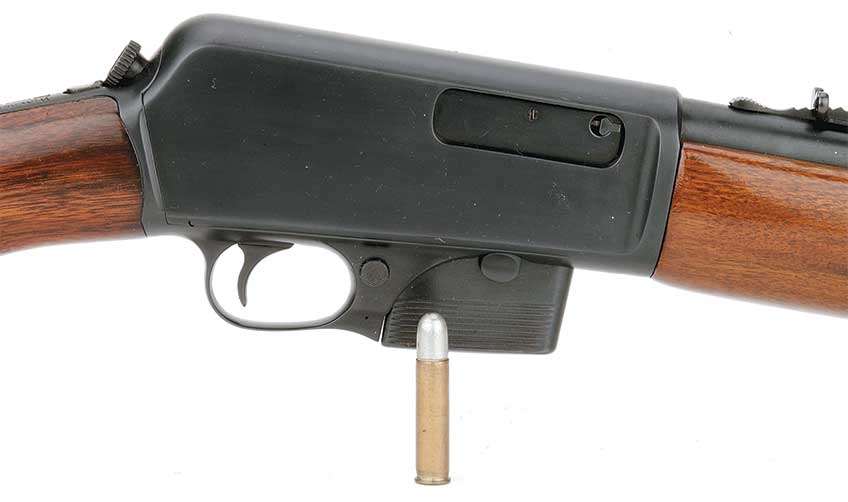 Those rifles differed from those previously received in that they were specially modified by Winchester for "volley" or full-automatic fire. Issued to special assault troops for trench warfare, those rifles were also fitted with surplus Lee Navy-pattern bayonets.

Interestingly, even the United States briefly tested the Model 1907 as an aerial combat rifle. In March and April 1916, 19 were shipped to the 1st Aero Squadron stationed in Columbus, N.M. Presumably, they were used on reconnaissance aircraft supporting Gen. Pershing's operations in northern Mexico.

Capitalizing on its military applications, the Winchester company promoted the Model 1907 within the domestic market as an ideal long arm for police and plant security forces during 1917 and 1918. By1917, this resulted in several orders, among which was one from the Baldwin Locomotive Co. in Eddystone, Pa., for 50 rifles.

Demand from that sector continued throughout the remainder of the model's manufacture, and numerous examples are to be found with state or local government markings. Unlike the Model 1905, the Model 1907 Winchester Self-Loading Rifle had a long production life, remaining a staple of the company's product line until 1957, when it was finally discontinued after approximately 58,500 had been made.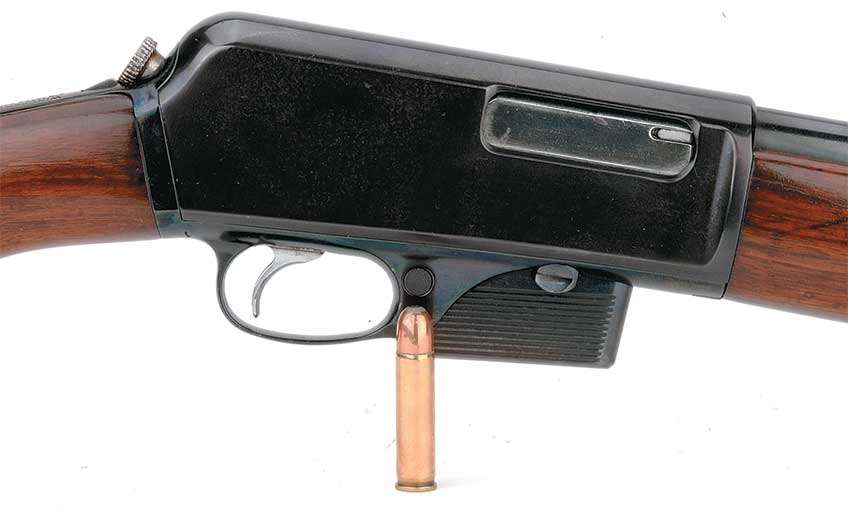 The last Winchester self-loading rifle to incorporate Johnson's balanced blow-back action was the Model 1910. Designed strictly for use against heavy game, it was chambered for the new .401-cal. Win­­chester Self-Loading cartridge. Given its specialized nature, the Winchester company never envisioned a broad market for this model even though it was heavily advertised.

In all, just over 20,000 were sold before it was officially dropped from the firm's product line in 1935. Of all the Winchester self-loading rifles, however, the Model 1910 had one of the most innovative promotional campaigns. The company touted its .401 WSL cartridge with such phrases as "It Hits Like the Hammer of Thor," and the rifle itself was included in paintings by Philip R. Goodwin as well as N.C. Wyeth.

Though no doubt some of the company's statements regarding the Model 1910 and the .401 WSL-cal. cartridge were pure hyperbole, its potential use as a devastating military arm was recognized by both the French and Russian Governments in 1915.

Between October and December, 150 Model 1910 Rifles with the same number of spare magazines, as well as 25,000 rounds of ammunition were purchased by Andre, Schaub & Pioso, who were acting on behalf of the French Republic.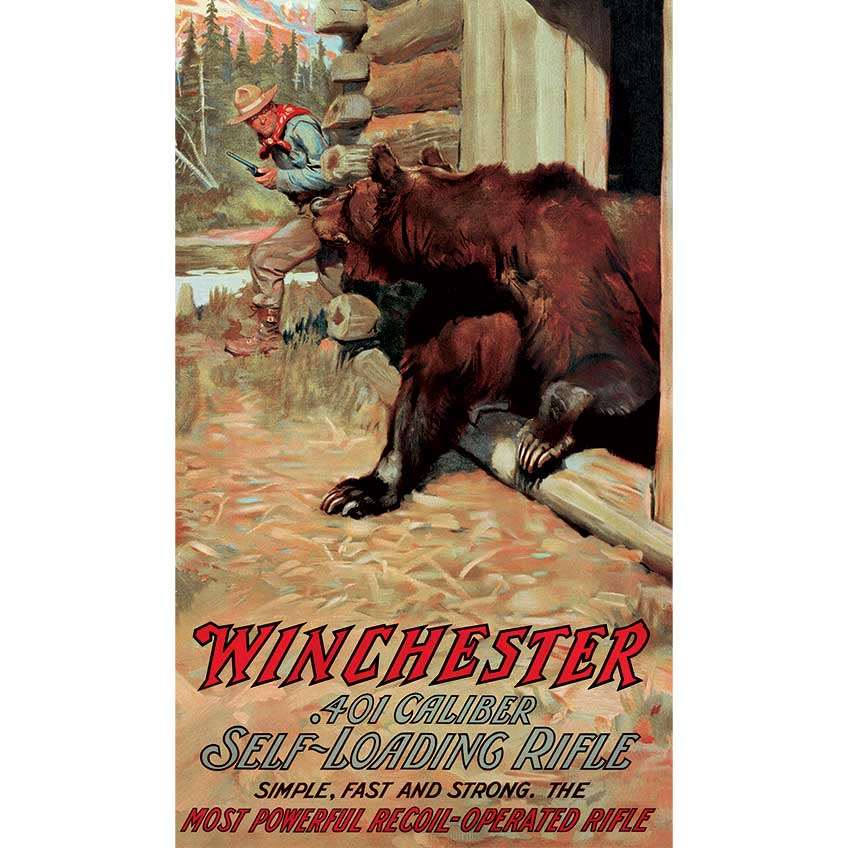 Although it is believed that more rifles were purchased in 1916 and 1917, no definitive records have been found. The likelihood of this having happened is demonstrated by the fact that the French Government purchased 400,000 rounds of .401 WSL ammunition in 1918 alone.

Russian purchases amounting to approximately 500 rifles also occurred in 1915 and 1916. Though these rifles were originally intended for use against the German and Austro-Hungarian armies on the Eastern Front, after the Bolshevik Revolution many were later used by White Army forces during the Russian Civil War of 1919-1922.

During World War I, a small number of Model 1910 Rifles were purchased by American companies for use by their security guards. One of the more interesting of these contracts involved 12 rifles fitted with 16" barrels that were sent to the Baldwin Locomotive Company in 1917.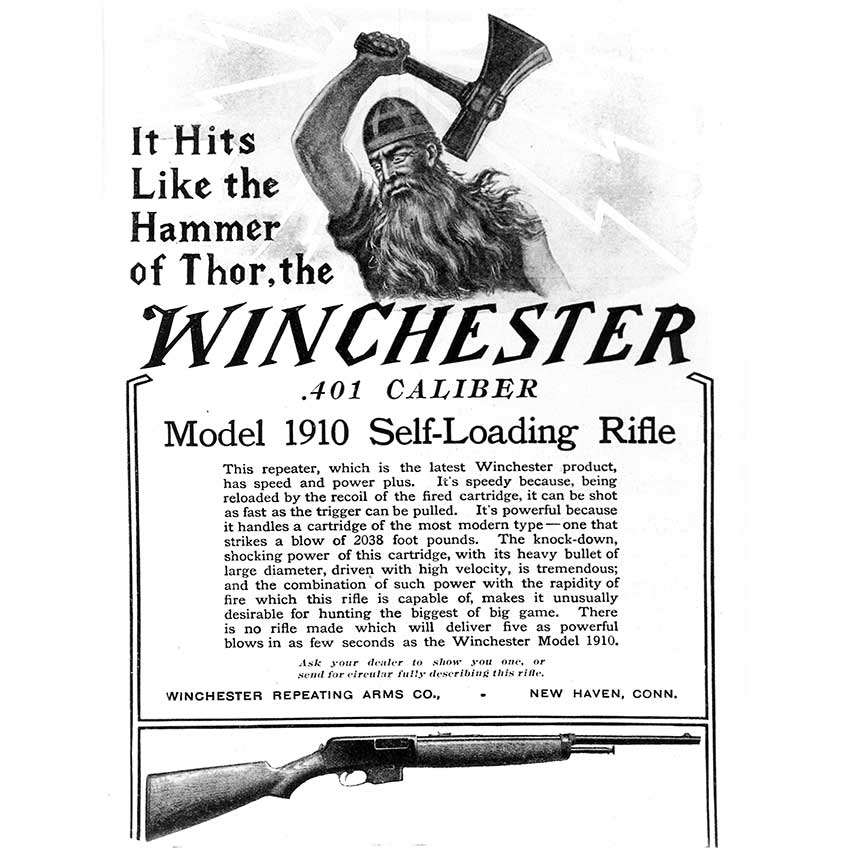 Perhaps one of the least appreciated aspects of the Winchester company's Model 1903 through 1910 series of self-loading rifles involves a far different facet of their production, namely their decoration. All had right and left receiver planes that were, except for the ejection port, virtually unbroken surfaces.

Consequently, engravers could decorate both sides of the receiver with large panel scenes. While Winchester's older engravers, such as John Ulrich, continued to produce traditionally formatted work, some of the younger artists employed at the factory experimented with modern designs.

This was particularly true of an engraver named John A. Gough who joined the company circa 1910. Recognizing that some of the more fluid elements of the exceedingly popular Art Nouveau movement could be used to good effect, Gough frequently enclosed his game scenes on Model 1903-1910 rifles within flowing lines of foliage rather than standard scrollwork.

Though somewhat startling at the time, Gough's work nevertheless had a strong following among the Winchester company's clientele. Today, his engraving is rightfully regarded as some of the best ever produced in the United States.