by
posted on June 11, 2020
Support NRA American Rifleman
DONATE
Brownells, one of the country's top shooting-components providers, has been a longtime supporter of this country's enthusiasm for AR-pattern rifles. When I built a direct gas-impingement operated AR-15 at home for the first time a few years ago, this company proved to be an invaluable source of tools and information for the first-time builder and more experienced at-home hobbyists.

Although I have yet to find any reason to complain about the performance or reliability of the well-made direct-impingement platforms I've worked with, plenty of folks are devoted to ARs that use short-stroke gas-piston systems to cycle the action.


They run much more cleanly, since exhaust from the cartridge is not being blown back into the action. They also don't heat up as quickly, for the same reason. However, piston guns do tend to cost more and generally don't print quite as tight of groups as impingement-operated guns.

The debate over which is the better action type for an AR will continue. Rather than just watch from the sidelines, I opted to get into the game by building a piston driven AR in order to see the differences for myself. Once again, thanks to new-products released last year and this year, Brownells has made building a piston AR just as easy as an impingement model. Most of the components shown here were available through the company's website.


Brownells could have gone in a variety of directions to develop in-house piston driven options for their customers. In 2019, it opted to go the retro route with the launch of the 5.56 NATO/.223 Rem. BRN-180 series of factory complete AR-15 uppers inspired by Eugene Stoner's AR-18/180. As a scaled-down version of the AR-16, the AR-180 sported a piston system that was ahead of its time. However, other features and factors in play at the time kept these rifles from being adopted by the military or picking up much steam in the civilian market.

Rather than try to replicate the AR-180's stamped-and-welded steel receiver, the BRN-180 uppers are assembled around milled billet 7075-T6 aluminum upper receivers, which are compatible with mil-spec AR-15 lowers and typical AR-15 STANAG magazines. This gives customers the option of snapping this upper into a lower they already have or using it as the starting point for a simplified at-home build.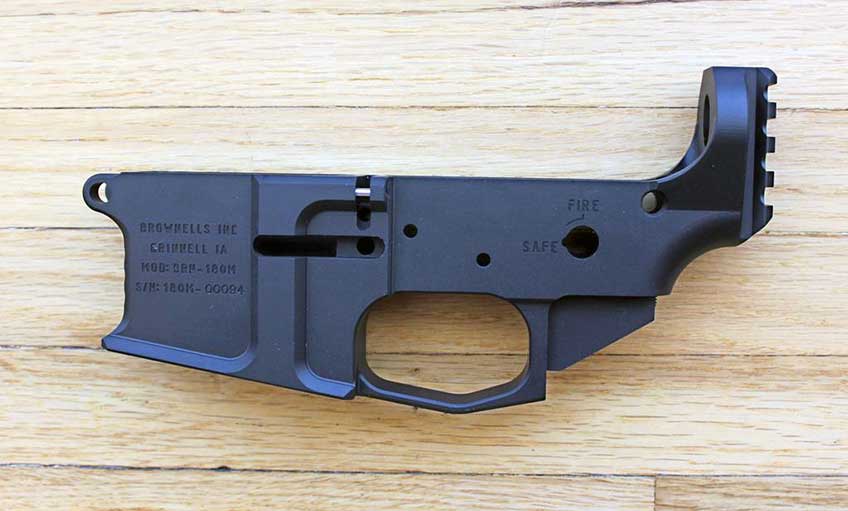 The flattop upper receiver has more of a square profile than the typical AR-15 along with an integral Picatinny optics rail. On the left side of the receiver is a cut out to accommodate the bolt catch and a small round rubber bumper to protect the finish if a folding stock is installed.

On the right side of the upper receiver is a modified polymer dust cover fitted to the ejection port, but a the familiar AR-15 forward assist is absent. The top mounted non-reciprocating charging handle has been replaced with an AR-180 type reciprocating bolt handle which protrudes from the ejection port.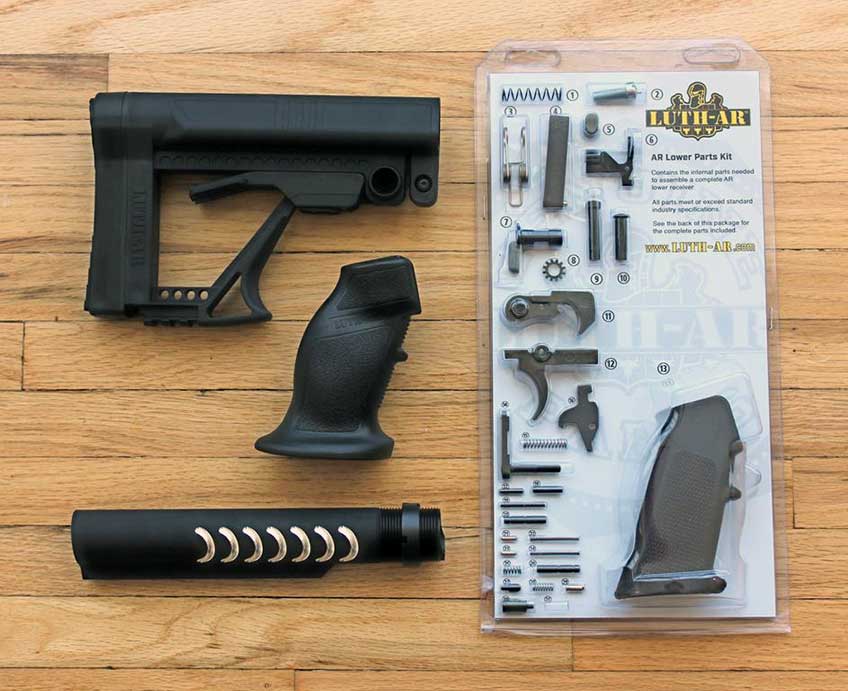 Within the upper receiver, a rotating multi-lug bolt is fitted into a block-shaped carrier supported by dual recoil assemblies. The recoil rods are mounted to a removable aluminum cap that's held in place by the lower receiver. This means the recoil assembly is fully contained within the upper assembly with no need for a spring or buffer to be installed in the shoulder stock.

The BRN-180 upper ships with a 4150 steel, button-rifled barrel with a black-nitride finish and a .223 Wylde chamber. The upper is currently available in three barrel lengths including 10.5" pistol, 16" carbine and 18.5" rifle options.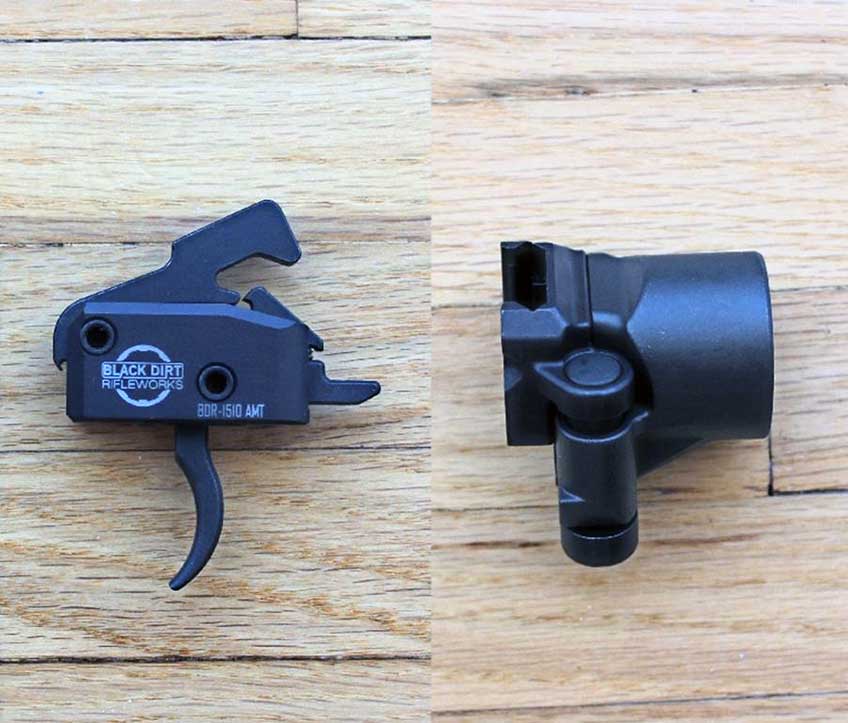 I opted to work with the 18.5" rifle barrel with a 1:8" twist rate and a factory-installed replica of the AR-180's three-prong flash hider. The 14" long aluminum handguard free-floats the barrel, has a full-length optics rail on top and M-LOK accessory slots cut throughout.

The handguard is secured to the barrel block by a U-latch. Removing this latch allows the handguard to slide off in order to provide access to the gas-piston system. The piston system's design is lifted straight from the AR-180 with some modifications to the spring, materials and finish to bring it up to modern production standards. The upper arrives with a standard piston cup installed, and a second cup for sound suppressors is provided.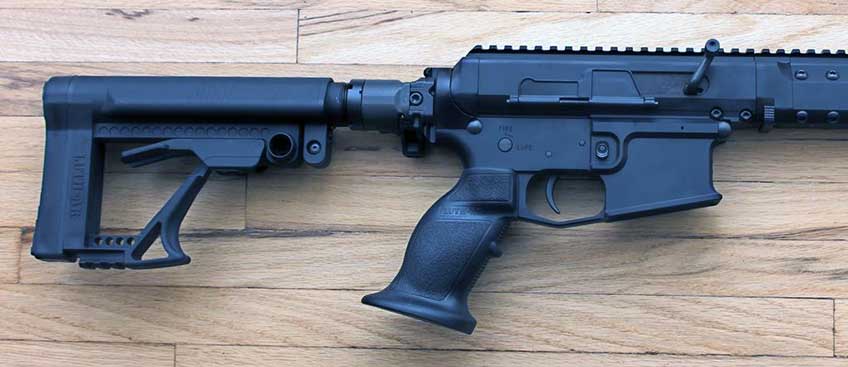 About the same time that the BRN-180 upper was launched, folks (like myself) began requesting a dedicated lower receiver that would more easily accommodate folding shoulder stocks. That wish was granted this year with the release of the BRN-180 ($129.99) and BRN-180M ($149.99). The BRN-180 is a forged receiver with cosmetics that lean more strongly towards its AR-180 heritages.

The BRN-180M, which was used for this build, is a milled billet receiver that has a more conventional AR-15 look to it with some nice touches like the oversized integral trigger guard and flared magazine well. Both BRN lower receivers accept standard mil-spec AR-15 components and accessories. This means all of the controls, including the bolt catch, safety selector, and magazine release, will be utterly familiar to AR operators.


The most notable change to the BRN lowers is an integral 2" long, 4-slot Picatinny rail in place of the buffer-tube port. This allows home builders to take advantage of a variety of folding stocks and Picatinny adapters that support AR-15 buffer assemblies, like the SIG Sauer MCX/MPX Folding Stock Adapter used for this build. It's a durable piece of hardware that's easy to install and even easier to use. Just press up on the extended stock to release it and swing it to the left side of the receivers, and then pull it back to snap it back into the extended position. That's all there is to it.

To build out the stripped BRN lower, I turned to a top-notch set of components from Luth-AR. Instead of stuffing all the bits into a little plastic bag, the company's lower parts kits are spread out and clearly labeled in a transparent blister pack that also serves as a parts tray during the build. It's a nice touch that makes organizing the little parts easier.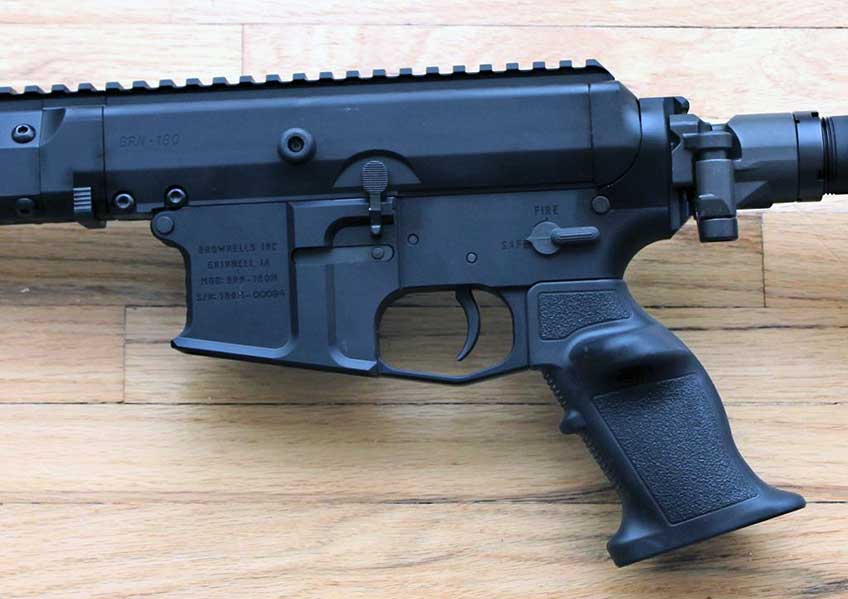 I really enjoy shooting with Luth-AR's competition-grade Chubby Pistol Grip, which turned out to be a perfect fit for this rifle. A recently released scalloped commercial buffer tube was paired with the new lightweight modular 6-postion MBA-5 that has an attractive suggested retail price of just $49.95.

The lower parts kit's mil-spec trigger was replaced with a Black Dirt Rifleworks BDR-1510 Advanced Match single-stage trigger group. Tucked into a a CNC-machined aluminum housing, the hammer, trigger and disconnector components are machined from S7 tool steel and treated to a smooth black-nitride finish. The trigger pull is clean, smooth and creep free with a crisp break at 3-lbs., 15-oz. of trigger pull.


The rifle came together beautifully with no technical problems or component fit issues. The BRN-180M lower has a screw in place of a roll pin for the bolt catch, and the rear takedown pin detent has been moved from the buffer tube port location to a point just above the pistol grip. That detent's spring needed to be shortened a bit before installation. There was no need to swap out any of the originally planned components for this particular build. Once completed, the BRN-180 sailed through the bench checks, passing each one with aplomb.

For the range test, the BRN-180 build was outfitted with a Bushnell SMRS Elite Tactical 1-6.5x24mm scope using a Weaver Tactical SPR Optics Tactical Rail Mount. The rifle operated reliably with a variety of ammunition and AR-15 pattern magazines, including the Mission First Tactical (MFT) Extreme Duty 30-Round magazines shown here.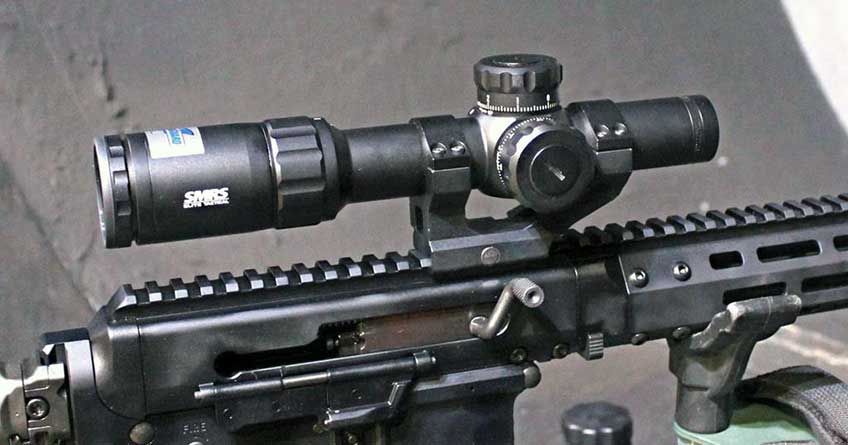 Formal bench rested accuracy testing was conducted at 100-yards by firing five 5-shot groups into paper targets. Gorilla Ammunition's 77-gr. Sierra Match King open-tip match load printed a best single group of 1.84" with a five group average of 1.88".

Winchester's Select Grade USA Ready 62-gr. open tip tapped out a best group of 1.51" with an average of 1.65". Norma USA's Tactical 55-gr. full-metal jacket was the tightest shooting load of the test with a best group of 1.32" and an average of 1.45".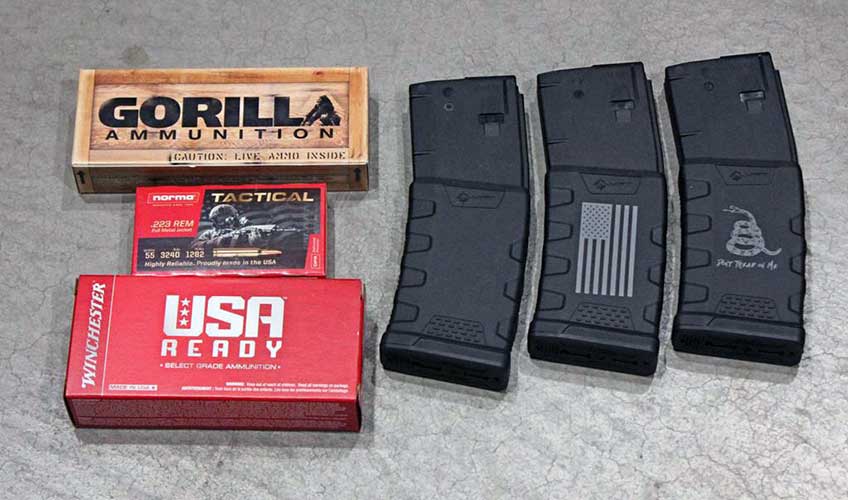 The Brownell's BRN-180 is the first piston-operated AR-15 I've built at home, and I have to say I'm quite pleased with the results. The overall fit and finish is excellent. The rifle balances nicely, and the BDR trigger was a pleasure to work with.

The recoil feels different, due to the recoil assembly configuration, but it was comfortable and easy to manage. The bolt cycled smoothly right out of the box, and relocating the handle to the right feels more intuitive to operate than the typical AR-15 top-mounted charging handle.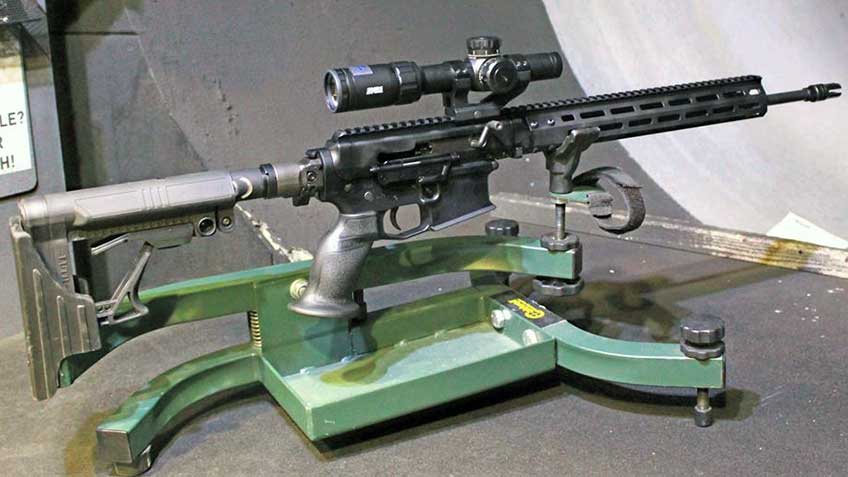 The folding stock is a real plus, but the best part of this platform is how cleanly the action operates. After firing hundreds of rounds, the internals are so utterly free of debris that it's hard to tell it's been fired at all! If you are in the market for a piston driven AR, then these Brownells offerings deserve a closer look. 

Rifle Components:
Complete AR-15 Upper: Brownells BRN-180, 18.5" Barrel (078-000-536WB) $836.99
Lower Receiver: Brownells BRN-180M $149.99
Lower Parts Kit: Luth-AR (100-027-868WB ) $53.57
Trigger Group: Black Dirt Rifle Works BDR-1510 AMT Single-Stage $125
Pistol Grip: Luth-AR AR-15 Chubby Pistol Grip ( 100-028-071WB) $22.99
Folding Stock Adapter: SIG Sauer MCX/MPX (100-035-215WB) $104.99
Buffer Tube: Luth-AR Scalloped Carbine 6-position Commercial $28.95
Shoulder Stock: Shoulder Stock: MBA-5 Adjustable 6-Position $49.95
MSRP: $1372.43 (Not Including Taxes, Shipping or Labor)
Optic: Bushnell SMRS Elite Tactical 1-6.5x24 mm with BTR-2 Reticle (ET1624J) $1,199.99
Scope Mount: Weaver Tactical SPR Optics Tactical Rail Mount, 1"/30 mm (48377) $90.45
Magazines: Mission First Tactical Extreme Duty 30-Round (EXDPM556) $12.99

Finished Rifle Specifications:
Action: Short Stroke Gas Piston Operated Semi-automatic
Caliber: 5.56 NATO/.223 Rem
Chamber: .223 Wylde
Upper Receiver: Machined Billet 7075-T6 Aluminum, Hard-Coat Anodized
Ejection Port Cover: Yes
Forward Assist: No
Gas Block: Adjustable, Suppressor Piston Cup Included
Bolt Handle: Right Side, Reciprocating
Bolt: Eight Lug Rotating, Black Oxide Finish
Bolt Carrier Group (BCG): AR-180 Pattern, Twin Recoil Assemblies
Barrel: 18.5" 4150 Steel, Button Rifled, .223 Wylde Chamber, Black Nitride Finish
Rifling: 1:8" RH
Muzzle Threading: 1/2x28 TPI
Muzzle Device: Replica 3-prong AR-180 Flash Suppressor
Handguard: 14" Free Float, Integral Picatinny Optics Rail, Hard Coat Anodized
Handguard Slots: MLOCK
Lower Receiver: Milled Billet 7075-T6 Aluminum, Hard-Coat Anodized
Control Configuration: AR-15
Length of Pull (LOP): 13.25" to 16.25"
Trigger Pull: Listed 3-lbs. 8-oz. , Tested 3-lbs. 15-oz.
Sights: None
Magazine: AR-15 Pattern Magazines
Capacity: 10 to 30 Rounds
Overall Length: 37.5" with Stock Collapsed
Folded Length: 28.5"
Weight: 7-lbs. 5-oz. Unloaded, No Magazine