by
Kelly Young, Senior Executive Editor
posted on February 3, 2020
Support NRA American Rifleman
DONATE
On a couple occasions now within these pages I've called attention to the substantial modularity of Ruger's Precision Rifle. Not only is all of the bolt-action's furniture compatible with standard AR-platform components and its barrel replaceable using AR-style tools, but, in the years since its launch, an aftermarket of dedicated parts and accessories for the platform has emerged. Yet, upon opening my own safe recently it dawned on me for the first time that my personal first-generation 6.5 mm Creedmoor RPR (yes, the test sample I evaluated back in 2015 impressed me enough that I felt compelled to purchase it) remained in its stock factory configuration. This seemed to me to be both dreadfully boring and a wasted opportunity.
As superb as the RPR is straight from the box, it can still benefit from some upgrades. Below are a few products I've encountered that, after testing them on my own rifle, I feel offer enhanced functionality. Some of the alterations are quick and inexpensive to pull off, some require real elbow grease and cost nearly as much as the rifle itself. But I think the variety of products presented does a good job of illustrating just how many options are available to the RPR shooter looking for a change.

Starting from the rear of the rifle, I first replaced Ruger's proprietary Precision MSR buttstock assembly with Magpul's polymer PRS GEN3 (1., magpul.com, $255). Essentially the gold standard for fixed, precision-style AR-platform buttstocks, the PRS is compatible with both rifle- and carbine-length receiver extensions, the latter of which is used by the RPR. Both stocks are capable of tool-less length-of-pull and comb-height adjustment, but I find the dual thumbwheels of the Magpul (with an audible and tactile click accompanying each setting detent) to be easier to use for smaller, more precise adjustments than are the two cam levers employed by the Precision MSR.
The shape of the Magpul is also much more conducive to reaching back and using the support hand to help stabilize the rear of the rifle, while likewise being considerably more visually appealing. The PRS GEN3 also incorporates two M-Lok-compatible accessory attachment slots into its toe for the mounting of a folding monopod—a setup that is unobtrusive when not in use—and is personally preferable to the exposed Picatinny rail of the Precision MSR. Replacing the factory Ruger assembly with the PRS GEN3 did add 6 ozs. to the weight of the RPR, however, I think this is a fair trade-off for a full-featured buttstock that both looks better and feels better in the field.
The RPR's bolt shroud is affixed to the rear of its bolt, guiding the tail of the assembly as it travels within the rifle's vacant receiver extension during manipulation; depending on the time of the gun's manufacture, the part is either polymer (pre-May 2016) or aluminum (post-May 2016). Anarchy Outdoors offers Bolt Shroud Replacements in a number of configurations, but the one that most caught my eye was the variant constructed of fluted and polished high-grade titanium (2., anarchyoutdoors.com, $80). Available with or without provision for the RPR's firing pin tool, and sized to accommodate either the short-action or the magnum rifles, the tightly toleranced replacement shroud reduces play in the bolt, resulting in a superbly smooth stroke.
I next replaced the oversize factory bolt knob with an aftermarket unit from CTK Precision, the Ruger Precision Rifle Bolt Knob (3., ctkprecision.com, $46). The part consists of a 6061 hard-coat-anodized aluminum knob head at the end of a high-strength steel extension that is threaded 5/16x24 TPI. The elongated head can rotate 360 degrees, and an integral set screw allows it to be locked in place in the orientation of the shooter's preference. I found that configuring the knob so that its widest dimension ran parallel to the barrel was a very ergonomic setup for me, making an already-easy-to-run bolt even faster and more natural.
In its factory configuration, the RPR's pivoting magazine release lever, found between the trigger guard and the magazine well, necessitates the use of the shooter's support hand in order to actuate it. An ambidextrous, U-shaped accessory that mounts directly onto the release lever via a single screw, the Ruger Precision Rifle Mag Release Extension (4., $37), also by CTK Precision, allows the lever to be tripped by the trigger finger while maintaining a firing grip. This frees up the support hand to focus solely on the task of loading a fresh magazine, greatly speeding up the reloading process.
While my original barrel hadn't yet shown any signs of wearing out, it had been well used during the past four years, so a fresh replacement was probably not necessary, but it was timely nonetheless. Helix 6 Precision is a maker of carbon-fiber barrels, and, in addition to blanks in a number of bore diameters, it also offers pre-fit barrels for the RPR in 6 mm Creedmoor, 6.5 mm Creedmoor and .308 Win.

A hand-lapped 416R stainless steel core wrapped in carbon fiber using a proprietary process, the 6.5 mm Creedmoor barrel (5., helix6precision.com, $1,449) I selected for this project measured a consistent 0.98" along its entire length, with button-rifled 1:8" twist rifling and a 5/8x24 TPI threaded muzzle. Thanks to its carbon-fiber construction, the Helix 6 replacement barrel weighed only 2 lbs., 12 ozs., shaving 19 ozs. off the weight of the factory 4140 chrome/moly steel barrel, despite both being 24" long; once installed, this made a tangible difference in the overall heft and balance of the RPR.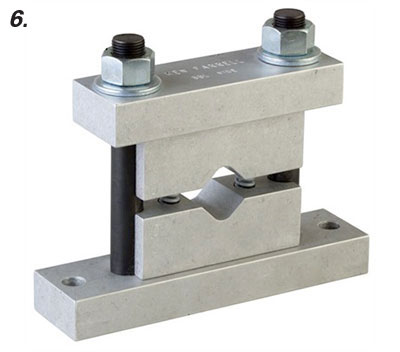 While the procedure of removing the RPR's barrel is quite simple in principle—that of loosening the barrel nut using an AR-15 armorer's wrench—it was a beast in practice, as Ruger had really tightened that thing on there. The process does require the use of a barrel vise to secure the tube in place while the nut is torqued around it, and a heavy-duty aluminum vise from Farrell Industries (6., kenfarrell.com, $185) was used for this project.

Once the factory chrome/moly steel barrel had been detached and the carbon-fiber/stainless steel substitute had been placed, it was time to determine proper headspacing of the new chamber prior to cranking the nut tight. I reached out to Forster Products for both a "Go" and "No-Go" gauge (7., forsterproducts.com, $36 each) for the rifle's 6.5 mm Creedmoor cartridge. Once the optimum measurement had been reached, one that would not allow the action to close on the "No-Go" gauge but that permitted hassle-free bolt throw with the "Go" gauge chambered, the barrel nut was tightened and locked in place, and I moved my attention on to the fore-end.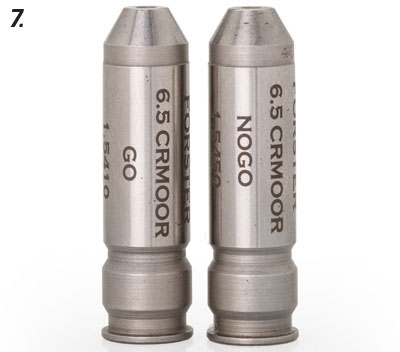 A first-run model, my RPR came from the company with a round, free-floating Samson Evolution handguard with KeyMod slots at the 3-, 6- and 9-o'clock positions and a full-length Picatinny rail running along the top. Ruger quickly abandoned this fore-end in favor of an M-Lok-compatible model with no Pic rail, and by substituting in the Catalyst Arms Fast Track (8., catalystarms.com, $220) onto my personal gun, I have done essentially the same thing. Omitting the 12-o'clock rail considerably increases scope clearance, and, in addition to M-Lok on both sides and the bottom surface, a 1.5" dovetail has been cut into the 6-o'clock face to provide Arca-Swiss-mount compatibility. In addition to short-action RPRs, the Fast Track's dual-barrel-nut design also accommodates AR-15s with low-profile gas blocks.
Finally, with the new barrel and handguard in place, all that was left for the assembly phase was to find an appropriate muzzle device. Latter-day RPRs come from Ruger with a muzzle brake installed, but my first-gen rifle shipped only with a thread protector in place. As the more-than-satisfied owner of a Dead Air Sandman-S suppressor who had recently removed the company's Keymount Muzzle Brake (9., deadairsilencers.com, $90) from another rifle, I felt that the newly renovated Ruger would make a perfect silencer host. Not only is the three-chamber Keymount an effective muzzle brake in its own right, but its presence allows for one-handed installation of my can—and, in my opinion, the quickest way to upgrade any firearm is to suppress it. The Creedmoor is not a harsh-recoiling cartridge to begin with, and the Keymount, either with or without the attendant suppressor, cuts down felt recoil through this sizeable rifle dramatically; the scope's crosshairs never leave the target.
With the makeover complete, it was time to venture to the range to see just how well everything performed together. But before I started a formal accuracy evaluation, the necessary but tedious task of seasoning the barrel had to be slogged through. For optimal performance of its barrel, Helix 6 Precision has developed a recommended break-in procedure that burnishes the throat/leade area of the chamber before copper and carbon fouling have the opportunity to deposit themselves there. It essentially requires re-cleaning with copper-solvent-soaked patches and bronze brushes after every three shots for the first 50 or so rounds of ammunition fired through the tube. And despite my general impatience when it comes to things standing between me and shooting, over the course of about four hours, I did follow the company's guidance to the letter.
From the box my RPR was, if I did my best, a 3/4-m.o.a. gun using most match-grade ammunition, which is phenomenal for a mass-produced gun in this price range, and I was quite content with this level of accuracy. So, on the one hand, I had no great expectations that the Helix 6 Precision barrel would best the factory one by too much, but on the other, when you put a new $1,500 barrel on your gun you can't help but hope for big things. And big things are what I got.
Using three top-quality 140-gr. loads at 100 yds., following Rifleman's five-shot, five-group protocol, the customized RPR produced a 15-group average of 0.62"—with no group exceeding 0.88" in diameter. Remington's Premier Match ammunition fared particularly well, managing a 0.53" five-group average. I'm man enough to admit that this is probably pretty close to as well as I can shoot, so who knows what my rifle is now capable of in the hands of a true expert.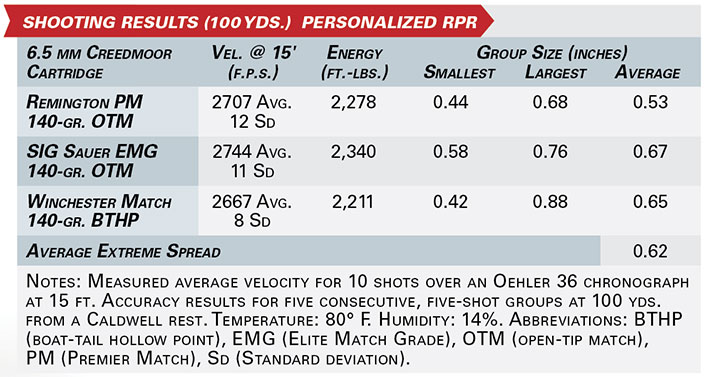 It's difficult to know exactly how much to credit the new barrel for this improvement, as it is most likely the aggregate of several factors. The overall improved ergonomics of the rifle due to the other upgrades, the reduced recoil and just the basic fact that I am now much more familiar with the idiosyncrasies of my rifle than I was when I tested it five years ago, all likely also played a role. Whatever the cause, I couldn't be more thrilled with the end result.
If I'm being totally honest, my initial interest in several of the above items was purely cosmetic, so I was pleasantly surprised to find that each one also offered a practical benefit beyond just looking good. Ruger has done a lot right with its RPR, and I freely admit that mine occupies a soft place in my heart—which is what made this project so intensely gratifying for me. To be able to take a solid precision rifle that I already love, and to—by my own hand—polish her up into something even more high-functioning and fun to shoot, has not only been the source of profound satisfaction, but it has also really served to further underscore for me the genius of Ruger's design.