by
posted on August 30, 2019
Support NRA American Rifleman
DONATE
Over the last couple of years, more states have adjusted their turkey hunting regulations to include .410-bore shotguns along with the 12-ga. and 20-ga. models. This is a positive development for hunters who are looking to use lighter shotguns with less recoil. However, there hasn't been much to choose from in the way of dedicated .410-bore turkey loads or shotguns to shoot them.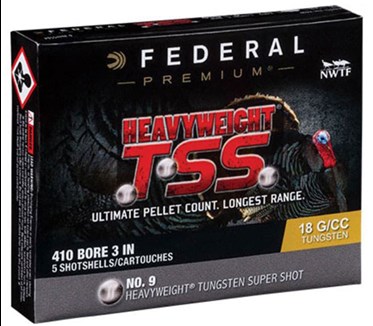 Federal Premium Ammunition has stepped up to help fill the .410-turkey-load gap with the Heavyweight Tungsten Super Shot (TSS) load, while Savage Arms has developed a Stevens 301 single-shot shotgun designed to effectively launch this and other .410 hunting loads. Here's a closer look at this recently released long gun and ammunition combination.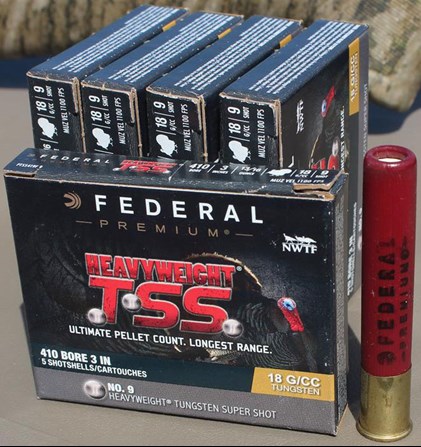 Released early in 2018, the 3" .410 Bore Heavyweight TSS shell is filled with 13⁄16 oz. of buffered #9 size pellets loaded to a listed velocity of 1100 f.p.s. The TSS pellets are 95 percent tungsten. Scientifically speaking, they have a density of 18 grams per cubic centimeter. This gives them a density which is 20 percent greater than standard tungsten loads and 56 percent greater than lead. This means the smaller #9 pellets hit harder and penetrate more deeply than lead pellets.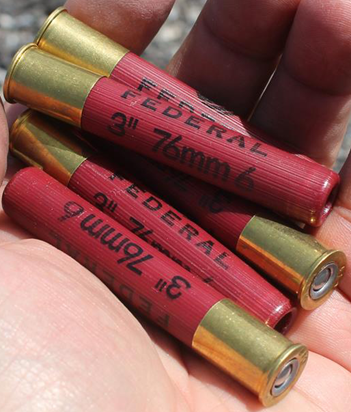 Along with the increased penetration, the ultra-dense TSS load provides a higher pellet count. These shells can hold up to two times as many pellets as lead loads of the same weight. This increase in pellet count makes the smaller shot size, and sub-gauge shotguns as small as .410, suitable for harvesting wild turkeys.

Like other premium-grade hunting loads, the TSS rounds are not intended for casual plinking or shooting a round of clays. I was able to find a five-round box on sale for $25.99, which is $5.20 per round. Typical lead loads can be found for around $0.52 per round. Yes, they cost a good deal more but what is the price of losing a chance at a prize gobbler because a less expensive round is riding in the chamber?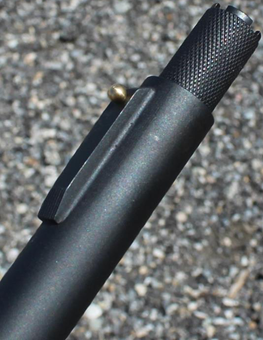 Often outfitted with optics rails, camouflage stocks and extended chokes, turkey guns are a unique breed of shotgun designed to harvest one of the most challenging game birds in North America. Savage ensured that the Turkey Bottomlands .410 version of the Stevens 301 shipped with all three of these turkey-tackling features while offering this model at an affordable price.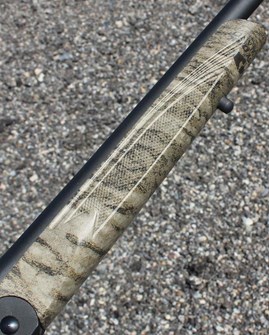 The 301 series of break-action shotguns is manufactured for Savage Arms by Sun City Machinery Co. in China. Although many of the single-shot .410s on the market have been trimmed down into youth models, this 301 ships with a 26" barrel and a middle-of-the-road 13" length of pull (LOP). At 5 lbs. 6 ozs., unloaded, it handles nicely with an easy swing.
It's hard to miss the knurled extra-full turkey choke that extends about an inch beyond the muzzle. This choke is removable and can be replaced with other WinChoke style tubes. The brass-bead front sight rests on a base that is just tall enough for the bead to be seen through the central groove of the 3" aluminum seven-slot Picatinny optics rail. The manufacturer states that the bead sight is also compatible with TruGlo sight systems.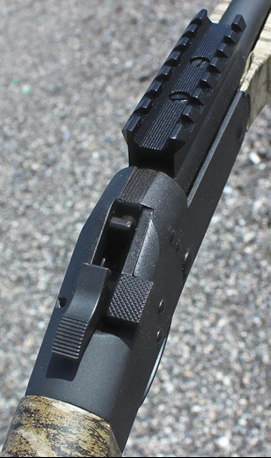 The 26" smooth-bore barrel, receiver and external controls are all constructed of carbon-steel alloy with a matte-black finish. The checkered fore-end and shoulder stock are made of polymer, treated with Mossy Oak's Bottomland camouflage and fitted with front and rear sling swivel studs. The shoulder stock is capped off with a smooth, 0.5"-thick soft-rubber recoil pad.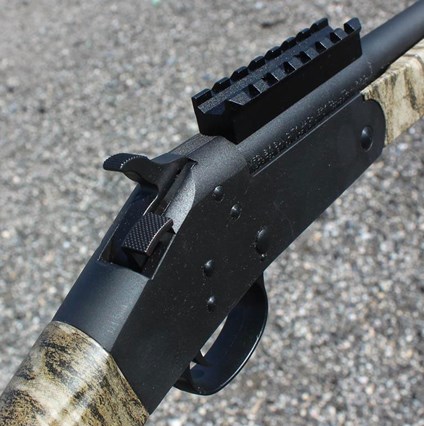 The fore-end sports a quick-release button located at the front end. Press and hold the release to lift the fore-end off the barrel and away from the receiver without the need for any tools. The action can then be opened and the barrel lifted out of the receiver. Snap the fore-end back on to the barrel and the two halves of the 301 are ready for storage or transport.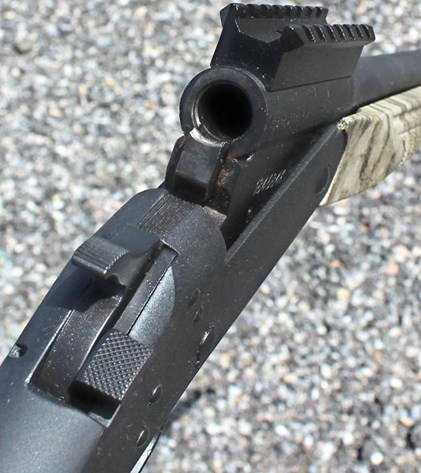 Most .410 single shots have extractors to lift spent shells out of the chamber just far enough to be manually removed. However, the 301 has a spring-loaded ejector to spit spent shell casings out and over the shoulder of the shooter when the action is opened using the release lever located to the right of the hammer. This shotgun's single-action trigger is paired with an exposed hammer that must be manually cocked for each shot fired.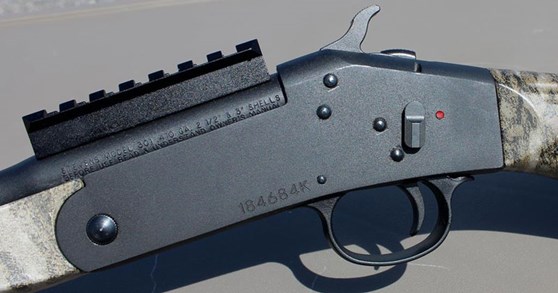 The smooth-faced steel trigger is housed in a rounded polymer trigger guard. The trigger exhibited a 6-lb. 6-oz. trigger pull according to a digital trigger gauge, but it doesn't feel as heavy as that number might imply. It breaks cleanly with a short travel distance that does not exhibit any mushiness or over travel. The hammer and release lever were also smooth and easy to operate.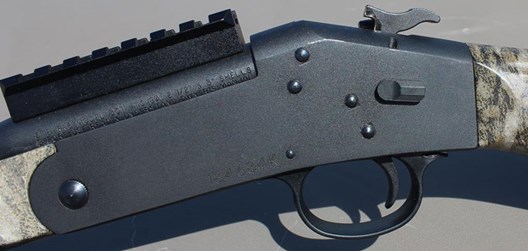 The hammer has just two positions: fully forward and fully cocked. A transfer bar safety, located in front of the hammer, prevents the shotgun from firing if dropped or bumped. I know some folks are going to be tempted to chastise me because the photo here shows the safety lever is in the Fire (red dot exposed) position when the hammer is resting against the receiver. However, the safety lever does not swing back into the Safe position (red dot covered) until the hammer is cocked.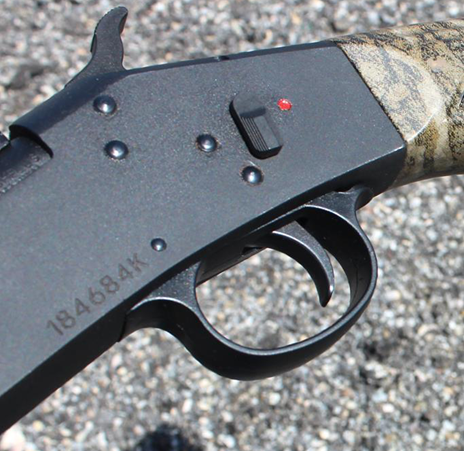 When the external safety is engaged it prevents the hammer from falling all the way forward if the trigger is pressed. This combination of features gives the gun owner two safety modes to choose from, "cocked and locked" (hammer cocked, safety engaged) or hammer forward. Which method is better for use in the field is a matter of personal preference. Overall, the 301 proved to be well-made, properly fitted and utterly reliable with all of the test ammunition fired at the shooting range.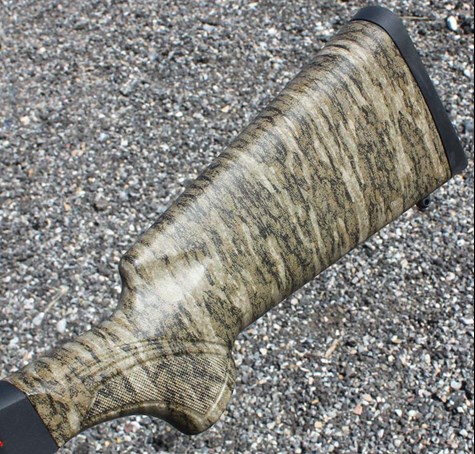 To find out if the TSS round was a better performer than traditional lead hunting loads, it was tested side-by-side with two Federal Hi-Brass 3" shells filled with 11/16-oz. of lead birdshot, one filled with larger #6 pellets and the other with smaller #7½ pellets. Both loads have a listed velocity of 1135 f.p.s.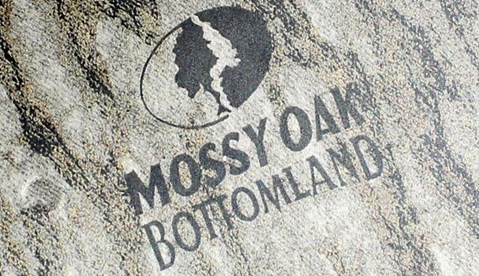 All three shells were patterned using Champion's paper Turkey Target (No. 45780) with a 5" diameter bullseye printed over a life-size color image of a turkey's head and neck.  Each shell was fired at 10, 25, and 40 yards from a benchrest using the 301's native brass-bead front sight. Wherever the pattern landed on the paper (I was hitting around 2" low with some shots), a 5" circle was drawn around the center of the pattern in order to count the pellet marks. Rather than rely on listed nominal pellet counts, I cut open one shell from each lot to count out and weigh the payloads myself. With shot pellets this small it's not uncommon to see actual pellet counts vary as much as +/- 5 pellets or more when compared to nominal listings.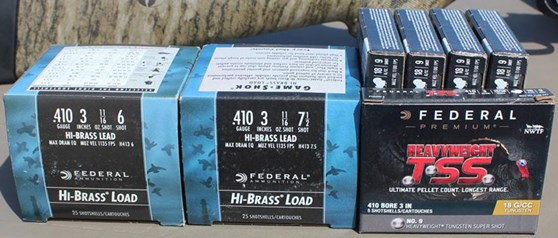 The Federal Hi-Brass #6 birshot shells contained 143 lead pellets by my count.  At 10 yards 83 percent (119) of the pellets struck the 5" bullseye with the remaining pellets spreading out to form a 12" group. At 25 yards the bullseye pellet count dropped to 25 percent (35), followed by 4 percent, or just six pellets, at 40 yards.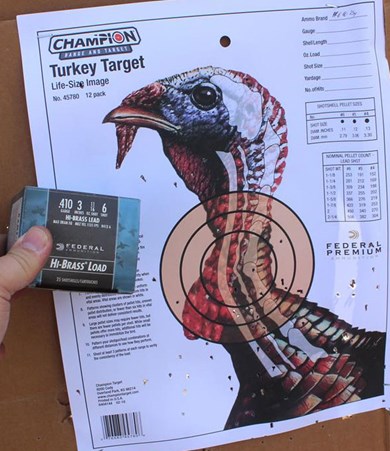 The Federal Hi-Brass #7½ birdshot shell was packed with 257 pellets. At 10 yards 86 percent (220) hit the 5" bullseye with the rest of the pellets spreading out to form a 10.5" group. The smaller lead pellets spread more quickly than the #6 load resulting in a 13 percent (33) hit rate at 25 yards  and 3 percent (7) at 40 yards.
The TSS load demonstrated a tighter pattern at all three distances than the lead birdshot loads. Filled with 285 pellets, this shell placed 97 percent (276) of its payload within the 5" bullseye at 10 yards with the remaining 3 percent spreading out to just 5.5". At 25 yards the pellet count was 24 percent (69) on the bullseye with a total spread of just 11". At 40 yards 6 percent (18) of the pellets landed in the bullseye.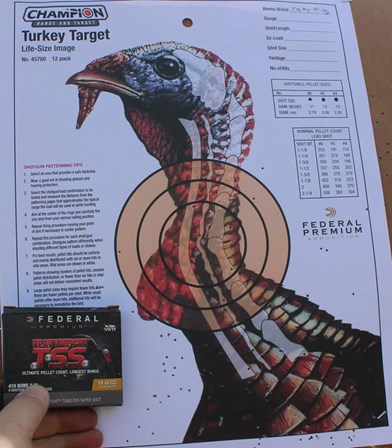 With the .410 bore continuing to garner popularity as a turkey hunting platform, folks will be glad to see the improved performance Federal Premium's Heavyweight TSS load has to offer. It outperformed the lead loads at all distances. Is it enough of a performance enhancement to tag turkeys at 40 yards using a .410-bore shotgun? That's up to you to decide. 
As for the Stevens 301 Turkey Bottomlands .410-bore shotgun, it's another handy addition to the line-up. In addition to being a reliable, lightweight hunting gun, it has a flexible set of features making it an ideal option for those who prefer to use single-shots as survival, backpacking or trunk guns. The shotgun is easy to split in half for compact storage. The 26" barrel and removable extra full choke squeezes better performance out of birdshot loads and the optics rail makes it easy to attach a magnified or red dot optic. If you're looking for an affordable, multi-purpose .410, then this version of the 301 deserves a closer look. It has a suggested retail price of $199, but it can be found for around $20 less if you shop around.

Specifications:

Ammunition: Federal Premium Heavyweight TSS Turkey and Hi-Brass Lead
Firearm Importer: Savage Arms
Manufacturer: Sun City Machinery Co., China
Model: Stevens 301 Turkey Bottomlands (19252)
Action: Break action with single-action trigger, exposed hammer
Caliber: .410 Bore
Chamber: 3"
Receiver: Matte-black carbon steel
Barrel: 26" Matte-black carbon steel with shell ejector
Bore: Smooth
Choke: Removable Extra-Full choke included
Choke Thread: Compatible with WinChoke tubes (½-32UN)
Sight: Brass Bead, Compatible with TruGlo sight systems
Optics Rail: 3" Aluminum, 7-Slot Picatinny
Fore-end:  Mossy Oak Bottomlands Camouflage Synthetic, Quick Release 
Stock: Mossy Oak Bottomlands Camouflage Synthetic
Recoil Pad: Black Rubber
Safeties: Transfer Bar, Manual hammer block lever
Trigger Pull: 6 lbs. 6 ozs. (as tested)
Overall Length: 36"
Length of Pull: 13"
Weight: 5 lbs. 6 ozs.
Capacity: 1 Round
Accessories: One removable modified choke, owner's manual
MSRP: $199