by
posted on August 15, 2019
Support NRA American Rifleman
DONATE
BUDK recognizes that outdoor enthusiasts have a variety of needs and budgets of different sizes when shopping for fixed-blade field knives. That's why the company offers several different models at fair prices. Here are just three examples of the hard working options the company has to offer. 
Gil Hibben, master knife maker and avid outdoorsman, contributed to the design of the Tundra Hunter (GH5077). The full-tang 6.5" clip-point blade is forged from 420HC, an old-school high-carbon stainless steel that's ideal for knives regularly used for hard work. It trades some hardness for easier sharpening in the field.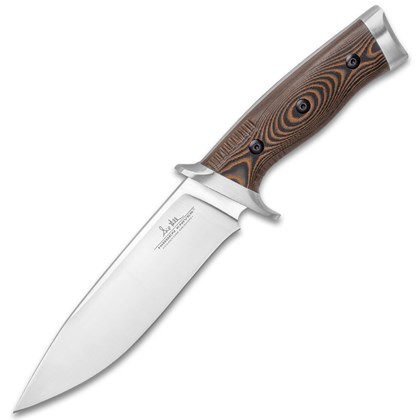 With an overall length of 11", the stainless steel guard and flat-base pommel combine with the CNC-machined Micarta handle to bring the knife's weight up to 13.7 ozs. It's a bit heavier than some knives in this class, but the pommel is suitable for hammering and cracking chores around camp. This knife's balance point is just behind the guard, right at the groove for the index finger, giving it a good balance for a variety of cutting tasks. The Tundra Hunter ships with a black all-leather sheath with steel appointments.
MSRP: $61.99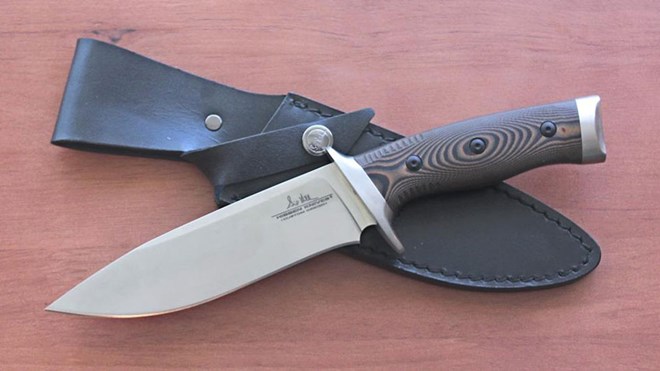 The Bushmaster Bushcraft Explorer (UC3249) provides the outdoor enthusiast with the toughness and sharp edge they need at a low price. The full-tang 4.38" drop-point blade is forged from 1095 carbon steel, a non-stainless steel with approximately 0.95 percent carbon. This is tough steel that's easy to sharpen—it will take an exceptionally sharp edge and it costs significantly less to make than some stainless blades. Carbon steel is prone to rusting if neglected by the owner, but with proper lubrication and storage it can be a handy work tool for years to come.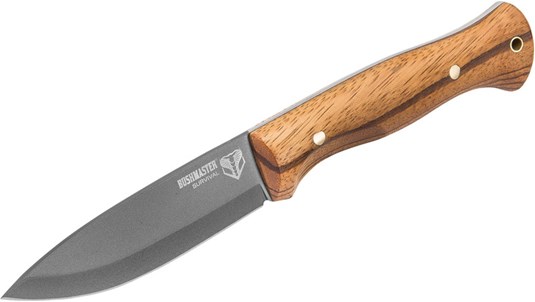 The handle has been outfitted with smooth, durable zebra-wood scales, brass handle pins and a brass-lined lanyard hole. This knife has a 9.63" overall length and weighs in at 6.9 ozs. The Bushmaster Bushcraft Explorer ships with a brown-leather belt sheath with additional straps that allow it to be attached to a back pack or similar gear. 
MSRP: $34.99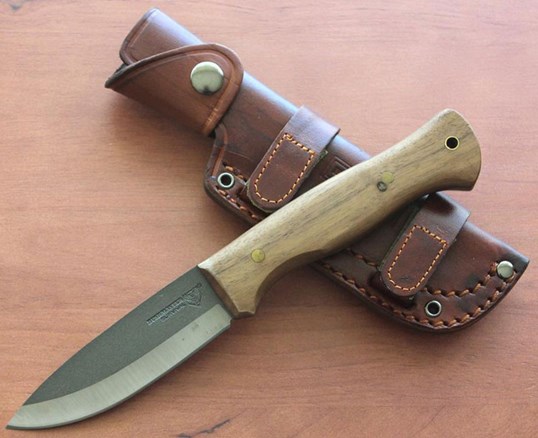 Gil Hibben and his son Wesley, who is also an accomplished knifemaker, teamed up to design the Hibben Legacy series of knives for United Cutlery. Tucked in among the hunting and combat models is a modern interpretation of the Alaskan Ulu utility knife (GH5074). Its 6.5" crescent-shaped blade and over-the-blade handle position make it ideal for skinning game, slicing meat and chopping vegetables for the stew pot.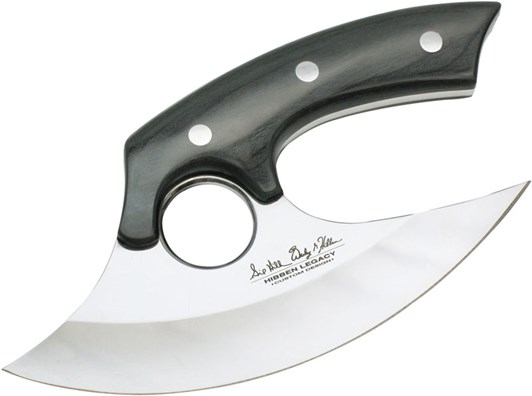 The highly polished blade is made from 5Cr15 stainless steel, which is a tarnish- and corrosion-resistant steel favored for kitchen knives. The edge is nice and sharp when the knife arrives. With an overall length of 7.63", this Ulu weighs in at 10.5 ozs. The handle is outfitted with smooth black pakkawood scales secured with polished stainless steel pins. This unusual knife ships with a black-leather belt sheath that proudly bears the Hibben Custom logo and a Legacy Series certificate.
MSRP: $39.99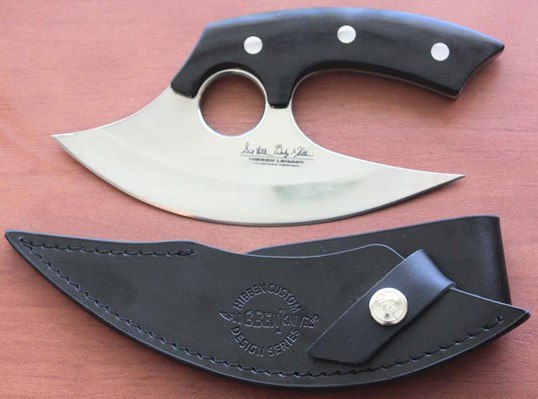 For more information, visit budk.com.