by
posted on November 29, 2018
Support NRA American Rifleman
DONATE
No matter what time of year it may be, the outdoor enthusiasts we know and love can always find an excuse to camp, hike, fish and hunt. Having the right tools on hand can make all the difference between having the experience of a lifetime or just getting stuck out in the cold. This year I've worked with a variety of camp tools featuring a broad range of price points that have proved to be quite handy to have along on the trail. Take a look and see which ones would check a box off on your holiday shopping list this year.
CAS Ibera Bushcraft & Survival Knives
CAS Ibera offers high-quality knives and swords from around the world with examples from Japan, Europe and China. After looking through the company's extensive catalog, I found two fixed-blade knives that are particularly well suited to the needs of outdoor enthusiasts.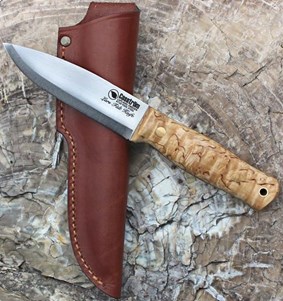 Casstrom of Sweden offers simplicity and versatility in this Scandi-ground Bushcraft Knife designed by bushcraft legend Lars Fält. The full-tang 4.5" blade is made from Böhler K720 steel. This is oil-hardened high-carbon tool steel with a chemical composition that allows it to be hardened to a high degree, while maintaining ductility and durability at the same time. This makes it easy to give it a razor-sharp edge. It can be used for fine work, while still being tough enough for wood splitting. The eye catching curly birch handle has been treated with a traditional Scandinavian linseed oil mixture and offers an ergonomic shape which comfortably fits large and small hands alike. This knife ships with a sturdy, deep vegetable-tanned leather sheath with a leather wrist strap.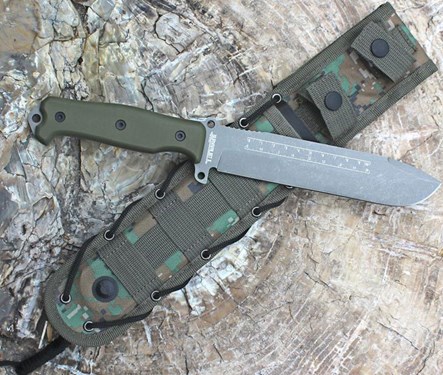 If you are in the market for a big knife built for hard work in harsh conditions, Kizlyar Supreme's Survivalist is an ideal candidate for the job. The 7" full-tang blade is ground from D2, which is a high-carbon, high-chromium tool steel that is wear and abrasion resistant. The Survivalist's 13.4 oz weight is properly distributed along its 13" length, making it exceptionally well balanced for a knife in this size class. The blade features a TacWash non-reflective finish, a protective lower guard to shield the user's hand from the sharpened edge, 1.5" of jimping at the base of the spine for added control and three lanyard connection points. The left side of the spine is beveled to reduce the knife's weight, while the right side is engraved with a ruler marked in centimeters and inches. The olive green G10 scales are smoothed along the front and back edges, with the flats exhibiting the slight but effective texturing inherent to this durable material. The Survivalist ships with a MOLLE compatible nylon sheath and a length of paracord for use as a lanyard or leg loop and the company's comprehensive lifetime manufacturer's warranty.

MSRP:
Casstrom Lars Fält Bushcraft Knife (KS11804) $225
Kizlyar Supreme Survivalist (KK0242) $235

Case Knives Hobo & Pheasant Hunter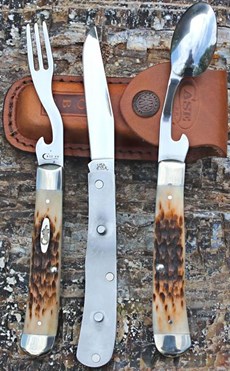 Made in Bradford, Pa., the Case Knives amber-bone peach-seed jig Hobo is a finely crafted example of the company's dedication to blending classic designs with modern manufacturing standards. When closed, this tool looks much like any other pocketable, multi-bladed folder. However, opening the knife blade allows the handle to slip apart into a three-piece dining set which includes a fork and spoon. The clip blade is constructed of Case's Tru-Sharp high-carbon stainless steel, which is designed to hold an edge longer than conventional steels. It's just as useful for fine work around camp as cutting up a sizzling steak at dinner time. Case does offer a leather sheath for the Hobo, which is sold separately.

Machetes, survival knives and folders all have their place in the outdoor tool set. But for fine work, such as processing small game birds and fish, a small, sharp,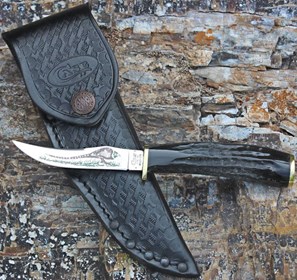 fixed-blade knife like Case's 2.7 oz. Pheasant Hunter is hard to beat. Hand assembled with a 3.25" long, mirror-polished Tru-Sharp surgical steel-clip blade, jigged natural buffalo-horn handle and an aluminum end cap and guard, this knife is also well suited for many steps in processing large game, such as deboning, food prep and other light cutting tasks. With its embellished blade, leather sheath and presentation tin, this is a knife that collectors and hunters will both enjoy.

MSRP:
Case Amber Bone Peach Seed Jig Hobo (00052) $118
Case Hobo Leather Sheath (#01049) $10
Case Buffalo Horn Pheasant Hunter with Sheath and Tin (#17917) $125

GSM Outdoors Cyclops Spotlights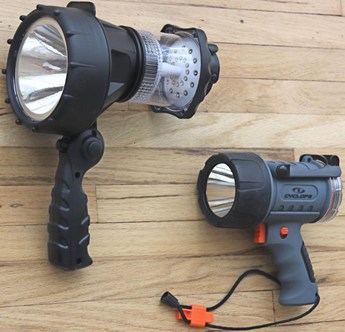 GSM Outdoors knows that bright, reliable, lightweight hand-held spotlights can come in handy in a variety of outdoor situations. 

Enjoy the convenience of a hand-held spot light and a camp lantern rolled into one with the 17.1 oz. Cyclops Fuse (left). The impact-resistant ABS polymer housing features a two-position handle for use with the 3 Watt white-light LED spotlight, which provides up to a 90-minute burn time with each recharge of the 4V sealed lead-acid battery. An integrated flip-up hanger allows the Fuse to be hung up when using the 24 LED white-light lantern, which provides up to 220 minutes of burn time per charge.

The 12.5 oz. Cyclops Waterproof LED Spotlight (right) is designed for camping, boating and for use as a vehicle emergency light. The housing and handle are made of durable rubberized ABS polymer, with a black rubber bezel protecting the front lamp. The housing meets IP67 Waterproof standards, is fully immersible up to one meter and allows the light to float. Inside the front reflector is a single white light CREE XPG II R5 3 Watt LED powered by an IS1P Lithium rechargeable battery, capable of providing 300 lumens of brightness for up to three hours of burn time per recharge. On top of the housing is a kickstand for handsfree use and two lanyard connection points. The trigger-type activation switch can be locked into the On or Off position and used to change the LED's settings from high beam to low beam or, for emergencies, an S.O.S. strobe. The wrist lanyard is fitted with an orange emergency whistle.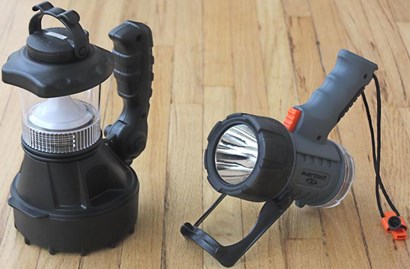 Both of these lights ship with an at-home AC charging adapter and a 12V DC car charger. 

MSRP:
Cyclops Water Proof LED Spotlight (CYC-300WP ) $45
Cyclops Fuse 3 Watt SpotLight and Lantern (CYC-RL3WLAN) $35

Estwing Camp Tools
I grew up to the sound of my father's Estwing framing hammer pounding out projects around the house. With its elegant, one-piece American-steel construction and synthetic grip, it's still in his tool box all these years later, though many other implements have come and gone. What I didn't know until recently is that Estwing offers a series of useful camp tools, including the Hunter's Ax, Machete and fixed-blade knives shown here. All of these tools ship with protective nylon sheaths or blade covers.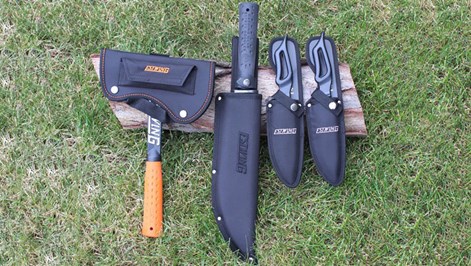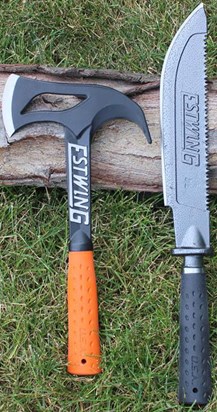 The 14.25"-long Hunter's Ax is designed specifically for sportsmen's needs. Available with either an orange or black Shock Reduction grip, it features a 3" hand-polished ax blade, which is ideal for maintaining tree stand areas, clearing camp sites and chopping firewood. Use the sharp gut hook for field dressing large game or as a rope cutter. 

What Estwing calls a machete is a far more robust and flexible tool than typical machetes, with their thin-gauge blades and inexpensive, riveted wood or plastic grips. Its 19.25" length is divided between a 12" powder-coated blade with a 10.75" plain cutting edge, a 0.25"-thick hilt and a 7"-long handle wrapped in the company's shock-absorbing grip. The spine of the blade features 8.5" worth of sharp offset saw teeth for cutting through saplings and small branches. This product handles more like a Bowie knife on steroids, meaning it can be used to butcher large game and for light wood chopping, as well as clearing brush like a traditional machete. It's one of my favorite finds this year.



Estwing's one-piece, all-steel outdoor utility knives are designed and priced for those tough and dirty jobs where highly polished blades and fancy grips won't help get the work done. They can comfortably transition between backpacks, bug-out bags and tool boxs.  The Tanto style blade (Left), which is styled after Japanese swords, provides a strait cutting edge and a chisel tip. The Bowie knife (Right) sports a traditional curved design ideal for a variety of outdoor cutting tasks. Choose from 4" and 6" long, easy to sharpen double-beveled edges.           
MSRP:
Estwing Hunter's Axe (Orange) $56
Estwing Machete $50
Estwing Bowie and Tanto Knives 4" $29, 6" $33

Gatco Knife Sharpening System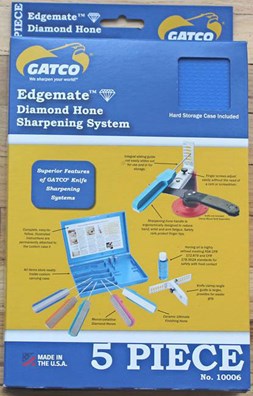 What impresses me most about Bear & Son Cutlery's 5-piece Gatco knife sharpening system is the finely tuned degrees of sharpening control it provides to customers. The system shown here (10006), arrives with a total of five sharpening blocks, honing oil and a blade clamp. One block is specifically designed for serrated blades, with the others ranging from course to ultra fine for knives with plain edges.

The clamp works in tandem with each block's guide rod as an additional guide to ensure a proper grinding angle for that particular knife. This configuration
allows for a full range of sharpening needs, from small folders to large kitchen knives with edges that just need a quick touch up, to damaged blades that need real attention.

Gatco's rubberized 12001 Easy-Grip Clamp Mount (sold separately) supports the knife clamp for added stability when working with large knives or when sharpening several knives in a row.

MSRP:
Gatco 10006 Sharpening System $100
Gatco 12001 Easy-Grip Clamp Mount $9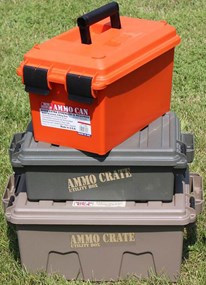 MTM Case-Gard Ammunition Cans & Crates
The best working definition of the word "detail" is something that goes mostly unnoticed when present but is greatly missed when absent. An important detail for just about all outdoor endeavors is a tough, reliable and water-resistant container to protect and carry gear. MTM Case-Gard's American-made ammunition cans, crates and utility boxes are molded from rugged polypropylene plastic and fitted with O-ring seals to keep out dust, debris and moisture. The containers shown here feature heavy-duty latches, double-padlock tabs and molded-in stacking ridges for slip-resistant stacking.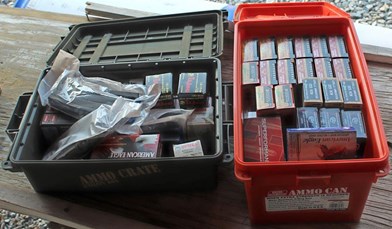 The AC35 Emergency Marine Box (top) holds up to 30 lbs. and can be used for storage in damp locations, including boats and basements. The ACR4 (Middle) ammo crate has a flat profile and two extra-strong handles for storing up to one flat, or 10 boxes, of 12-ga. shotgun shells or up to 65 lbs. of gear. It also has four tie-down points for ATV attachment. The deeper ACR8-72 (bottom) can be packed with up to 85 lbs. of gear.

MSRP:
AC35 Emergency Marine Box (Orange) $17
ACR4 Ammo Crate Utility Box (Army Green) $19
ACR8-72 Ammo Crate Utility Box (Dark Earth) $22

Nikon Monarch 20-60X 82 mm Field Scope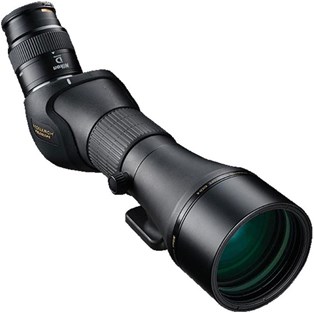 Sometimes enjoying nature is all about climbing right up on top of it for that up-close-and-personal experience. At other times, it's better to just stand back and take in the view. To ensure you don't miss a single detail of that far-off mountain top or herd of elk meandering through the meadows, Nikon offers the excellent Monarch 20-60X 82 mm Field Scope.
The Monarch's advanced apochromat system of ED glass and proprietary lens and prism coatings delivers true color fidelity with high-resolution integrity. The Field Flattener lens system provides consistent, edge-to-edge sharpness while compensating astigmatism and coma aberration. Multilayer coating is applied to all lens and prism surfaces for enhanced light transmission. The focus ring provides different focusing speeds for optimal operation, including fine-focus adjustment for distant subjects and coarser adjustment for those that are nearby. Customers have the choice of a straight MEP eye piece or angled (shown).

I could go on, because the company provides about three pages of specifications for this product. Suffice it to say, that when it comes to the Monarch Field Scope, seeing is believing.  This scope ships with a soft carry case, tripod mount and a useful set of instructions. Don't forget to take a look at Nikon's tripods, which are sold separately.

MSRP:
Nikon Monarch Fieldscope 82ED-A with MEP-20-60 $1,600
Nikon Full Size Tripod $65

SENTRY Every Day Gear Care Kit
Sometimes the care and sharpening of outdoor tools and gear just can't be put off until you get home. The SENTRY Products Group has packaged up just what you need to clean, lubricate or sharpen out in the field in a compact, lightweight carry case. Inside you'll find a reusable 12"x12" Tuf-Cloth which has been treated with CDLP, a fast-acting solvent for removing dirt, debris and oils from wood, polymer and metal surfaces. The cloth is also treated with a dry lubricant and protectant suitable for firearms, knives and other edged implements.


A 1/4 oz. Tuf-Glide pen applicator is filled with the company's 100% oil-free lubricant which stops rust, repels dirt and displaces moisture in hot and cold climates. Four foam-tipped cleaning rods can be used to clean out hard-to-reach spaces. The GATCO Super Micro knife sharpener features two sets of ceramic sharpening rods, course and fine, which are suitable for plain and serrated knife blades. The rubberized handles are textured for a no-slip grip in cold and wet conditions.

MSRP: $25

SOG Entrenching Tool & Camp Ax
SOG Knives & Tools is a company that offers a variety of useful outdoor tools at fair prices. If you are looking for a pair of compact tools that can be stowed in a vehicle or tucked into a backpack, then take a look at SOGs Entrenching Tool and Camp Ax.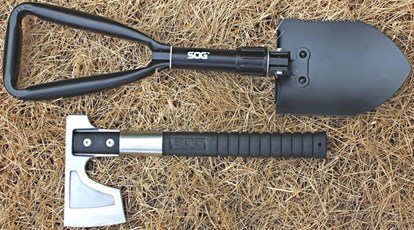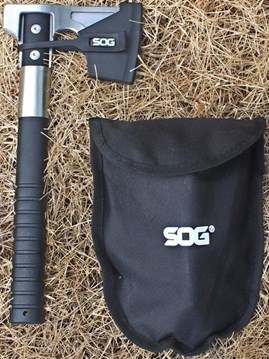 A 24.5 oz. folding shovel can be an invaluable tool in emergency situations or around a campsite when you need to move sand, dirt or snow out of your way.  This all-steel Entrenching Tool features a folding tempered steel shovel blade with a toothed edge for cutting and slashing, paired with a folding pick point. The sturdy triangular handle is comfortable to use and the tool folds down to the size of a thick paperback novel.

The Camp Ax is 11.5" long and weighs just one pound thanks to the glass-reinforced nylon handle. The satin stainless steel ax head has a 3.1" chopping blade and a flat hammering surface for driving tent stakes or performing similar tasks. SOG could have made this ax a little lighter, but it chose instead to make it stronger with stainless steel screws and a 2" collar to protect the handle. Both tools ship with protective covers.

MSRP:
SOG Entrenching Tool (F08-N) $20
SOG Camp Ax (CH1001-CP) $40

Spyderco Shaman Folding Knife
Spyderco makes it easy to find a high-quality folding knife that has a just-right set of features to fit your hand, your lifestyle and the tasks you need your knife to accomplish. One model I've found that ticks the boxes for daily carry is the Shaman (C229GP). Taking its design cues from the Spyderco Native folder, the U.S.-made Shaman's thoughtfully designed ergonomics give it the feel and handling of a larger model for more involved knife work, while remaining slim with a 5.2 oz. weight that's comfortable to carry.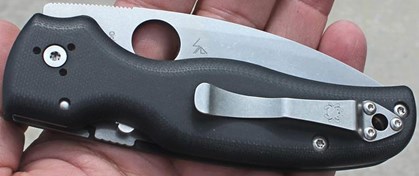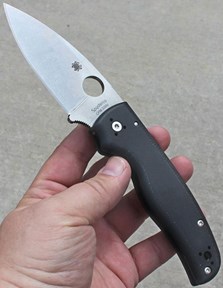 The 0.145"-thick, 3.58"-long stonewash-finished CPM S30V stainless-steel blade features a full-flat grind for top-notch edge geometry and an acute, utilitarian point. This knife's tough Compression Lock mechanism, which locks the blade and allows for safe one-handed closing, is supported by skeletonized stainless-steel liners nested into the contoured, matte-finished G-10 scales. The signature ambidextrous one-handed opening Round Hole, cut right into in the blade, along with the  four-position pocket clip, allow this knife to be easily deployed right- or left-handed, tip up or tip down. This model is available with either a plain edge or a SpyderEdge serrated blade.

MSRP: $280