by
posted on June 10, 2019
Support NRA American Rifleman
DONATE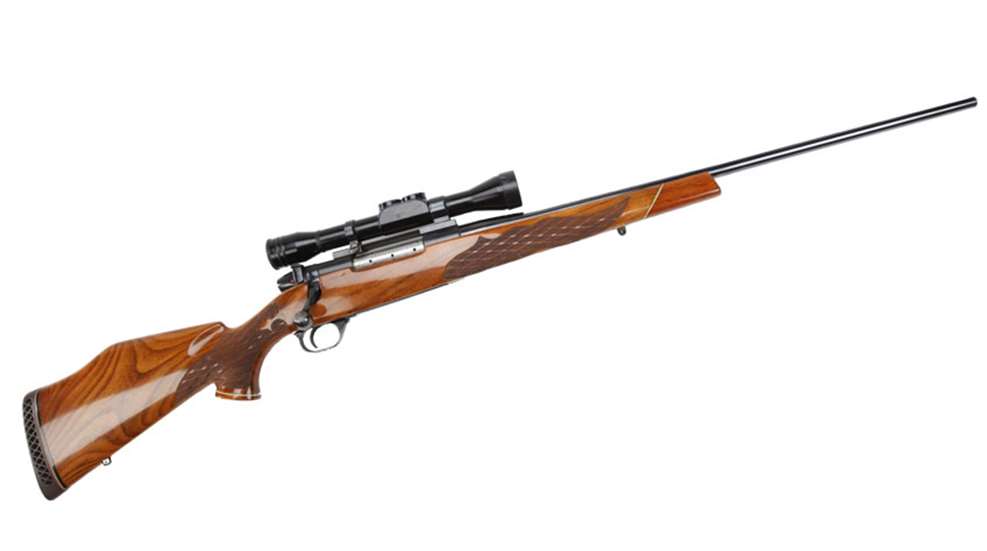 Those who were raised during The Depression are dying out quickly. Soon they and what they lived through will become a dusty, distant memory, and the lessons learned from that tribulation will largely be lost in American culture. Roy E. Weatherby was 19 years old when that devastating event came upon this country. This Kansas farm boy married a Kansas farm girl five years later. Farming on the central and southern plains was dead during these years. Dust storms blew the top soil from the plains to who knows where. But bright lights and stories of prosperity in California drew the young couple there, and in 1937 they immigrated to the Golden State.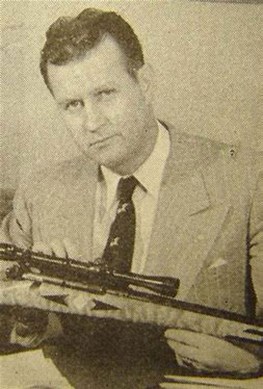 If there is one thing that characterizes Depression-era kids it is their work ethic. Roy knew it was on his shoulders to provide a life for his family. He took a job selling insurance for the Automobile Club and was fairly successful at it. Like many younger men of that era, Roy enjoyed tinkering with mechanical things. A chance encounter with a mule deer buck in Utah in 1942 left a mark on Roy. Using a .30-06, he wounded the buck, and after tracking it the rest of the day and into the night, he had to give up. That wounded buck haunted him for some time, and he was convinced that had the bullet a bit more velocity, the increased shock would have put the buck down. Thus a gunsmith and custom rifle maker was born.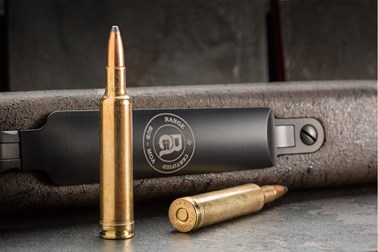 Roy bought a lathe and a drill press and set them up in his home basement shop. Concurrently, he began experimenting with cartridges that produced much higher velocities than those commercially available at the time. He toyed with a wildcat cartridge based upon a blown out .220 Swift. The .220 Rocket came out in 1943 but has never been commercially loaded. Among the first bore sizes to be "Weatherbied" was the .25 caliber. Americans have been fascinated by the quarter-bore since smokeless powder was developed. Weatherby liked the .375 H&H Magnum case a lot. It became the basis for some of his large-bore cartridges, but the .300 H&H Magnum—a slightly shorter cartridge than the .375; the other dimensions being identical—was used for cartridges .30-caliber and below. For Weatherby's quarter-bore, he shortened the case a bit more than .300", changed the shoulder and neck transitions to a larger radius, filled the case with the slowest burning powders that he could find and put some .378" of freebore in the lede of the barrel to keep the pressures down while still delivering substantially higher velocities.
The double-radius bit on the cartridge's shoulder and neck transitions was a marketing ploy—Weatherby was a master marketer—claiming that the larger radii had a venturi effect that translated into higher velocity. Another claim by some is that the larger radii—all shoulders and necks have some radii—reduced brass flow, thereby minimizing case lengthening and trimming, translating into a longer case life. Both claims have been debunked, but the practice of utilizing both remains a standard at Weatherby.
Nevertheless, Weatherby perfected his .257 Weatherby by 1944, and when he opened up shop a year later, it was available. Pretty much concurrently, Weatherby developed and released his .300 Weatherby. His first custom rifles were made on sporterized Mauser Model 98s, 1903 Springfields and the odd Winchester Model 70 actions. By 1949 Weatherby began importing commercial Mausers from FN. With equal parts hubris and impresario, Weatherby wasted no time in bringing out a new Weatherby cartridge in the caliber du jour. Soon there were Weatherby magnums cataloged in .22 (.224). 6 mm (.240), .257, .270, 7 mm, .300, .338 (.378) and .460 calibers. That trend continues today with the addition of a 6.5 mm and .416 Weatherby magnums.


It simply would not do for an ultra-modern, super-fast cartridge to show up in a stodgy old tweed outfit, so Weatherby designed his stocks to reflect a modern, flashy presence. Figured California Claro walnut replaced the comparatively dull, straight-grained English and European walnut seen on most custom rifles of the day. Tall and somewhat angular Monte Carlo cheekpieces, along with pronounced pistol grips, skip checkering, rosewood fore-end tips and pistol grip caps set off with thin white spacers were the hallmark of the Weatherby rifle stock. Many had inlays made from exotic woods and other materials. And they were all bathed in a deep gloss finish. The man showing up to hunting camp with a Weatherby might just as well show up driving a Carroll Shelby Cobra or a Jaguar XKE. Speed on the road or from a rifle barrel was never subtle and neither was a Weatherby.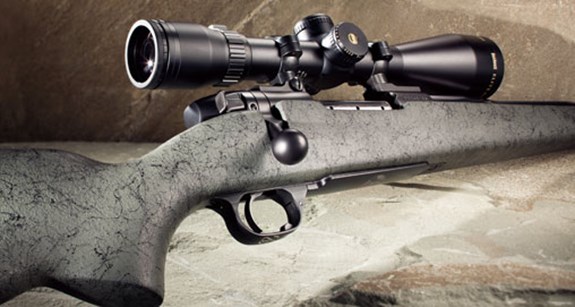 Up to this point, Weatherby was pretty much a custom rifle builder. Those first Weatherbys set a customer back some $150 to $165 right after the war or about half what a new Model 70 brought. To become a rifle manufacturer he would need to supply an action, either of his own making or from something consistently supplied by an outside contractor. As the mid-1950s came along, inflation in the form of increased wages, along with materials and tooling costs were skimming all the profit from Weatherby's corner of the market. Just as today, it became necessary to find ways to trim production costs.
Weatherby toured Europe's gunmaking plants in search of a manufacturer that could produce a rifle made to his specifications and at a cost less than what it cost him to build them. Schultz & Larsen received an order for some rifles chambered in .378 Weatherby Magnum—a darling of the day—but Weatherby knew he needed to maintain control over his brainchild product. There simply was no other way around it; Roy would have to design his own rifle action.
Fred Jennie, an engineer in Weatherby's employ, teamed up with the boss. First, they had to assemble some engineering parameters. Paramount among these was the ability of the receiver to handle pressures well above that of the standard rifles of the day. Weatherby was building his reputation on speed and horsepower; he knew that backyard handloaders would test even those limits so he wanted to ensure his rifles were up to the task. 
They encased the case head in a counterbored bolt face. The bolt body had three vents along the right side to vent errant gases away from the shooter in case of a blown primer or case. As a marketing plug, the locking lugs were increased from two to nine in the form of an interrupted thread. The nine-locking-lug design had another desirable feature—it provided for a 54-degree bolt lift, thus eliminating the need to bend the bolt handle to accommodate a telescopic sight.






A cutaway example specially plated for trade show display purposes, this rifle action shows the Weatherby nine-lug bolt-locking system. NRAMuseum.org images.
It is said that Elgin Gates, the famous big-game hunter, author and adventurer who also was fond of Weatherby rifles, coined the name for the new action, the Mark V. Early on the Mark V was made from sand castings at a California foundry. Sand castings are often subject to sand inclusions within the casting. Consequently there were an unacceptable number of scrap castings produced, as well as receivers that failed somewhere during the manufacturing process. In 1959 Weatherby contracted with J.P. Sauer where the receivers came from forgings. Still later, receiver forgings came from Japan and the U.S.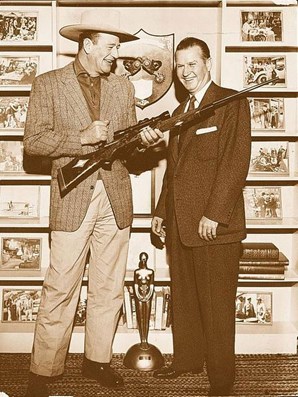 As mentioned, Weatherby was a master at marketing. In addition to famous hunters like Gates and Herb Klein, he was able to garner endorsements from the entertainment community. John Wayne and Roy Rogers were fond of Weatherby's rifles. Some would be surprised that Mr. .270 Winchester—Jack O'Connor—found merit in Weatherby's .300 Magnum, even if he was less enthusiastic about Weatherby's stock design.
The company was on a roll throughout the 1960s. Weatherby branched out into shotguns in 1967; three years before the Mark XXII, designed by Jennie. Even scopes and binoculars got the Weatherby logo. As a new decade was born, Weatherby cleverly brought out the Vanguard—a Mark V action chambered in conventional cartridges. Still later, Gates, who in his later years was a big proponent of Handgun Metallic Silhouette Shooting, persuaded Weatherby to bring out a smaller version of the Mark V action made by Howa in cartridges popular with handgun silhouette shooters. This venture did not flourish primarily because of the political optics of Howa making a barreled action for a rifle subsequently having the barrel cut off to make a pistol. Just 200 Weatherby Silhouette Pistols were manufactured, making them the rarest of Weatherby production guns.



Though branching out into other guns, it is the center-fire rifle that remains the core of Weatherby's still family owned business. Cartridge development drives much of this part of the business model. Nearly every bore size has been "Weatherbied." The .416 Weatherby Magnum debuted in 1989, driving a 400-gr. bullet at 2700 f.p.s., 250 f.p.s. faster than the .416 Remington that came out in the same year. Ed Weatherby, Roy's son, designed the heavy-game cartridge by necking up the .378 Weatherby Magnum to .416.
Weatherby's cartridges have been first and foremost about speed, so when a supercharged .30 caliber came out in 1996—the .30-378 Weatherby—driving a 165-gr. bullet at a real 3,500 f.p.s., it was no surprise who was behind it. Most recently the 6.5-300 Weatherby Magnum promises to be the fastest 6.5 mm cartridge extant, driving a 140-gr. bullet as much as 3,395 f.p.s.
As the business evolved, so has Weatherby's homes. From modest beginnings in the basement of his Huntington Park home, Roy Weatherby moved to South Gate, Calif., in 1945. Six years later Weatherby moved down the road just a bit in 1951, where it remained for more than 40 years. Still later the company headquartered along California's central coast at Atascadero and Paso Robles. The cost of doing business in the Golden State and a hostile political climate for gunmakers and hunting businesses spurred the most recent move earlier this year to Sheridan, Wyo.



Weatherby's success has centered on two fronts. It started as a family business and remains so in a world rife with corporate takeovers. Roy's grandson Adam is taking the reins from his dad, Ed, and plans to continue the legacy of innovation and integrity. And while businesses must evolve with marketplace changes, Weatherby adapts modern demands to a remarkably successful product line rather than making knee-jerk quantum changes. Sure, the rifle market is now centered on tactical rifles with composite stocks held together in an aluminum chassis. But you can still order a now-classic Mark V in .300 Weatherby Magnum with a beautiful wood stock.
I, for one, welcome the Weatherbys and their company to my adopted home state. You will do well here, I think.

Additional Reading:
Weatherby Setting Up Shop in Wyoming   
The Keefe Report: Weatherby—California Left Them  
The New 6.5-.300 Weatherby Magnum and Mark V Rifle  
.270 Wby. Mag.: The Original Weatherby  
ARTV: Making the Weatherby Mark V