by
posted on May 30, 2023
Support NRA American Rifleman
DONATE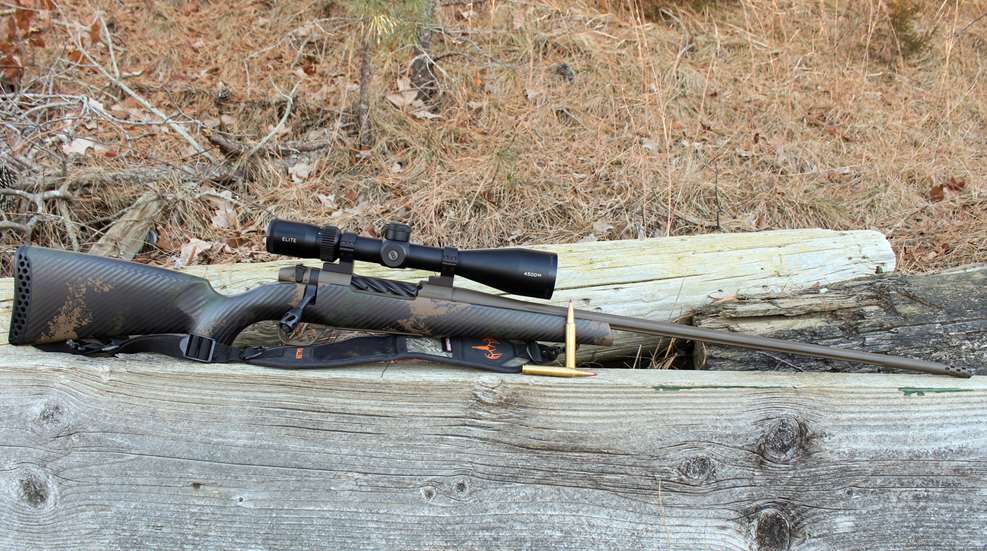 A tremendous amount of engineering and craftsmanship must go into a rifle if it can harness the high pressures of a magnum cartridge yet remain light enough for comfortable use on a long trek. Weatherby's Mark V is a great example, as, even nearly 70 years after its introduction, it remains one of the strongest bolt-actions on the market. Roy Weatherby's timeless design seems to have only improved with age. Today, the company is employing enhanced manufacturing processes and lightweight materials to build some of the strongest, yet nimblest, versions of the Mark V yet, such as the subject of this review—a Backcountry 2.0 chambered in .300 Weatherby Magnum.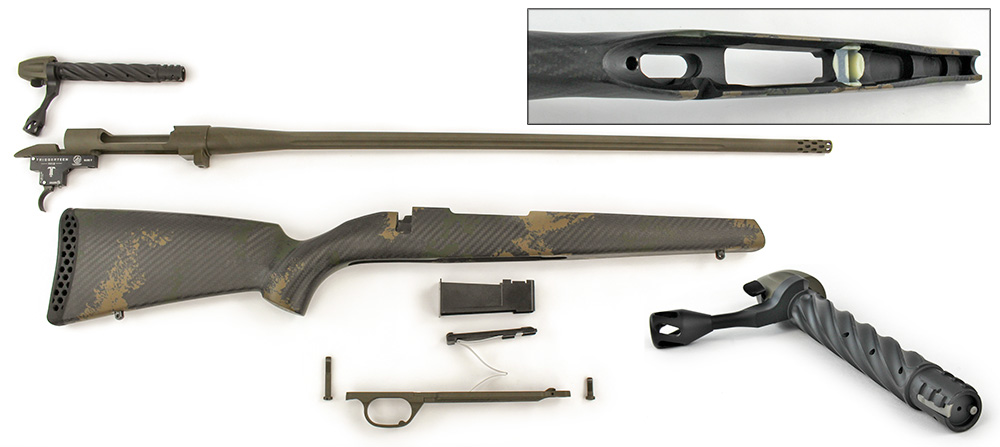 The Mark V Backcountry 2.0 is a centerfire bolt-action repeating rifle that feeds from an internal three-round magazine (in the case of our .300 Wby. Mag. test sample). Central to the action is the unmistakable nine-lug bolt head that is designed with lugs arranged into three columns, mimicking the breechblock design of naval cannons and howitzers. Just like with its larger counterparts, this arrangement gives the Mark V the increased pressure tolerance that it needs to handle Weatherby's family of heavy-hitting proprietary cartridges, and a slimmer, six-lug version is also available for use with lighter, non-magnum cartridges.
This design also yields a paltry 54-degree bolt throw that permits faster cycling and lower scope mounting. Both the bolt and the receiver are comprised of high-strength 4140 chrome-moly steel, while the 25.5" barrel is cut from 410 stainless steel. After the barrel is threaded into the receiver, the rifled action is finished with an application of Patriot Brown Cerakote, ensuring that it will hold up to the rigors of a multi-day hunt.


Weatherby's ultimate goal with the Backcountry 2.0 was to make it as light as possible, shaving weight wherever it could. This is evident from the fluting found not only on the ultra-thin barrel but on the bolt as well; even the bolt handle has been skeletonized in an effort to trim things down as much as possible. Although removing steel undoubtedly helped lighten things up, Weatherby went even further by sourcing a carbon-fiber stock for this rifle from Peak 44. Thanks to its patent-pending carbon-fiber bedding shelf, this stock can handle as much recoil as designs weighing several times as much.
A user-adjustable, single-stage TriggerTech trigger assembly comes standard with this rifle. The adjustment screw is located just forward of the trigger and can be accessed through the trigger guard with an Allen wrench. The trigger broke at 3 lbs., 11 ozs., from the factory, however, we were able to dial it down to break as low as 2 lbs., 15 ozs., and as high as 5 lbs., 13 ozs., and these adjustments can be made without removing the stock. For our testing, we left it at its lowest setting to reduce as much shooter error as possible.
Our range day represented typical northern hunting conditions, barely breaking 40o F. Although the air was chilly, we had the benefit of calm conditions and ample sunshine to help offset the cold temperatures. From a sandbag rest, we tested three different loads from Weatherby, firing for group size and velocity-based data. To our surprise, the recoil was much milder than we were expecting for a sub-6-lb. rifle pushing a .30-cal. projectile at nearly Mach 3. This was, no doubt, assisted by the included radial muzzle brake that aligned seamlessly with the barrel.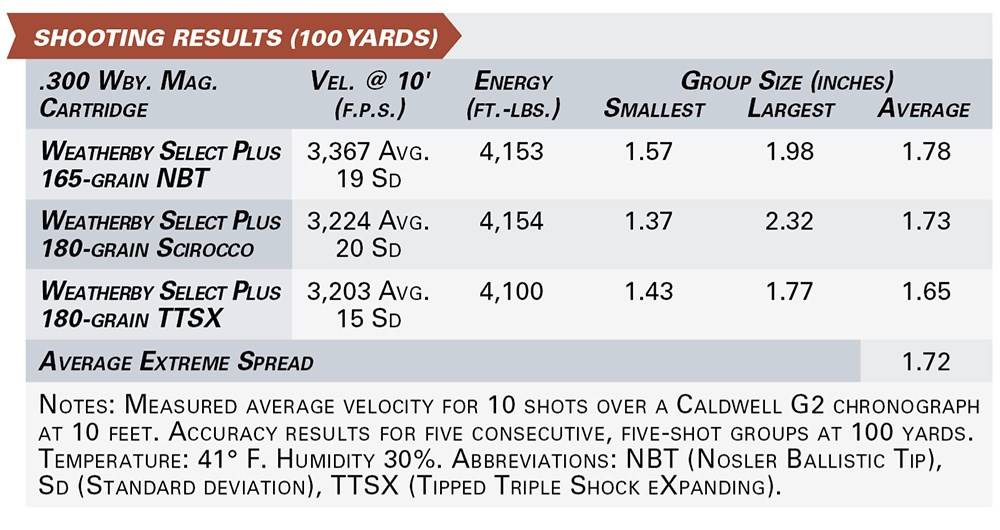 Kudos also go to the 3D Hex recoil-reducing buttpad that is one of the first 3D-printed production models on the market. We also appreciated the Backcountry 2.0's hinged floorplate to help hasten unloading as we prepared for ceasefires. This is released simply by depressing the button found inside of the trigger guard. We found this control to be instinctual, just like the push-to-fire safety located on the right side of the bolt. We fired several three-shot groups to test the sub-m.o.a. accuracy guarantee that all Weatherby Mark Vs carry, and this rifle met it nearly every time with all three loads. Five-shot groups opened things up a bit, but the results were still more than adequate for a thin-barreled hunting rifle.
Disassembly of the Mark V Backcountry 2.0 is as simple as it gets. To remove the bolt, first ensure that the firearm is completely unloaded. Next, open the action, hold the trigger to the rear and slide the bolt out of the rear of the receiver. If one wished to remove the stock, a simple pair of action screws are all that secure it to the barreled action. A word of caution though, before doing so, make sure you have the proper equipment on hand to torque the action screws to their recommended 55 in.-lb. specification when finished.
We enjoyed our time with the Weatherby Mark V Backcountry 2.0 and consider it to be a great example of a high-end big-game rifle. When chambered in a cartridge as potent as the .300 Wby. Mag., it is capable of ethically harvesting any game in North America and challenges both wind and gravity relatively effortlessly. Being hard on game but relatively easy on the shoulder is a tough balance to strike, and Weatherby seems to have successfully threaded that needle with this one.