by
posted on May 14, 2019
Support NRA American Rifleman
DONATE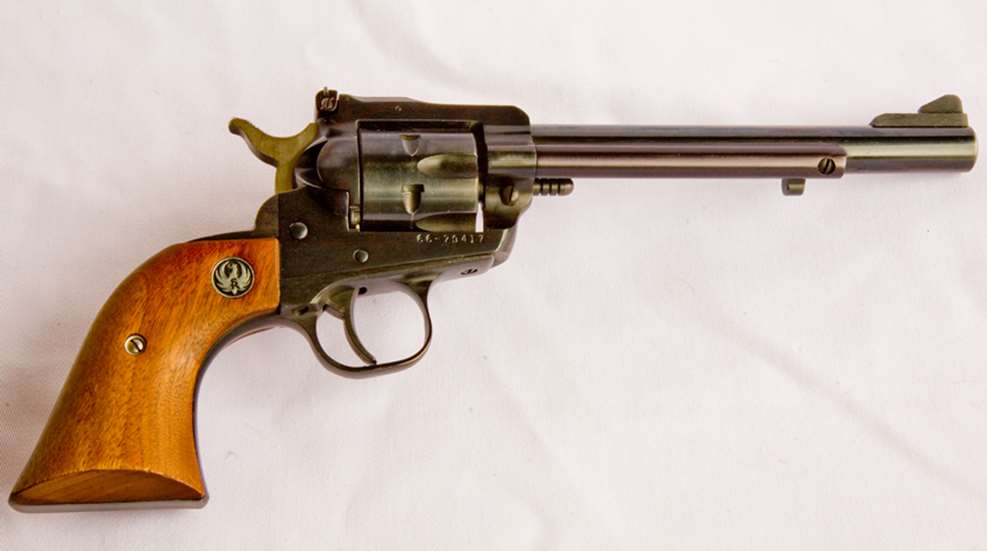 Old Bill Ruger was a cagey guy with a hand—and heart—sensitive to the pulse of shooters. During the early post-World War II years Colt had decided to finally move on from single-action revolvers. After all, its Model 1911A1 had been the handgun of choice during the worldwide dustup, and double-action revolvers largely ruled the law-enforcement community. Only a relative handful of rank, old cowboy types still clung to the thumb-buster, and most of them couldn't scrape together enough cash to buy a new gun. Besides, the tooling to build single-action revolvers was worn out and obsolete. It made absolutely no business sense whatsoever to continue to make single-action revolvers.
Then came the 1950s and this newfangled entertainment contraption called television. "Hopalong Cassidy" and "The Lone Ranger" were leaders of the genre starting in 1949. A gaggle of short, relatively low-budget western films were also produced. In 1951 one Leonard Franklin Slye, a.k.a. Roy Rogers, started a 30-minute weekly show that often melded the Old West with somewhat modern technology—automobiles, telephones, electric lights and such. Virtually all of these shows featured some gun play in them, and all—more or less—of the handguns were single-action revolvers. Demand for thumb-busters went through the roof, as wannabe cowboys and western heroes pined for the guns of their own heroes.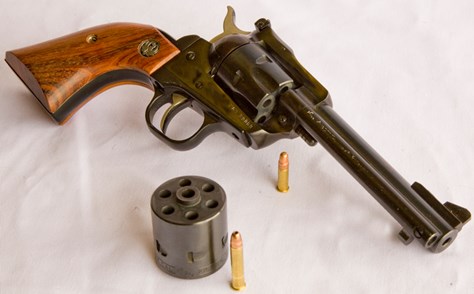 Ruger saw the trend, and with some investment cash from the production of his successful .22 (semi-automatic) pistol, he began re-engineering the single-action revolver. The remarkably consistent genius Ruger demonstrated throughout his lifetime was the ability to produce firearms that often replicated existing guns externally, but in such a way that manufacturing costs were a fraction of the originals. Yet the newer guns were usually far more robust and reliable than their predecessors. So in 1953 Ruger began offering a .22 LR revolver that closely mimicked the Colt SAA externally, but was far less expensive to produce. The Ruger Single-Six began selling to the public in July of that year. By the end of the year, only about 100 Single-Sixes had made it to dealers' shelves. Demand for the Single-Six steadily increased. About 10,000 copies left the factory in 1954 and another 20,000 made it out the door the following year.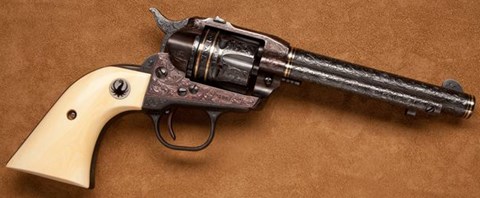 So how did Ruger beat Colt with a 117-year head start at its own game? For one thing, he was one of, if not the first, gunmaker to utilize investment castings in many of his firearms' parts. Investment castings are made by creating a mold of the part, filling it with wax, spraying the wax profile with a ceramic substance, firing the new ceramic mold thus melting the wax and allowing it to drain, then filling the mold with molten steel or aluminum. After it cools, the ceramic mold is broken off the casting. The casting is very close to final dimensions and requires only minimal machining to complete. This method saves huge amounts of time in production.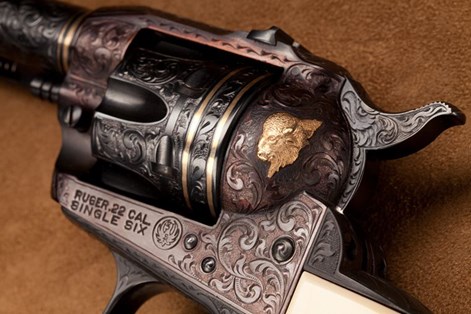 Another cost-saving feature that adds reliability to Rugers' guns is the use of coil springs instead of flat springs. A manufacturer like Ruger can order up thousands of feet of coil-spring stock that is already tempered with consistent force necessary to repeatedly collapse the spring and simply cut the stock to length, ready for assembly. Flat springs must be stamped from annealed stock, then heat treated to within a very narrow tolerance of hardness. Too hard, and the spring shatters; too soft, and there is no spring. Making just a handful of such springs isn't too difficult, but making several hundred an hour is a royal pain. I know. I've done it.


So let's take a closer look at the Single-Six. As mentioned, the profile closely replicated the Colt SAA. The frame, cylinder and barrel were made of steel alloy. Barrels were 5 1/2"long with an integral rounded front sight. Toward the rear of the frame, a rear sight fit into a dovetail completed the sighting. The rear sight was adjustable for windage only by drifting it within the dovetail. These first Single-Sixes came with just one cylinder capable of chambering .22 Short, .22 Long or .22 Long Rifle cartridges. A one-piece aluminum-alloy grip frame virtually identical to the Colt profile and designated XR3, provided the foundation for black plastic grips with the Ruger black Phoenix. Real stag could be ordered for an additional $8.50, and real ivory could be had for the (then) whopping sum of 16 and a half bucks. Today, collectors will pay a premium of up to $475 over and above the price of the gun for factory stag grips, and $1,100 premium for factory ivory. As with anything commanding a significant premium, be very cautious regarding fakes. A varnished walnut option became available in 1955 for an additional five bucks.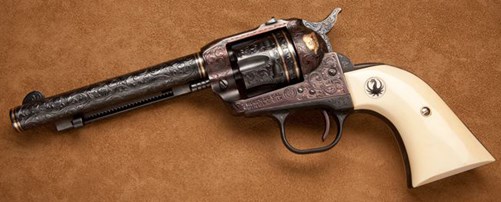 These early Ruger Single-Sixes had three screws passing through the frame to hold the innards in place, another component of the Colt SAA look. One glaring difference that earned the ire of reviewers of the day was the flat loading gate. Though it operated identical to the Colt, the flat loading gate was about 3/16" thick and required a healthy thumbnail to open it. Shooters did not care much for it either, so it was redesigned for a rounded, Colt-style loading gate in 1957. A Lightweight version featuring an aluminum frame, grip frame and sometimes cylinder was available from 1956 to 1958.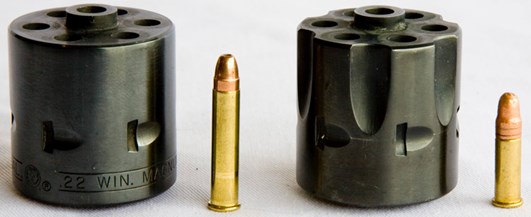 Like all guns, the Single-Six has had some changes made to it from its original configuration. In 1958 the option for ivory grips was dropped. A year later, 4 5/8" and 9 1/2" barrel options were introduced. Dual cylinders—the second cylinder chambered in .22 WMR—appeared in 1962. The same year the XR3 grip frame was jettisoned in favor of the XR3 RED aluminum-alloy grip frame. Because Ruger was converting its center-fire revolvers to the larger XR3 RED grip frame, it chose to simplify life by making the newer frame standard throughout its single-action line. Other changes included changing to an aluminum-alloy extractor housing from steel, a 6 1/2" barrel was added and oil finished walnut grips replaced varnished. Today collectors will pay a premium for 4 5/8" or 9 1/2" barreled early models. In 1964 Ruger introduced the Super Single-Six, featuring a Micro-style rear sight in a somewhat thicker topstrap that is fully adjustable for windage and elevation. This is teamed with a ramp front sight that provides an excellent sight picture while also slipping in and out of a holster without snagging.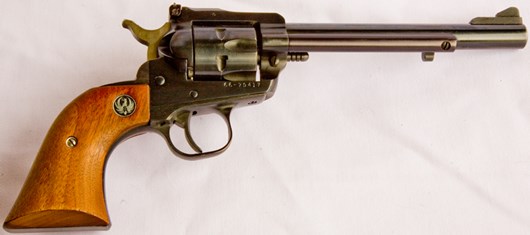 For the next nine years no significant changes were done to the Single-Six. Then came a lawsuit brought on by an idiot who did not know—or so he claimed—that a single-action six-shooter should be carried with five rounds, leaving the chamber under the hammer empty. The practice of keeping the chamber under the hammer empty had been in practice for, oh, about 136 years at that time—ever since the first revolving pistol was first introduced. Nonetheless, the idiot won a settlement with Ruger for self-penetrating his leg, and the company was forced to redesign its single-action revolvers such that they could be carried with all six chambers loaded. An expendable part of that design was the three screws that passed through the frame, a la Colt, and some say the smoothness of the action and trigger pull suffered as well. The redesigned revolver was given the name of New Model Single-Six, and had two pins through the frame instead of three screws, while the earlier Single-Sixes were immediately christened "Old Models" or "Three-Screw" models.
Stainless steel was introduced in 1974 in the "Star" model—in. 22 LR only—but was discontinued in 1976. Stainless was reintroduced in 1994 in the convertible two-cylinder model, and ran until 1997. The Super Single-Six in .17 HMR was introduced in 2003.There was even a centerfire Super Single-Six in .32 H&R Magnum from 1984 to 1994.
Today there are no fewer than 10 variations of the Single-Six available in .22 LR with an additional cylinder in .22 WMR, including a very traditional blued, fixed-sight revolver. Some are distributor exclusives and may be limited in run size. For those who prefer shooting to reloading, there are Single-Nine and Single-Ten models with 9- and 10-shot cylinders respectively. There is even a brand new budget version, The Wrangler, which was introduced at the 2019 NRA Annual Meetings and Exhibits.
Like virtually all Rugers, the Single-Six single-action revolver is almost impossible to wear out. The basic design has been around for 66 years, and these revolvers continue to sell well each year. That's a well-earned reputation to be in constant production for such a period of time.