by
posted on December 24, 2019
Support NRA American Rifleman
DONATE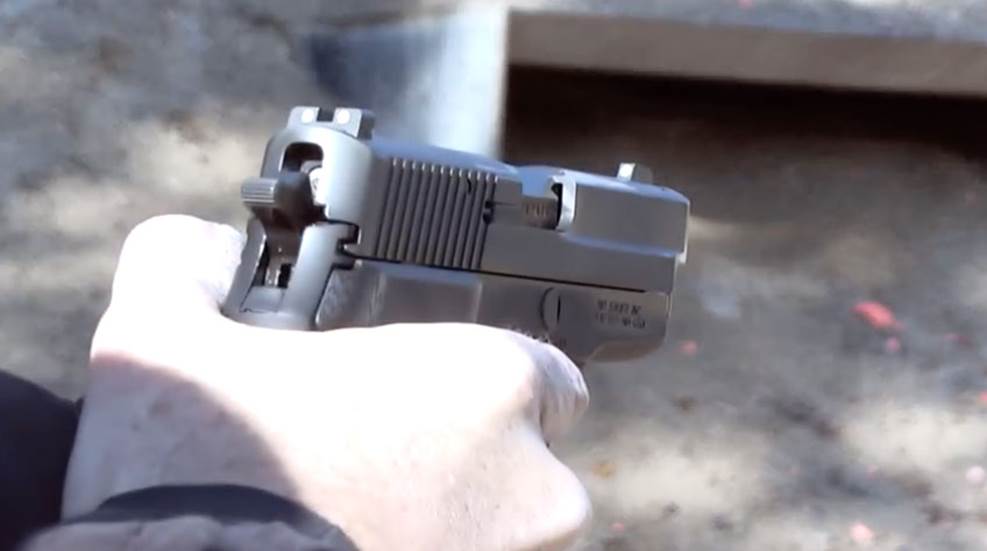 SIGSauer.com images

SIG Sauer is in the driver's seat these days. Nailing down a huge pistol contract for the U.S. military means millions in income with the M17 and M18 semi-automatics. It is also likely that the G.I. identification will cause the same pistols to sell better than ever before in law enforcement circles. Further, both military and police use of a handgun has traditionally increased civilian interest in that arm. The various models and calibers of the 320 series guns (M17 and M18) are the company's big bread winners, but the remaining handguns are still popular—and there are a lot of them. The New England firm has recently brought out the elegant P210 in several variations and other traditional models in the all-metal P series are also popular. Nevertheless I would like to see a version of the original DA/SA pistol added to the line. That gun is the new version of the 9 mm P225, chambered for the .40 S&W and .357 SIG cartridges.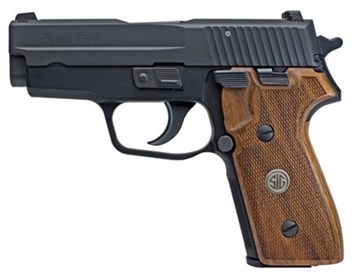 The original P225 semi-automatic came out of the German police pistol trials of the 1970s. In those times, most semi-automatics had single-column magazines, and SIG's front-runner was the P220, a rather large DA/SA gun that came as a 9 mm, .38 Super, .45 ACP and (seldom seen) .30 Luger. The test-trial mandate was to develop a smaller, lighter 9 mm pistol for use by both uniformed and plain-clothes policemen. The trials were interesting, producing innovative guns from Walther and Heckler & Koch, as well as the SIG Sauer P225. The original P225 was essentially an abbreviated version of the P220, suitably shortened in both slide and receiver length. It had one distinctive contour in the shape of the front face of the trigger guard. It was squared off and serrated for use as a support surface for the index finger of the support hand. Those original P225s enjoyed considerable popularity in Europe and smaller quantities were imported into the United States.
Clearly, it was a successful design. The P225 entered the market at a time when a single column semi-automatic was the norm. A few years later and we were suddenly ill-armed with a 9 mm pistol that sported anything less than a 15-round magazine. In order to compete, SIG Sauer worked up a double-wide rendering of the 9 mm P220 and called it the P226. It went on to unprecedented success and spawned several additions to the P-series—P228, P229 and others. But the P225 lost popularity, mostly because of the 8-shot single column magazine. Eventually, they quit bringing them into the country. There was nothing whatsoever wrong with this accurate, durable high-quality semi-automatic pistol. As a matter of fact, as the gun became less commonly seen, a corps of its dedicated fans grew larger. While the first P225s came with a heel-mounted magazine catch that did not suit American tastes, that was a problem that was quickly fixed. Other than that problem, the P225 was a great concealed-carry semi-automatic. It was particularly well-suited for use in almost any size hand.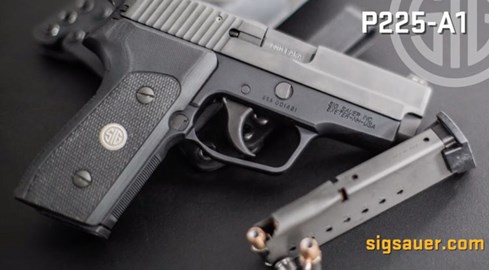 Flash forward a couple of decades later—well into the 21st century. The major handgun makers have cycled through several families of high-capacity service pistols. The currently popular guns have polymer frames and a host of other features that didn't even exist when the first P225s were imported. The marketing guys must have consulted their crystal balls or whatever and concluded that there was still a huge market for metal guns. SIG has done very well with the Legion pistol series, so a version of the P225 would seem to be a good idea from a marketing standpoint. A year or so back, the maker introduced a gun they called the P225 A1, an upgrade of the 1970s classic. Most noticeably, the trigger guard shape is now the same as all other all-metal pistols in the line—P220, P226, etc. It is also significant that the always popular, but never used, rail is missing. There are other updates, but let's look at those two first.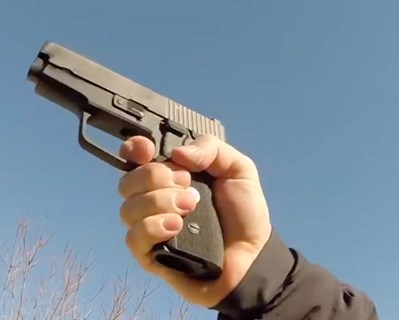 In the case of the flat, hooked trigger guard found on the original police P225 and left off of the A1 version, it is an improvement. The flat front trigger guard was used in a period of time when some training facilities taught a two-handed grip with the support hand trigger finger pulling back against the face of the trigger guard. That technique isn't as effective as you might think and has pretty much disappeared. As for the accessory rail in the front underside of the receiver, it's a feature that has value to some small percentage of the handgunning population. On a concealed-carry pistol it is ludicrous. Nobody carries a hideout gun with a light mounted—it's just too bulky and awkward. It is further ridiculous to believe that you will carry the light in a pocket and mount it after drawing the gun. SIG Sauer 's new P225-A1 dispenses with both the flat trigger guard and accessory rail and it's a better gun because of it.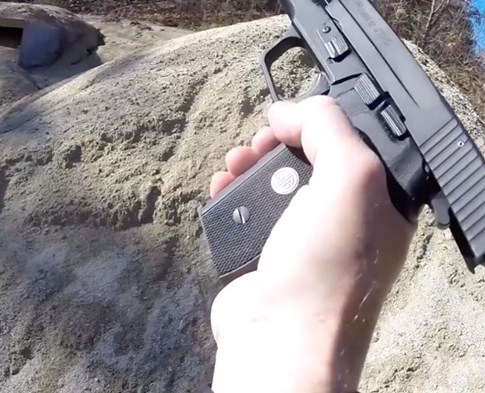 I don't currently have one of the older 9 mm P225s to compare with the A1 version, but I believe the later version has been ergonomically updated with some contour changes in the grip area. There are many highly developed high capacity personal (medium) sized guns on today's market. Not many are single-column 9 mm semi-automatics. This raises the question of why any shooter would give up another six or seven rounds of ammunition. I stood at the SIG Sauer booth at the 2019 SHOT show and watched one shooter after another pick up the sample P225. With rare exceptions, it was all sorts of oohs and aahs—approvingly. This is a pistol with an intangible feel that most shooters take to. It isn't the smallest concealed-carry semi-automatic, but you can hide it with relative ease. It shoots very well and has the maker's superior DA/SA, decocker-no safety lockwork. This is a really nice handgun and I see only one way to improve it.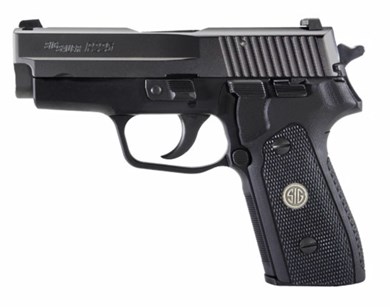 Chamber the gun for a more powerful cartridge. Make the A2 version of the P225 a .40 S&W and/or a .357 SIG. Mechanically, it should be relatively simple to change the guns to a cartridge that's a bit large in diameter, but the same in length. Both cartridges are larger, so the single stack magazine would have to give up at least one, maybe two, rounds. Since the .357 SIG was derived from the .40 S&W, it is readily possible to convert a Forty to the other caliber with a simple barrel change. With a P225 in .357 SIG, it is possible to go armed with a concealable modern pistol holding at least seven (6+1) 125-grain JHPs. By empirical testing, ten different .357 SIG loads average 1350 fps, easily outrunning an average of ten similar 125-gr. .357 Mag. revolver rounds. This is in barrels of similar length.
This comparison may be a little surprising, but nonetheless true. It means that the SIG P225 in their own proprietary caliber is a powerful defensive package. I don't mean to imply that it is somehow "better" than the .357 Mag., which is available in a wider range of bullet weights, fired from revolvers with greater or lesser barrel length.
The SIG Sauer P225 A1 9 mm is a very appealing semi-automatic pistol, as it is presently offered. As discussed, any possible limitation for this gun lies in the 8+1 capacity. Chambering the gun for cartridges of better performance might increase its appeal. We'll never know until the maker runs a batch of these things.
Additional Reading:
Tested: SIG Sauer P225-A1 Nitron Compact Pistol  
Wiley Clapp: The Best SIGs Ever?