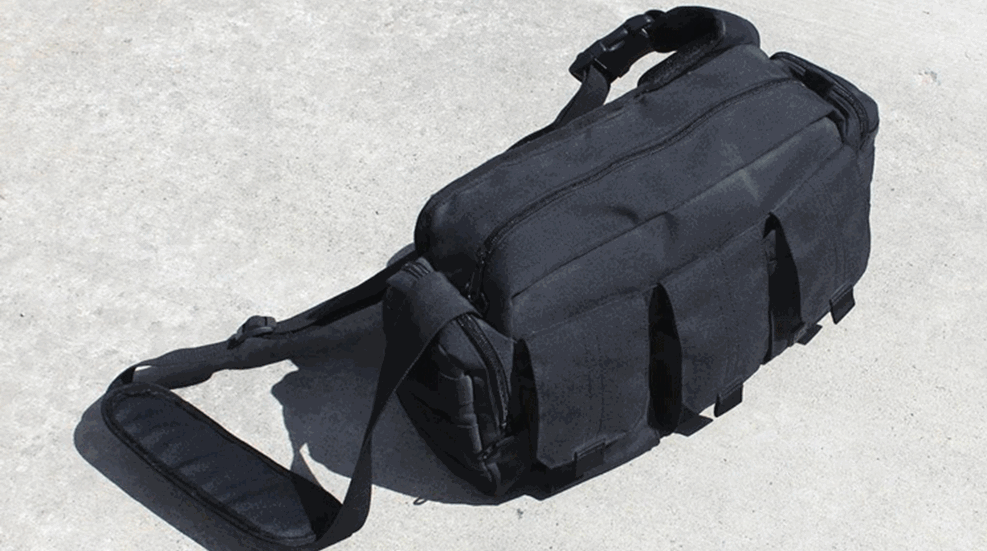 It's easy in this modern world of ours to take our life-support systems for granted until we take a big step outside of them. Folks who enjoy camping, hiking, fishing and hunting know just what I'm talking about. If you forget to pack the two-ply, you're just plain out of luck. In addition to everyday necessities, nature lovers have given some serious thought to the supplies they want to have on hand to help them survive should they get separated from their primary sources of support by becoming lost, hurt or stuck in a less-than-ideal situation. 
Outdoor emergency kits provide an important set of tools to support a person's physical needs as they make their way back to camp or wait for rescue workers to find them. These kits can be assembled from scratch or purchased ready-to-use from a variety of manufacturers. The contents often include handy items such as fire starters, thermal blankets, compasses, water purification and signal mirrors. Outdoor survival kits, along with defensive everyday-carry sets, 72-hour kits and car trunk kits are all important types of emergency preparedness that I highly recommend keeping at hand. 
But how does one go about preparing for emergencies in urban and suburban areas that cause damage to buildings, knock out utilities or shut down transportation systems? In the months following the September 11, 2001 terrorist attacks, I found members of various online preparedness forums discussing urban emergency kits. Based on interviews and comments of the survivors, forum members worked out lists of items that helped them through these emergencies (or were sorely missed in their absence) and how to pack them for easy access and transport. 
Thankfully, we have managed to avoid another terrorist attack of the scale and impact of 9/11. Unfortunately, smaller scale man-made emergencies and natural disasters including floods, earthquakes and storms are still a reality. 
Since everyone's needs, circumstances and geographical locations vary so greatly, there is no fixed formula for assembling an urban survival kit. Instead, you'll need to figure out which items are the best fit for you. Here are some tips and ideas to help you get started. 
Single-Strap Bags, Utility Boxes and Compact Kits
Urban emergencies tend to require either an immediate evacuation (possibly through hazardous areas) or hunkering down to await the assistance of first responders. Since there is no way to know for sure which will be required, it makes sense to package urban kits so that they are easy to carry in an evacuation, quick to access when moments count and filled with supplies that will be helpful in either situation. Here are three different packing methods to consider. 
My urban emergency kit was first assembled in the early 2000s. I have made some modifications over the years but it remains essentially the same, including the old school tactical range bag that I have yet to upgrade. It was organized using what some folks call the "Jack Sack" approach, which is named in honor of the "24" television series character Jack Bauer. His ever present canvas messenger's bag was always kept at hand to help him make it through another challenging day.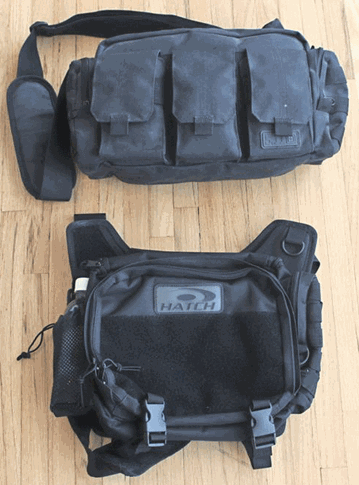 Single-strap bags have several advantages in addition to being easy to transport. They are easy to slip on or take off regardless of the clothes one happens to be wearing on a given day. They can be positioned at the hip or along front of the torso for easy access or pushed around to the back to get them out of the way. They can also be used at the same time as other bags including backpacks, purses and brief cases. There's a wide variety of single-strap bags to choose from including range bags (top), purpose-built tactical bags like Safariland's Hatch Model S7 Sling Pack (bottom), sports bags and re-purposed used bags including laptop cases and camera bags.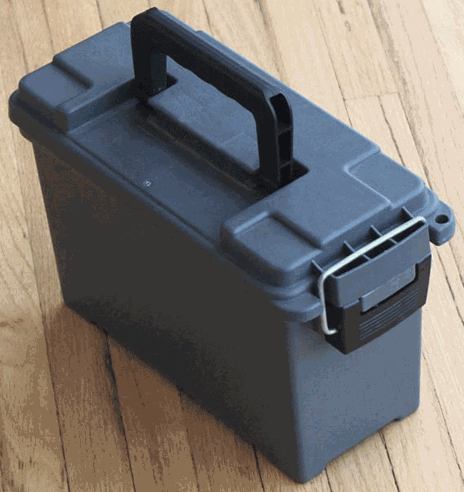 Some folks, however, are not so interested in just one kit to carry to and fro every day. Instead, they prefer to pack multiple kits that can be tucked away until needed in handy locations such as a filing cabinet at work, in the car and near the bed at home. Inexpensive utility boxes with water-resistant seals are a good choice for storing emergency supplies. They are unobtrusive, the flip-top lids provide immediate access to their contents, and some models can be locked for added security. Utility boxes can also be used to protect sensitive electronics and documents from water damage.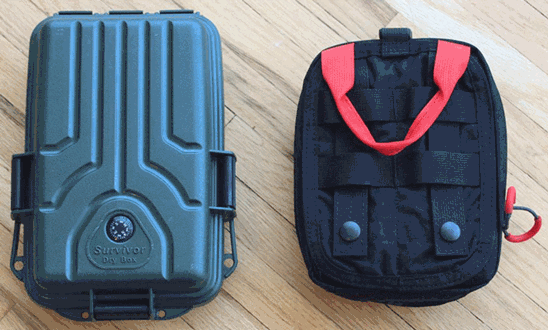 For those who already hall around some form of luggage as part of their daily routine (backpack, brief case, large purse), it may make more sense to assemble a compact, supplemental kit. This is a common practice amongst outdoor enthusiasts to prepare compact kits which can be kept in a pack or coat pocket. Small hard cases and zipper pouches work nicely for pocket-sized kits. 
Illumination and Power Supplies
I still remember reading an interview with one of the Twin Tower survivors. He said that perhaps the most challenging aspect of the evacuation was the near total darkness of the stair wells when the power failed. Hundreds of people were trying to make their way out of the destruction and confusion without any light. Now he was in the habit of carrying at least two or three flashlights with him at any given time.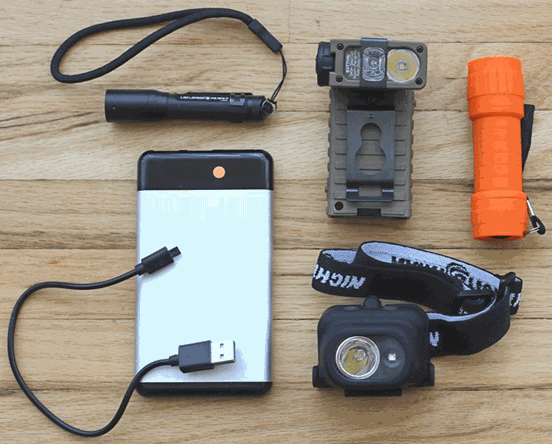 Thanks to advancements in LED technology, it's easy to find powerful, compact flashlights in a variety of shapes, sizes and price points. A key chain light is one and a cell phone with a lamp app is two. Throw a small hand-held light or a head lamp in the kit and that's three. A portable power supply (left) can be used to keep a cell phone running or to power rechargeable flashlights. 
Protective Gear and Clothing
In wilderness survival situations, it's imperative to protect the body from the elements. Wet, cold weather saps vital energy while scrapes and cuts from rocks and trees can lead to dangerous infections.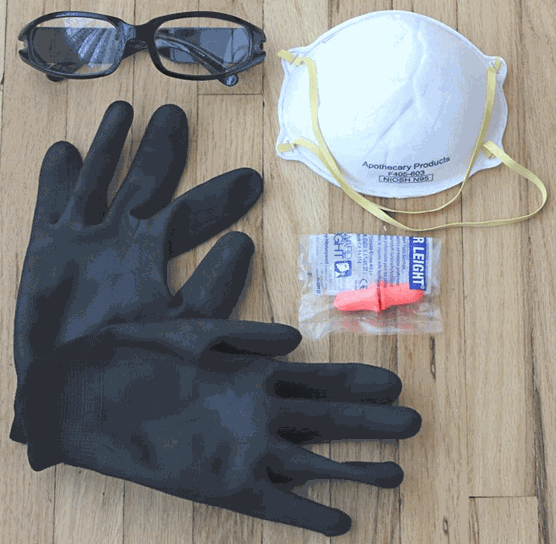 In an urban emergency, the causes of physical danger may be different, but protecting yourself from them is just as important. It may be necessary to evacuate through treacherous areas filled with air-born dust, jagged building materials and uneven surfaces. A simple, inexpensive set of safety gear, including a dust mask, safety glasses, foam ear plugs and work gloves, can make a difference when moving to safety or assisting others.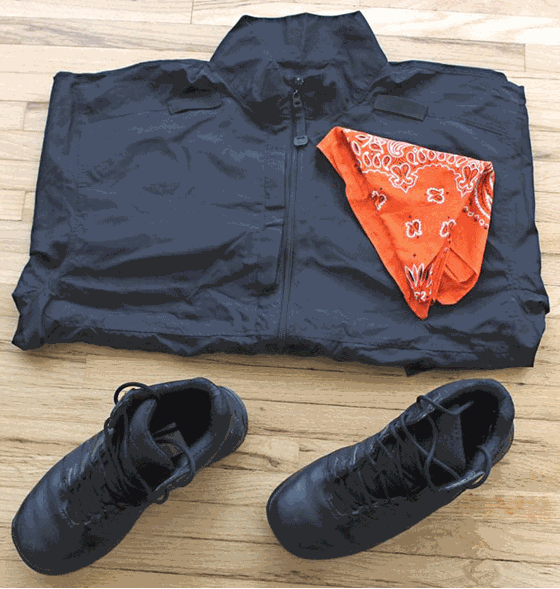 Protective clothing is a good idea too. Shown here is a multi-purpose light jacket that can be rolled into a compact bundle. It can provide protection for bare skin and insulation. The Scouts in the audience already know that a bandana has a multitude of uses and should be included in any kind of emergency kit. For those who wear "decorative footwear" to work (high heels, loafers), I highly recommend keeping a pair of sensible shoes close by. 
Knives and Multi-Tools
No matter the emergency, few tools are as portable and useful to have on hand as a well-made folding knife. I've carried pocket knives of various types all of my adult life (when it was legal to do so). Unlike the geometry lessons I sat through in Junior High, I use them almost every day. Multi-Tools and Swiss Army knives provide useful knife blades in addition to a variety of other tools in a compact package.
Each of the United States has its own knife regulations governing which knife types, blade lengths and mechanisms are legal to own and carry. Make sure the knives you select are in harmony with those regulations. 
First Aid
The amount and types of first-aid gear to be included in a kit will be determined by how large the kit is, and how much training the individual preparing it has received. Much of what we need in the way of first aid in an emergency has to be stored between our ears. If it's been a while since you've received any first-aid training, now would be a good time to bone up.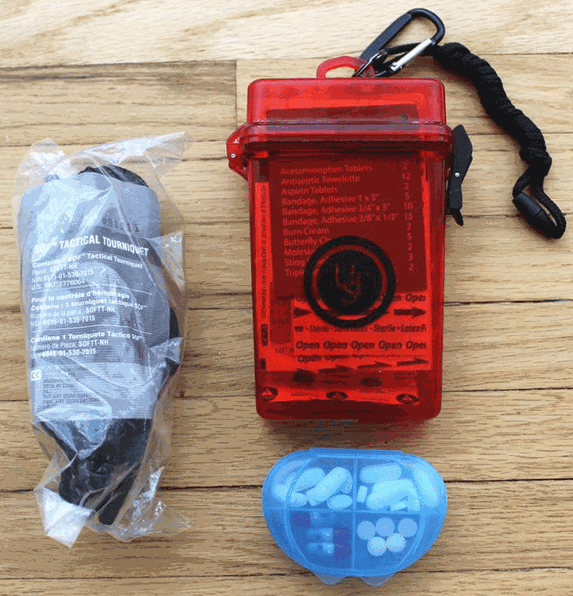 Portable Calories and Potable Water
It makes sense to have some high-energy foods and water in an emergency, especially if you have to wait for rescue. Unfortunately, disposable water bottles are prone to leaking out or drying up while perishable high-energy foods become stale or rotten when stored for long periods of time.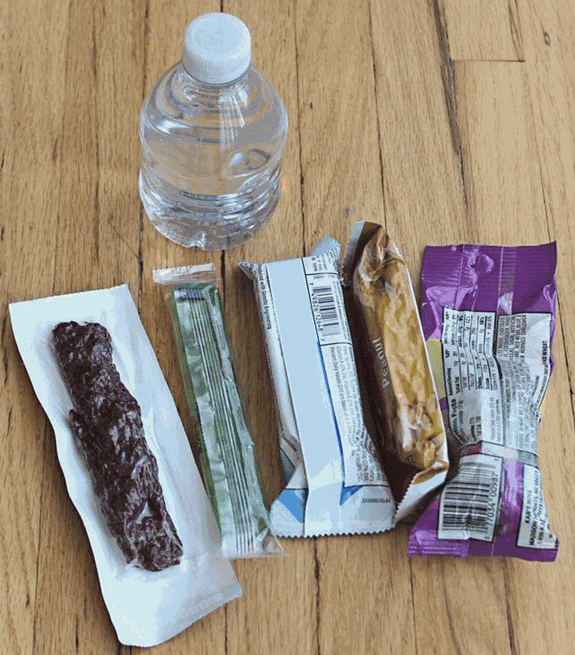 As I've worked with emergency kits over the years, there seem to be two ways to tackle kit calorie and hydration problems. The first option is to purchase food and water specifically packaged for long-term storage (1-5 years). The other is to keep your kit near a supply of snacks and water that are rotated out regularly. Those who work in corporate office buildings would be wise to have a water bottle or two on their desk with some trail mix, granola bars or such in a desk drawer. These can be scooped up and dropped into a bag if needed. 
Including a Defensive Firearm
The answer to this is yes, I do believe that including a defensive firearm is a good idea if your circumstances allow. The inclusion of a gun might justify changing the name from "urban emergency kit" to "tac pack" or "bug-out bag", but I'm not going to quibble over definitions this time around.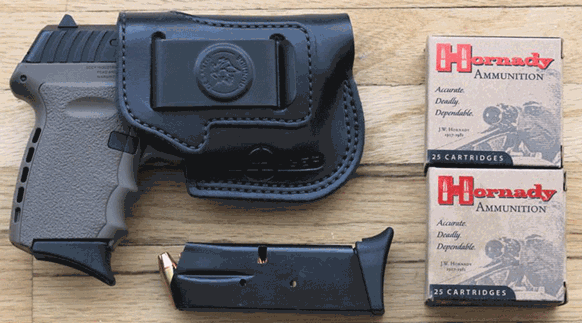 The most important factor to keep in mind when including firearms in an emergency plan is that they must be secured at all times. This means the gun is either on your person or locked in a secure storage container. Some folks just tuck the whole kit, with the gun inside, into their safes and locking security cabinets, or the kit is stored next to a lock box that secures the gun when not in use. 
As with any defensive firearm, be sure to practice with your kit gun and keep it properly cleaned and lubricated. Pack whatever you think is best, but it might not be a bad idea to have a gun in your kit that shares the same caliber of ammunition (and magazines) as your daily-carry piece. 
Focus on Options, Not "Solutions"
It seems like a discussion of emergency preparedness, no matter the type, will inspire someone to point out the obvious: "It's not possible to plan for every contingency, Gil. I can't keep an emergency kit strapped to my body everywhere I go, 24 hours a day! What if I'm not near my kit when I need it ...", and so on. 
I agree. There are no turn-key, all-purpose preparedness solutions that can be purchased for three easy payments of $19.99. Trust me, I would be the first to pull out my credit card if there were. However, the fact that it's not possible to be completely equipped for everything that might happen is not a good excuse for making no preparations at all.
Instead, we should be looking for those options that can be kept handy in case of a crisis. Adding a bandana to my daily-carry set, won't solve all my potential problems. However, in a pinch, it can be used as a dust mask, a temporary bandage, a tourniquet, a flag to signal help, a rag and a handkerchief. Now imagine what you could pull off with a sling pack filled with useful stuff like that and you'll be headed in the right direction.
What would you want to have in your urban emergency kit? Please share your thoughts in the comments section below.