by
posted on March 30, 2018
Support NRA American Rifleman
DONATE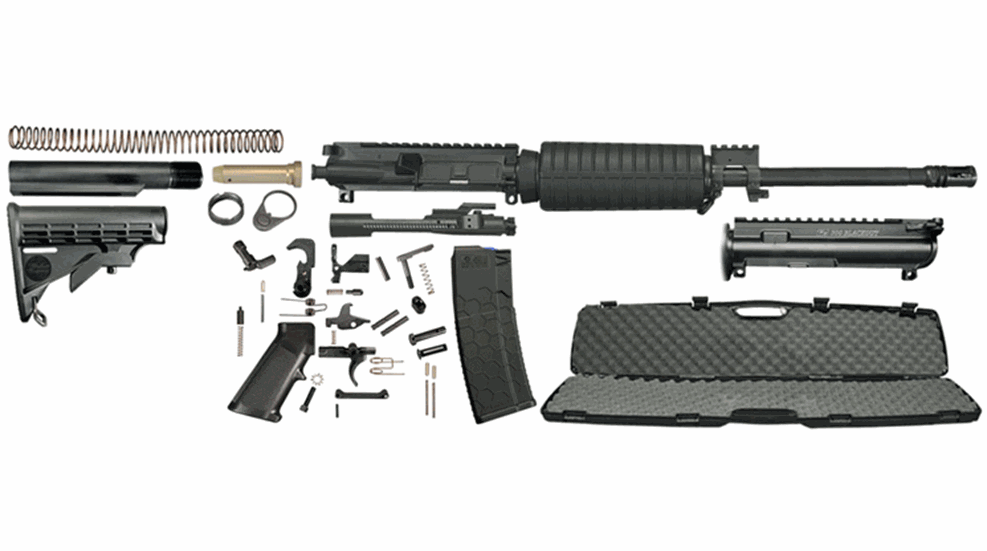 As of this writing, the ever volatile AR market has slowed down enough for factory complete rifles, components and kits to return to much more sensible and, in some cases, exceptionally affordable prices. However, the cheapest carbine on the rack is not necessarily the best value available. 
One company that has mastered balancing an AR's price against a useful set of features is Windham Weaponry. These ARs are manufactured at the Windham, Maine, factory by many of the original employees who previously built Bushmaster rifles. That is, before what is now known as the Remington Outdoor Company moved production out of state. In the seven or so years since this manufacturing company was essentially re-launched under the Windham Weaponry banner, I've come to respect what the company has to offer. I've reviewed factory complete rifles, used them in late-night competition, and incorporated the company's component kits into home builds.

With AR prices dropping across the board, the folks at Windham had to decide how to stay competitive at the budget-priced side of the market. One option was to follow what other companies have done and use lower-quality components and less-expensive finishing processes in order to cut production costs. But the company chose instead to reduce prices by passing along some of the finishing work to the customers.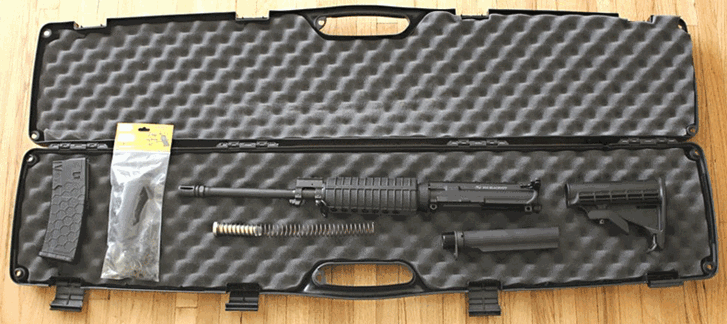 In 2017, Windham Weaponry started offering easy Do-It-Yourself (DIY) kits. The company currently offers nine different kits in a variety of calibers and configurations with price tags ranging from $610 to $735 depending on the options selected. This review takes a closer look at the .300 BLK SRC kit.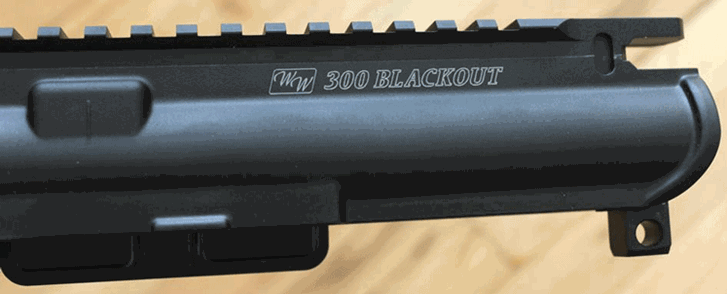 This Windham Weaponry SRC kit provides all of the components and accessories needed for a complete gas-impingement operated M4-type carbine with the exception of a lower receiver and, in this case, iron sights. The upper and bolt carrier group arrive fully assembled from the factory. This makes for a much easier build with a minimal tool set since the only assembly required pertains to the lower half of the gun.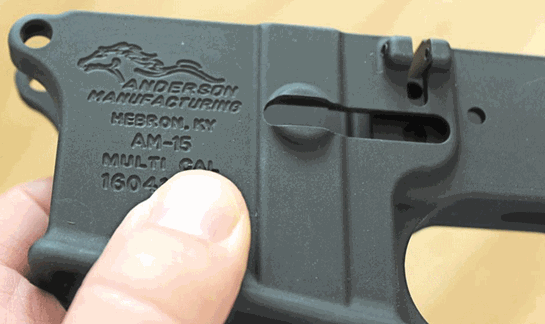 Windham isn't selling in-house lower receivers as of yet, so I opted to build this rifle around an American-made Anderson Manufacturing AM-15 multi-cal lower. These mil-spec lowers are CNC machined from a 7075 T6 aluminum forging which is then treated with a Type 3 hard coat anodized finish. What some folks don't know is that Anderson makes receivers for several other rifle manufacturers. The only real difference between these lowers and the more expensive ones is the logo stamped on the side.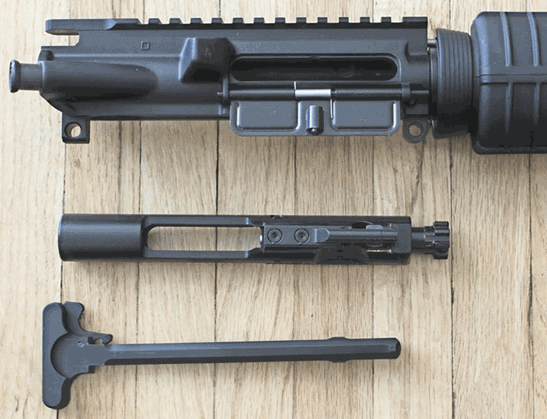 The complete SRC upper is built around an M4-style flat top upper receiver forged and machined from 7075 T6 Aircraft Aluminum with a traditional removable aluminum trigger guard and a hard coat anodized finish. The right side of the receiver is outfitted with both a dust cover and forward assist while the left side is laser engraved with WW 300 BLACKOUT for easy caliber identification. The sturdy mil-spec type charging handle exhibits a proper fit with the receiver. The fully assembled mil-spec bolt carrier group (BCG) is fitted with a bolt constructed of Carpenter 158 steel.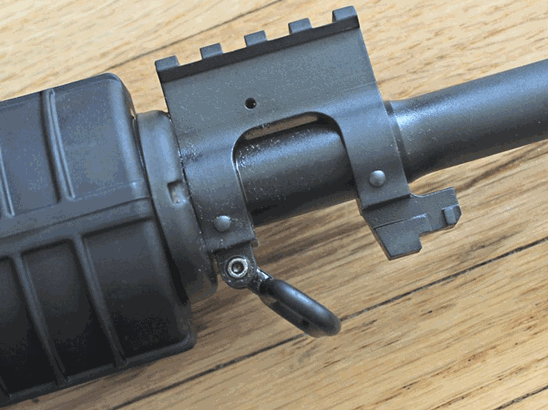 The 16" medium profile barrel is manufactured from 4150 chrome moly Vanadium 11595E steel with a matte black Parkerized finish. The rifled bore and chamber are chrome lined to increase the barrel's working lifespan, a feature often not included in other budget priced guns. The muzzle is threaded at a rate of 5/8"-24 TPI and fitted with an A2 flash hider. The M4-style handguard is supported by a delta ring and contains dual heat shields.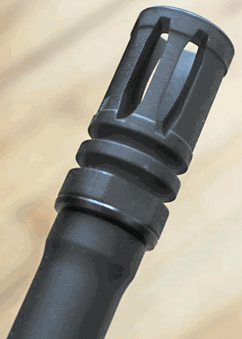 The Windham Telestock Kit includes an aluminum six-position buffer tube with mounting hardware, a high quality buffer spring and a CAR buffer. The logoed six-position shoulder stock has a textured buttplate and a fixed sling loop. The one and only change I made to the component set was to switch out the factory provided positioning plate for an aftermarket plate that supports single-point slings.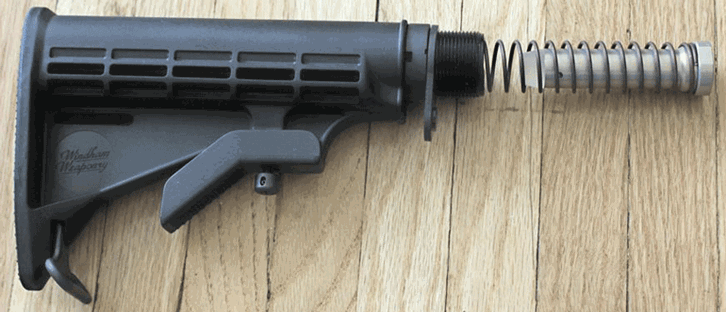 The lower parts kit (LPK) consists of mil-spec components with standard features. However, it's easy to see and feel the quality of Windham's small components in the course of a build, especially the diminutive roll pins, springs and detents. They slip easily into place and cycle smoothly. This company's LPKs are among the best I've worked with so it was a pleasure to install another one. If you should happen to lose or damage a small part in the course of building a carbine or working on a bolt carrier, Windham's Most Wanted Parts Kit is a real life saver. In fact, it's not a bad idea to have one on hand before starting a build, just in case.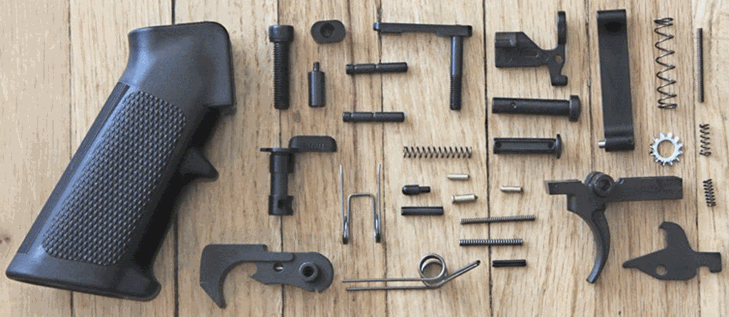 Windham Weaponry kit guns arrive with the same accessory set that the company provides with factory finished rifles. The kit arrives in a foam-lined, carbine-size hard case that is just the right size to store and transport the carbine once it's built. A single 30-round magazine is included which, in this case, was a HX-AR Series 2 model manufactured by Hexmag. A simple nylon webbing two-point sling, cable lock and owner's manual are also included. Some kit gun models ship with iron sights, but this one does not.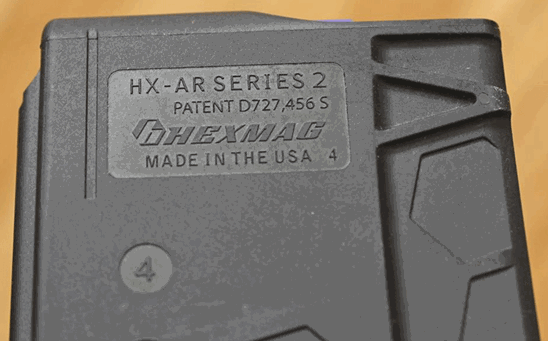 Because I've built ARs before, and the Windham components were all mechanically sound, the assembly of the lower receiver took less than an hour to complete. It only took a few more minutes to lubricate the gun and run a set of bench checks to ensure that it was ready to shoot. 
At the shooting range, the SRC kit carbine exhibited the positive qualities that I've come to expect from Windham Weaponry products. The rifle's overall fit and finish is top-notch with the upper and lower receivers fitting as snuggly together as some matched receiver sets I've worked with. The controls operated smoothly and properly without any mechanical issues. The features and furniture are typical for M4-type carbines, but I could not find anything that needed to be "fixed" on this model, including the trigger.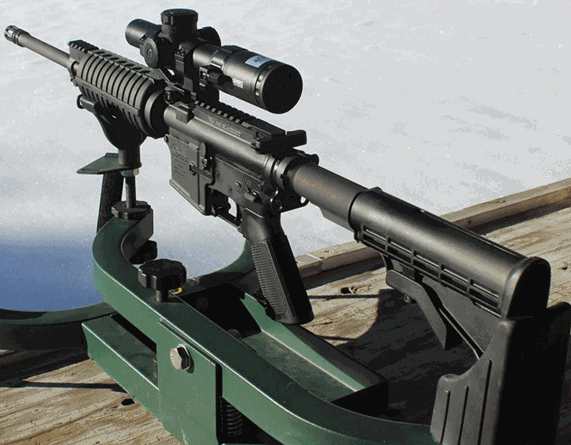 The factory single-stage trigger group provided in the lower parts kit is what I would describe as a "better than" mil-spec. Although it exhibits a 6-lb. trigger pull, it has a firm, short take up that breaks cleanly without the grittiness or sponginess that often plagues run-of-the-mil-spec trigger groups. It cycles like some of the hand-fitted service-type upgrades I've installed in other builds. The only reason I can think of to trade this trigger out is to reduce the trigger pull weight.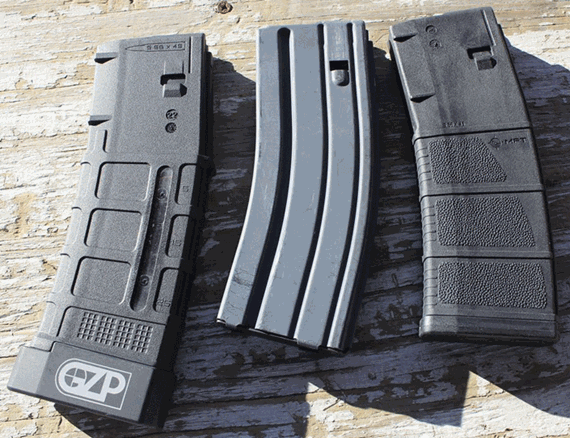 In addition to the 30-round Hexmag provided in the kit, this rifle was tested with a windowed Magpul PMAG 30 AR/M4 GEN M3 magazine fitted with a Ground Zero Precision TTI Firepower magazine extension, one of Brownells in-house aluminum body CS .223/5.56 mil-spec magazines and a Mission First Tactical SCPM556 Standard Capacity magazine. All four of the magazines fed reliably, as did the tested ammunition, so that there were no ammunition related malfunctions.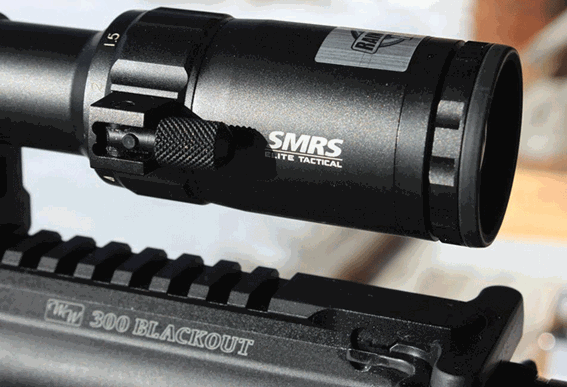 Formal accuracy testing was conducted from a bench rest at 100 yards using a Bushnell SMRS Elite Tactical 1-6.5x24 mm BTR-2 reticle scope supported by a Weaver Tactical SPR Optics rail mount. I stuck to super-sonic .300 BLK rounds for this portion of the testing, including a tactical, match and hunting load that spanned typical bullet weights for this cartridge.
The Barnes Bullets Vor-TX 110-gr. Tac-TX FB was the fasted load with a listed muzzle velocity of 2,350 f.p.s. It printed a best single five-shot group of 1.55" with a five group average of 1.72". Gorilla Ammunition's 125-gr. Sierra Match King OTM, with a muzzle velocity of 2,160 f.p.s., yielded a best group of 1.14" with an average of 1.32". The slowest load with the heaviest bullet, Winchester's Deer Season XP 150-gr. Extreme Point launching at 1,900 f.p.s., produced the tightest groups with a best group of 0.97" and an average of 1.11".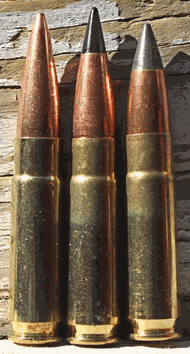 How much of a cost savings does building with a Windham Weaponry kit provide? This particular kit, along with the forged Anderson lower, came to a total of $687 (not including taxes, or shipping). In comparison, the factory version of this .300 BLK SCR carbine has a suggested retail price of $1,056, which in turn is translating to real world prices hovering around $850. That's a price reduction of $163 which can be applied to additional magazines, sights or ammunition.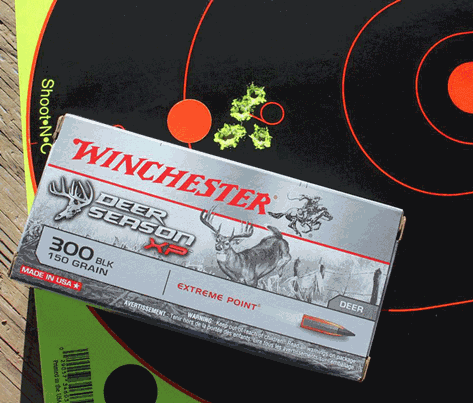 Some readers who are looking this kit over are going to say this sweat equity price point is all well and good, but there are all kinds of ready-to-use guns out there for even less right now. I believe folks should buy what they want at the prices they can afford. That being said, there's a big difference between what you get at the lowest AR price point versus the features of a kit gun like this one for two or three hundred dollars more.
The quality of the barrel, the components, and the step up in overall fit and finish makes this a rifle that will outlast cheaper models. It also provides a solid foundation for those looking to upgrade a less expensive AR over time. Do a little homework and you'll find that Windham Weaponry's rifle kits are not just a good price, but a real bargain.
For more information about how to build an AR at home, see:
Building a Custom AR-15 at Home
Building a Budget AR-15 at Home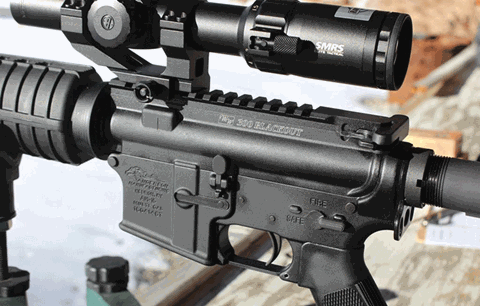 Specifications:
Kit Manufacturer: Windham Weaponry
Model: KIT-WKUR16FTB-300
Kit Contents: Complete SRC Upper with Bolt Carrier Group and Charging Handle, Complete Telestock Kit, Lower Parts Kit, One 30-Round Magazine, Hard-Side Rifle Case
Kit MSRP: $630
Lower Receiver: Anderson Manufacturing AM-15 Multi-Cal $52.24
Action: Gas-Impingement Semi-Automatic
Caliber: .300 BLK
Upper Receiver: Flat Top Forged 7075-T6 Aluminum, Mil-Spec Hard-Coat Anodized
Ejection Port Cover: Yes
Forward Assist: Yes
Charging Handle: Mil-Spec
Bolt Carrier Group (BCG): Mil-Spec
Barrel: 16" Medium Profile, Chrome Lined
Barrel Material: 4150 Chrome Moly Vanadium 11595E Steel
Rifling: 1:7" RH
Grooves: 6
Muzzle Threading: 5/8"-24 TPI
Muzzle Device: A2 Flash Hider
Gas Block: Mil Std 1913 Rail
Gas Tube: Mid-Length
Handguard: 15" Free Float, Integral Picatinny Optics Rail
Handguard Slots: MLOCK
Lower Receiver: Anderson Manufacturing AM-15
Complete Lower Parts: Windham Weaponry Mil-Spec with GI Trigger Group and A2 Grip
Trigger Pull: 6 lbs. (As Tested)
Length of Pull (LOP): 10.50" to 14.25"
Buffer Tube: 6-Position, Commercial
Shoulder Stock: Windham Weaponry Telestock with Sling Loop
Sights: None
Magazine: Hexmag Series 2 30-round Polymer, Blue Follower
Capacity: 10 to 30 Rounds
Overall Length: 36.25" with Stock Extended
Weight: 6 lbs. 2.4 oz., Unloaded, No Magazine 
Optic: Bushnell SMRS Elite Tactical 1-6.5x24 mm with BTR-2 Reticle (ET1624J) $1,822.45
Scope Mount: Weaver Tactical SPR Optics Tactical Rail Mount, 1"/30 mm (48377) $90.45