posted on January 17, 2018
Support NRA American Rifleman
DONATE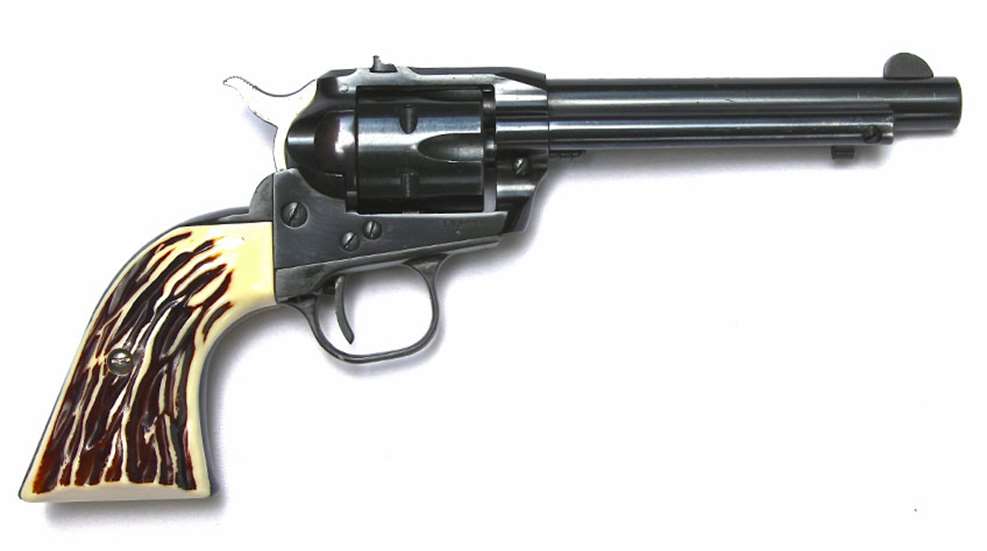 The adage that "timing is everything" was never truer than with the Ruger Single-Six, a revolver that took inspiration from the Colt Single Action Army—a six gun intrinsically linked with the American West, but which was discontinued by Colt in 1949 as being outdated. By contrast, the then-newest gun from the fledgling Sturm, Ruger & Co., flush with success from its semi-automatic .22 pistol, was a .22 single-action, seven-eighths the size of Colt's Model P, which made its appearance in June 1953.
A classic automobile aficionado, Bill Ruger christened his revolver after the 1920 Packard Single Six Model 116 sedan. With a price tag of $57.50, the Single-Six appeared on the eve of "The Golden Age of Television Westerns," with tall-in-the-saddle heroes blazing away on the new-fangled TV sets that were starting to appear in homes across America. Thus, the success of the Single-Six was immediate, not only for those who wanted a single-action as affordable to own as it was to shoot, but for anyone who wanted to emulate their cowboy idols.


The Single-Six was initially offered with a 5½" barrel; 4 5⁄8", 6½", 7½" and 9½" barrels came later. Using an unbreakable coil mainspring, it was the first Ruger gun to use investment castings, even for its chrome-molybdenum frame. The black-anodized, one-piece cast Alcoa aluminum backstrap and trigger guard was another innovative feature. The Single-Six came with checkered, hard-rubber stocks bearing Ruger's stylized eagle logo; walnut stocks were optional until 1961, when they became standard. Stag and ivory stocks were available, but rare.
Most noticeable, however, was the flat loading gate, implemented to reduce manufacturing costs. But consumer demand resulted in a Colt-style, fully contoured loading gate in 1957, around serial number 70,000. In 1973, Ruger discontinued what is now called the Old Model Single-Six and introduced the New Model, which featured a transfer bar.
This Old Model Single-Six is in 98 percent condition, with very little muzzle and ejector rod housing wear. What could be mistaken for pinprick pitting is actually imperfection in the casting. Although Ruger offers free Old Model transfer bar conversion kits, this gun retains its original lockwork, which means it must be carried with the hammer resting on an empty cylinder. Its only apology is aftermarket, but period-correct, plastic "staghorn" stocks, but it has been well taken care of. As such, it is easily worth $500-$550.
Gun: Old Model Single-Six—Second Version (contoured loading gate)
Manufacturer: Sturm, Ruger & Co., Inc.
Chambering: .22 Long Rifle
Manufactured: 1959
Condition: 98 percent—NRA Excellent (Modern Gun Standards)
Value: $500-$550
Note: Unconverted Old Models must be carried with the hammer resting over an empty chamber. Values quoted reflect unconverted actions, or with original Old Model parts included with the converted gun.