posted on January 22, 2021
Support NRA American Rifleman
DONATE
This article

, "Artistry From The Red Barn", appeared originally

in the January 2004

issue of
American Rifleman
. To subscribe to the magazine, visit the NRA membership page here and select 
American Rifleman
as your member magazine. Above: An all-blue Single-Six No. 24383 (r.), shipped to William B. Ruger, and Blackhawk No. 100, shipped to Ruger's close friend Jack Behn, lie next to an ashtray bearing the Ruger logo. One of only a handful of Ruger ashtrays made in 1950, it is one of only six known to exist today.

---
Years ago, summers in southern Connecticut were long and lazy, a time when on a clear day you could see Long Island across the sound from Southport Harbor. A fresh, crisp breeze would gently blow in, a reminder of God's grace and that life was good.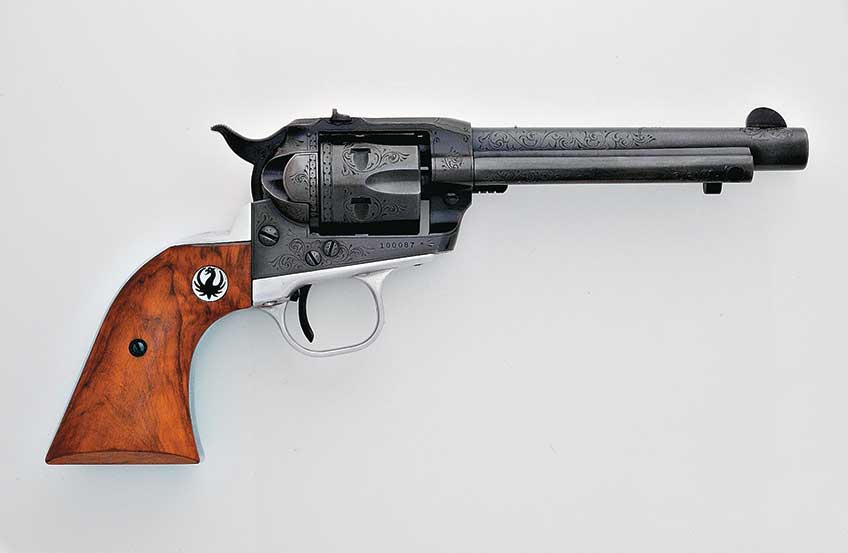 On Saturday mornings, Grasmere barbershop offered local news and opinion along with a shine and a two-bit shave using a finely stropped razor. Percolated coffee and friendly conversation was a nickel around the corner at the Horseshoe Restaurant.
Established just two decades after the pilgrims landed at Plymouth and situated in the shadow of Bridgeport, Conn., is the serene coastal village of Southport. Old timers claim that during the days of the Big War, Bridgeport was the greatest industrial complex in the world.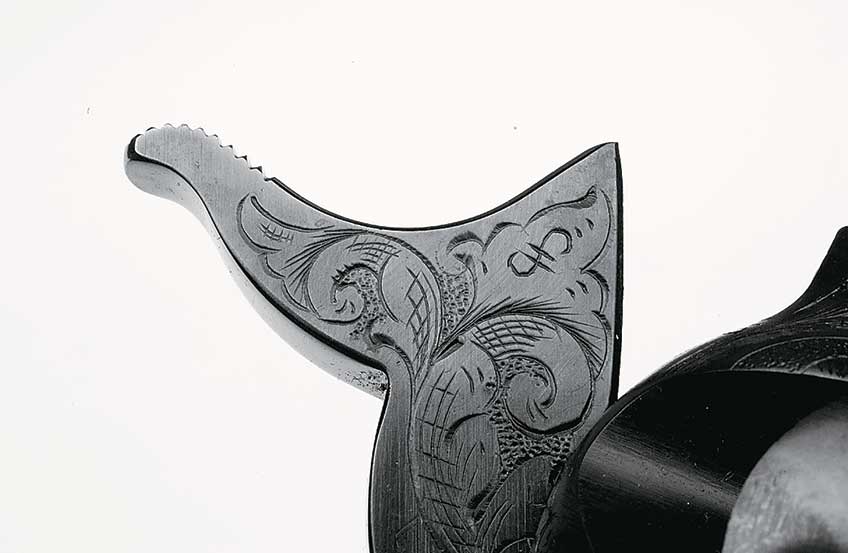 Evoking images of a Norman Rockwell painting, Southport is a small, picturesque New England town. Magnificent estates overlook the water, and some of America's most prominent families are rooted there. The small-town flavor of the early 20th century has changed very little.
Amid this tranquil storybook setting, Bill Ruger established The Ruger Corporation in 1946 to do contract machining and to manufacture a line of carpenter tools. He leased a modest complex of wood buildings across from the railroad depot on Station Street. Built before 1900, the structures served as the local lumber yard and housed Northrop Bros. Construction. The buildings are painted red and are affectionately referred to as the "Red Barn."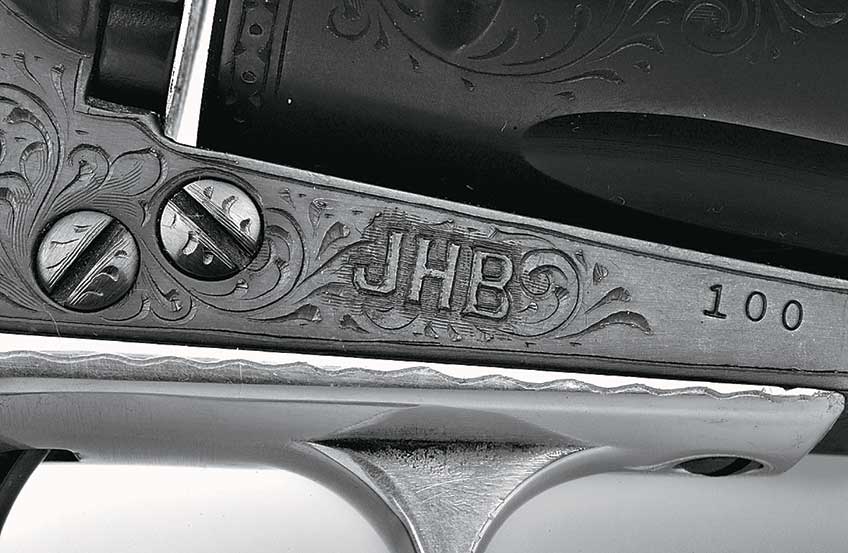 During the war years, Ruger was employed at Auto Ordnance in Bridgeport to develop and test his light machine gun design. He also worked on drawings for a blowback semi-automatic pistol during that period. In 1949, Ruger quit the tool business and, with a new partner in Alexander Sturm, formed
Sturm, Ruger & Co
. to manufacture pistols. In October of that same year, they began shipping the nine-shot .22-cal. Ruger Standard Auto.
The new pistol design was sound and reliable, sales were overwhelming and profits flowed in. By 1952, thoughts began to focus on the feasibility of making single-action revolvers. Drawings were begun and tool-room models made, market studies and cost analyses were done, and all indicated that Ruger could sell such a gun. Thus, the
Ruger Single-Six
was born. Late in December 1953, shipments commenced.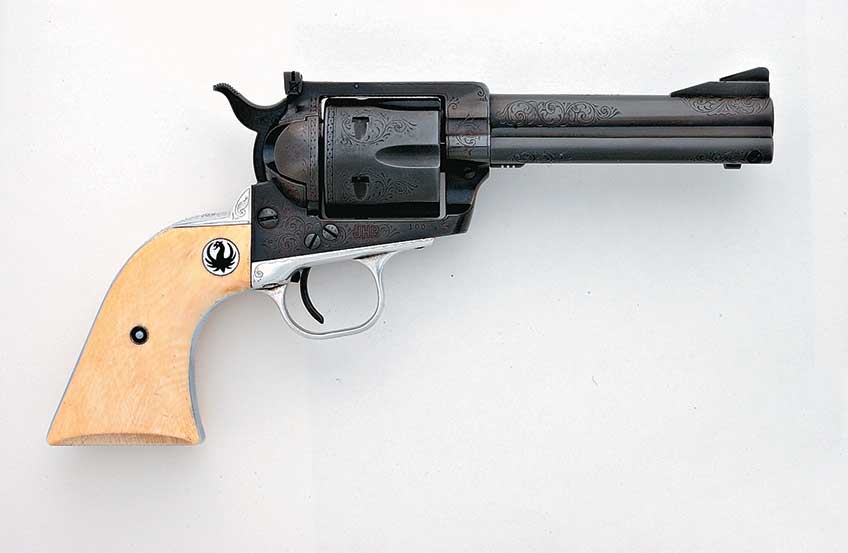 Before design and tooling of the Single-Six was finalized, distributor and dealer sheets indicated that plated and case-colored finishes would be available, however, neither was ever shipped and they were dropped from the offering. Not unlike the Standard Auto, demand for the new Single-Six was staggering.
The Ruger shops were a whirlwind of activity, with machining and assembly going full speed ahead. Photographs of the early Ruger operation show workers wearing white shirts and ties under their shop aprons. It was a glorious time in American manufacturing. Those men were professional gunmakers and metal workers who were doubtless driven by pride in what they were doing.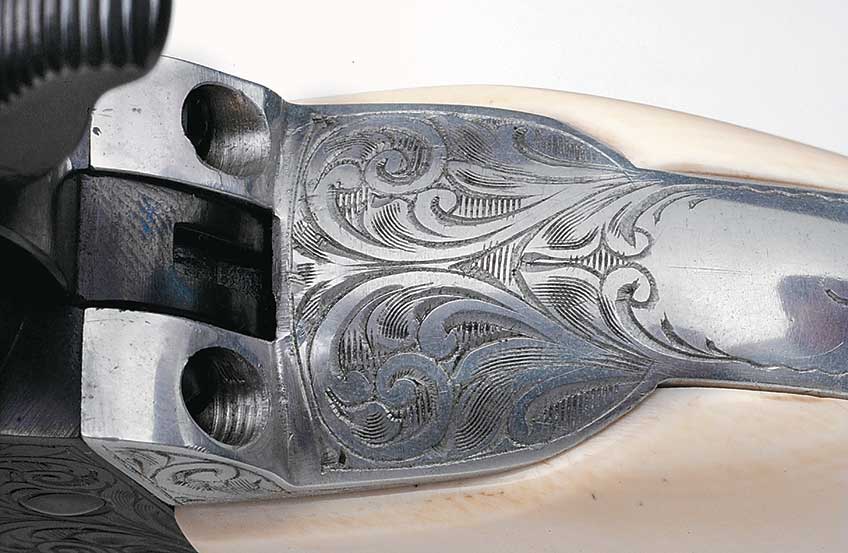 The first Single-Six to leave the factory was made in the tool room and shipped in late 1952 or early 1953 to Cole Agee, a well-known engraver of the day. The gun was embellished in a bold leafy scroll with a stippled background. It was plated with silver and gold and inscribed "To John T. Amber With the Compliments of Col. Ruger." That remarkable Single-Six was specially prepared so that it could appear on the cover of The Gun Digest. It was also the first factory-engraved Ruger revolver.
Along with a sense of urgency to produce and ship quantities of pistols and revolvers was the ever-persistent day-to-day process of running a growing business. There was material acquisition, off-site component fabrication, drawing, R&D, marketing, receiving, advertising, new-product development and the perfecting of those already in productionムthe list went on and on. Bill Ruger even found time to explore the idea of offering a cased and engraved version of his new Single-Six.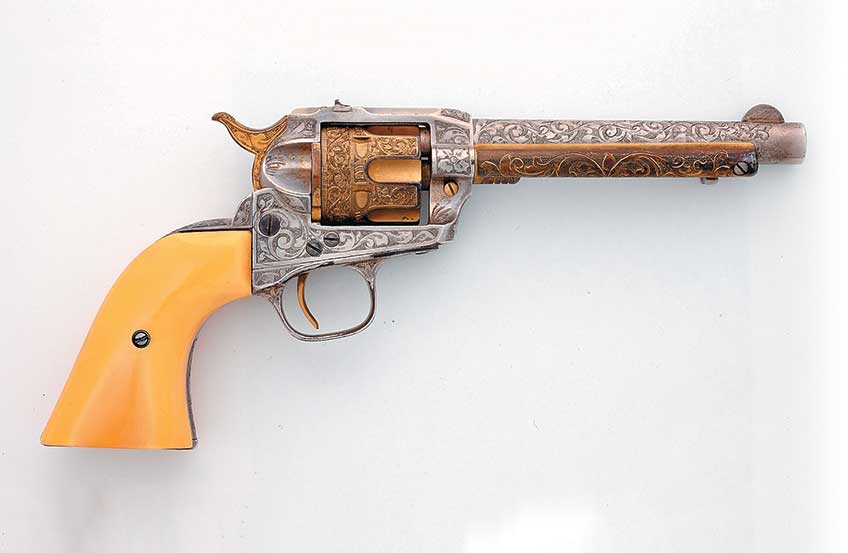 Urged by John T. Amber, a talented young engraver named Charles H. Jerred began corresponding with Bill Ruger about the possibility of doing the engraving. Jerred apprenticed under Albert Kraus at Hunter Arms, the company that made L.C. Smith shotguns. Jerred completed a sample of his work on a Single-Six in October 1954, serial No. 4177. The gun features floral patterns reminiscent of those seen on the L.C. Smiths.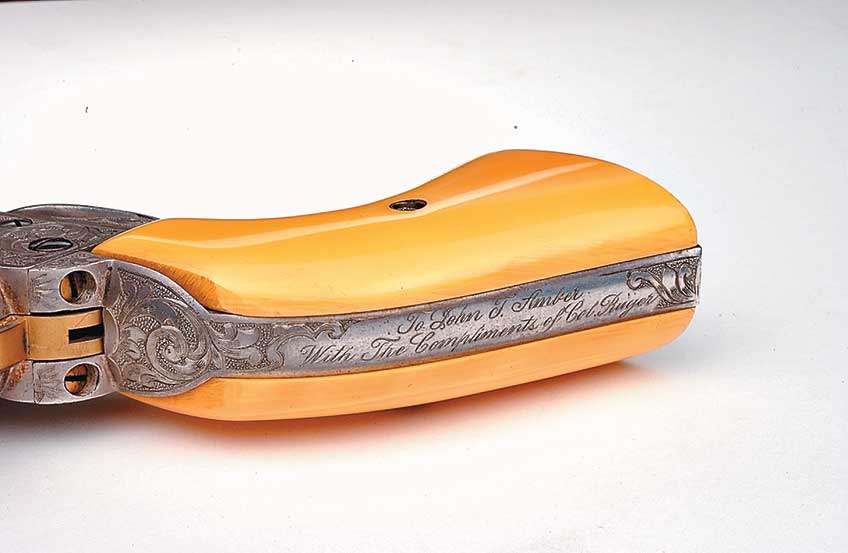 In December 1954, Ruger exported 22 Single-Six revolvers to Spain for engraving via Firearms International. The guns were engraved and returned in early 1955. That group consisted of at least seven guns engraved in five distinct sample patterns. A few exhibit rather sparse coverage while others are profusely engraved with bold, flowing scrolls and a stippled background. The remaining 15 guns are identical and feature full coverage with a deeply cut and busy floral pattern. Those who seriously collect Ruger revolvers consider the Spanish-engraved guns a sort of "holy grail."
Other engravers were submitting samples of their work on various parts provided by Ruger. However, in the end, Ruger would keep Jerred busy and get him to agree to engrave the guns for $25 each.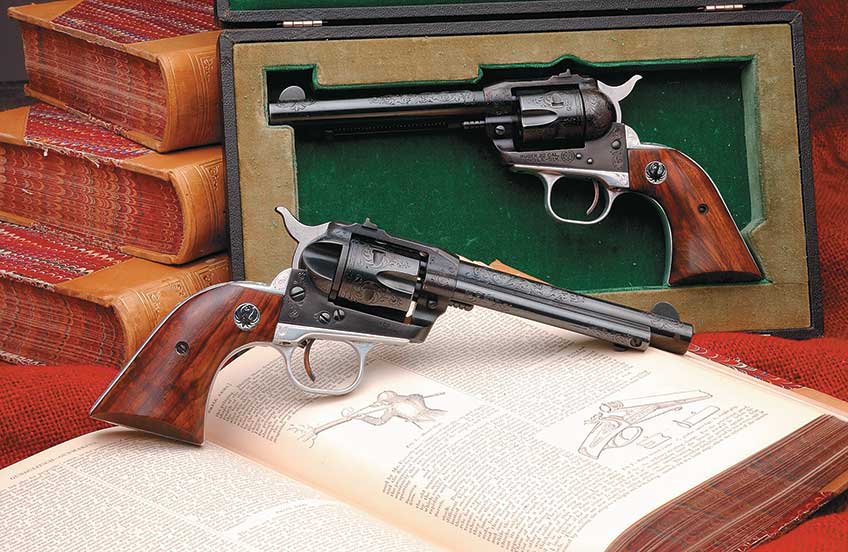 Ruger shipped 238 Single-Sixes to Jerred for engraving from 1954-1958. There were 14 shipments, and a series of four engraving patterns was developed and refined. Establishing a Standard Pattern took awhile, roughly until the end of 1955. A Revised Standard Pattern was agreed upon by March of 1956, and no additional significant changes were made thereafter.
Influenced by the engraving patterns seen on L.C. Smith shotguns, the earliest Jerred-engraved guns total 24 examples in two groups with very different Acanthus leaf patterns with a finely stippled background and hatched shading. Ruger collectors actively seek those guns today. There are 214 Standard and Revised Standard Patterns that exhibit a simplified version of the delicate scrolls seen on fine British shotguns and those, too, are sought by collectors.

Charles H. Jerred received a letter dated May 19, 1958, informing him that the engraving program was being suspended. He engraved and inscribed a few special-order presentation guns in the years that followed.
A few years later, Jerred entered the University of New York at Oswego and went on to become the head of the physics and astronomy department.
The foregoing series of guns represents Ruger's most prominent engraving project and are recognized as the most collectable of all Ruger arms.
About a half-mile away from the Red Barn as the crow flies, Ruger built a new modern facility in 1958, designed specially to manufacture pistols and revolvers. Ruger hosted an open house celebration and a luncheon that was held at the Hunt Club in January 1959. The Red Barn at Southport had become too small for a company that would go on to become the largest small arms maker in America.