At 21 years of age, Marine Pvt. Harry K. Tye was fresh-faced and ready to serve his country. He went missing in action on Nov. 20, 1943 in one of the bloodiest battles of the Pacific Theater in World War II. After 73 years of waiting and almost two years of searching and verification, he was finally laid to rest in Arlington National Cemetery March 28, 2017.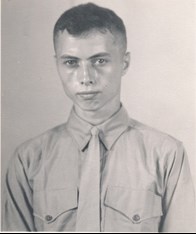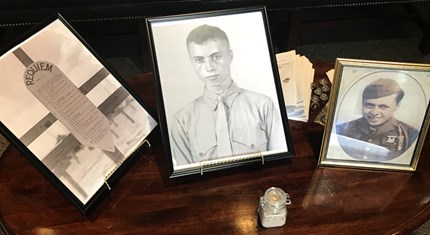 Left: Pvt. Harry Tye. Right: A display shows photos of Pvt. Harry Tye, his epitaph, and the sand from his burial site at the Arlington National Cemetery Administration Building.
On that rainy Tuesday morning, members of Tye's family, Marines from Company E, 2nd Battalion, 8th Marines, 2nd Marine Division, veterans and many others, as well as visits by Secretary of Homeland Security John Kelly and Secretary of Defense James Mattis, were present to pay respect to the Marine. Tye received a full military burial with caisson. He was born in 1922 in Orinoco, Ky., but grew up in Gallagher, W.V.; several surviving members still reside in the state.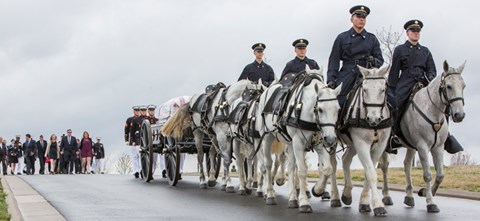 A military escort and caisson transport Pvt. Tye to his final resting place.
"I knew he passed as a very young man at the battle of Tarawa, and his remains were never found. The family struggled with that greatly for many years," recalled Dave Tincher, 50, of Murfreesboro, TN, the great-nephew of Tye and representative for the family at the service. Tincher himself served 14 years in the Air National Guard.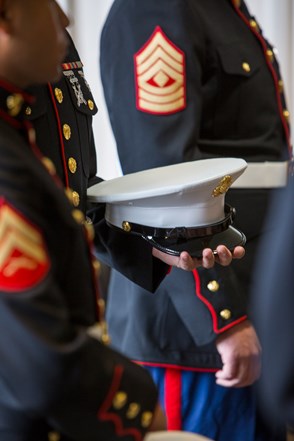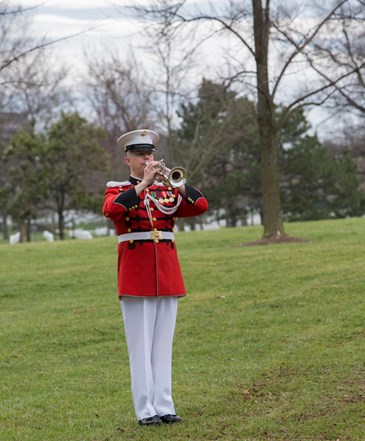 Left: Marines from Company E, 2nd Battalion, 8th Marines, 2nd Marine Division stand at attention. Right: A lone bugler plays "Taps" during the ceremony as the flag is folded to be handed over to Pvt. Tye's family.
The loss of Tye was one of great contention. According to Tincher, his grandfather Fred joined the Peace Corp and went overseas to Japan for three years in an attempt to find his son, but returned home empty-handed. "He didn't accept that he was dead because he didn't have the remains. When he came back he wasn't the same, their relationship [the family's] was never the same. My grandmother was never the same." Fred died in 1973.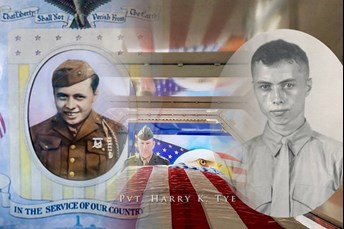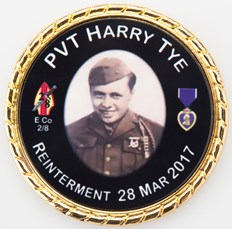 Left: A composite photo of Pvt. Tye and his escort SSGT Nicholas Brundige. Right: A challenge coin was handed out commemorating Pvt. Tye's sacrifice and service.
Dolores Baldwin kept her brother's picture over her mantle until the day she passed, and spent every Christmas and passing of Harry's birthday remembering him. "On his birthday she always cried and talked about her brother," he said.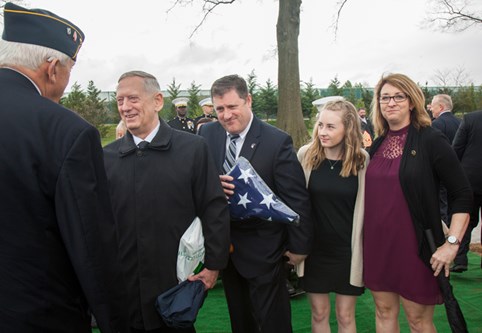 Secretary James Mattis shakes hands with Kurt Hiete, with the Tincher family looking on.
Secretary Kelly was appreciative of the Marine's service, commenting, "If you're a Marine, you understand what Semper Fidelis means, and if you're not you probably wouldn't appreciate it. Semper Fidelis is all about being faithful." Secretary Kelly visited his son's grave prior to Pvt. Tye's service.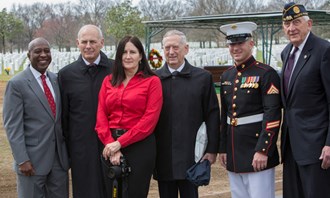 Left: Dave Tincher, his daughter Morgan, and wife Lori, speak with a representative about funeral proceedings. Right: SGT Maj Kent., DHS Secretary John Kelly, Secretary of Defense James Mattis, Katherine Rasdorf, Funeral Director and Pvt. Tye's Escort SSGT Nicholas Brundige, and Kurt Hiete.
Tincher's wife Lori, and daughter, Morgan, also attended as representatives for the family. Stating the family was in shock when they received the news, Lori found the reclamation efforts amazing and feels it is wonderful that Tye has finally come home. "It was good closure. I think it gives you comfort, even though several [members] have passed, they needed the closure and it feels like we're doing it for them. It makes us feel good to do it for them and then put Harry in a place where he can rest in peace. I think he [Dave] is just honored to be here to represent and put him to rest for his grandmother. He can feel like she can be at peace also, knowing that we found him."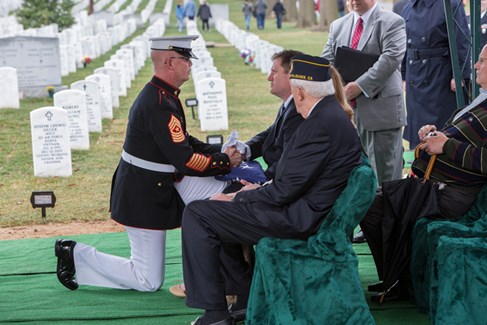 Sgt. Maj. Joseph Gray presents the flag to Dave Tincher. 
Tye fought and died on the island of Betio in the Tarawa Atoll of the Gilbert Islands, now the Island of Kiribati. Though no exact time can be determined for his death, Tye, along with nearly 1,000 other men, perished on the beach. The battle proved decisive and allowed the U.S. Navy Pacific Fleet the ability to launch assaults against the Japanese as they advanced their campaign through the war.
A rough estimate of around 2,000 were injured at Tarawa. Due to the speed with which the military had to return the island to habitable condition, the bodies were placed in mass battlefield graves with the intention of later reclamation efforts by a graves registration unit. Though maps had been made indicating the burial sites, the island had been graded for habitation and the sites were lost. AGRS Teams found about half of those that had been originally buried. In 1949, a military review board declared that Tye's remains could not be recovered.
Enter History Flight, Inc., a non-profit organization that has dedicated itself to preserving and honoring veterans, going back as far as World War II. One of the largest projects by the organization is the recovery of military member's remains. They work with the Defense POW/MIA Accounting Agency (DPAA), whom they notified in June of 2015 of the discovery of a lost cemetery on Betio Island and the recovered bodies of 35 U.S. Marines. They believed, and later confirmed, that the remains were of those who fought in Tarawa in November 1943.
The Marine Corps Casualty Office contacted Tincher and his family approximately 18 months ago with incredible but hopeful news for the family. "I just got a phone call that said there's some work that's been done, we have found a grave that had several military members in it, and possibly based on the information it could be your great uncle," Tincher recalled. In order to prove the connection, a DNA test was requested by the DPAA.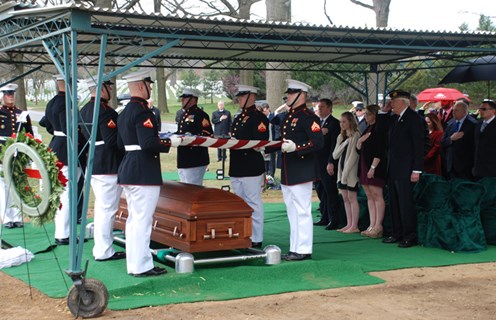 A flag is held over the casket of Marine Pvt. Harry Tye as DHS Secretary John Kelly and Secretary of Defense James Mattis stand in the background with their hands over their hearts.
"Initially I wasn't sure that it was real or not, but after doing some more research on History Flight and what was going on, I realized it was real, but I didn't want to become too hopeful. They let us know what the process would be and they were very true to that timeline. We got a call roughly four months later. We have a match, we're certain," he said. "America made a promise to bring them home, and now my grandmother's been gone for 10 years, but it still feels like I'm doing something that she wanted done today." Baldwin had stated that if Tye was ever returned home, she wanted her brother buried in Arlington.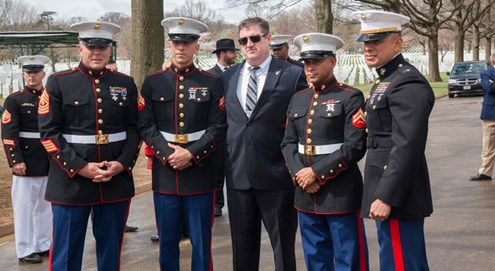 The four Marines who made the 360-mile trip from Camp Lejeune, N.C. to Arlington were First Sergeant Spencer, Corporal Espejo, Corporal Gonzales, Jr., and Captain Rodriguez. Dave Tincher posed for a photo with the gentlemen.

Present at the ceremony were current members of Pvt. Tye's company. Part of the tradition, spirit and ethos that is inherited and taught to Marines, the bonds of brotherhood of these servicemen speaks volumes of the unspoken vow they share to always take care of their own. The interment was given full honors, as is done for members who fought in Tarawa. The four Marines who made the 360-mile trip from Camp Lejeune, N.C. were First Sergeant Spencer, Captain Rodriguez, Corporal Espejo, and Corporal Gonzales, Jr.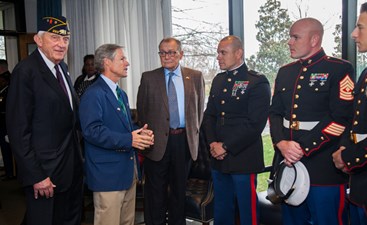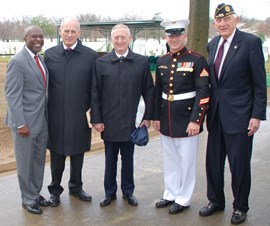 Picture Left: Kurt Hiete, Clay Bonnyman, grandson of Medal of Honor Recipient 1st Lt. Alexander Bonnyman Jr., Karl Pierson and Marines Captain Rodriguez, First Sergeant Spencer and Corporal Espejo. Picture Right: Sgt. Maj. Kent, former Sgt. Maj. of the Marine corps, DHS Sec Kelly, Secretary of Defense Mattis, Funeral Director and Pvt Tye's Escort, SSGT Nicholas Brundige, and Kurt Hiete of the American Legion pose for a photo at the funeral of Marine Pvt. Harry Tye. 
Speaking on the tumultuous journey the families often go through is Kurt Hiete, a member of the American Legion Post 283, Pacific Palisades, Calif., who noted that the American Legion's primary mission is to repatriate all POWs and MIAs. The American Legion also believes it is its duty to assist their families in any way they can. Hiete was inspired at the first funeral he attended by how the family members had an understandable, insatiable desire to learn all about the Battle of Tarawa, what happened to their Marine (in most cases there is very little knowledge), why were there so many losses, why were they hastily buried, how did their graves become lost for over 70 years, how were they finally found, how were they identified and how were the family members found. To that end, Hiete, who has been involved with this project in various ways since his first visit to Tarawa in 2010 and the very knowledgeable volunteers of History Flight such as its founder Mark Noah, Katherine Rasdorf, who among many other volunteer contributions gave 8,000 hours of archival research, which was necessary to help locate the lost graves, and Jennifer Morrison, who has contributed over 800 hours of genealogy research, which was necessary to find the living relatives, have all met with the families whenever possible in order to answer these questions. Hiete also remarked that it should come as no surprise to learn these descendants of those legendary Marines have the same special genes and are themselves remarkable, wonderful people and who have been an incredible honor to meet. Hiete was very moved when the family asked him to sit next to them at the funeral.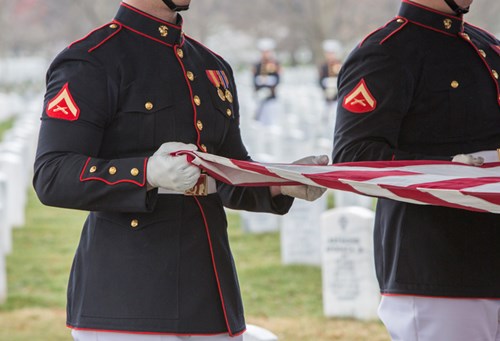 A flag is held steady over the casket of Marine Pvt. Harry Tye.
According to Archaeologist Kristen Baker, who led the team that originally discovered Cemetery 27 where Tye and 35 other sets of remains were recovered, the efforts were incredible. Tye will be the 22nd burial of 36, with 31 identified remains. Five service-members have unconfirmed identifications from the Department of Defense (DoD). "We were fortunate that they [the remains] were as well preserved as they were, because on the island there's over 17,000 people living on this one square mile of island, and they're very disruptive," she said. Often the bodies are discovered accidentally by the locals.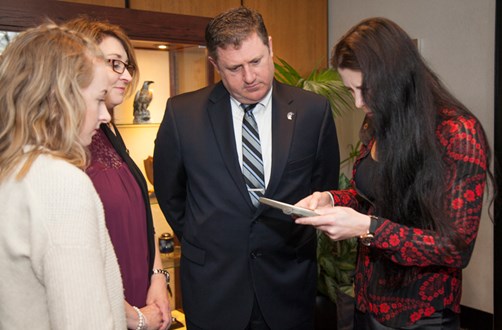 Morgan, Lori, and Dave Tincher look on as Archaeologist Kristen Baker discusses the efforts to recover Pvt. Tye's remains.
Baker feels strongly that it is America's duty to bring these people home. "It's really a promise that America made to its fallen, that wherever you fall, we will find you and bring you home. Tarawa in particular was such a unique circumstance. A lot of the burials were lost and the recovery efforts weren't as good as they should have been in 1946 but we can't put ourselves in their shoes in that time period. They didn't have the technology or the techniques we have today so now we can finish up what they weren't able to do."
The bodies were not all perfect, many if not most were covered in their ponchos by their friends, who could not stand to see them dead, according to Baker. The site of Cemetery 27 presented unique challenges, including lifting up part of the building and going through a portion of the floor to slide each body out. There are roughly 400 or fewer U.S. military remains still on the island. This does not include the 6,000 Japanese and Korean slave laborers also buried there. Many more were lost at sea during the battle itself.
According to the DPAA's webpage on Pvt. Harry Tye, the DPAA and the Armed Forces Medical Examiner System used mtDNA analysis to match Tye with his great-nephew Tincher, along with dental records, anthropological comparison, and other circumstantial evidence. The DPAA notes there are currently 73,074 service members whose remains have not been recovered from World War II. History Flight was founded by Mark Noah. The group has been working since 2007 to find and return the bodies of those Marines who perished at Tarawa.
If you have an MIA in your family, please contact History Flight, or the Defense POW MIA Accounting Agency (DPAA).


Additional reading:
The Lost Graves of Tarawa
Tarawa
Leave No Marine Behind: 1st Lt. Alexander Bonnyman Jr.