On Sept. 27, 2015, more than 70 years after one of the most intense and bloodiest battles of World War II during which more than 1,000 Marines lost their lives, the remains of Medal of Honor recipient 1st Lt. Alexander "Sandy" Bonnyman Jr. were repatriated to his hometown of Knoxville, Tenn. (Top image by Jeremy Edward Shiok.)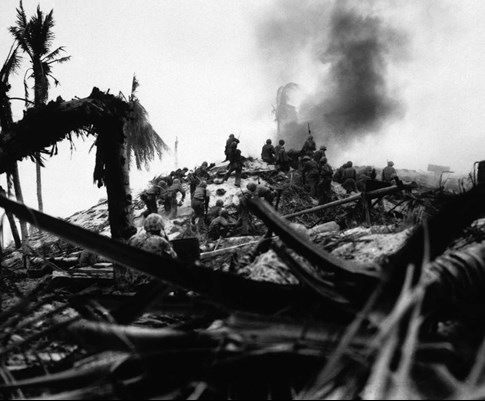 Lieutenant Bonnyman was killed in action in November 1943 during the fight for Betio Island during the invasion of the Tarawa Atoll. Bonnyman had successfully led a team in an assault on a bombproof shelter housing 150 Japanese soldiers, located about 40 yards ahead of the Marine lines. The team killed many of the Japanese defenders, and as they withdrew to replenish supplies of ammunition and grenades, Bonnyman advanced to the top of the structure and flushed more than 100 Japanese into the open, where they were shot down. As the Japanese fought back, Bonnyman heroically stood at the edge and killed several more attackers during a bayonet charge before succumbing to a mortal wound. Betio Island, however, was declared secure that day.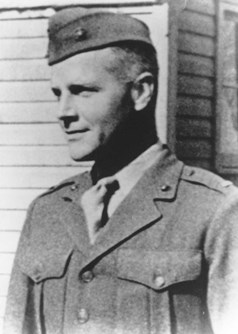 Immediately after the battle, mortally wounded U.S. service members were buried in a number of battlefield cemeteries on the island, and many of the bodies were later recovered for repatriation. Because the island had been restructured and converted for use by the military, Bonnyman and approximately 40 others were not among the servicemen recovered from "Cemetery 27." More than 500 serviceman who fought in the battle at Tarawa remain missing. 
For his personal acts of exceptional valor that day, Lt. Bonnyman was posthumously awarded the Medal of Honor, which was presented to his family in 1947 by Secretary of the Navy James Forrestal. It was the hope of the Bonnyman family for seven decades that their husband, son, brother, grandson would one day return home.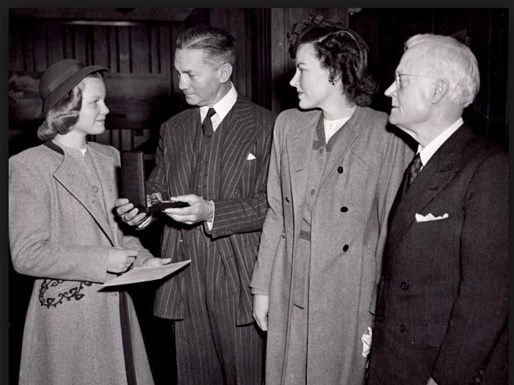 In July 2015 a History Flight team, a non-governmental organization dedicated to finding, recovering and repatriating America's war dead to American soil, was able to realize the first step toward the Bonnyman family's lifelong dream of repatriation by locating his remains on Tarawa. To date, the group, founded by Mark Noah, has deployed more than 100 search and recovery teams worldwide to locate loss sites of missing servicemen. Noah began researching the long-lost graves of Tarawa in 2007, sending teams of researchers to Betio, including archaeologist Kristen N. Baker, who led the team that discovered the burial site. The team ultimately recovered 35 sets of remains, Bonnyman's among them. You can watch video of some of the excavation here.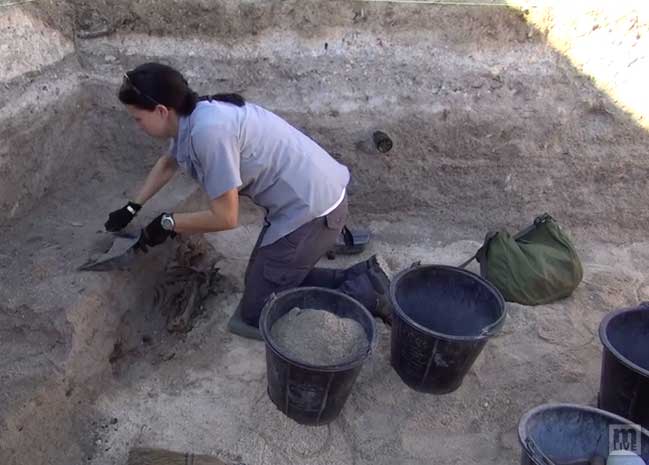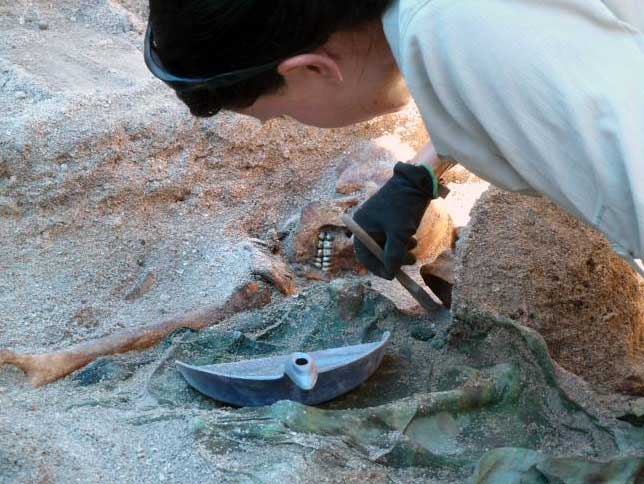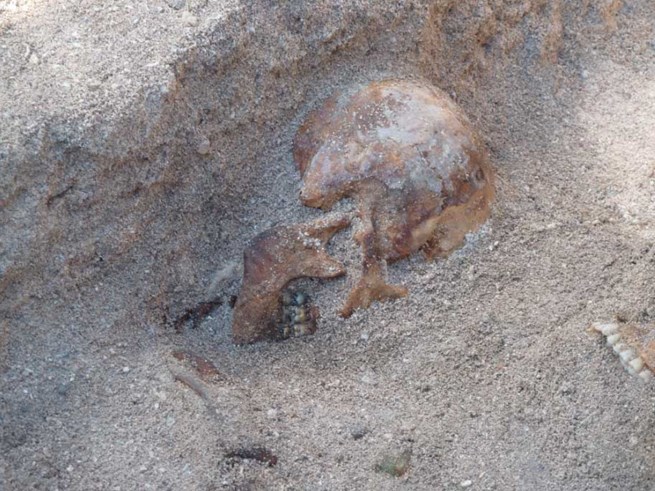 When Baker announced she found buried remains a body of a man who had gold teeth—a rare-for-the-time and unique identifying feature for Lt. Bonnyman—grandson Clay Bonnyman Evans, present for the emotional discovery of his grandfather remains, was overwhelmed. "I had butterflies all day," he said, knowing Baker was confident she was at the exact location of the lost cemetery, which was located underneath buildings for what is now a shipping company.
Evans gives 100 percent of the credit for the recovery to Mark Noah, whom he calls tenacious, overcoming incredible obstructionist government politics to make the dig possible. Noah had been to Tarawa more than 30 times, setting up an office in a quonset hut for the purposes of this discovery. Evans says Noah's perseverance and temerity with the Tarawa project has changed the way the government will handle subsequent and future recovery efforts for missing servicemen.  
"His tenacity and expertise—that is why this happened," Evans said of Noah, who was compelled by the ethos "Leave No Marine Behind." Because of his dedication, Noah was named an honorary Marine, a designation that had only been awarded 93 times at that point. In an interview with the official website of the U.S. Marines, Noah said, "We do this work for the souls of the missing and the families they left behind. We are able to travel back in time and connect families with their missing loved ones and restore the dignity of the individual person, who died in the line of duty for this country."

Images courtesy Clay Bonnyman Evans/History Flight; Top lead image and funeral images below by Jeremy Edward Shiok.
Medal of Honor Citation for 1st Lt. Alexander Bonnyman Jr.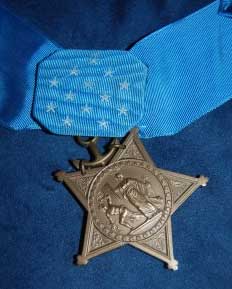 "For conspicuous gallantry and intrepidity at the risk of his life above and beyond the call of duty as Executive Officer of the 2d Battalion Shore Party, 8th Marines, 2d Marine Division, during the assault against enemy Japanese-held Tarawa in the Gilbert Islands, 20–22 November 1943. Acting on his own initiative when assault troops were pinned down at the far end of Betio Pier by the overwhelming fire of Japanese shore batteries, 1st Lt. Bonnyman repeatedly defied the blasting fury of the enemy bombardment to organize and lead the besieged men over the long, open pier to the beach and then, voluntarily obtaining flame throwers and demolitions, organized his pioneer shore party into assault demolitionists and directed the blowing of several hostile installations before the close of D-day. Determined to effect an opening in the enemy's strongly organized defense line the following day, he voluntarily crawled approximately 40 yards forward of our lines and placed demolitions in the entrance of a large Japanese emplacement as the initial move in his planned attack against the heavily garrisoned, bombproof installation which was stubbornly resisting despite the destruction early in the action of a large number of Japanese who had been inflicting heavy casualties on our forces and holding up our advance. Withdrawing only to replenish his ammunition, he led his men in a renewed assault, fearlessly exposing himself to the merciless slash of hostile fire as he stormed the formidable bastion, directed the placement of demolition charges in both entrances and seized the top of the bombproof position, flushing more than 100 of the enemy who were instantly cut down, and effecting the annihilation of approximately 150 troops inside the emplacement. Assailed by additional Japanese after he had gained his objective, he made a heroic stand on the edge of the structure, defending his strategic position with indomitable determination in the face of the desperate charge and killing 3 of the enemy before he fell, mortally wounded. By his dauntless fighting spirit, unrelenting aggressiveness and forceful leadership throughout 3 days of unremitting, violent battle, 1st Lt. Bonnyman had inspired his men to heroic effort, enabling them to beat off the counterattack and break the back of hostile resistance in that sector for an immediate gain of 400 yards with no further casualties to our forces in this zone. He gallantly gave his life for his country."