by
Mark A. Keefe, IV, Editorial Director
posted on October 30, 2017
Support NRA American Rifleman
DONATE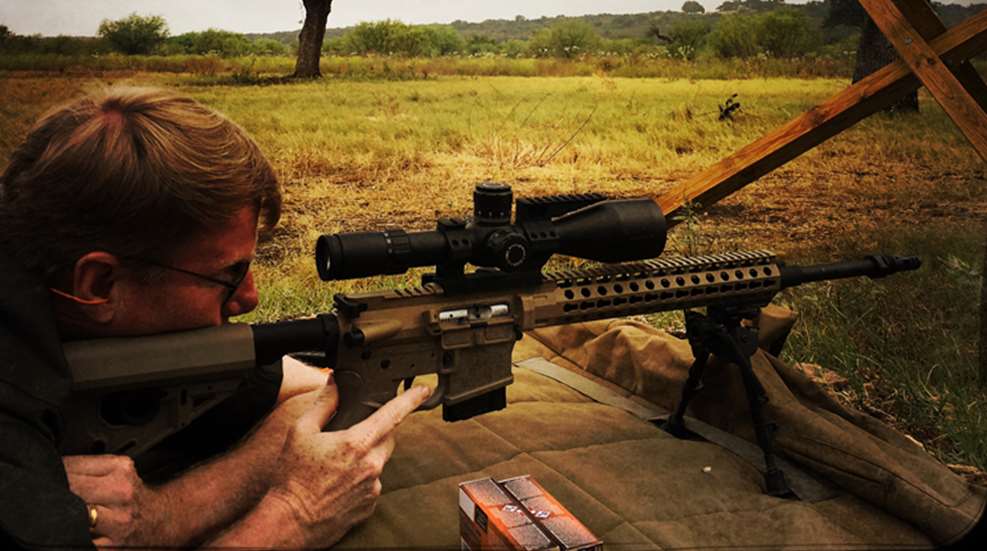 Last month, I found myself trying to get into the prone position behind the new 224 Valkyrie cartridge. It had been a while since I've shot prone at 1,000 yards. and at first, I just wasn't as steady as I could've been.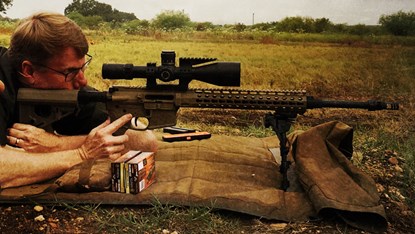 I'll tell you what was steady, though—the performance of the .224 Valkyrie cartridge. I was at the Valdina Ranch in Texas, ostensibly to shoot doves with my longtime friend Drew Goodlin, who runs center-fire rifle products for Federal Premium Ammunition, but he and the rest of the Federal crew had a surprise for me one morning. It's not often you get to be in on the ground floor of the next big thing. And I think the 224 Valkyrie is the next big thing. 
The .224 Valkyrie, from a 24" barrel, propels a high BC 90-gr. Sierra MatchKing at 2700 f.p.s at the muzzle and it stays supersonic out to 1,300 yards. There were several guns there, including a couple from Savage, but the first I shot was a LaRue Tactical with a 1:7" twist that has been used by Federal's skunk works guys in developing the cartridge.


It's obvious that the AR platform is the most popular in America. But the cartridge getting all the hype these days is the 6.5 mm Creedmoor. The thing about the Creedmoor, though, is it needs a 7.62 mm size platform. Think AR-10 size in an autoloader. And after firing a few magazines of .224 Valkyrie, the 6.5 mm Creedmoor felt like a cannon. The .224 is soft-shooting, hardly discernible from a .223.
Some years ago, the Saudi Royal Guard Regiment adopted an LWRCI rifle chambered in 6.8x43 mm SPC. When a military unit the size of the Royal guard buys a new rifle and a relatively new cartridge, they need ammunition. Lots of it.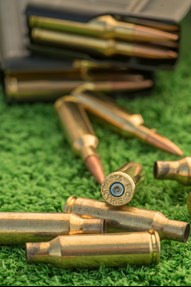 The ammunition side of that contract was fulfilled by Federal Premium Ammunition, and Federal not only filled the contract, but the company learned how to make 6.8 cases. As matter fact, the factory in Anoka, Minn., became very, very good at it.
The thing about really knowing how to make 6.8 cases is that this new cartridge, necked down to .224, is designed for manufacture. Federal will be able to produce ammunition at a fairly inexpensive cost. How inexpensive? How about American Eagle costing under $14 a box.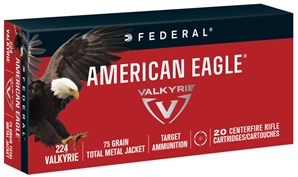 While 6.8x43 mm cartridge has been somewhat on the wane, as has the excellent 6.5 mm Grendel designed by Bill Alexander, the AR platform in something other than 5.56 mm has been an area a lot of companies have been focusing. Heard of .300 Blackout, have you? The most recent, of course, is the 22 Nosler.
What the .224 Valkyrie offers, though, is a cartridge that nips at the heels of the 6.5 Creedmoor in terms of ballistic performance, but in a cartridge case that will fit inside a .223/5.56 mm platform. 
Federal has released some information but is holding some close still, but I can tell you that it's real. I watched Drew and others nail the 1,000-yd. targets time after time, after time. There were also some other very experienced long-range shooters there who dropped the .224 Valkyrie on target so often that it became almost monotonous. And then I stepped back up, focused on the fundamentals and started ringing steel, too.
This is a cartridge that will cross multiple applications. The round we were shooting was a Federal Gold Medal 90-gr. Sierra MatchKing, which will be popular with the guys shooting PRS with semi-automatics. But also there's a 60-gr. Nosler Ballistic Tip for varminters and then a 100-gr. Fusion, which should be popular in states that allow cartridges under .243 to be used on deer.
Then there is a 75-gr. TMJ American Eagle loading that will do what the other cartridges trying to make headway cannot—and that's be affordable.
Right out of the gate, several manufacturers are producing rifles in .224 Valkyrie: Savage, JP Enterprises, Masterpiece Arms, Seekins, LWRCI, LaRue, LMT Defense, Q LLC, Mossberg, Barrett and CMMG,, to name a few. How much do I think of this new cartridge? At a Texas airport I called a longtime friend at one of the biggest gun manufactures in the country, and told him to get off the fence. This is the next big thing. Because it should be. I have a short-action Remington Model 700 in .223 that needs to be rebarreled anyway, and its next one will be stamped ".224 Valkerie."

Check out this video from the Federal Premium website to see the 224 Valkyrie in action.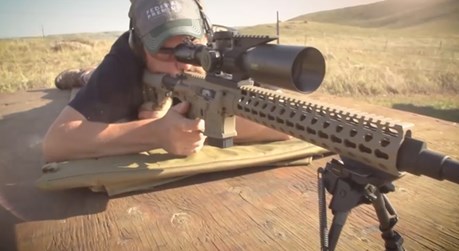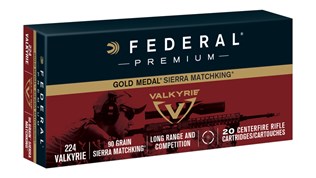 GM224VLK1   224 Valkyrie 90-gr. Gold Medal Sierra MatchKing   6-04544-63027-5 $31.95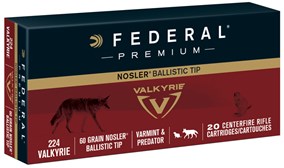 P224VLKBT1   224 Valkyrie 60-gr. Nosler Ballistic Tip  6-04544-63028-2  $29.95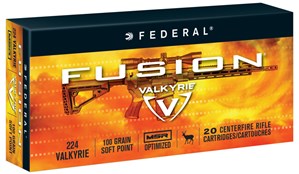 F224VLKMSR1  224 Valkyrie 90-gr. Fusion MSR  6-04544-63030-5  $28.95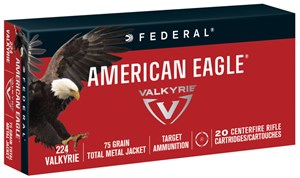 AE224VLK1   224 Valkyrie 75-gr. American Eagle TMJ  6-04544-63029-9  $13.95