by
posted on February 3, 2016
Support NRA American Rifleman
DONATE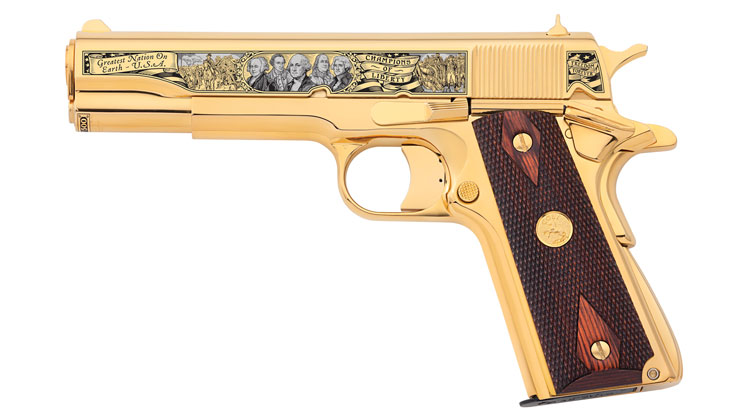 America's forefathers laid the groundwork for freedom with the Declaration of Independence in 1776. After securing victory in the Revolutionary War, America's champions of liberty—the Founding Fathers—drafted the essential documents outlining our new nation's freedoms: the Constitution and the Bill of Rights. At the heart of these inspired documents is their vision for the country: liberty and justice for all.
In recognition of these founding principles,
America Remembers
has announced the limited edition Champions of Liberty Tribute Pistol, issued on a working Colt Government Model .45 pistol. The pistol is decorated in 24-karat gold and nickel by craftsmen commissioned specifically for this project with symbolic artwork. 

The left side of the slide features portraits of Founding Fathers George Washington, Thomas Jefferson, John Adams, Ben Franklin, and Patrick Henry. Elegant scrollwork outlines the oval frame of their portraits. To the left of the center image is George Washington on horseback in Valley Forge, the military camp where the patriot troops spent the winter of 1777-1778 during the Revolutionary War. To the left of that is a banner reading "Greatest Nation on Earth—U.S.A." with stars in the background.





The right side of the slide features a detailed representation of the Founding Fathers inside the Philadelphia State House, about to sign the Declaration of Independence. "Remembering Our Past, Believing In Our Future" is scrolled over the stars of the American flag. To the left of the center image is Patrick Henry's famous line from his speech, "Give Me Liberty or Give Me Death" against the stars of an American flag. To the left is a bald eagle soaring—the patriotic symbol of America. Both sides feature "Freedom Forever" printed against the stars and stripes of the American flag on the breech end.


For more information and to see more Tribute pistols, please visit
AmericaRemembers.com
.