by
posted on February 29, 2012
Support NRA American Rifleman
DONATE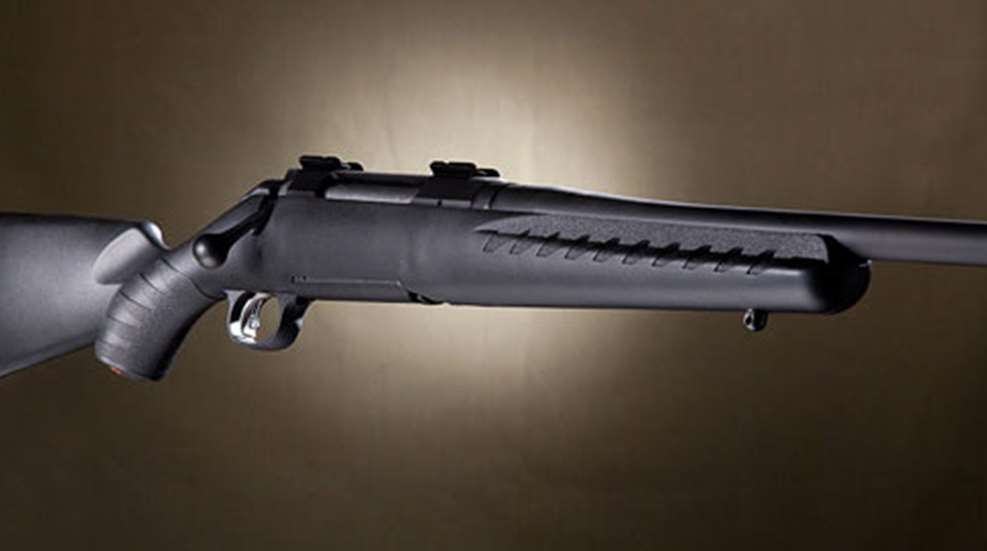 For more than 60 years, Sturm, Ruger & Co. has developed and maintained its reputation of providing customers with a lot of features on its firearms at a working man's price point. Ruger is the company that brought the investment-casting process to gunmaking. The ability to cast complicated parts requiring little machining and finishing was key to building the firearms that America wanted at a price that nearly anyone could afford. Combine that with modern CNC machining centers producing parts that require little hand fitting allowed the company to produce guns as elegant as the No.1 rifle and the Red Label shotgun, and utilitarian pieces like the Mini-14 and SR-556.
Twenty-first-century shooters are all about function, accuracy and cost effectiveness. The shooting sports continue to grow quickly, and new shooters entering the sport want a bolt-action rifle that is light, rugged and accurate. They can't afford a custom rifle at this point. Enter the Ruger American Rifle.
Those who are longtime aficionados of the rifle and appreciate forged receivers, control-round-feed actions and fine walnut with hand checkering, will at first think the Ruger American is something less than a fine rifle. Snobbery aside, an unprejudiced examination of Ruger's latest offering may re-qualify what "fine" means. The American may be raw-boned, but it is ready for just about anything you'd care to throw at it.
The heart of the American is a heavy-walled, 1.453-inch diameter tubular receiver. Matching 5/16-inch flats are milled at 3 and 9 o'clock, with 1/2-inch flats at 10 and 2 o'clock. On its underside even with the front guard screw hole are two flat, shallow grooves milled at 4 and 8 o'clock slightly more than 3/8-inches wide. Another set of the same style of grooves even with the rear guard screw hole are a full .40-inches wide. These accommodate matching keystock lugs embedded in the stock to arrest the thrust of recoil.
Some characterize the bolt as oversized, but it is more accurately described as a full-diameter bolt. This style of bolt runs back and forth more easily than traditional style bolts unless they are made with an anti-binding groove—something that is costly to manufacture. The bolt features three rounded, cam-like lugs that engage an internal face in the receiver. With a candle, I sooted the engaging surfaces of the lugs and cycled the bolt one time. All three surfaces showed full engagement. A 3/16-inch spring-loaded claw takes care of the extraction chore, and a quintessential spring-powered plunger tosses cases from the rifle. At the rear of the bolt is a composite dust cap.
Attached to the underside of the receiver with a pair of roll pins is the Ruger Marksman trigger housing with an extension that goes beyond the rear of the receiver and serves as a mounting point for a sliding tang-type safety. The Marksman trigger has a profile that mimics the Savage Accutrigger, but its operation is more like the Glock passive trigger-blade safety. It is also user adjustable from 3 to 5 pounds. My test sample came from the factory with a 4 3/4 pound pull. Following the instructions in the manual, I quickly adjusted the trigger pull to 3 pounds, 2 ounces.
A 22-inch sporter-weight barrel is screwed into the receiver, and headspacing is done with a collar a la Savage, but it is more unobtrusive. The rifle is sans iron sights, as is the modern custom, but it comes with Weaver-style bases to mount an optic. All the metal is finished in a nice bead-blast texture that eliminates glare.
The metalwork is housed in a black injection-molded stock with a 100-percent free-floated barrel. There are no cheekpieces or Monte Carlo combs, but there are areas of raised, textured stripes at the grip and a corresponding textured area along the fore-end to assist with purchase. The trigger guard is molded into the stock, and there is no bottom metal. Sling swivel studs are positioned fore and aft, and the butt is capped with a recoil pad.
Feeding the American comes from a composite, detachable, four-round rotary magazine. Its performance was flawless during my testing.
I mounted an Alpen Apex 3-9 x 42 mm scope in Warne QD rings, bore sighted it and headed to the range. The as-tested weight of the American was 7 3/4 pounds, but the recoil impulse seemed more like that of a much lighter rifle—not unpleasant but unexpected. I put some 20 rounds through it getting it sighted in, and then fired some casual shots at gongs out to 400 yards before getting forced off the range due to a frigid 35 mph wind. A couple of days later, I made another run at it in the morning before the wind could get going.
From the outset it seemed that my test sample preferred lighter bullets. Winchester Supreme ammo with 150-grain Ballistic Tips won the accuracy race hands down with an average of 7/8 inch. Only one group was larger than an inch—1 1/8 inches—and I'll take the responsibility for that one. Next came an old and favorite handload for the '06 consisting of 57.0 grains of IMR 4350 in back of a 165-grain Sierra SBT GameKing bullet—a load that I have used for more than three decades. In almost every .30-06 I have used this load it has produced sub-moa groups, but in the American it averaged 1 1/8 inches. When I tried Hornady 180-grain Interlocks groups swelled to more than 1 3/4 inches. I am sure that with some judicious tuning and load development one could get heavier bullets to shoot well.
Throughout my test there were no failure-to-feed or failure-to-fire events. I confess to some initial skepticism of an all-plastic rotary magazine, but it performed flawlessly. Were it my personal rifle, I'd purchase at least two additional magazines and be real persnickety about keeping them clean.
Nope, the Ruger American Rifle isn't about forged and polished receivers, well-figured European walnut and jeweled bolt bodies. It is all about a shooter or hunter wanting an accurate and reliable rifle without breaking the bank. With an MSRP of $449 and street price in the mid to upper $300s, this rugged shooting tool can be ready to go into the field for around $500, and in today's market that's a lot of gun for the money.
Manufacturer: Ruger; (603) 865-2442; Ruger.com
Model: American
Type: Bolt-action repeating rifle
Caliber or Gauge: .243 Win., .308 Win., .270 Win. and .30-06 (tested)
Barrel Length: 22"
Magazine/Capacity: Four-round rotary
Rifling: Six-groove, 1:10" RH
Sights: None, scope bases included
Safety: Tang type
Stock: Black injected-molded composite
Length of Pull: 13 3/4"
Drop at comb/heel: 7/8" and 1/2"
Overall Length: 42 1/2"
Weight: 6 1/4 lbs.
Metal Finish: Blued
Accessories: Ruger Marksman adjustable trigger, lock, manual
Suggested Retail Price: $449