Support NRA American Rifleman
DONATE
"Pretty bold to call your rifle the American, Mike," I told Ruger President and CEO Mike Fifer. He just grinned at me. Product Manager Mark Gurney and the engineers at Ruger's Newport, N.H. factory, had given me a full briefing on the design, features and construction of the company's latest model. Finally I am able to talk about the newest all-American-made bolt-action rifle. In case you haven't put the puzzle pieces together, it is called the Ruger American Rifle, and it reflects the growing trend toward the economical bolt-action hunting rifles that are dominating the firearm industry. Ironically, it started in 1963 with the Savage Model 110, and has been dog piled on by Remington, Marlin and others. Last year, the hottest selling rifle in this class was the Savage Axis.
The Ruger American is designed to be affordable (its suggested retail is $449, but judging from Ruger's suggested retail pricing versus what dealers actually charge, expect to see it for around $350 or less). Basically, it is a combination of features we have seen on other economical (and some not so economical) bolt-action rifles blended together with a few new innovations, too, in particular to the bedding system.
Ruger's engineers Bruce Rozum, Scott Warburton and Dwight Potter all contributed to the design and brought features such as the Ruger Marksman Adjustable Trigger, which has a passive trigger blade safety (much like a Glock pistol) in its face that allows adjustments from a claimed 3 to 5 pounds. There is also an excellent four-round capacity, polymer rotary magazine. It is a Ruger, after all.
The heart of a rifle is its barrel, and this one is cold-hammer forged, 22 inches long with a sporter contour, no sights, and it is made on the same Ruger barrel-making machines that do the Model 77 Hawkeyes. The barrel is attached to the receiver by a locking nut (much like the Savage 110) that is unobtrusive and allows for precise headspacing in assembly. Initial chamberings are .243 Win., .308 Win., .270 Win. and .30-'06 Sprg. The sample received here is a long-action .30-'06. This Ruger comes with Weaver style bases only, so you have to supply your own rings. And while I put a Redfield scope on it in Weaver rings, I have not had a chance to shoot it … yet. We'll see how crowded the range is on January 2.
It has a full-diameter bolt, where the bolt body's outside diameter acts as the guide surface, and three forward locking lugs for a 70-degree bolt throw. The bolt release/guide lug is on the receiver's left. The bolt's travel is surprisingly smooth. There is a sliding plate extractor (Sako-style) and a plunger-style (Model 700) ejector.
Ruger calls its new bedding system "Power Bedding" and there are bedding block inserts molded into the stock that mate with V-shaped surfaces cut in the receiver's underside. It allows for tight consistent bedding of the action and leaves the barrel free-floating. Pretty slick.
It follows the trend of being aesthetically modern, but ergonomically excellent. It has the modern injection molded stock that one would expect, which aids in its 6 ¼-pound weight, empty and unscoped. The rifle is all black, save for the Red Ruger eagle on the grip cap. The stock has a palm swell at its pistol grip, but its front is thin through the wrist and its radius is fairly open. The stock is textured to help you hold on, and there is a groove for the weak side hand on the fore-end. And its butt is topped by a very good, soft recoil pad. In the hands, the American points remarkably well. Also, the flush-fitting magazine allows the gun to be carried comfortably with the hand just forward of the integral trigger guard.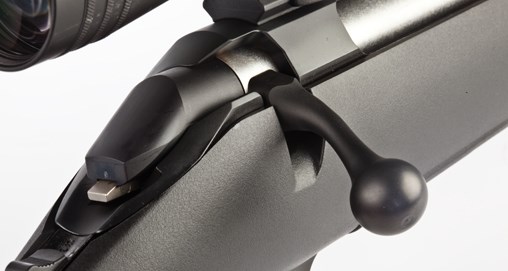 As I chidingly told Mike Fifer, "I think your baby is ugly," and continued with "But not as ugly as everyone else's." Sorry, I allowed my own personal tastes toward wood and walnut to creep in there for a minute. All black and modern is where aesthetics are heading. I guess I will just have to get used to it.
But how does it perform? Groups I have seen from the factory are in the one-hole to 1 ½-inch range, and Fifer took it with him to Greenland last year and used it on a fine Musk Ox. This rifle has a very good barrel, an excellent trigger, smooth operation and good ergonomics. It also went from concept to full production in less than a year. This is not the Ruger of old, this is a company with the drive and talent to react to market trends and then become a leader. You will be hearing a lot more about the Ruger American Rifle.