Support NRA American Rifleman
DONATE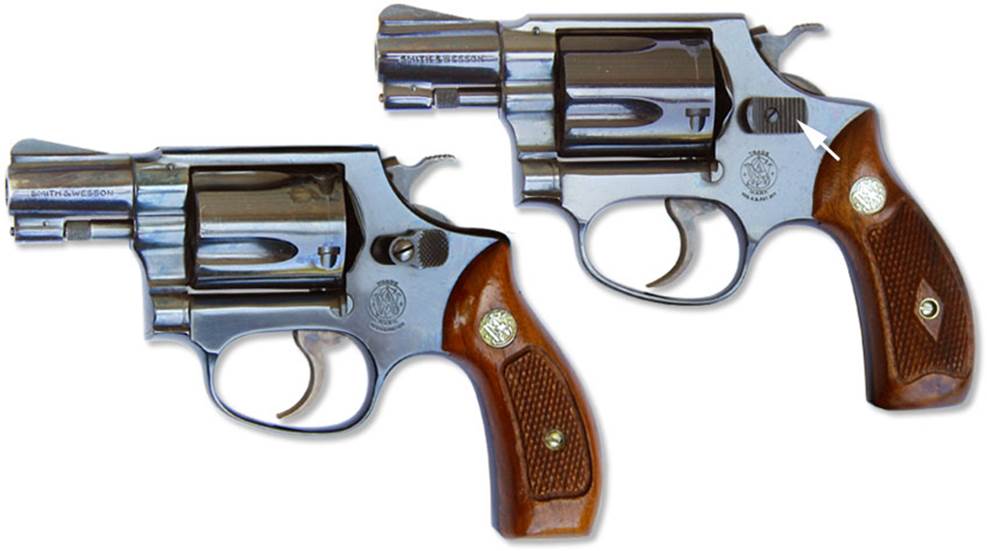 The early S&W Chief's Special (above) had a flat thumb latch (arrow) for releasing its cylinder, which is different from the style used on most of its models (l.).
Q: I recently saw a gun advertised for sale described as "a Smith & Wesson Flat Latch." I thought I knew all the S&W models, but I have never heard of this one. What is it?
A: The "flat latch" term is sometimes used to describe the earliest versions of the S&W Chief's Special, which was introduced in 1950; it became the Model 36 in 1957 when S&W switched to numerical designations for its handguns. The flat latch, used only on Chief's Special/Model 36 snubbies and their J-frame variants made from 1950 until 1966, was simply a modified, "flattened" design of S&W's more prolific concave, checkered thumb latch that unlocks the swing-out cylinder of their revolvers.
According to S&W historian Roy Jinks, "The flat latch was used on the early Chief's Specials to keep them as flat [as possible] and [make them] easy to slide in and out of various pockets. The company never referred to it as a flat latch; that is a term the collectors have since dubbed it."
Prior to the appearance of the flat latch, S&W revolvers, starting with the K-frame in 1899, sported a now-familiar concave, checkered thumb latch. As Jinks notes, after 1966 the company changed to this standard-style thumb latch for its Model 36, as it was deemed easier to use. However, the flat latch continued to be installed on the Model 36 for a brief period after 1966, until the supply of parts ran out.
It is interesting to note that current S&W revolvers use a semi-triangular sloped thumb latch, while their re-issued "Classic" guns use what the catalog now refers to as a "Classic style thumb piece" which, of course, is the old-style concave, checkered thumb latch. Smith & Wesson flat latch Chief's Special/Model 36 revolvers are an interesting variation for the collector, although generally speaking, they do not add appreciably to a gun's value.

--Rick Hacker