Support NRA American Rifleman
DONATE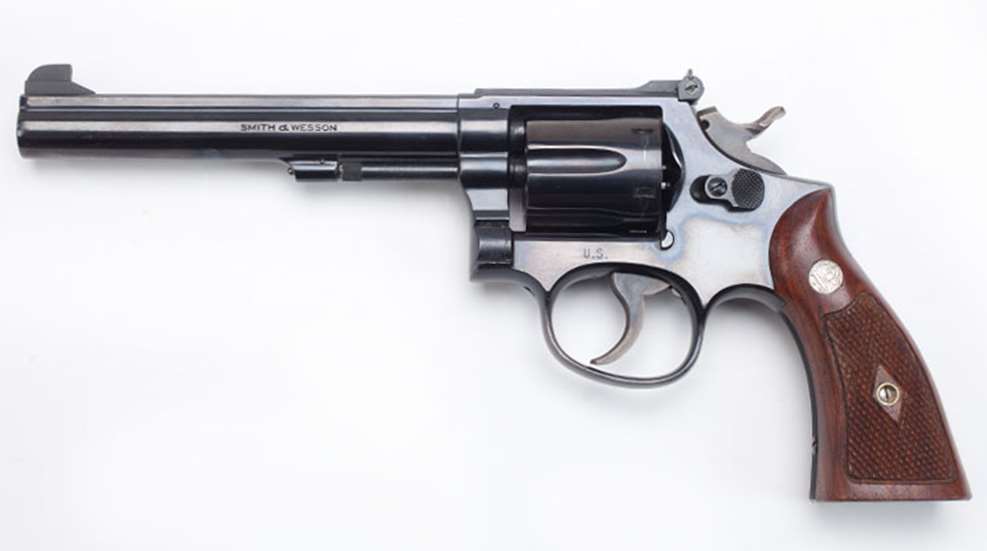 Question:
I was a member of the U.S. Air Force Security Police assigned to the Strategic Air Command (SAC). Our primary stateside longarms were the AR-15 rifle and M1 carbine, and as a sidearm we used the .38 Spl. Smith & Wesson Combat Masterpiece. Upon arriving in Vietnam in 1965, I was assigned to the 377th Security Police Squadron at Tan Son Nhut Air Base, and we were given a few more arms to add to our arsenal, but the Combat Masterpiece remained our mainstay.
We were attacked on Dec. 4, 1965, by a contingent of Viet Cong and North Vietnamese regulars, and many of our airmen were happy to have had this always-trusty sidearm. By the way, we were the first Air Force unit to repel an enemy attack on a major air base installation.
My question is: What is the total story on the Combat Masterpiece, where did it go and what replaced it? Please note that I even carried it as a duty sidearm while with Arlington Police Dept. in Los Angeles County, Calif.
Answer:
The complete history of the S&W .38 revolvers began during World War II with the Victory Model, which was followed by several "Aircrewman" models. The Combat Masterpiece was introduced to the commercial market in 1949, and it became the Model 15 in 1957 when S&W began using model numbers.
Beginning in 1960, the U.S. Air Force began purchasing them, and the only distinction from commercial guns was the stamping of "U.S.A.F." on the left side of the frame. Those purchases continued until at least 1969. An exact production quantity is not known but sources refer to "large numbers." In what may have been the last major shipment, 5,000 guns were sent to Warner Robbins Air Force Base in 1968.
Those guns are quite rare today because most were destroyed by the government. Since it is a simple matter to stamp "U.S.A.F." on a Model 15, fakes are not rare, and the only way to authenticate a gun is to get a factory letter.
A much more complete history can be found in the third edition of Standard Catalog of Smith & Wesson by Richard Nahas and Jim Supica (
gundigestbooks.com
), the latter, of course, is director of
NRA's National Firearms Museum
.