by
posted on August 5, 2022
Support NRA American Rifleman
DONATE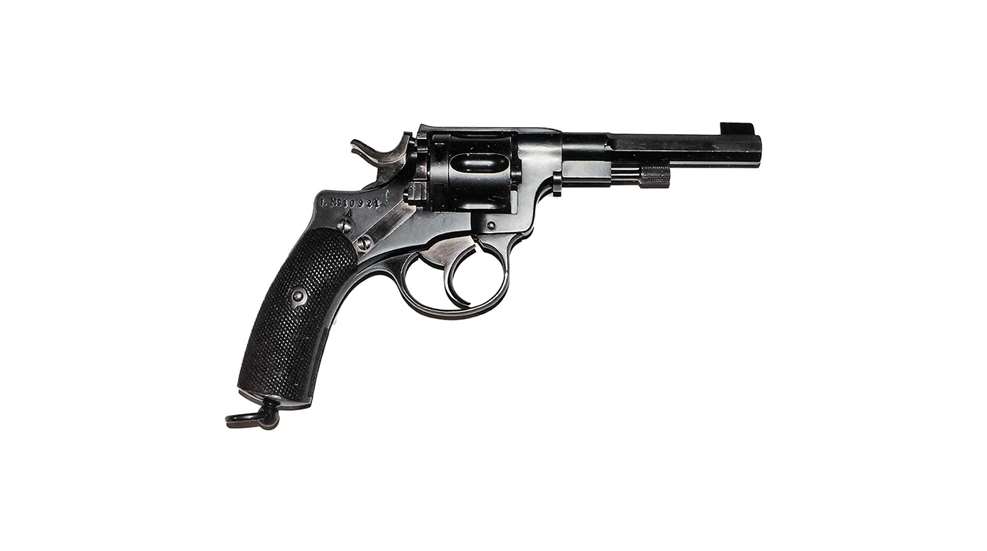 Q. I have a Husqvarna double-action revolver that I cannot find any information on. It has a three-digit serial number, and all parts are numbered. The octagonal barrel is 3 5⁄8" long and the six-shot cylinder has tapered chambers. A military or police number is stamped on right side of the frame. The hammer, trigger, loading gate and extractor are straw-colored. The butt has a lanyard ring. The pistol is in excellent condition with fine checkered and inletted wood stocks. I would like to know its caliber, what ammo to use and the year of manufacture.
---
A. Your Husqvarna-made Nagant revolver was the official handgun of Sweden for many years. It chambers the 7.5 mm Swedish Nagant revolver cartridge that was designed in 1887. Since the end of World War II, large quantities of these revolvers have appeared on the American market.
The rimmed revolver cartridge has an outside-lubricated 107-gr. lead bullet on top of a charge of about 11.5 grains of blackpowder producing a muzzle velocity of around 720 fps. This cartridge is roughly equivalent to the American .32 Short or Long Colt. Cartridge cases can be made from .32-20 Win. cases trimmed to 0.895" overall length. Fiocchi loads the 7.5 mm Swiss, which is essentially the same case with a different loading that can be used in this gun.
Since it is a low-pressure blackpowder revolver, the Husqvarna should be fired only with equivalent low-pressure loads.
—Angus Laidlaw
---
This "Questions & Answers" was featured in the October 2005 issue of American Rifleman. At time of publication, "Questions & Answers" was compiled by Staff, Ballistics Editor William C. Davis, Jr., and Contributing Editors: David Andrews, Hugh C. Birnbaum, Bruce N. Canfield, O. Reid Coffield, Charles Q. Cutshaw, Charles M. Fagg, Angus Laidlaw, Evan P. Marshall, Charles E. Petty, Robert B. Pomeranz, O.D., Jon R. Sundra, Jim Supica, A.W.F. Taylerson, John M. Taylor and John W. Treakle.
To subscribe to the magazine, visit the NRA membership page and select American Rifleman as your member magazine.