by
posted on July 15, 2012
Support NRA American Rifleman
DONATE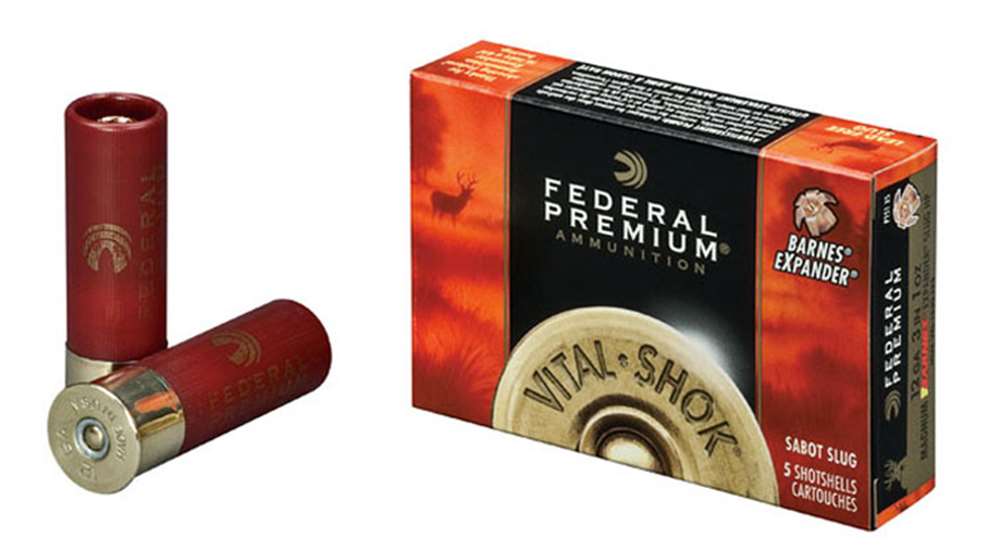 Gallery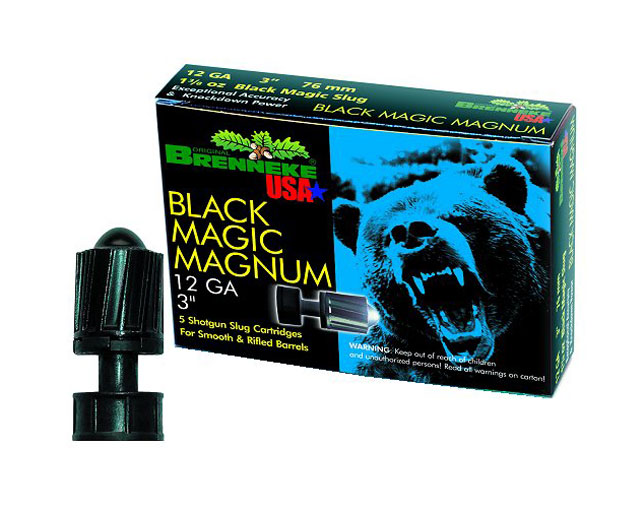 Brenneke Black Magic
Brenneke has long been one of the most recognized names among slug gun shooters, and the modern Black Magic shell delivers the same quality performance shooters have come to expect from the company since 1898. Brenneke slugs still incorporate the same original shape that employs a wide frontal area to keep the weight forward and prevent the bullet from tumbling in flight.
The Black Magic is offer in a 3-inch Magnum version and a 2 ¾-inch Short Magnum version, both delivering substantial crushing power out to 100 yards. The Magnum version is loaded with a massive 600-grain slug designed for performance from both rifled and smoothbore barrels. The Short Magnum shell uses a 430-grain slug designed for use with both types of barrels as well. Brenneke's Black Magic slugs use a "clean speed coating" designed to reduce lead fouling inside the barrel by a reported 100 percent.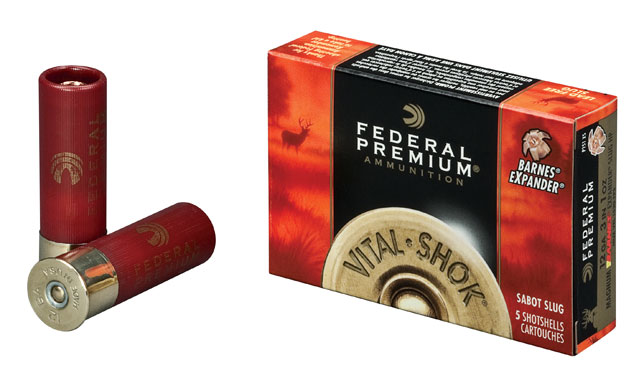 Federal Premium Vital-Shok
The Vital-Shok loaded with the Barnes Expander sabot slug comes in a variety of configurations and weights to squeeze the optimal performance from your rifled-barreled shotgun. The shell uses a wad designed to open wide and separate clean from the actual slug upon exiting the muzzle. Available in 12-gauge loadings of both 2¾-inch and 3-inch lengths, as well as 20-gauge shells in both sizes, shooters have the option of using a standard Barnes Expander sabot or a tipped Expander, purported to be capable of achieving 4-inch groups at an astounding 200 yards.
The standard Expander has a larger hollow-point for incredible expansion upon impact, while the polymer tipped Expander is designed to increase the sabot's ballistic coefficient, provide better control expansion and retain a flatter trajectory in flight. Twelve-gauge sabots are available in 438 grains and 328 grains, while the 20-gauge offerings come loaded with 273-grain sabots regardless of whether getting the tipped or standard Expander. The standard Expander in a 2 ¾-inch shell leaves the muzzle at 1,450 fps, while the polymer tipped version in a 3-inch shell is capable of muzzle velocities measured at a blistering 1,900 fps.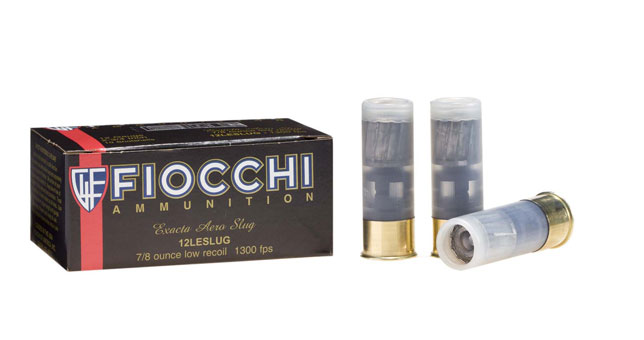 Fiocchi Aero Slugs
Italian ammo manufacturer Fiocchi designs slugs that work equally well in today's smoothbores as they do in rifled barrels. The Aero Slug line consists of three different 12-gauge 2 ¾-inch loadings. The heavy hitter of the line is a 1-ounce rifled full-bore slug that has a muzzle velocity of 1,560 fps. The other two are designed to deliver low recoil with one being a 1-ounce loading that travels at 1,150 fps, and a lighter, yet still true-flying and hard-hitting 7/8-ounce load with a muzzle velocity of 1,300 fps.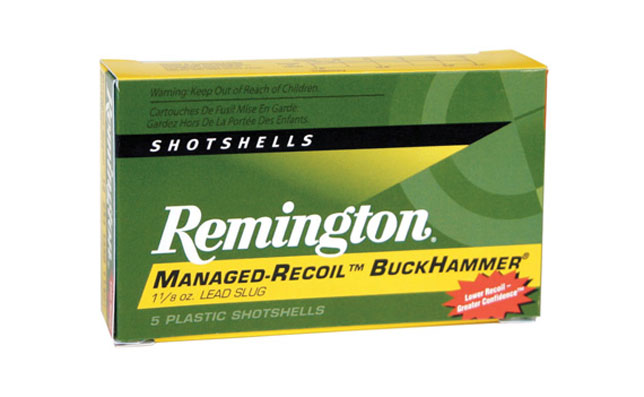 Remington Managed Recoil Buckhammer Lead Slugs
Not every slug gun hunter enjoys the punch these heavy loads can deliver. For recoil-sensitive shooters, Remington offers a supremely accurate, hard-hitting load that hits much harder the other way! I have a gunsmith friend who swears by them and only uses them for both himself and his kids. The managed recoil Buckhammer is designed to generate 40 percent less recoil without sacrificing downrange impact.
Despite the reduced punch to the shooter's shoulder, the Buckhammer still retains nearly 100 percent of its weight and delivers controlled expansion to almost an inch in diameter. Leaving the muzzle, the 12-gauge load sings along at 1,350 fps, dropping to only 1,032 fps at 100 yards. Available in both 12-gauge and 20-gauge 2 ¾-inch shells.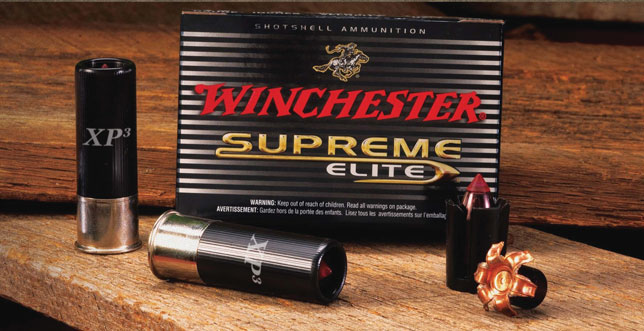 Winchester Supreme Elite XP3 Sabot
When these loads first hit store shelves, I enjoyed the opportunity to test their performance out on large-bodied black bears in northern Alberta—one from a treestand and another at a distance during a stalk through thick alpine woods. In both instances, the bears barely dashed 10 yards before collapsing. Since then, I've killed opening day bucks and other deer as far out as 110 yards all with the same rapidly lethal result and zero tracking involved.
Supreme Elite sabots are developed specifically for 12-gauge rifled-barreled shotguns. The 300-grain sabot comes packaged in a 2 3/4-inch and 3-inch versions. The 2 ¾-inch load leaves the muzzle at 2,000 fps, carrying 2,665 ft.-lbs. of energy. At 100 yards it is flying at 1,622 fps with 1,752 ft.-lbs. of energy, and at 175 yards, it drops 7.3 inches, flying at 1,381 fps with 1,270 ft.-lbs. of energy—still more than enough for a solid kill.
 
In comparison, the 3-inch shell leaves the barrel with 100 more fps and nearly 300 more ft.-lbs. of energy. By 100 yards, it has slowed to 1,708 fps and at 175 yards is dropping just over 6 inches.